Toyota Hilux Lease Deals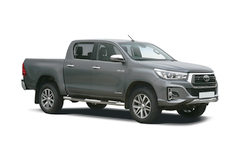 5,843

van leasing offers found
All Toyota Ranges
Have you considered?
About the Hilux
Reliable and offering generous capacity, it's not hard to work out why Toyota Hilux vans are such a popular choice. Still, if you're looking to lease a Toyota Hilux van then you might be wondering just where you should look to find the best offer. After all, the sheer variety of options out there can seem almost intimidating. If that sounds familiar to you then you'll no doubt be relieved to learn that you've come to the right place - because here at Leasing.com, we've got a wide range of Toyota Hilux vans for you to choose from.
At Leasing.com, we take great pride in making it easier for you to find the van that suits your requirements and your finances. You can use our user-friendly search function to find the Toyota Hilux van that's best for you, so why not take a look for yourself?