Revitalised Aston Martin aims to leave investors neither shaken nor stirred
The name's bond, share bond… and that's enough of the poor Sean Connery impressions, so let's get down to thinking about Aston Martin's initial public offering (IPO). This is a chance for you, me and anyone else who fancies owning a slice of one of the oldest car makers in the world.
The share offer happened this week when Aston became the first car company in the UK to be publicly listed in 28 years. It's also the only independently owned British car maker to be listed on the FTSE stock exchange and the current plan is to offer up to 27% of the company to those wanting to buy shares.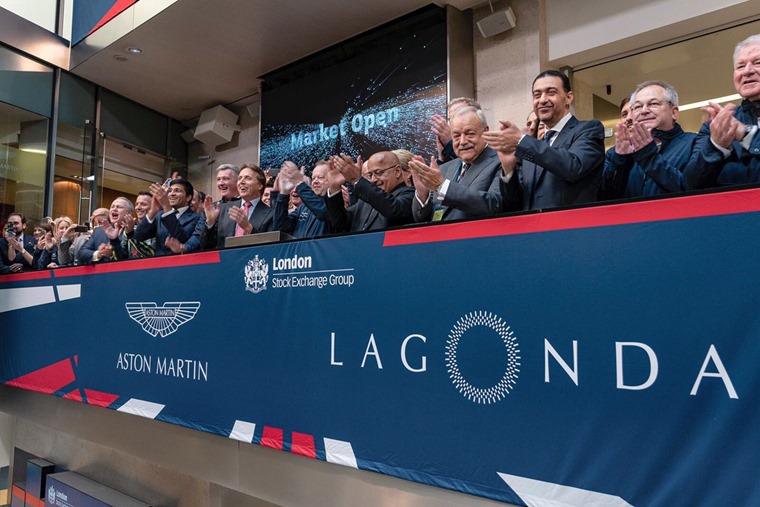 There's also a good deal of sense in having Daimler hold shares in Aston as it deters any possible takeover by other interested parties. Potential buyers would likely be other car makers looking to add Aston Martin as a crowning brand to their portfolio but with Daimler on board, this puts off others who don't want to go up against one of the largest and best-funded firms in the sector.
This gives confidence to anyone looking to buy some of these newly released shares. When they were first released on 3 October, it would cost you £19 per share to invest in the firm and the total offering was worth around £1 billion, giving the company a valuation of £4.3 billion.
For a small sports car maker that's produced just over 100,000 vehicles in its entire 115-year lifespan, that's pretty good going. Aston also recently announced half-year profits of £42 million.

Aston Martin recently announced they will build 25 iconic 'Goldfinger' DB5s – revolving numberplate and all – costing £3.3m each
Those sorts of numbers might sound like tinkles in the piggy bank compared to the billions we're used to hearing about from the big players in the automotive world, however, for Aston it's all good news as this is a firm that's been more used to financial crisis than stability.
A short wander through Aston's history throws up an almost perpetual boom and bust cycle where the firm is bailed out by the next wealthy owners only for it to falter. Not all of this has been down to the cars or the people running the company: global recessions never play well for high-end luxury sports car makers.
Yet, Aston is in a better place than ever despite the past decade of austerity and is set to increase production, albeit modestly. It's also looking to expand into other sectors of the market with an SUV and hyper car. Both are tried and tested routes for the sort of company that Aston is and you only have to look at the likes of Bentley, Lamborghini, Maserati and Rolls-Royce to see the sense in this move.

The V8-powered DB11
Also, Ferrari offers a clear road map for Aston Martin when it comes to offering public shares. The Italian company did this back in 2015 and its value has since doubled. Aston boss Andy Palmer is all too aware of this and, while urging caution over short-term rises, he's also confident it's the right move for the British company.
He says: "We've been very open about our plans. This is to implement a seven-car range with a seven-year product cycle. We then copy and repeat that as it's the way to make sure there's always something new coming on stream and no one model is every allowed to become too old or outmoded."
Palmer has provided a steady hand on the tiller of Aston Martin since 2014 and in the intervening four years has shown a great deal of understanding and sympathy for the badge while also pushing it forward at pace.
Even so, such a dynamic chief executive cannot dictate how a share price will behave once out in the open seas of the share market. On its first day of trading, Aston shares dropped from £19 to as low as £17.75, marking a 5% drop in value, but rallied to finish the first day at £18.10.
Not the stable or gentle rise Palmer might have hoped for, but certainly not a disaster and there's no concern from within Aston Martin or investors that there's a danger of the price falling more. It's more a case of the market becoming familiar with the company and finding the natural level.
With the £1 billion from this share offer, what does Aston Martin intend to do with the money? Palmer has assured the world it will not be getting blown on frivolities such as Jaguar's ill-fated entry to Formula 1 while under the stewardship of Ford. Instead, this cash boost will fund future model development and investment in young engineers to secure the future of the manufacturer. Remember, there's a new factory in Wales that needs skilled people to build the next generation of Astons and they just don't grow out of the terraces of Midlands' towns anymore.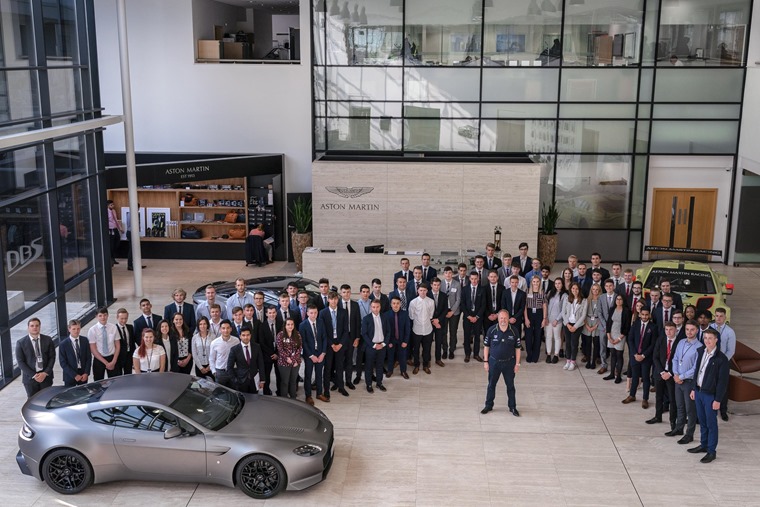 Palmer Foundation aims to provide opportunities for young people to gain engineering apprenticeships
Palmer is also keen to emphasise this move by Aston Martin is one that has far-reaching aims. He not only wants to secure the future of Aston Martin, but also leave a legacy of stability and secure foundations for the business long after he's retired. Part of the plan is to put in place an independent board and, by making the company publicly accountable to shareholders, there is a far lower risk of repeating the mistakes of the past.
In short, by offering shares in the business, Palmer is inviting the British public to own a slice of one of this country's most desirable and treasured brands. It's a shrewd move and, to return the Bond theme, will also see Aston Martin continue its links to 007 when the next movie begins filming. Palmer has already hinted at this and it will continue to be a unique hook to lure in investors as well as wider public interest.