Audi e-tron: 'Entry level' model announced for 2020
A second version of the Audi e-tron aimed at a wider audience has been confirmed for launch in the UK in early 2020.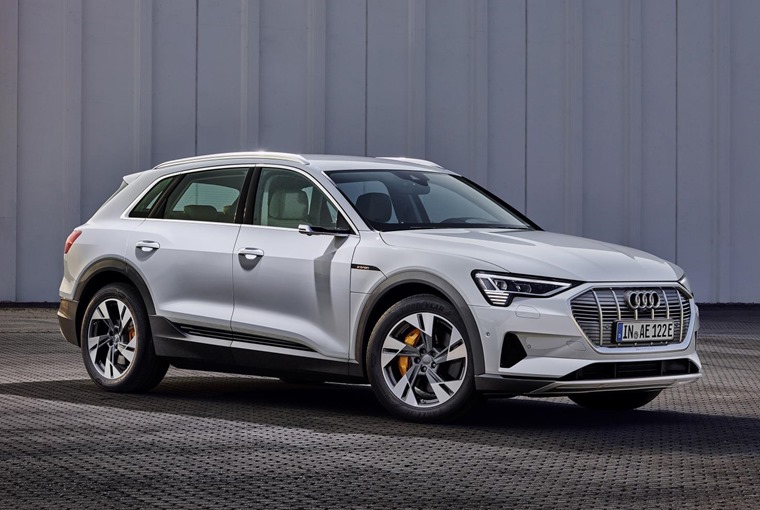 The Audi e-tron 50 quattro will feature a 71 kWh battery and a reduced range of up to 186 miles. Its 120kW charging capability also means it can be fast-charged to 80 percent capacity in around 30 minutes. An optional connect charging system will also add smart charging functions such as off-peak charging, enabling customers to benefit from variable electricity rates by charging their Audi e-tron at more inexpensive times.
Like the first editions of the e-tron, the entry-level model features 'e-quattro' all-wheel-drive delivered by an electric motor mounted on each axle generating a total of 230 kW and 540 Nm of torque. That means 0 to 62mph in 7.0 seconds on the way to an electronically governed top speed of 118mph.
A lower gross weight, which also reduces running resistance, contributes to further efficiency, as does the advanced thermal management system
Like the more powerful version of the electric SUV, the Audi e-tron 50 quattro also recuperates energy via its two electric motors which is fed back into the battery.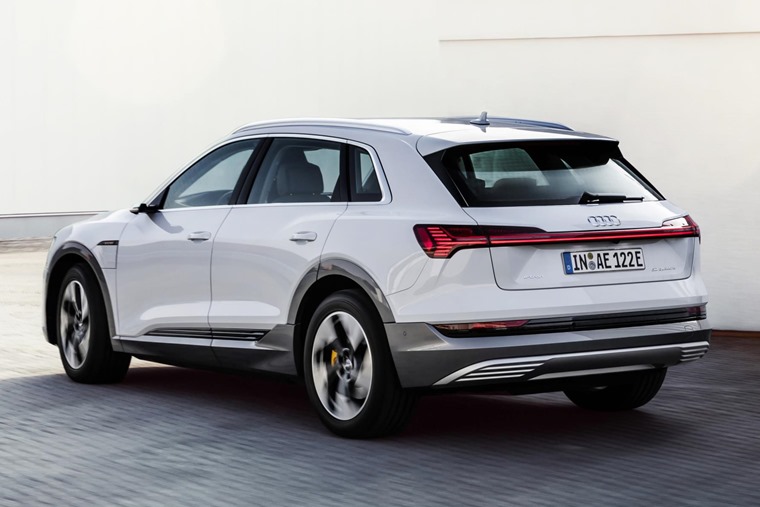 As for the current Audi e-tron, you can find the latest lease deals and monthly rates here.
With a bumper 241 miles of range and a 0-62mph time of 5.7 seconds, this is Audi's answer to Jaguar's I-Pace and the recently revealed Mercedes EQC. Here's everything you need to know…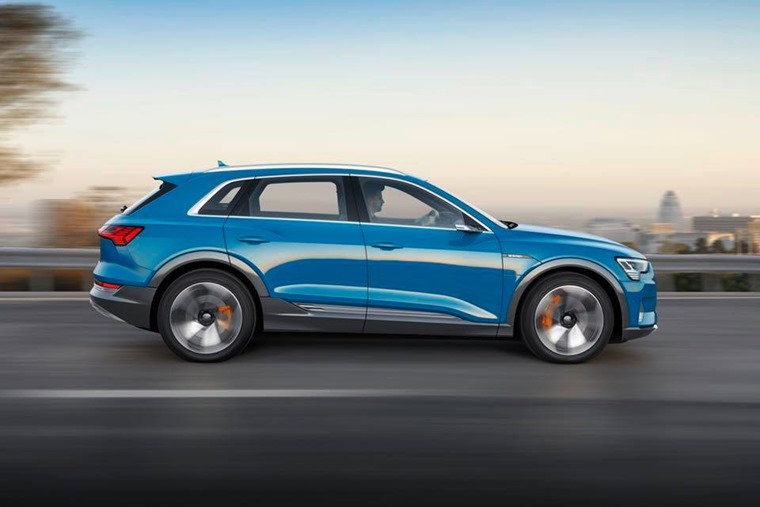 It's the company's first all-electric car and it takes the shape of an SUV. At under five metres in length, it's somewhere between the Q5 and Q7 in terms of size.
Style-wise, however, it gets a much more conventional look than the I-Pace or Model X.Taking a similar approach as the Mercedes EQC; subtlety is the order of the day. You really could mistake it for any other SUV in the Audi line-up.
Up front, Audi's usual sweptback headlights are present, as is the usual hexagonal grille that dominates the front of the car. 20in alloy wheels are standard, as are LED headlights.
It benefits from a slightly different design than combustion-engined cars though, as there isn't a need for as much airflow. The grille is still functional though, with cooling inlets present for the front brakes. Along with a standard air suspension set-up, this is all meant to improve the car's aero and therefore its range.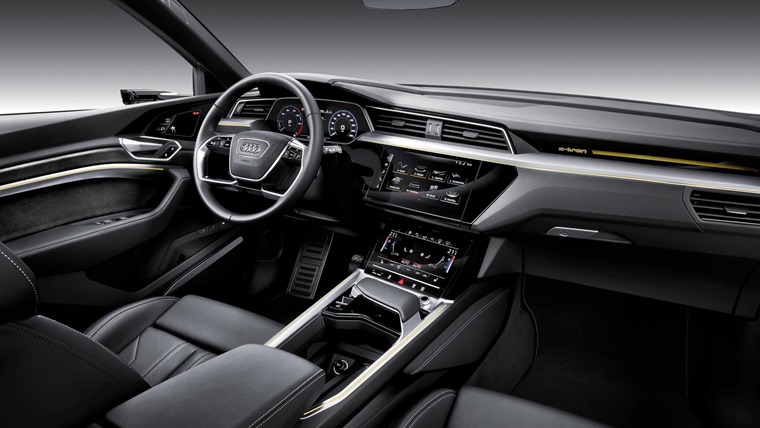 At the side, the stand-out feature are those "virtual" door mirrors (more on those later), while at the rear the light panel spans the width of the car, much like the new Q8.
Inside, it's full of the same cutting edge tech that's on offer in the latest A8, with two MMI touchscreens making up the centre console, plus a standard Virtual Cockpit LCD display that replaces the driver's instruments.
A Launch Edition will be available that includes a black styling pack, window caps and rear privacy glass. It also gets Valcona hide leather, a panoramic sunroof and electric steering wheel adjustment.
For an electric car, boot space is impressive at 660 litres; that's better than the I-Pace and significantly more than the 500 litres of space the upcoming EQC will offer, too.
The optional virtual exterior mirrors are much narrower than standard mirrors and reduce the vehicle width by 15cm. They not only reduce drag, but also noticeably cut the nonetheless low wind noise thanks to their new shape.
A 95kWh lithium-ion battery and two electric motors provide the e-tron with 300kW of power – around 402bhp. This means it'll get from rest to 62mph in less than six seconds, although like most EVs top speed is limited, in this case to 124mph.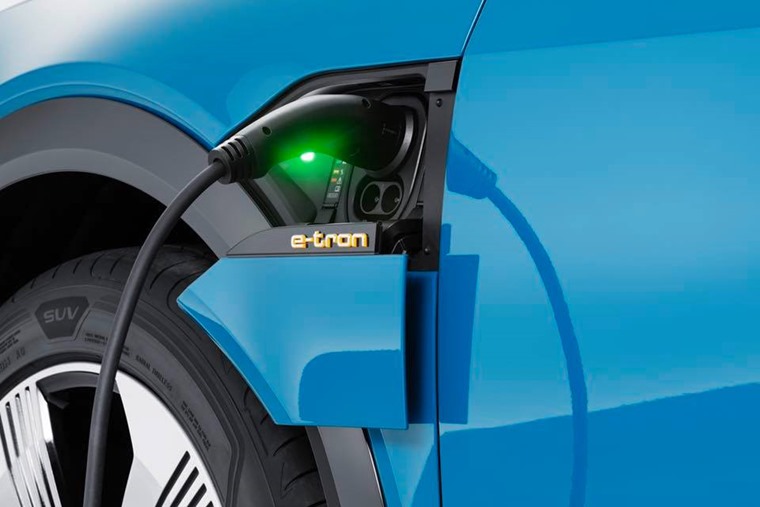 The battery packs sit on Audi's new MEB platform – an electrified version of MLB (that underpins the Q5 and Q7). It's the first of a new generation e-tron models that form Audi's electric ambitions over the next decade or so.
It has DC fast charging capabilities of 150kW, enabling you to recharge the battery to 80% in around 30 minutes. That theoretically means it'll be quicker to charge than a Tesla, which currently charges at 120kW. But how about range? Official stats are to be confirmed, but Audi promises 241 miles of range between charges.
Aside from fast-charging that'll be available at plug-in points across Europe –  the Ionity network being a notable example – charging will take around 8.5 hours via a 400V three-phase outlet.
Audi hopes that this initial standalone e-tron model will form the basis of a new range of cars, much like the Quattro all-wheel drive model did back in the 1980s.
You can check out lease deals on the e-tron by clicking here or, if you're considering its Jaguar-badged rival, you can find our I-Pace review and check out lease deals here.