Audi e-tron GT lease deals now available
Say hello to the all-new electric Audi e-tron GT. With up to 640hp, 0-62mph time of 3.3 seconds and a possible range of up to 303 miles, it's set to take on the Tesla Model S and offer an alternative to the Porsche Taycan.
And it's available to lease right now. We've waited a long time to see this car. Click on the button below to find deals, or read on for everything you need to know.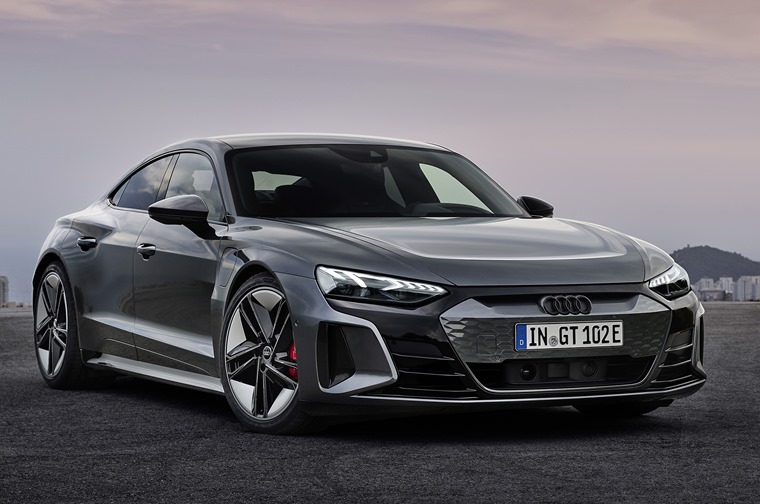 Compare Audi e-tron GT leasing plans
Audi e-tron GT exterior
If you're thinking the design of the e-tron GT looks familiar, it's not just because it looks like an A7; the production car is very similar to the GT concept car we saw a few years ago.
Style-wise, it's a halfway house between the more pedestrian-looking Tesla Model S and radical Porsche Taycan. It's unmistakably an Audi though, with the four-ringed badge taking pride of place on that body-coloured panel where you'd normally find the grille.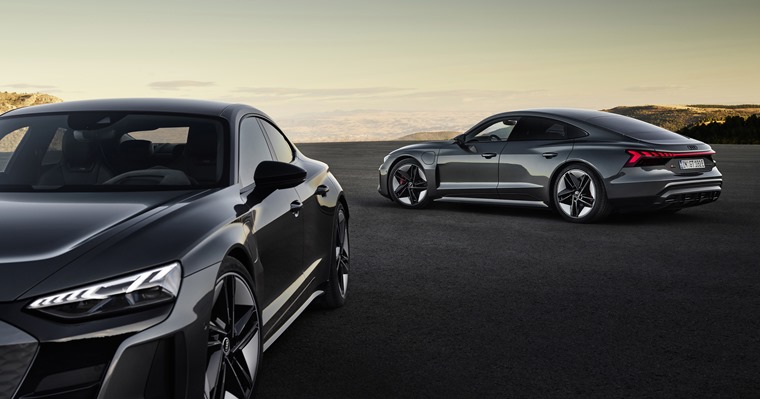 The side looks equally great, with the silhouette not far from the petrol-powered A7 fastback. The windows behind the rear doors give it a slightly curvier look though, while the car sits low on a set of 20in alloy wheels.
At the rear, there's a full-width rear light set-up, while the bumper gets a huge rear diffuser. Being an all-electric car, there's no need for sporty tailpipes here. Dimensionally, it's huge – not far off the length of a Q8, but height-wise closer to the R8 supercar.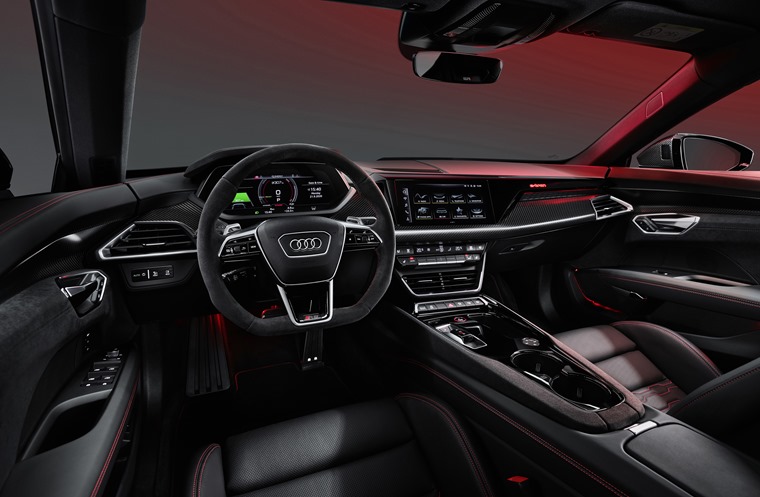 Audi e-tron GT interior
Despite the jaw-dropping externals, the interior is much less interesting. Perhaps that's unfair, because Audi remains top dog when it comes to interiors.
It gets the same infotainment set-up as the latest A6 with a 10.1in touchscreen display and a 12.3in virtual cockpit. The touch-sensitive screen for the heating controls has been dropped and replaced with traditional button controls. There's a flat-bottomed sports steering wheel along with a pair of adjustable sports seats too, while the interior can be had in leather, or a more eco-friendly faux-leather alternative too.
Designed as a true GT, there's plenty of luggage space and room for four adults. You'll find 405 litres in the rear, with an additional 85 litres in the front boot (froot).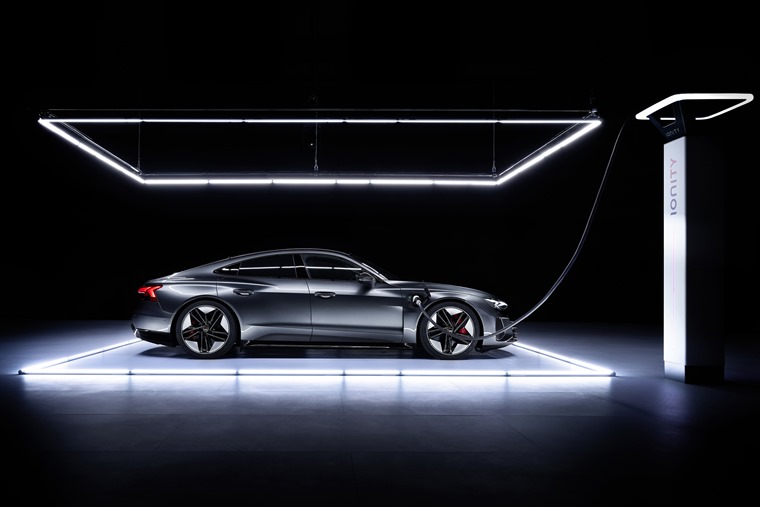 Audi e-tron GT drivetrain
Using a pair of electric motors providing all-wheel drive, there will be two models available from launch: e-tron GT quattro and RS e-tron GT. The former produces around 470hp and has a top speed of 152mph. The RS – which happens to be the first EV to bear the badge – gets a whopping 590hp and a 0-62mph time of 3.3 seconds.
The quattro can do up to 303 milers between charges, while the potent RS drops this down to 293. It uses the same battery packs and architecture as the Porsche Taycan, meaning it can charge at up to 270kW – if you can find a charger capable of that speed. If you do, the result is around 60 miles of charge added per five minutes. Impressive stuff.
There's other clever tech underneath, including a double wishbone aluminium suspension set-up, air suspension and an electronically controlled rear differential and four-wheel steering for improved manoeuvrability.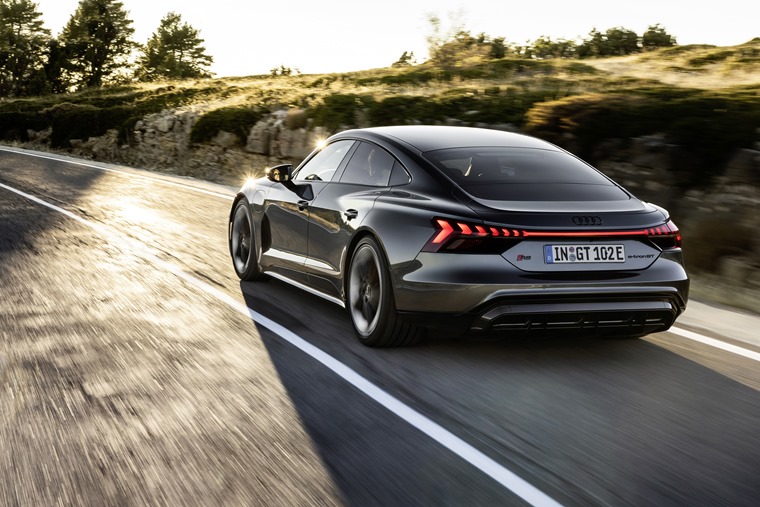 Audi e-tron GT release date
With list prices starting around the £80,000 mark, the e-tron GT isn't the cheapest of EVs. In fact, monthly payments start from around £800.
Like what you see? Well, Audi has a variety of all-electric models to choose from – just in case you need a car that's a little more affordable. Click on the button below to check them all out.