Video review: BMW 3 Series
BMW doesn't like to mess with its 3 Series formula because it's pretty much guaranteed to be a success. But should you pick this new one over a C-Class? If you want a true sports saloon, then yes.
The BMW 3 Series is the definitive sporting saloon. Like the VW Golf and Porsche 911, it's a car that has evolved naturally. For years, it has been a favourite of those that want a well-built, premium saloon that can hold its own on the open road. And this is the latest one – the G20.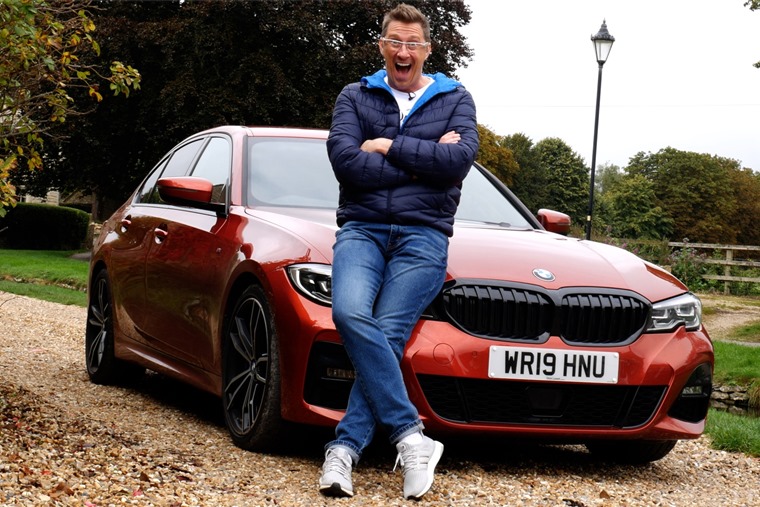 Dynamic. Engaging. Definitive driver's saloon. Leasing.com five-word review
Its looks are more aggressive, the engines are more potent and efficient, and you can now order it with a host of driver aids. In short, it's a massive improvement over the model it replaced, but is that enough to fend off its rivals in the ever-competitive compact exec class?
Watch our video review below, or read on for all you need to know.
It's a handsome-looking thing. The silhouette remains extremely close to its predecessor's, but you don't need to search too far before the more significant tweaks become apparent. The headlights are larger, and now meet the 'kidney' grille, which has been redesigned to incorporate more prominent bars that we've seen on newer models like the 7 Series and X7.
The bonnet is more contoured and clamshell-like than previously, while around the back some angular, wraparound tail lights give it a fresh look. Even entry-level SE models look great, although it's amazing what a difference the beefier bumpers and snazzy alloys M Sport trim makes.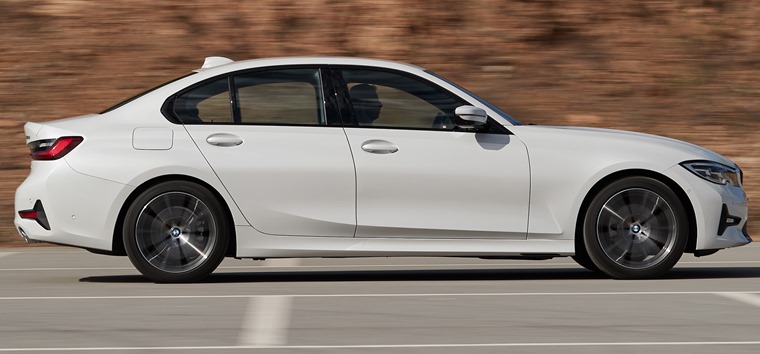 Internally, the 3 Series has come on leaps and bounds. It's a slick, modern design up front, with lots of aluminium-effect trim, and of course a dashboard that tilts slightly towards the steering wheel as is the driver-focused BMW way. The general feel and quality of everything isn't quite as top notch as rivals from Audi and Mercedes though and, compared to a C-Class for example, it might feel a little bland.
The infotainment has been significantly upgraded.
One thing that some people will prefer in the 3 Series is the easy to use infotainment system. It's been significantly upgraded, with a 9in screen now integrated into the dashboard and, while it has touchscreen functionality, you can still control it all via the iDrive rotary dial in the centre console – something that we rather like, considering more and more systems eradicate such a feature, or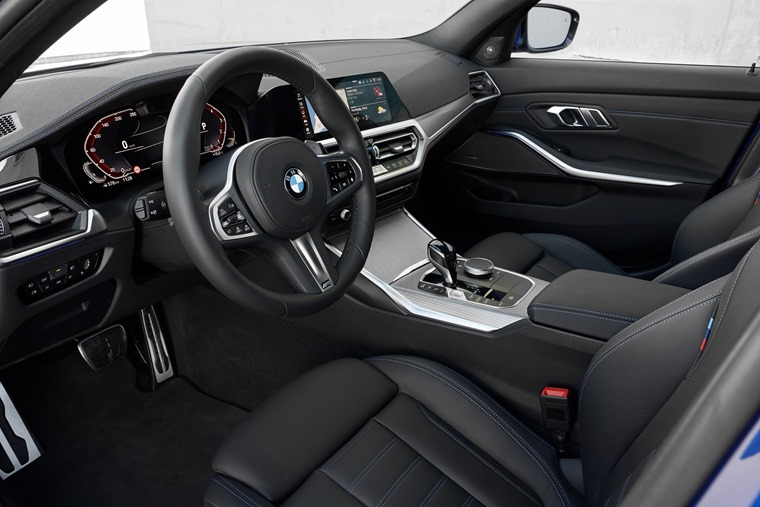 The cabin has managed to keep its sporty feel withing being cramped.
Should you so wish, however, it features a decent voice command system too, while the steering wheel controls feel intuitive and are extremely easy to use. In most models, you'll find a 6in driver display between two traditional analogue dials, although you can upgrade to BMW's virtual instrument cluster which puts an MMI-like 10.25in display in front of the driver.
Practicality-wise, things are about the same as they always were. The cabin has managed to keep its sporty feel but it really doesn't feel cramped – even in the back. Two adults will find long journeys comfortable enough in the back, although that low roofline means headroom is somewhat less than some rivals. In the boot, you'll find 480 litres of luggage space – that's the same as the old model. All models feature a 40:20:40 folding rear seat though, which will make carrying awkward-shaped loads easier.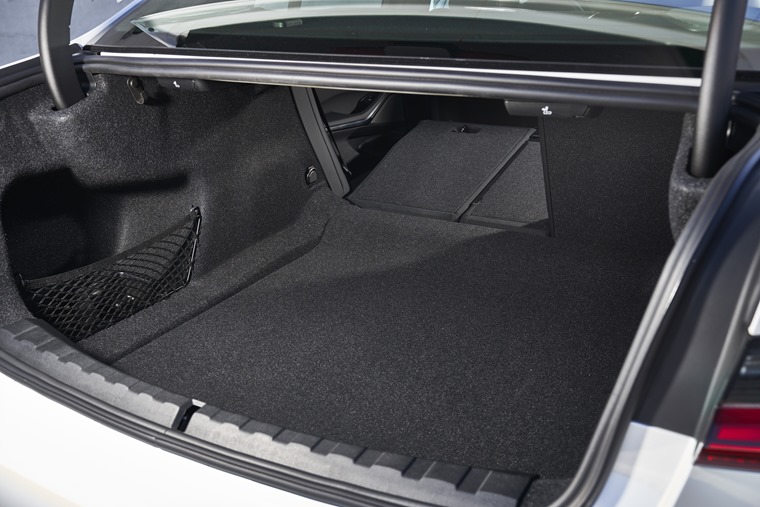 The trim levels are simple and easy to understand. The range kicks off with the SE, which itself is generously equipped. You'll find LED lights, 17in alloys, adaptive cruise control, tri-zone air conditioning and a reversing camera fitted. Sport is the mid-range option, which adds larger alloys, exterior styling changes and leather upholstery. M Sport is the range-topping variant. It gets the sportier body kit for a start, along with a larger 12.3in infotainment screen, a sport steering wheel and a fancy set of 18in alloys.
Whichever trim you pick, driving the 3 Series is a pleasure.
But whichever you pick, driving a 3 Series will be a pleasure. Well, if you're after something that has the dynamic edge, that is. From the word go you just get the feeling that it's a well set up machine. The steering is taught and direct, but not overly so. Its rear-drive platform becomes apparent in the corners, where you'll find it extremely difficult to mess things up. This is also thanks to some clever weight saving – most models are 50kg lighter than before.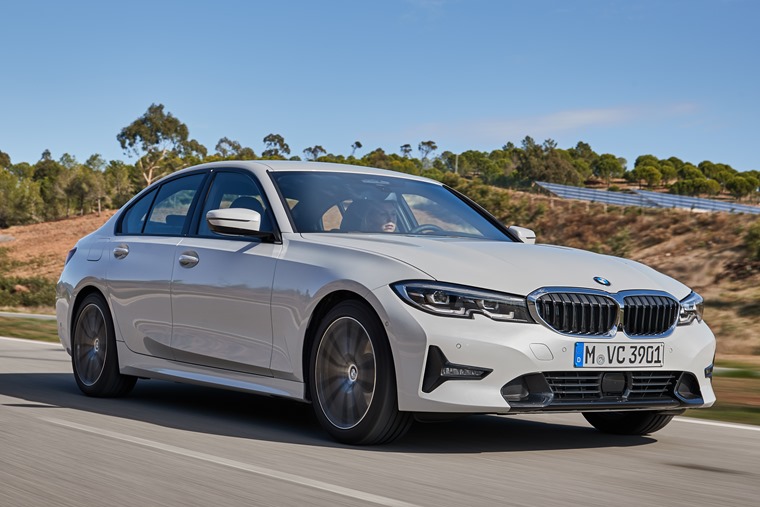 The body structure is also more stiff than before, too. If there's one gripe we have it's the ride; this is a saloon that's been designed to offer an engaging experience rather than a cossetted one. You'll know exactly what we mean the first time you hit a pot hole. Aside from that slightly jarring side note, the 3 Series has the dynamic edge on its rivals – including the Alfa Giulia.
If there's one gripe we have it's the ride.
You can't go far wrong whichever engine you choose; there's currently two petrols and three diesels on offer, while a hybrid version is also on the way. We'd steer clear of the lower-powered 318 diesel though, if only because the 320d provides more power for around the same economy; it'll return up to 56.5mpg while producing just 112g/km in SE guise.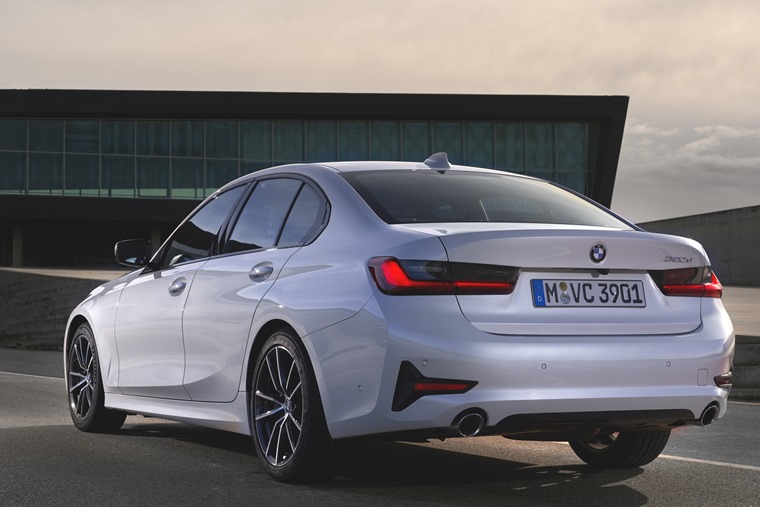 The potent 330d produces 265hp, and can still return around 45mpg if you want more power. The entry-level 320i petrol manages around the same, although the 330i is the one that can make best use of the 3 Series' dynamic abilities; it gets 258hp and a 0-62mph time of 5.9 seconds. Entry-level petrol and diesels get a six-speed gearbox as standard or an eight-speed automatic as an option, while BMW's xDrive four-wheel drive system is available on the 320i and 330d too.
Fancy one? Prices for the 320d M Sport start from around the £300 per month mark, but if you fancy adding the Technology Pack to get things such as a head up display, Harman Kardon sound system and gesture control, a more reasonable benchmark is around £350 per month. For that, you'll get a car that specification-wise can hold its own against the C-Class, while also offering a much more compelling drive. For those that want a fun and sporty saloon that can happily double up as family transport, the 3 Series can't really be beaten.
BMW 3 Series in brief…
Exterior
Same familiar silhouette incorporates newest BMW styling elements. Looks its best in M Sport guise.
Interior
Not as elegant as  C-Class but delivers a more driver-focused feel. Infotainment system impressive, as is optional driver display.
Driving
Just like the 3 Series always has been: fantastic. Those that appreciate a supple ride might want to consider other options though.
Space
480-litre boot is unchanged from the old car, but still more than a Jaguar XE. 40:20:40 rear seats boost versatility too.
Efficiency
All engines offer impressive economy considering performance. 320d offers best of both worlds, until plug-in hybrid arrives later this year.