BMW 7 Series & i7 revealed: What you need to know
BMW has taken the covers off its all-new 7 Series – which includes the electric i7 variant.
With a stunning new look and a seriously lavish cabin, here's everything we know so far.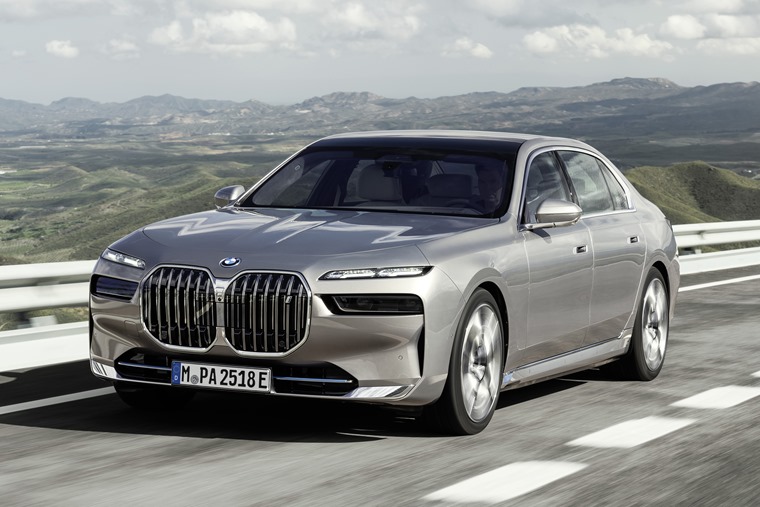 BMW 7 Series fast facts
New styling cues marks breakaway from current BMW design
i7 EV gets almost 400 miles of range
Petrol and diesel models to get mild-hybrid tech
Curved widescreen infotainment screens
Luxurious rear passenger compartment

BMW 7 Series styling
Well, it's certainly a departure from the current styling cues we're used to from BMW – even from cars such as the futuristic iX. The new 7 Series does of course feature the huge kidney grille, but up front it's now paired with a set of recessed headlights and stacked daytime running lights.
It's certainly an aggressive design up front, which is further set off by the slab-like side and angular rear end. Flush door handles feature, further adding to that cut-off, angular side profile. Alloy wheels will be available in 19in, 20in and 21in variations, and all are new designs.
Not everyone will be a fan, but if you're after stand-out design that'll set you apart from the S-Classes and A8s, this certainly fits the bill.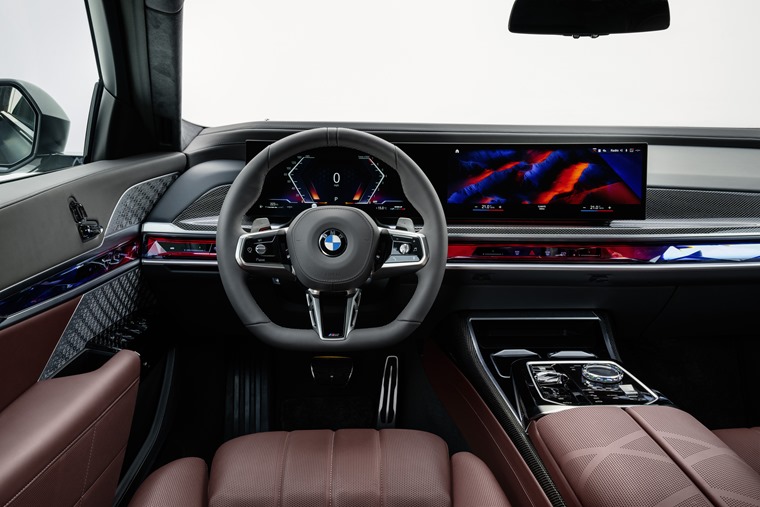 BMW 7 Series interior and tech
The 7 Series' new interior is packed full of tech, with the centre piece being the curved infotainment and digital driver display screen – not unlike what we've seen in models like the i4. It naturally gets the very latest version of BMW's iDrive and can be controlled via new touch-sensing buttons.
The dashboard looks exquisite, with wood and polished aluminium surfaces everywhere you look. The rear passenger compartment is particularly impressive, with an optional theatre screen offered that separates the front and rear passengers.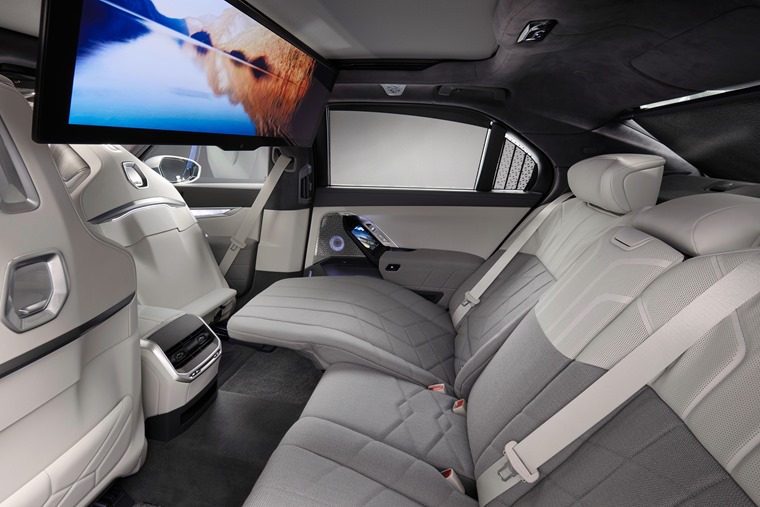 The 31in display lowers from the roof and gets features such as a 5G internet connection. Passengers can control it via their very own 6in touchscreens that you'll find nestled in both of the doors.
Room is improved too, mainly because all 7 Series models now come in long wheelbase guise only – that means more rear legroom.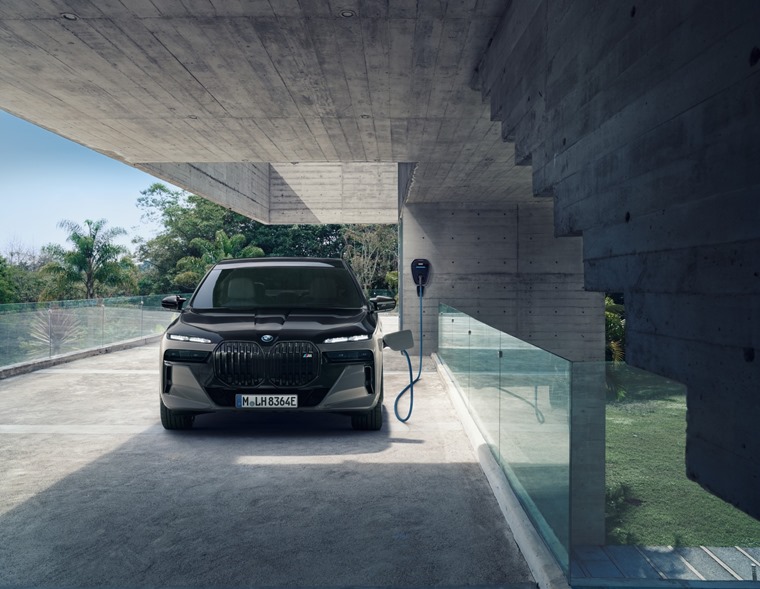 BMW 7 Series engines and drivetrains
From launch, the 7 Series will be available with a range of petrol engines featuring mild-hybrid and hybrid tech. But the first to launch will be the all-electric i7.
All petrol and diesel models will feature an 8-speed automatic gearbox too. The entry-level variation will be the 740d – a 3.0-litre six-cylinder diesel that produces 300hp.
A 750e will be offered too, which will get BMW's xDrive four-wheel drive and produce almost 500hp – enough to get it from 0-62mph in less than five seconds.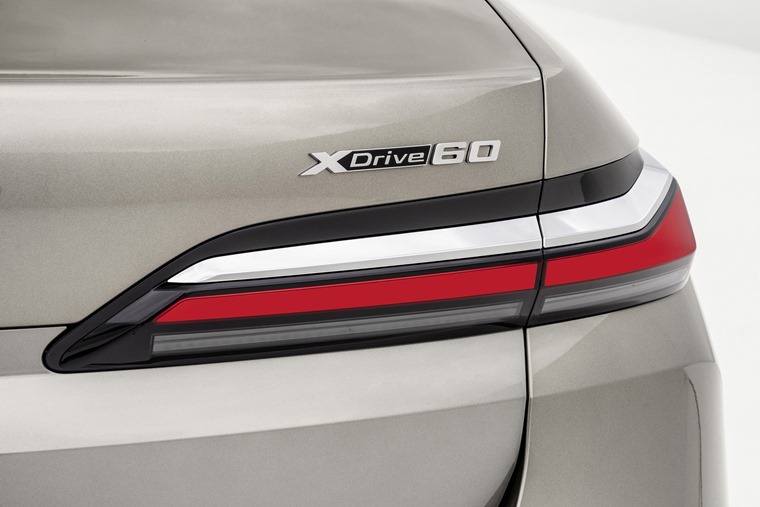 The 750e and potent M760e hybrids will follow, with both featuring all-wheel drive and upwards of 550hp. Exact specs are to be confirmed, but they'll be able to manage about 50 miles on electric-only power.
In terms of the i7, the first iteration has been confirmed as the i7 xDrive 60. It'll be capable of up to 388 miles of range, putting it on par with many key competitors. Producing around 550hp means it'll get to 60mph in less than five seconds.
The battery is a 102kWh unit that supports rapid charging. There's also been confirmation a quicker, more potent i7 will launch later on too.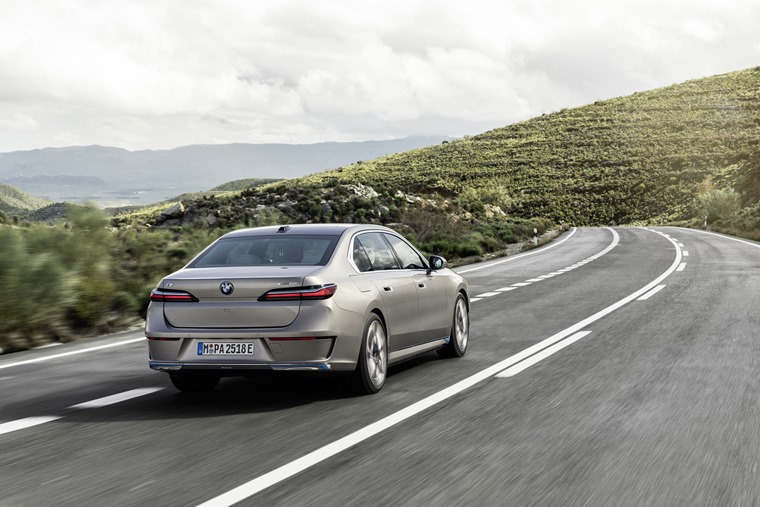 BMW 7 Series leasing and launch dates
Deliveries for the i7 EV are set to commence towards the end of this year, while the petrol-powered versions will be offered from the opening months of 2023. The EV will get a list price of £107,000, although the petrol-powered variety will most likely be priced from around £75,000.
We'll bring you more specs, details and of course leasing plans as soon as they are available. If you can't wait for the new 7 Series, you can see what BMWs are available to lease right now by hitting the button below.