Review: BMW Z4
After a brief hiatus the Z4 is back. It's certainly an improvement all round, but is it meant to be a Boxster beater or a tech-filled tourer?
The last BMW Z4 wasn't really anything to write home about, particularly up against more modern rivals like the Audi TT Roadster and Porsche 718 Boxster. But the 'Z' moniker has been a big success for the company over the years. It's quite an old school brief: big engine up front, two seats in the middle, power out the back.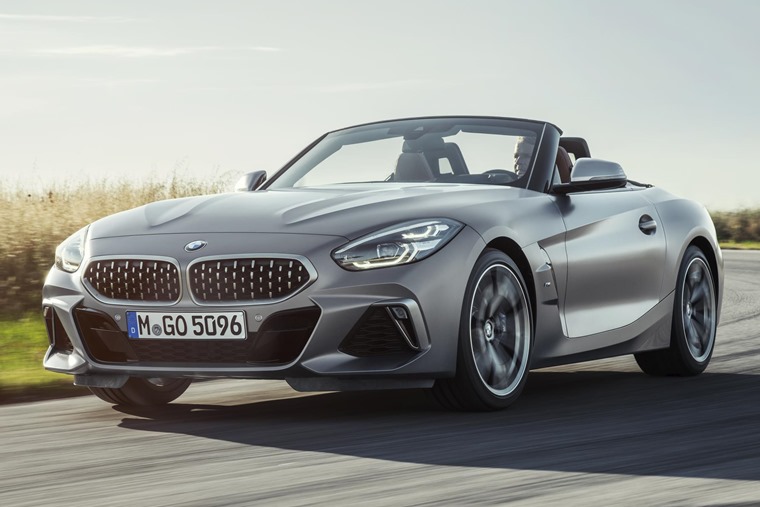 Well, after a brief hiatus, the Z4 has returned and, while leaving that most basic formula alone, there's been some significant changes. It gets one of the most modern infotainment system in the business, is packed with BMW's latest tech, and the roof is not a proper ragtop rather than a folding metal job as it was before. So, is it a fun Boxster beater, or have the changes made it more of a tech-filled tourer? It's a bit of both really. We decided to find out if that's a good thing.
Same fun formula. Added tech. – Leasing.com five-word review
It's got to be one of the best-looking Zs to date. Gone is the bulbous front end, which has been replaced by a muscular design that incorporated BMW's latest kidney-grille design – albeit a much smaller version than you'll find on some of its larger cars these days. The elongated look remains, but it's better proportioned than before. Its rivals include the angular Audi TT Roadster and slick 718 Boxster though, so whether you think it's a looker will be very subjective. As a traditional roadster though? We reckon it looks spot on.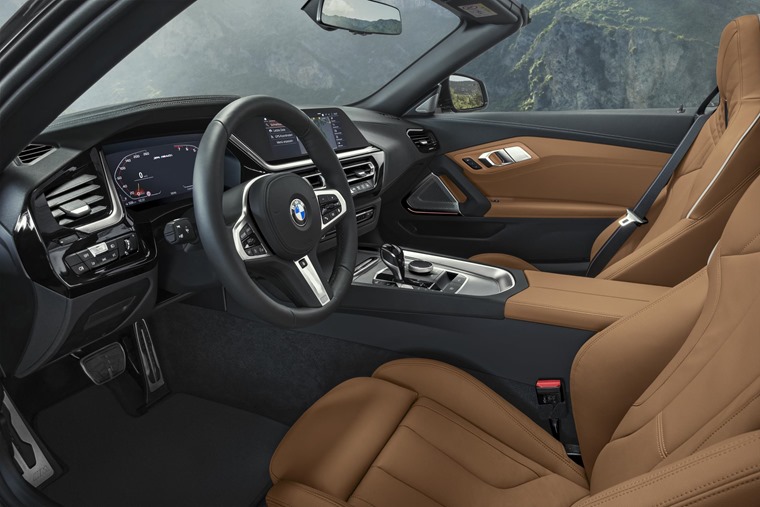 The rag top might have replaced the folding metal roof, but step inside and the Z4 feels more grown up. Sitting in the cockpit gives you a snug, cocooned feel thanks to a centre console that's significantly higher than the seats.
A slick-looking dashboard features an integrated 10.25in infotainment screen.
It's quite spacious considering its size though, with plenty of shoulder room; certainly, enough to make long-distance cruising pleasurable. 281 litres of space can be found in the boot, putting it directly on par with the TT Roadster. Everything feels very much like the latest 3 Series, mainly because everything has been taken out of the latest 3 Series in M Sport guise. That means a slick-looking dashboard with an integrated infotainment system angled towards the driver. There's some plush aluminium trim, although compared to a TT Roadster it doesn't feel particularly sporty.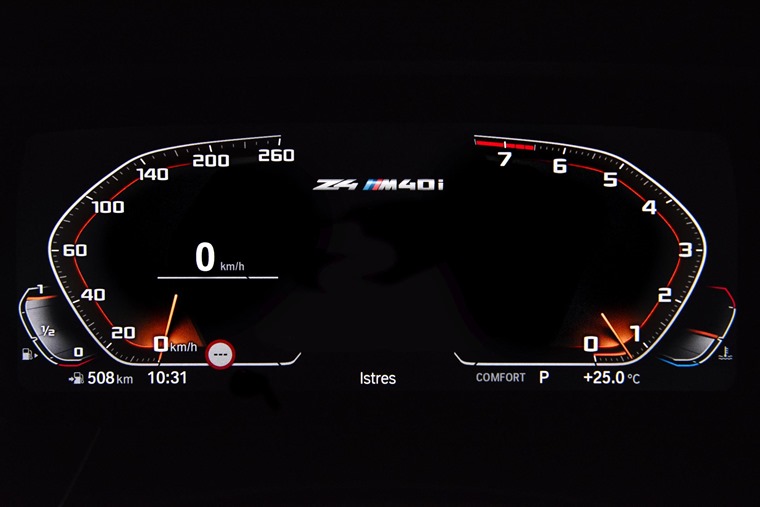 The driver display is vivid and shows everything you need to know.
The 10in infotainment screen combined with a 12in digital driver display work BMW's infotainment screen brilliantly. Unlike some rivals, all the functions can still be controlled via the central rotary dial, along with BMW's 'Hey BMW' voice command system and gesture control. The driver display is vivid and shows everything you need to know, including satnav instructions. It doesn't feel quite as polished as Audi's Google maps style MMI though.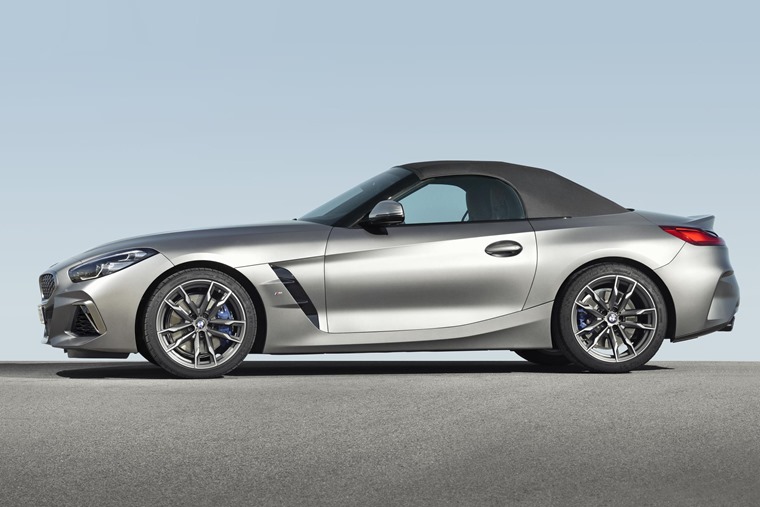 However impressive all the tech is, though, whether you want all this in a long-slung sports car is questionable. On the one hand, it makes longer journeys pleasurable and day to day you can't really complain. But does it take away something from the raw driving experience cars like this are meant to offer? We're not sure. The Z4 seems a little conflicted in this way; it feels by cramming in tech from the new 3 Series, BMW has managed to engineer out some of the car's fun. But how much tech there is in the cabin shouldn't matter as long as it's still fun to drive, right?
The Z4's basic formula remains the same as ever: a potent engine way up front combined with rear-wheel drive.
The Z4's basic formula remains the same as ever: a potent engine way up front combined with rear-wheel drive. Three engines are available, with the entry-level sDrive20i making 194bhp. It's also offered in a more potent 254bhp form. Even with less than 200bhp, the 20i is a solid engine choice and offers a 0-62mph time of 6.6 seconds. The more powerful version cuts this to 5.4 seconds. But for outright performance the range-topping M40i with its 3.0-litre six-cylinder produces 340hp. Its 4.6-second 0-62mph run makes it the one to go for if you want a credible alternative to a 718 Boxster S.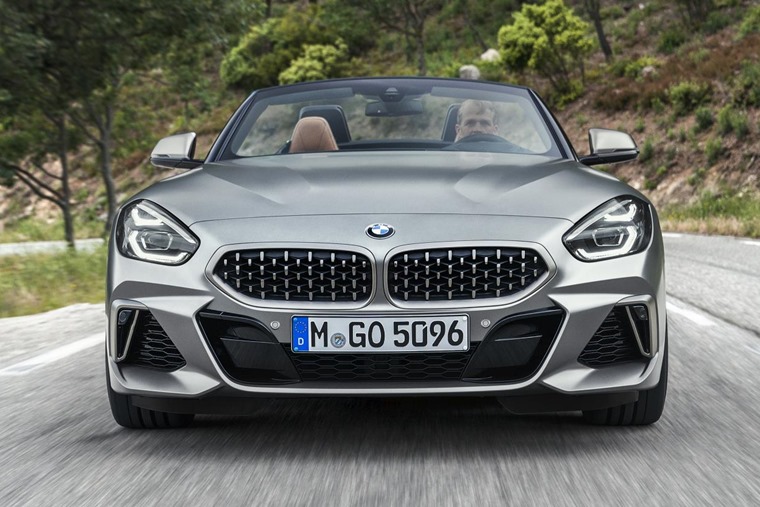 From a driver's perspective, all versions can put a smile on your face. Some will lament the fact it's not currently available as a manual though. Instead, you get a smooth eight-speed automatic, which we prefer to the Audi TT's DSG offering. It's smoother and changes via the steering wheel-mounted paddles are slicker, too.
Some will lament the fact it's not currently available as a manual.
You can tell much work has gone into the Z4's R&D, not just because build quality is top notch, but because there's pretty much zero scuttle shake that roadsters of this type sometimes suffer from; the car's body is extremely rigid. A shorter wheelbase also adds to the dart-like feel too. It's still not as involving to drive as a 718 Boxster, mainly because the steering feel doesn't live up to the expectations the chassis creates.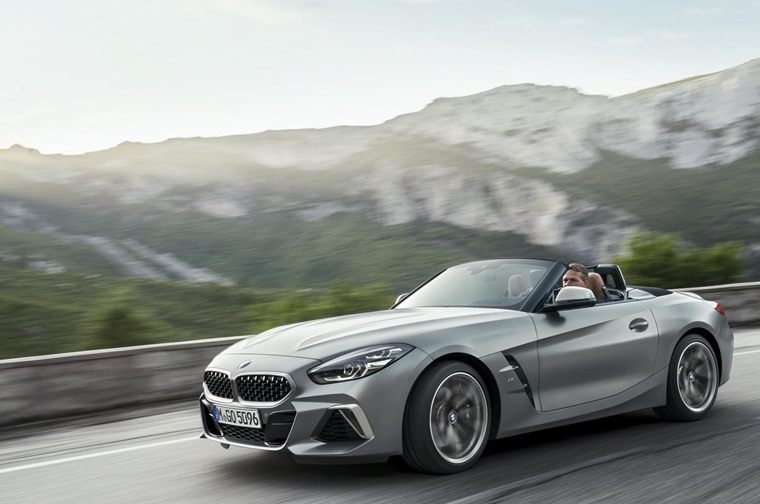 However, is it still a fun car? Yes, it is. Does the tech and lack of a manual steal anything away from its simple drop-top nature? Some would say so, but it's the way all manufacturers are going these days. The manual gearbox's days are numbered, even in models that are well known to be engaging driver's cars.
An entry-level Sport 20i can be had for less than £400 per month as a personal lease.
On that note, M Performance models get an electronic rear differential and M-specific brakes – both of which boost the car's abilities when pushing the limit, although aren't things that'll be a noticeable addition for most people in day-to-day driving.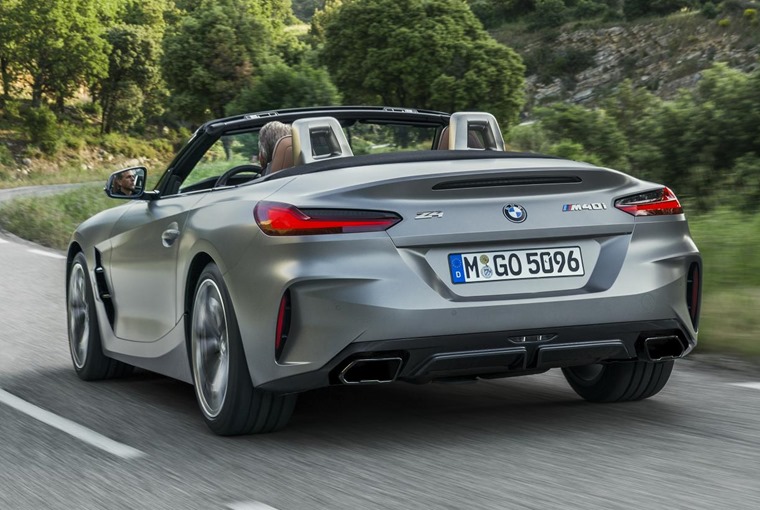 See yourself in one? Well an entry-level Sport 20i can be had for less than £400 per month as a personal lease. That significantly undercuts the 718 Boxster, although in 2.0-litre turbo form it's not quite a match for the Porsche in terms of performance and driving pleasure. A 40 TFSI variant of the Audi TT Roadster is more of a direct comparison, which costs around the same.
The BMW actually features more standard kit though and will certainly be the rarer of the two if that's a priority. The M40i? Well that'll cost from more than £500 per month, which puts it directly in line with both the Boxster and Audi TT RS. If you're more concerned with interior tech and individuality, then the Z4 is a worthy rival for both.
BMW Z4 in brief
Exterior
The best-looking Z from BMW in a long time. Muscular upfront and bulging rear arches at the back. What a proper roadster should look like.
Interior
Tonnes of impressive tech including the latest BMW infotainment system, but is it overkill in a soft top such as this?
Driving
Shorter wheelbase and stiff body make it a fun drive, but steering lacks feel and the lack of a manual gearbox mean it won't be to everyone's taste.
Space
Spacious cabin considering the class, while 281 litres of boot space is the same as the Audi TT Roadster offers.
Efficiency
M40i can manage 38.7 mpg combined, while the 2.0-litre models' official economy is an impressive 46.3 mpg.