Bristol could be the first city to ban diesel cars with introduction of clean air zone
In a landmark announcement, Bristol City Council has agreed to ban all privately owned diesel cars from entering a central city zone in the daytime with commercial vehicles paying to enter a wider area.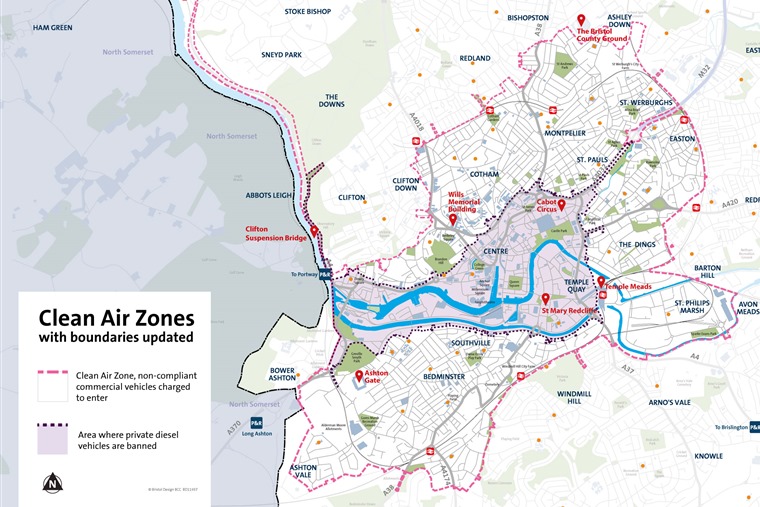 Bristol is currently one of the worst cities for air quality and suffers from high levels of nitrogen dioxide. The scheme, which will be launched in March 2021 if approved by the government, will see air quality improve to compliant levels by 2025.
The central clean air zone, where privately owned diesel cars will be banned between 07:00 and 15:00, includes part of the M32.
A wider clean air zone extends further away from the city centre and will see non-compliant commercial vehicles charged for entry. Taxis and vans will pay a daily charge of £9 and buses and HGVs £100.
This 'hybrid' option will deliver the fastest possible improvement in air quality.
Mayor of Bristol Marvin Rees said: "These ambitious plans demonstrate our commitment to tackling air pollution so we meet legal limits within the shortest time, without disproportionally affecting citizens on lower incomes which would happen with a blanket approach to charging vehicles."
The announcement comes as a result of the UK Plan for Tackling Roadside Nitrogen Dioxide Concentrations, a report produced by the government in July 2017. It outlined that councils with the worst levels of air pollution at busy road junctions and hotspots must take robust action in the shortest time possible. Bristol is one such city which is under a legal obligation to reduce air pollution.