Buying v Leasing: My £10k-saving life hack
I have just ordered my NEW Volkswagen Arteon through Vertu Volkswagen on Leasing.com after seeing a deal for £213 per month. That's right £213 per month.
Now, let's get one thing straight. I work for Leasing.com. So this means I have a horse in the race when it comes to leasing versus buying. But sometimes it's really a no-brainer. I lease at the minute. A Ford Focus that's £206 a month. It's a great family car, but the ST Line doesn't even have electric windows in the back. Yeah I know. A 23k car without electric windows. I have to wind them up like a caveman. Anyway.
As my lease is up early next year, I wanted a slightly more premium car with a few more gadgets. (Apple CarPlay, front and rear sensors etc). But I wanted to keep my monthly payments at a similar level (kids, mortgage, wife wants an extension etc), so I opted for a deal with a higher initial payment.
If you don't want to do that, one-month initial payments are becoming hugely popular, which means you just pay a higher monthly, and very little up front. It's horses for courses.
My Deal:
£213 per month
9+23, 8k
£1,917.18 initial payment + no fees.
Total lease cost over two years = £6,816.64p.
Not too shabby for a car worth more than £30k. That's only a few pounds a month more than my Focus. What's more, not only does it have electric windows in the back, it has some of the most up-to-date safety and self-driving tech around, fitted as standard.
Even with a large initial payment, the total price payable over two years is under £7,000.
That's less than the deposit on an example PCP deal below, which is on a 4.5% APR. Then the monthlies are also an eye-watering £401.93, which is not far off twice the price.*
(Eagle-eyed people will spot the comparison is on the 150 PS 2.0 TDI, but there's no 1.5 TSI in the drop down, sorry, so I selected the same power output and reduced the mileage to 5k, to try and make it fairer. There very little difference in the vehicle cost)*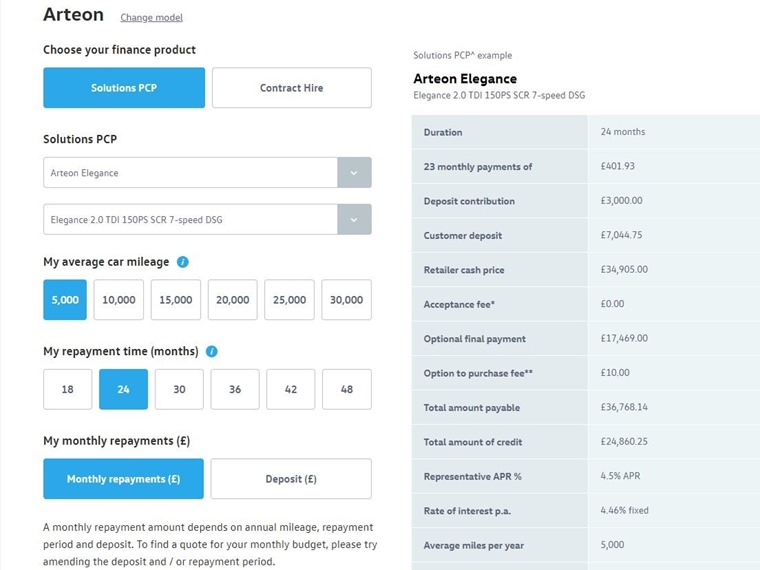 Over two years on this PCP example, I'd have to pay £16,289.14p - and then face a balloon payment of £17,469 to take ownership of the car. That's a hefty balloon payment that I'd definitely have to take additional finance out on - I can manage the 2k initial payment for my lease.
More than likely, in 2021, I'd have handed the car back, and switched up again to get a newer snazzier car, with even more tech, maybe even an electric one. And that's what most people do. Four out of five people if we're led to believe don't make that balloon payment
So the difference between buying and leasing over just two years is almost £10k. Or to be more precise, the difference between 'having the option to buy' and leasing is almost £10k.
Total lease over 2 yrs = £6,816.64p
Total PCP over 2yrs = £16,289.14p
Difference = £9,472.50p
Now this isn't meant to be a PCP bashing article, it's just my story. If you are dead certain on owning a depreciating asset, leasing is not for you. Motor finance is all about finding the right car, for the right person, on the right finance type for them.
Leasing is right for me, and there are times when leasing deals come along that are too good to miss, especially when the boss gives all permanent staff £125 a month towards a lease too. Then it's even more of a no-brainer.
Here's a link to all the deals you can get for under £125 a month.