How to clean your car to reduce the risk of coronavirus
Keeping your car clean, polished and tidy can be tough enough as it is, but a pandemic presents an altogether new challenge.
As Covid-19 is a new virus, not everything is known about it yet, but it's believed it can linger on plastic and metal surfaces for around 72 hours. And plastic and metal is pretty much all your car is made of.
To this end, think about how many surfaces you touch across an average trip. From opening the door at the beginning to using the infotainment to choose your destination and changing gears while you travel there, there's also a lot of other touchpoints you might not have previously considered.
With hygiene and cleanliness high on the agenda as a result of the pandemic, there's a few areas inside and outside the vehicle which you might want to give special attention while cleaning your car if you are absolutely need to use it for essential duties.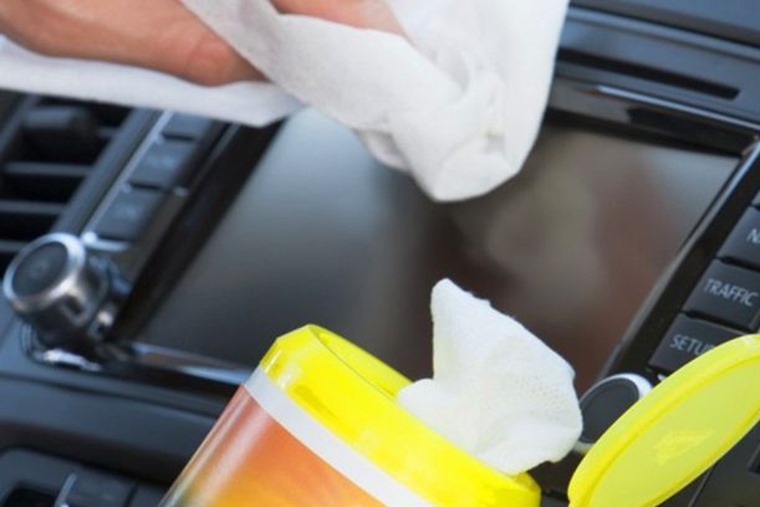 What products should I use to clean the car?
While you might be tempted to splurge on all manner of cleaning products that aren't going to damage leather or other materials in your car, with the government shutting down all non-essential shops and asking you to only shop for the basic necessities this is likely to be out of the question.
Bleach-free antibacterial wipes are the next best thing to specific cleaning products as they kill 99.9% of germs, are inexpensive, and safe to use frequently. Couple this with disposable gloves, apron and a dry microfibre cloth and every touch point in the car can be cleaned thoroughly. Once you're done and have disposed of your gloves and wipes, make sure to follow NHS guidelines by washing your hands thoroughly with antibacterial soap for a minimum of 20 seconds.

Where are the key areas that I need to clean?
When beginning a deep car clean, it helps to think about it logically and approach the car like you would if you were just going for a drive.
The first area to focus on is obviously the exterior door handles and the interior handles. This should also include the window and wing mirror controls as well as door release.
Sat in the front seat, move onto the steering wheel, gearstick and rear-view mirror and from there focus on the lights and wipers control storks as well as air vents. The boot and bonnet opener should also be a focus.
One area that might go unnoticed for a thorough clean is the seatbelt, with touchpoints extending the length of the strap, the latch, anchor ring, anchor plate, buckle and clip.
The focal point of most modern cars is the infotainment system, which is usually either front and centre in the dashboard or a floating unit on top. Whether it's touchscreen or dial-operated it's one of the most used aspects of the interior and should be a major focus of your deep clean. After the infotainment, work logically down to include heating controls, gearstick, the centre console and storage, cupholders, glovebox and grab handles.
In the rear of the car you should focus on many of the same areas as the front – door handles, window controls, door release – but extend the clean to also include seat pockets and the pull-down central arm rest if you have one.
With major touchpoints on the interior sorted, you might want to give the exterior a quick once over. Unless you're going to give the car a thorough wash, key touch points to cover as part of a quick clean include the bonnet lid, boot lid, fuel lid and cap and boot close button if you have one.
It's important to remember not to just give each area a quick wipe. Wipe at least twice in a forwards and backwards motion so you can be certain you've cleaned it properly.
For a more visual demonstration of the major areas you should focus on, Toyota has released this handy demo:
Car cleaning checklist
The following car cleaning checklist has been created by the RAC:
Steering wheel, including horn and infotainment controls
Control stalks
Ignition and power button
Keys
Air vents – passenger and central
Gear stick
Infotainment/radio
Heating controls
Seatbelts and clips
Seat adjust controls
Head rests
Seat pockets
Door handles and releases
Door pocket
Window switches
Interior lights
Grab handles
Parcel shelf
Boot floor tab
Glove box and log-book
Central storage
Cupholders
Bonnet release lever
What if I suspect someone with coronavirus has been in my vehicle?
According to government guidelines, the minimum PPE to be worn for cleaning an area where a person with possible or confirmed coronavirus (Covid-19) is disposable gloves and an apron. These should be double-bagged, then stored securely for 72 hours then thrown away in the regular rubbish after cleaning is finished. If an area has been heavily contaminated, such as with visible bodily fluids, from a person with coronavirus, use protection for the eyes, mouth and nose, as well as wearing gloves and an apron.
Are fuel pumps helping to spread the virus?
Hoax messages circulating on social media are suggesting that Covid-19 is spreading very quickly via fuel pumps. This claim has been rejected by health officials.
Although the virus can linger on metal or plastic surfaces for around 72 hours, Public Health England has dispelled the myth that petrol pumps specifically are a worry and are causing a spike in cases.
A spokesperson said: "Petrol pumps are no worse than other surfaces, although we do recommend people use gloves and wash their hands after using them."
For more information on car leasing during the coronavirus pandemic, click here.