Review: Tesla Model S
Combining the performance of a sports car with the practical dimensions of a large family saloon and featuring a holier-than-thou fully electric drivetrain, the Tesla Model S is a true all-in-one car.
But can Tesla, automotive upstart from California's Silicon Valley, really come out of nowhere and compete with the established car brands which have spent decades developing and refining their car-making skills?
In short, yes and with embarrassing levels of competency.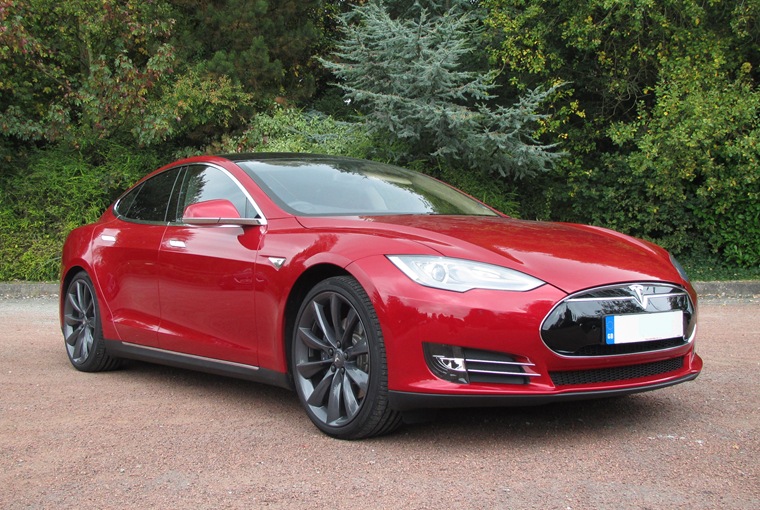 Tesla
Model S
449kW 100kWh Dual Motor 5dr Auto
Profile:
6+47
Mileage:
8k Miles p/a
£1,133.34
Per Month, INC VAT
Initial Payment: £6,800.04
Personal Leasing Deal by: Jet Vehicle Finance
Electric cars just got serious
It is hard to know where to compare and contrast the Model S with other vehicles on the market since it isn't really like anything else on the market. But perhaps you are also considering a Porsche Panamera or an Aston Martin Rapide.
The Model S easily competes with the both models for outright acceleration, with its 85kWh battery model delivering 0-60mph in 5.3 seconds, and its top-spec Performance model delivering that in 4.2 seconds.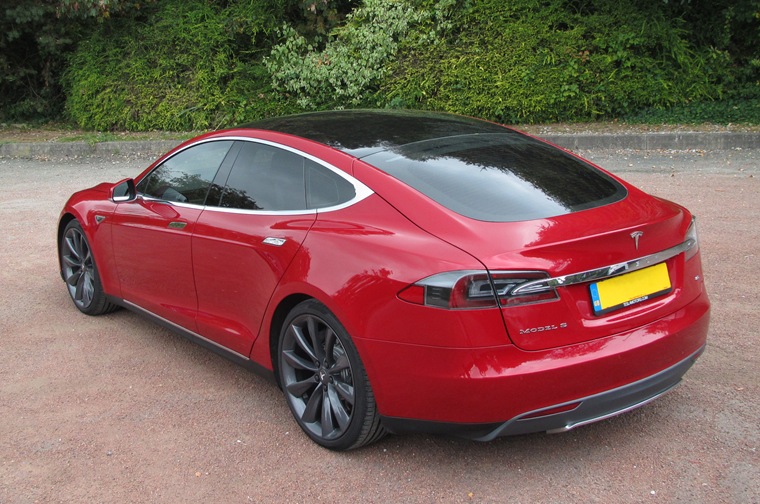 Want to spend a week with a Tesla Model S? Enter our #7DaysTesla competition here
Yet is more practical than either with room for up to seven (if you opt for the optional £2,100 two rear seats) and ample luggage space in both the rear and front, in what Tesla calls its 'frunk' (front trunk), which in an ordinary car would house an engine.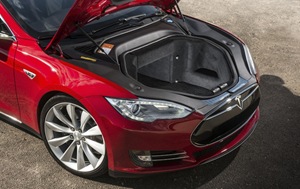 In five-seat models like the one we tested, that means that there is 744 litres in the boot with the seats up and an extra 150 litres in the frunk – enough space to pack up the whole family and take them away for a couple of weeks.
If you opt for the extra seat, it is officially recommended that they are suitable for children up to 12 years of age, although we would say 8 years is more realistic. When not in use they fold completely flat.
While many motorists are still of the opinion that electric vehicles are little better than milk floats with unusable driving range, the Model S offers a driving range of a respectable 242 miles with the cheaper 60kWh battery and 312 miles NEDC with the larger 80kWh battery that we tested, easily outstripping anything that has gone before.
Recharging is easier than you might expect too, despite the huge battery, the Model S is offered with a Type 2 domestic charger that would allow you to recharge your fully electric saloon over night in around eight hours.
Tesla also promises that it will be bringing its Superchargers to the UK too, with a network across the country, the first of which is already at London's Royal Victoria Docks. These deliver a 50% battery recharge in just 20 minutes, and best of all they will be free to use for life.
Silent ride
On the road, the 440Nm (600Nm for P85 Performance models) is available from the get-go, one of the best perks about electric cars, meaning that acceleration from low speeds is blistering.
Despite its ample size at nearly 5 metres long and heavy build at 2,100kg, the Model S handles like a dream and is effortless at cruise speed, although there could be a little more feel in the steering (there are three steering settings to choose from – Comfort, Normal and Sport, with Sport the best of the three).
The interior is well insulated from road noise, and of course there is no engine roar to disturb you.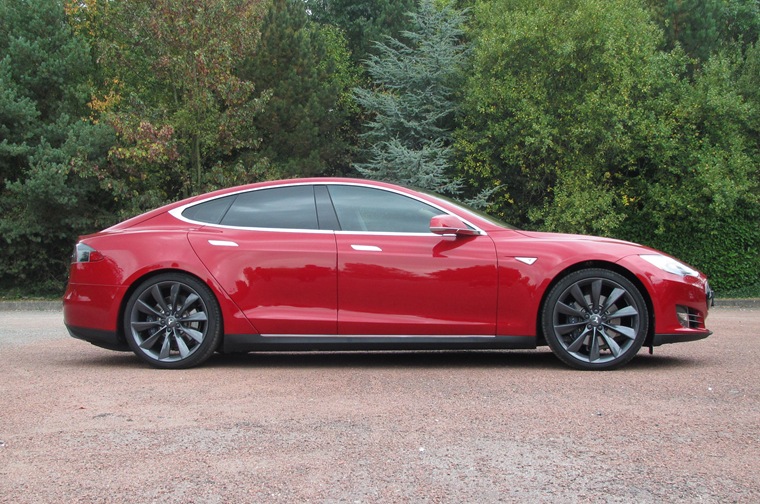 Watch out for unwary pedestrians, this car has the stealth of a tiger thanks to its electric drive and will likely catch some people off-guard.
Outwardly, there is very little that tells the casual passer-by what an extraordinary car this is, it looks like another luxury saloon, though it is a particularly sleek-looking model. Yet there are nice little touches which help it standout – other than its absence of an exhaust pipe – like its flush door handles which only extend outwards when the car senses that the key is near by.
The key too, is a little mini-Model S shaped fob, which unlocks the doors and activates the car. When you sit inside the car, there is no need to press a start button or turn an ignition, the car senses the presence of the fob and quietly turns on automatically, all you need to do is select Drive and go.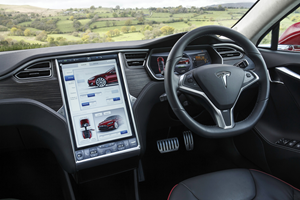 Inside the car, the seats envelope nicely without being too cosseting, and the driver is presented with a smart, leather-bound dash. Instrument-wise things are kept simple with a huge 17 inch centre console controlling almost everything including car controls such as vehicle ride height, steering mode or the opening of the panoramic roof. It also gives you access to the internet, sat nav, phone and music.
Naturally, as a luxury performance car, it is well equipped, as standard including twelve-way adjustable heated seats, keyless entry, rear camera, front and rear LED lights and Xenon headlights, automatic climate control, six airbags, flush door handles, cruise control, anti-theft alarm, three Isofix attachments and rain sensing wipers.
Prices start at £49,900 (thanks to a Government grant worth £5,000), rising to £68.700 for the range-topping P85 Performance model.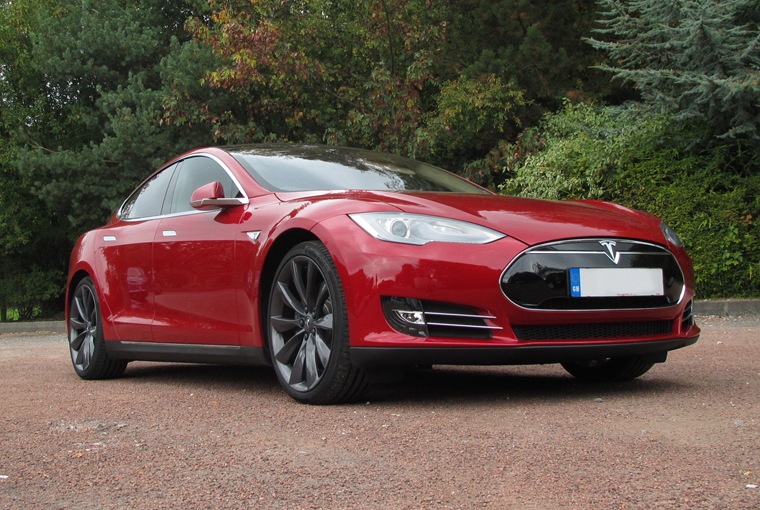 Model S quick stats:
Powertrain: Fully electric
CO2 emissions: 0g/km
Battery: 60kWh or 85kWh
Driving range: 312 miles (85kWh battery) or 242 miles (60kWh battery) NEDC
Max speed: 120 mph for 60kWh battery, 125mph for 85kWh battery model and 130mph for the 85kWh Performance model
Torque: 440 Nm for standard models and 600Nm for the Performance model
0-60mph time: 5.9 seconds (60kWh), 5.3 seconds (85kWh) and 4.2 secs (Performance)
Charging: Around 8 hours using a Type 2 domestic charger or 50% battery recharge in 20 minutes using a free Supercharger
Price: From £49,990
Available: June 2014