Review: DS3 Crossback
The DS3 Crossback won't be taking over the premium crossover class, but the original design, its trendy interior and an upcoming electric drivetrain, it'll turn heads.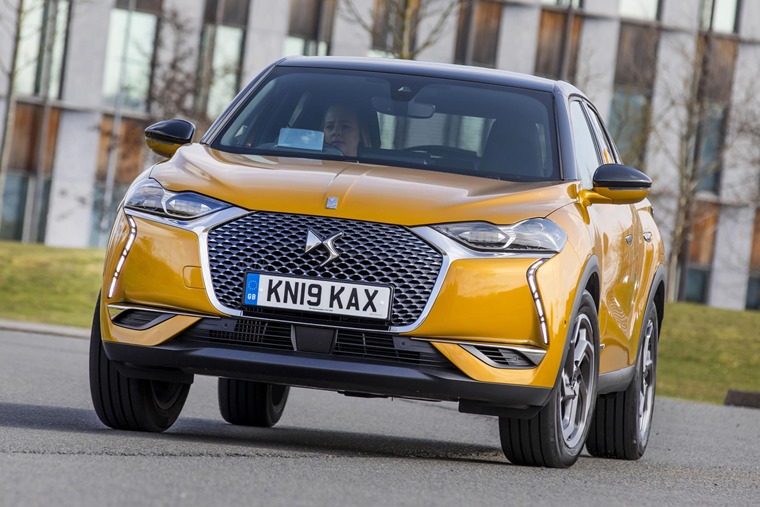 Remember the DS3 hatchback? We're sure you will because they're still everywhere. In fact, you can still lease one. It's on its way out now, but once upon a time, it was the must-have in the premium hatchback world. It captured the public's imagination in a way that larger DS models have failed to achieve.
Exclusive. Chic. A head turner. Leasing.com - five-word review.
But the new car market is not what it once was. Everyone wants a crossover now don't they? DS' answer has been to completely turn a corner and make the next DS3 just that. Introducing the DS3 Crossback. Not a bad idea really, is it? But will this all-new model manage to make the same splash the hatch did back in 2009?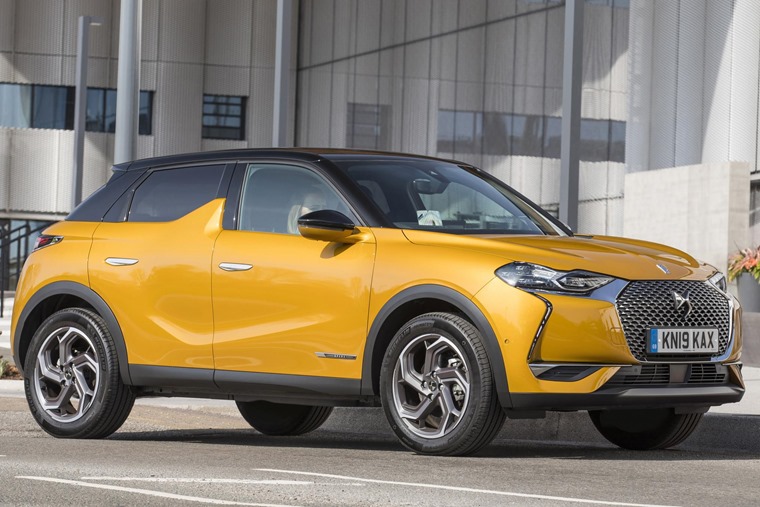 DS3 Crossback competitors include the VW T-Roc, Mini Countryman and Audi Q2 to name just a few. It's a good job it stands out then. This is a car that will split opinion like few others do. It fits in parked outside the boutiques in the chicer quarters of Paris. Whether it's that shark-fin that breaks up the doors, the Range Rover-like pop-out handles or jewel-like daytime running lights, it has something about it. All models feature intricate alloy wheels that in their smallest guise are 17in, while certain elements – the rear lighting arrangement, for example – aren't dissimilar to the larger DS7 Crossback.
It fits in parked outside the boutiques in the chicer quarters of Paris.
If you thought the exterior was trendy, wait until you open the door. Everything seems to have been designed around diamonds. Not actual diamonds, but the shape. The dashboard controls made up of diamond-shaped touch-sensitive controls. The speakers are diamond-shaped. The air vents are diamond-shaped. Even the driver display is diamond-shaped.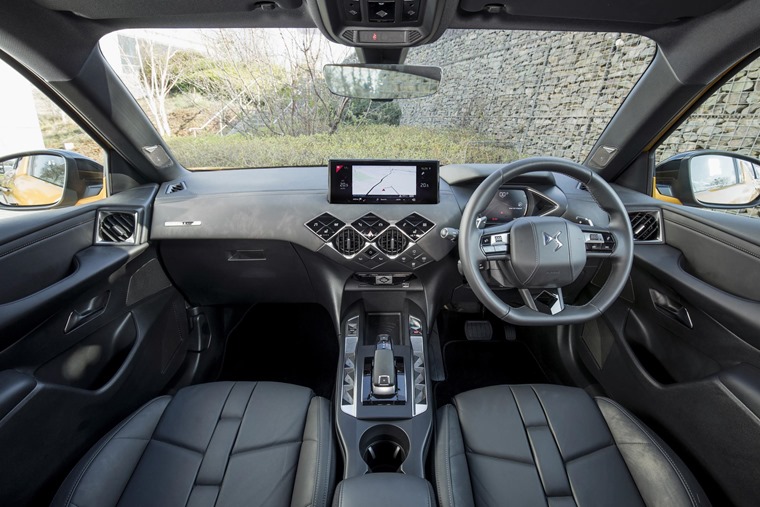 DS would probably have fitted a diamond steering wheel if it had been ergonomically viable. It's a fresh approach and a fantastic attempt at offering something different, although we're not completely sold; those touch-sensitive buttons in the centre of the dashboard can be a little counterintuitive, and as a piece of design it'll certainly split opinion. But hey, that's what DS does best. A neat touch is the side air vents that are actually mounted in the door. It's a clever way to give the dash a cleaner look and save space.
Touch-sensitive buttons can be a little counterintuitive.
All models feature a central 7in touchscreen infotainment system. It works well, although can be slightly fiddly to use and, having driven the car on a sunny day, the display was impeded a little by direct sunlight in a way that doesn't affect other screens. Prestige trim and above feature a 3D satnav system too, but you'll get a funky digital driver display in place of traditional analogue dials no matter which trim you go for. The system is also compatible with Apple CarPlay and Android Auto across the range.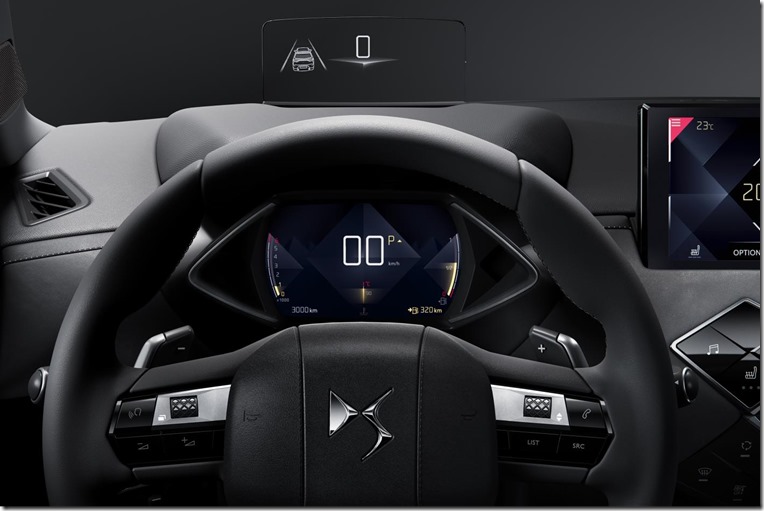 It's surprisingly roomy in the cabin too. The seats are super comfortable upfront, and the amount of passenger space on offer adds to the whole comfort-focused efforts DS has gone too. Rear passengers also enjoy a decent amount of legroom too, although things aren't as impressive in the boot; with 350 litres of space on offer, most rivals offer more luggage room and, while there's still enough space for the weekly shop, the way in which the boot door opens and a lack of an adjustable boot floor will make carrying odd-shaped items difficult.
It focuses on offering a relaxed urban driving experience.
Driving the DS3 Crossback is an exceptionally relaxed experience. The steering is ultra-light in feel and that raised driving position gives you a very good view of the road ahead. Unlike the larger DS7, it relies on more conventional suspension set-up. Ride is more than adequate, with an ability to soak up most bumps with ease.
The payoff? Well, it isn't sporty in any sense of the word. It feels less focused than something like an Audi Q2, mainly due to that light steering; great for pootling around town, not to great to hustle down a country road. But then again, this is a car that is focused on offering a relaxing urban driving experience, and in that regard, it ticks all the necessary boxes.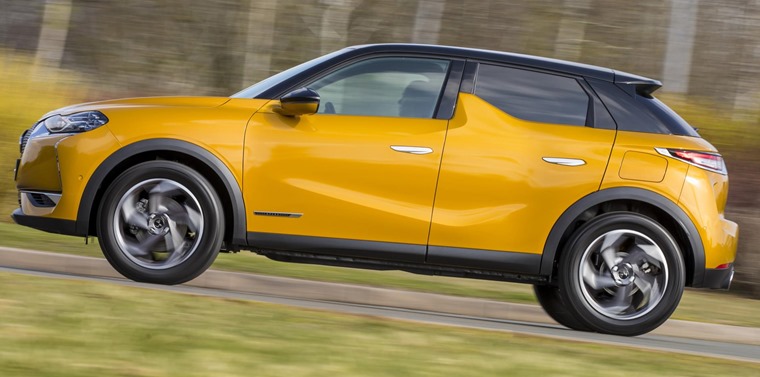 You can choose a 1.2-litre petrol engine or a 1.5-litre diesel, both of which are available with a number of power outputs. The more potent 130hhp and 155hp versions of the petrol engine, however, are available with an eight-speed automatic gearbox; we'd go for one of those combos. It adds to the relaxed nature of the car and, with an 8.2-second 0-62mph time, the most powerful version is one of the quicker cars in this segment. If economy is a priority though, try the diesel; you'll get more than 52mpg relatively easily.
There's an all-electric DS3 Crossback arriving later in 2019 too.
Aside from combustion power, there's be an all-electric DS3 Crossback arriving later in 2019 too. Named the E-Tense, its motor produces 140hp and the battery pack can manage more than 200 miles of range. Ok, that's not quite in the same league as a Hyundai Kona Electric, but given this is a car designed for the urban environment, it should be plenty enough for most. Via a fast charger, you'll be able to get the battery pack to 80% capacity in just 30 minutes. We'll have to wait and see if the E-Tense can outdo petrol for popularity, but it's certainly a car suited to an electric platform.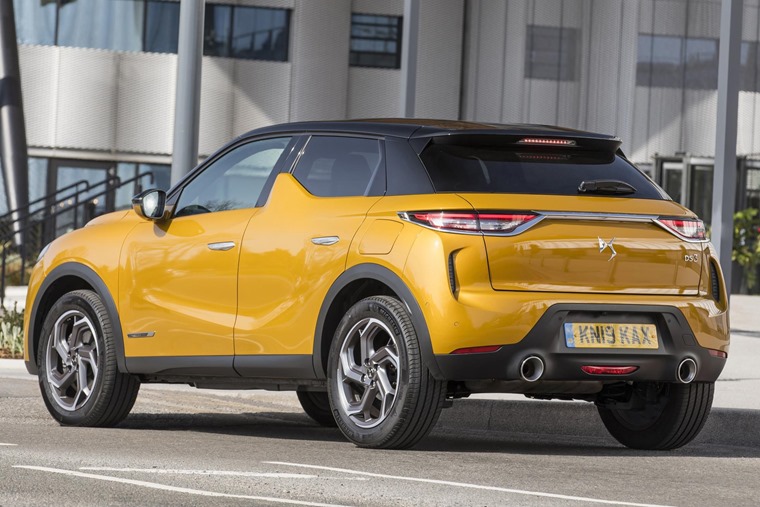 So how much will all this French chic style cost you? Monthly rates start from around the £225 per month mark, so it's not exactly a bargain at the moment. Rivals like the VW T-Roc and Seat Arona can be yours for less, and also offer a little more practicality. Their looks and interiors are also more conventional too. Although some might call them boring.
It really depends on what you want from your vehicle. If genuine exclusivity and a fashionable presence are more important than badge and price alone, then the DS3 Crossback will suit you well.
Model tested: DS3 Crossback 1.2 PureTech 155 Prestige
Exterior
Stylish in the extreme, but it won't be to everyone's taste. Whether it will age gracefully or not remains to be seen.
Interior
Follows the exterior's lead when it comes to design – that's to say different. The touch-sensitive switches will take getting used to.
Driving
Quiet, comfortable, refined. Makes most sense with the powerful petrol engines and the automatic gearbox. Maybe wait for the electric version?
Space
Decent passenger space, although boot reminds you this is a car with more style than substance when it comes to practicality.
Efficiency
Diesel provides the best economy at more than 50mpg combined, although an all-electric version will soon be available with 200+ miles of range.