Want a great car with a battery, not a great battery on wheels? Maybe the Mazda MX-30 is for you
Mazda has unveiled its new battery electric MX-30 model with the assertion this is a "car with a battery, not a battery on wheels". That's a very bold statement and, at the same time, an equally big sideswipe at those companies already offering an EV in the market.
We are used to Mazda being different and unconventional in its engineering and approach to car design. You could argue the Japanese firm has even been guilty of contrariness on occasion, such as sticking with the rotary engine when others have long since abandoned the idea. For others, this is what makes Mazda unique and attractive.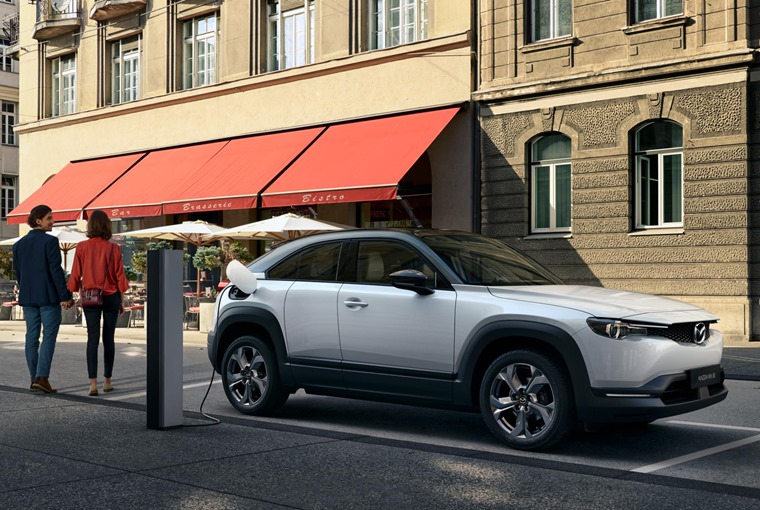 So, what is Mazda doing that's so different from other car companies already producing an EV and didn't the Japanese company poo-poo the idea of electric cars not so long ago? Let's take the first of those assertions first.
Mazda has never outright said it wouldn't launch an EV, but it has certainly been cautious about rushing to market with one or jumping on the bandwagon in the way others have in a bid to snatch some sales and early green kudos. In a typically Mazda way of looking at the issue, they reply the new MX-30 has the right-sized battery and makes a positive contribution to reducing emissions across its entire life cycle.
Ouch, that's another backhand to the chops of many car makers who, it could be argued, are keen to promote the finished product's eco credentials but not so much the materials and environmental cost to reach that stage.
Another front where Mazda is happy to be out of step with others is the claimed range of the MX-30, which will launch in early 2021. It has a battery range of around 125 miles, which is some way short of the 300 miles more that many are now claiming. Point this out to Mazda's engineers and they smile while pointing out the average European journey is less than 30 miles and they expect the MX-30 to be the second car in a household, so it doesn't need to be able to drive to the south of France at the drop of a hat.
Freed of worries about cramming more batteries into the given space of the MX-30, Mazda's engineers have got on with doing what they do best: making a car that's great to drive. Mazda's European President and CEO Yasuhiro Aoyama said at the launch of the MX-30: "As with all our products, our designers and engineers had a very clear goal for our first battery-electric vehicle. It had to have stand out design, be great to drive, something that is key part of Mazda's DNA and makes us unique when compared with competitors."
He also added: "Many of the media who have driven our test vehicle have said it is one of the few electric cars they have driven with the positive characteristics of a regular car. Delivering driving pleasure is at the heart of every Mazda we design and that will be no different in our electric car."
Either this is a bit of bluff from a car company executive worried that he has missed the boat on a trend or Mazda is among the first to recognise that all of those EV evangelists have already bought into the dream. Now is the time for cars that appeal to a more varied audience.
Given how shrewd Aoyama-san is and that Mazda has often been in the vanguard of launching cars into emerging sectors, we're inclined to go with the second assessment. There's good reason to think this too as EV sales have not bloomed in the way many thought they would as we approach the beginning of the third decade of this century.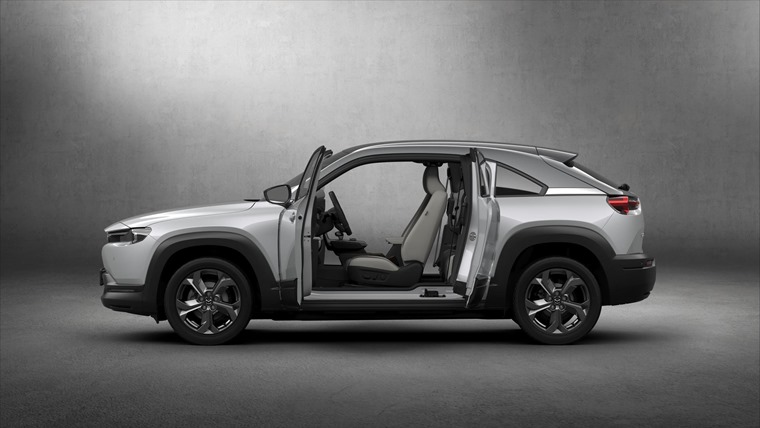 In taking a different tack with its EV, Mazda has recognised and acknowledged there are a great many drivers out there who are either not fussed about driving an EV or are yet to be convinced. They also want a car that's enjoyable to drive rather than just being very quick to accelerate as a by-product of its EV motor.
The MX-30 will even come with an electronic sound system to create a synthesised engine sound inside the car. Some might find that odd when one of the attractions of an EV is its silent running, but research shows many people actively enjoy the note of an engine in their car. Mazda's own research also proves that the sound of an engine running helps the driver gauge speed more accurately and that leads to more efficient driving.
With all of this in its favour, plus other features like vegan upholstery and RX-8-style rear-hinged back doors, the MX-30 could well mark the real switch to EVs that has been much vaunted. It's a recognition that not all drivers are willing to trade driving pleasure and a bit of fun and style to do the right thing for the environment. That might sound like a lazy way of thinking, but human nature is a complex set of decisions and ideas, many of them based on emotional bias rather than objective evidence.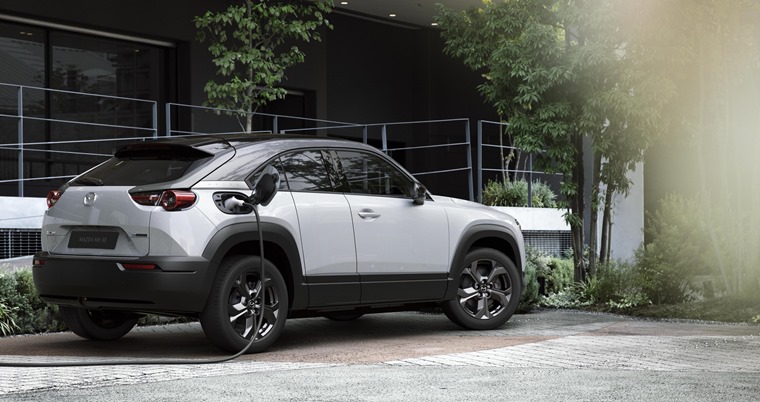 For this reason, the Mazda MX-30 has all of the hallmarks of a car that is set to be a little out of step with the current crop of EVs and one that will appeal to many but not all. Which describes just about every one of Mazda's best designs.