Euro NCAP: New Mazda CX-30 excels with record safety score
Euro NCAP has released the results of their latest safety tests, with the new Mazda CX-30 leading the pack and the Mercedes-Benz GLB following close behind.
The Mazda CX-30, a small crossover which bridges the gap between the Mazda CX-3 and CX-5, achieved a near-perfect 99% score for adult occupant protection. As a result it now tops the list for cars tested for this part of the assessment in 2019.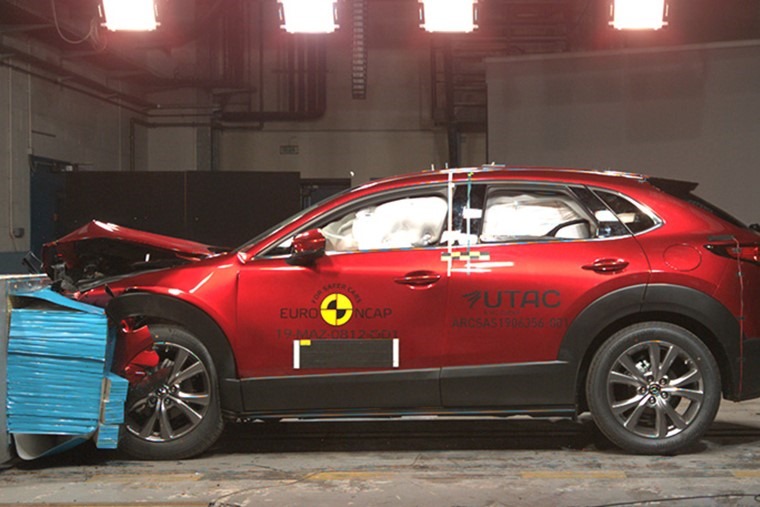 It scored further high figures for child occupant safety (86%), vulnerable road users (80 percent) and safety assist (77%), leading to a well deserved full five star safety rating.
Elsewhere, Mercedes-Benz continued their current run of offering five start safety across their range of vehicles with the new GLB.
It has been a busy year for the company, with the GLB becoming the sixth Mercedes-Benz to be rated this year and the sixth to achieve the maximum safety rating. It scored 92% for adult safety, 88% for child safety, 78% for vulnerable road users and 74% for safety assist features.
Ready for some action?

Euro NCAP assessed 4 new cars. Our release is scheduled for Wednesday 13 November 10:00 AM CET. pic.twitter.com/eeP47KZa7G

— Euro NCAP (@EuroNCAP) November 7, 2019
While the likes of these SUVs and crossovers have excelled in the safety stakes over recent years, the supermini segment has increasingly come under pressure both from changing safety requirements and consumer trends. Which is why Vauxhall should be celebrated for achieving a four star safety rating on the new Corsa.
Under the guidance of PSA, the Corsa shares much of its underpinnings with the latest Peugeot 208 which was also rated as four stars earlier this year. Performing above the five-star requirements in three of Euro NCAP's four areas of assessment, the Corsa only missed the top rating by a single percentage point in Safety Assist.
Michiel van Ratingen, secretary general of Euro NCAP, said: "Congratulations to Mazda for another almost-perfect score in adult occupant safety. There are still several cars to be rated in 2019 but it is unlikely we will see better for this part of the assessment.
"Euro NCAP is now gearing up for new tests in 2020 but we're confident that manufacturers will continue to deliver the highest levels of safety to their customers."