EV registrations surge in August, with Tesla Model 3 third-most popular car
The UK new car market remained steady in August, with 1,521 fewer cars registered than in the same month in 2018. However, a massive surge in the registration of battery-electric vehicles was also registered.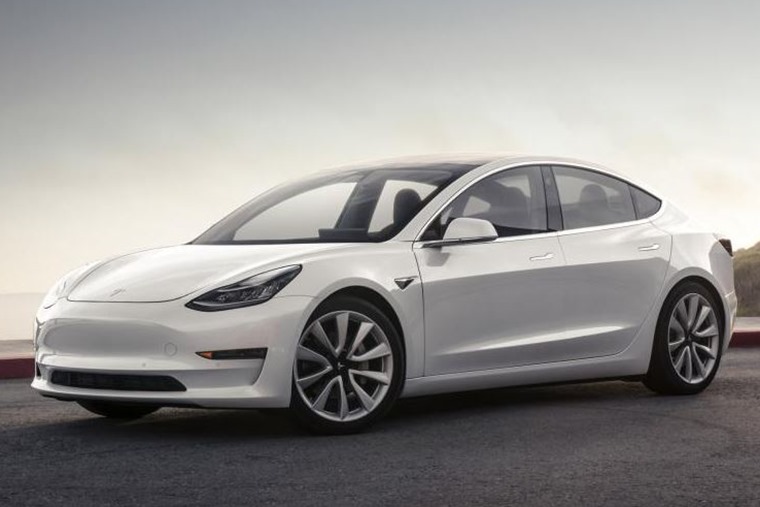 The latest figures from the Society of Motor Manufacturers and Traders (SMMT) show registrations fell by 1.6% in what is typically a quiet month for the market, ahead of a new plate arrival in September.
Registrations from both the private and fleet sectors declined in the month, down -1.7% and -3.5% respectively, as demand in the small volume business segment increased by some 962 units.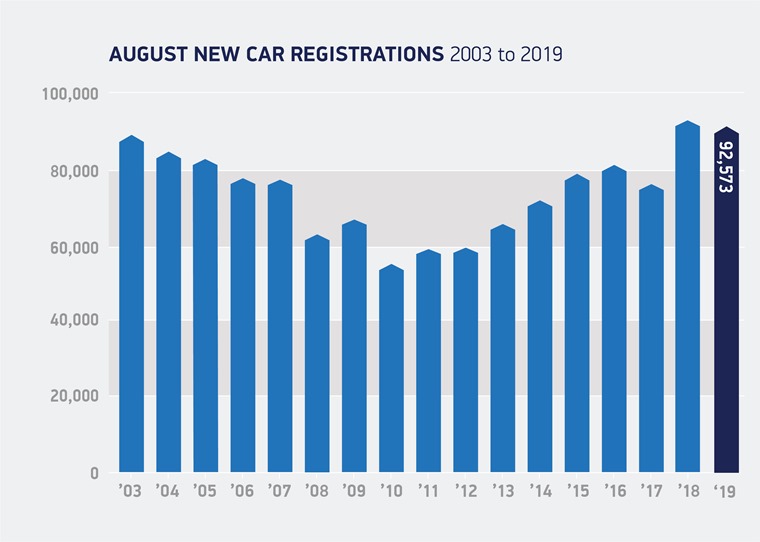 Zero emission cars saw the biggest percentage growth, up 377.5%, to 3,147 units as new models and some pent up demand boosted registrations, while 4,014 hybrid electric cars also joined UK roads, an uplift of 36.2%.
However, the decline in plug-in hybrid registrations continued, down -71.8% to just 907 vehicles. Meanwhile, diesel registrations fell for the 29th month in a row, although the rate of decline is slowing.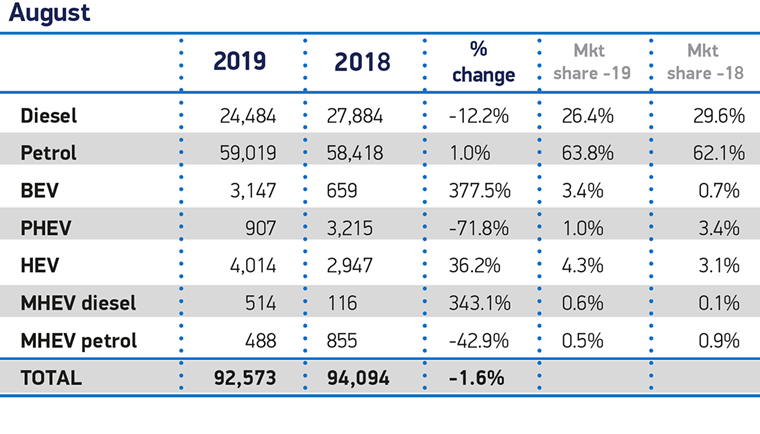 In addition to the cleanest-ever petrols and diesels, the UK's alternatively fuelled offering now includes some 27 hybrids, 27 plug-in hybrids, and 24 zero emission battery electric and hydrogen models.
As for the makes and models themselves, the Ford Fiesta remained the most popular car in the month of August and in the year to date, but of most interest is "other" which finds itself in third position.
This is reportedly the Tesla Model 3, of which more were registered in August than of models such as the Mercedes-Benz A-Class and Ford Focus. It's currently labelled as 'other' due to it technically being an import. This should change next month, when we'll see if it manages to remain in the top 10.
Amazing - Tesla Model 3 was the third biggest selling car in the UK last month. (More than the Ford Focus!)

Yes it's a quiet month, and it was the start of deliveries, but this is still first time EVER an electric car has been in top 3 slot. pic.twitter.com/Wv2jRiJn7e

— Peter Campbell (@Petercampbell1) September 5, 2019
Mike Hawes, SMMT Chief Executive, said: "August is typically the new car market's quietest month so the huge increase in EV registrations is very visible but especially welcome. It's great to see consumers respond to the massive industry investment made over many years.
"While this is encouraging, these figures also show the scale of the challenge ahead. It's a long road to zero and while manufacturers can deliver the technology, they can't dictate the pace of uptake.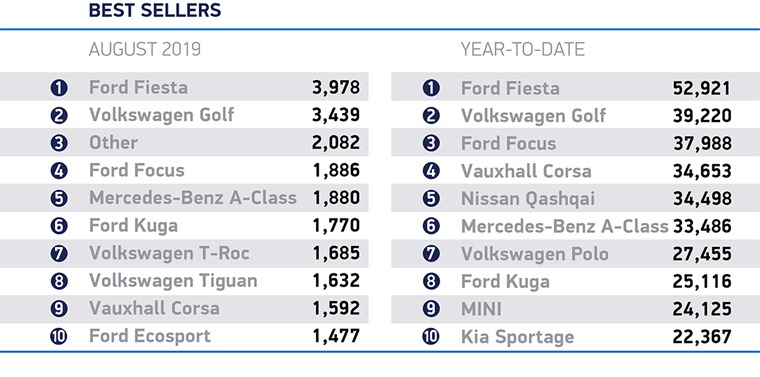 "To support a smooth transition and deliver environmental gains now, we need a long-term government commitment to measures that give consumers confidence to invest in the latest technologies that best suit their needs."