Review: Ford Puma
Ford has gone to great lengths to banish thoughts of the original Puma from the late '90s. With an equally invigorating ride, and a few unique additions, it's safe to say they've succeeded
A car company spends billions developing a new car, only for journalists to come along and say how it's all been done before, how there's nothing new, how the latest model just isn't exciting enough.
When you've bolted the Puma badge to the back of your new car, you're also setting yourself up for a bunch of enthusiasts to come along and remind you of the much-loved two-door coupe from the late 90s. Ford would rather you forgot about that car and focused on all the innovations of this new Puma, a small SUV.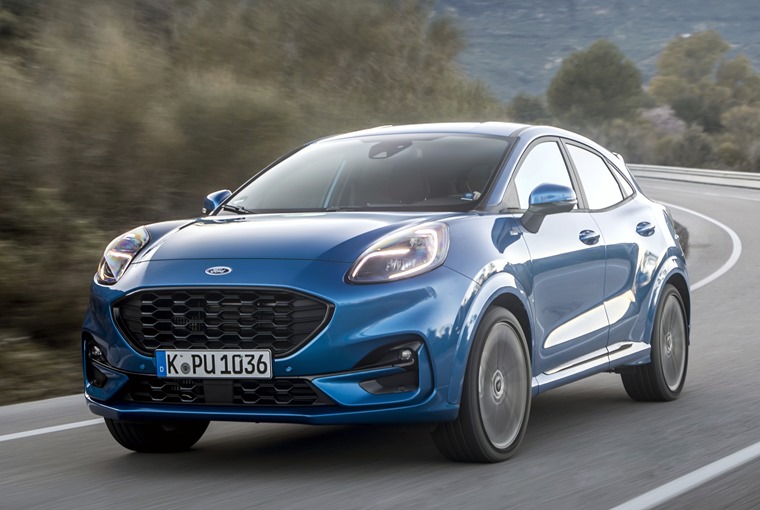 Banishes thoughts of '90s model.Leasing.com five-word review
Except, of course, it's all been done before, to lesser or greater degrees. Apart from one part, and it's a genuine innovation, a real change to how a car is produced that will make a real difference to real people in their real lives.
It's a box.
There's a bit more to it than that, but it's fundamentally a plastic box that sits below the false floor of the boot. Grandly titled the Megabox by Ford, it drops all the way down to the underside of the car and adds a handy 80 litres of luggage capacity to the back of the Puma. More impressively, it's so deep that you can stand a couple of golf bags upright in there, or perhaps move some plants coming home from the garden centre, or even chuck in muddy boots after a weekend hike. You could even wash the dog in there, as it's both waterproof and has a removable plug to let liquids drain away. I can't believe I'm getting excited about a box.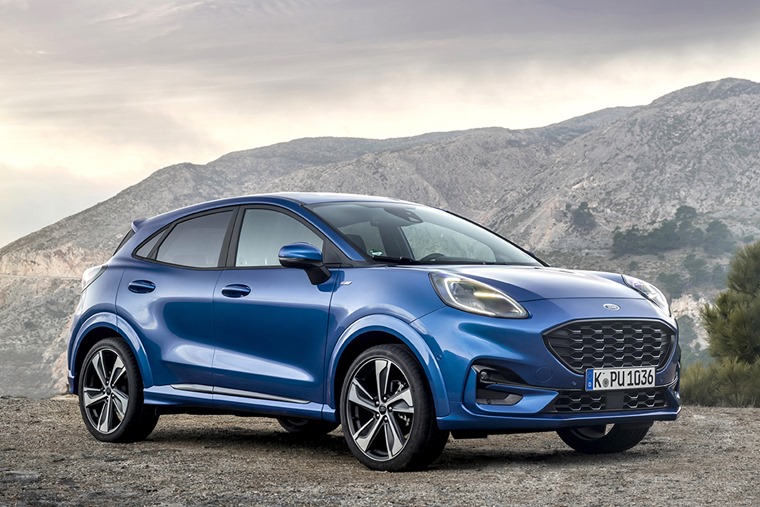 Fortunately, there are many other positive aspects to the new Ford Puma, including a degree of driving engagement that might actually keep those looking back fondly at the 90s happy. Ford's engineers have managed to take the Fiesta's keen handling, the car on which the Puma is based, and transfer most of it to the new model. Turn-in is sharp, there's little body roll, and it stops sharply and reacts as you would hope. It's a real giggle on some twistier roads, despite the raised ride height, although part of that might be due to the Goodyear Eagle F1 tyres that are fitted to the car.
There is one caveat; on a very cold and damp road the Puma can surprise, as the rear end slides wide if you back off the throttle sharply. That's great fun when you're on a private track and expecting it, but could alarm you on the A34 towards Waitrose. Happily, all the computers onboard soon gather it all up and return you to the straight and narrow.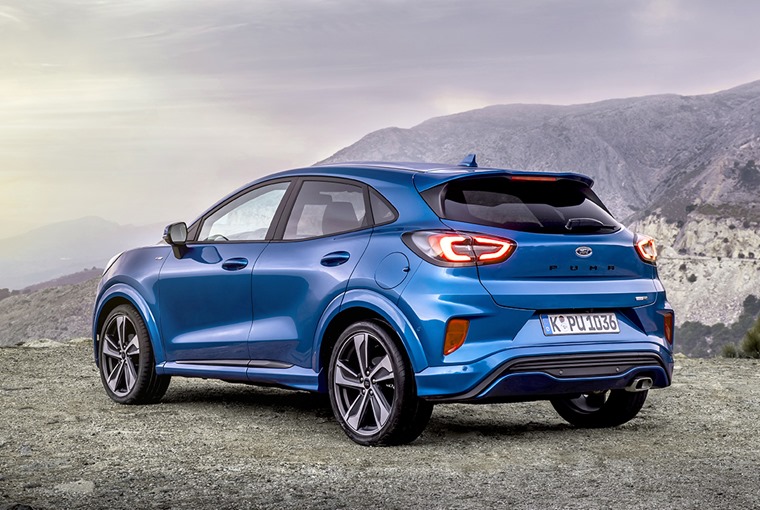 Ford has bolted on a tiny hybrid system ... which boosts power and economy.
The handling prowess isn't at the expense of ride quality, although the Puma's not a soft, cosseting piece of kit. It's quite stiffly sprung, with low-profile tyres on 18-inch wheels, which impacts the ride to a degree, but it's never uncomfortable or intrusive. The Titanium models come on smaller wheels and are marginally more comfortable, but there's not enough in it for that to be a deciding factor.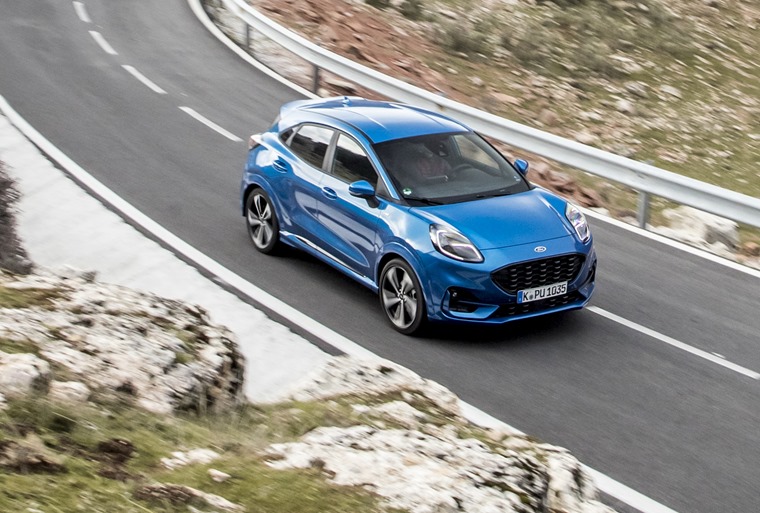 Under that bulbous bonnet lies the trusty 1.0-litre three-cylinder EcoBoost petrol engine, but Ford has bolted on a tiny hybrid system which boosts power and economy.
Available in two states of tune, there's a 125hp offering or a slightly more potent 155hp model. Each promises more than 50mpg and CO2 emissions of under 100g/km, and there's really very little discernible difference in performance. The stopwatch shows the more powerful hits 62mph in 9.0 seconds, but that's less than a second quicker than the 125hp choice. All things being equal, take the 155hp, but don't feel like you're missing out if you end up having to take the 125.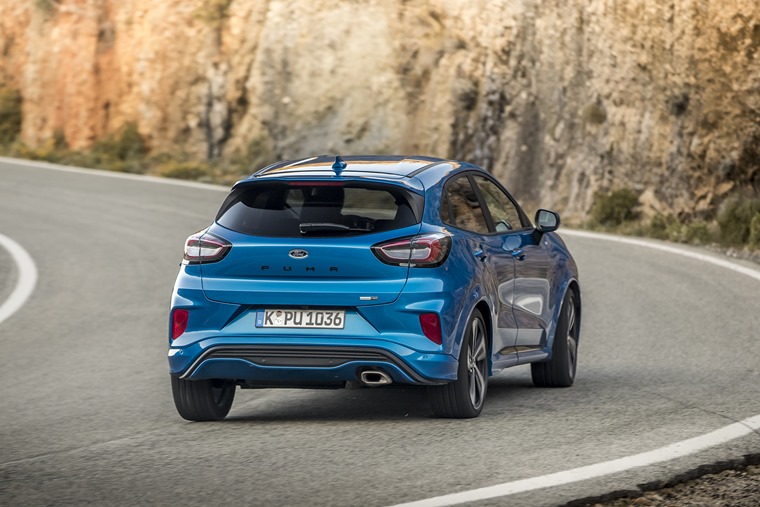 List price differences are minimal, with a £750 uplift for the more powerful models, and depreciation should be reasonable, which will help to keep leasing costs competitive. A quick look on Leasing.com's deal finder showed as little as a £10 a month difference between luxurious Titanium spec or the sporty-looking ST-Line model.
Ford has gone to great lengths to banish thoughts of the old Puma and succeeded in doing so (until I just raised it again)
That sporty look on the ST-Line is best described as divisive. A lot like it, but there's a vocal number of people who can't stand it. Still, the Marmite effect didn't do Nissan any harm with the Juke, a natural rival to the Puma, which continues to sell in huge numbers.
Under the bodywork is a conventional cabin that's functional rather than exciting. There's enough elbow, leg, knee and headroom unless you specify a panoramic roof - that eats into the roof space and makes it tight for a six-footer. The rear, despite three seat belts, is strictly a two-person environment.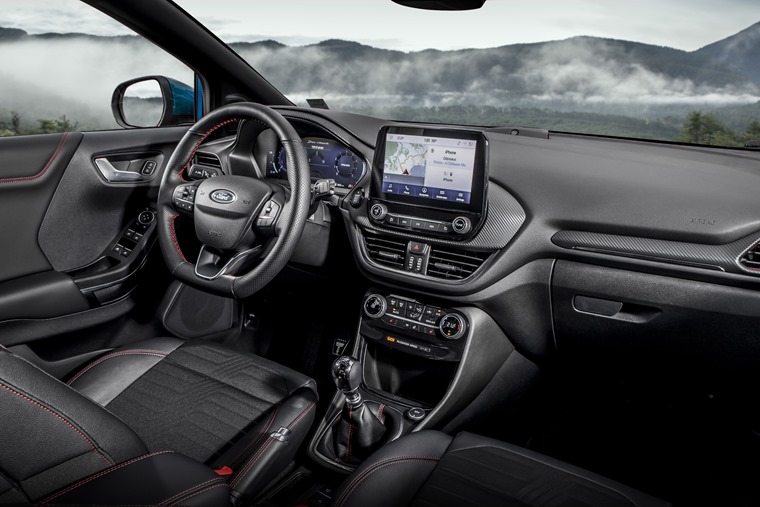 Equipment levels are high too, although that's because Ford is eschewing the usual Zetec and Style trims and starting at Titanium; the logic being that few people actually end up buying the lower end models if they are not aware of car lease deals. That means there's very little to choose from the options list, and there's even a long list of safety gear fitted as standard. A reassuring five-star EuroNCAP crash safety rating backs that up.
Ford has gone to great lengths to banish thoughts of the old Puma and succeeded in doing so (until I just raised it again). The new Puma races straight to the top of its class, alongside, if not necessarily ahead of, rivals such as that Nissan Juke, Seat Arona and even Renault Captur, but then surpasses them all with an invigorating drive and, more importantly, a large empty box.
Quick stats: Ford Puma
Lease price: Prices currently start at £157 per month
Top speed: 122 mph
0-62 mph: 9 seconds
Official economy: 50.4 mpg
CO2 emissions: 99 g/km
Car tax: £145
BIK: 23%
Power: 153hp
Torque: 240 Nm