Fleet demand for plug-in cars expected to rise with new WLTP regime
Fleet and company car driver demand for plug-in hybrid and zero emission electric vehicles is expected to increase with the arrival of the all-new Worldwide Harmonised Light Vehicle Test Procedure (WLTP) due to being the least affected by potential increases in motoring taxes.
This is according to a new white paper to provide fleet decision-makers with insight into how WLTP and the related tests will impact stated fuel economy, company car benefit-in-kind tax, VED and capital allowances.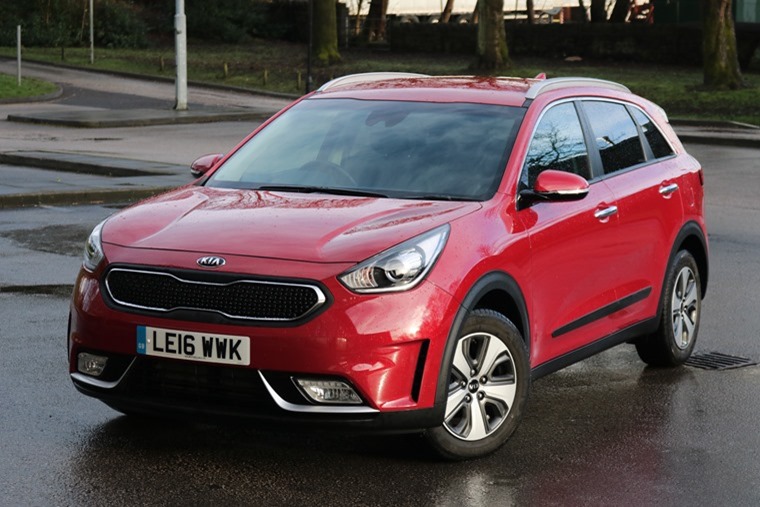 The white paper, 'Real World Driving Emissions', from Puddy Vehicle Solutions (PVS) states the inevitable increase in CO2 emissions under WLTP testing will result in rises in motoring taxes and make it necessary for company car fleet providers to find a sustainable solution.
With MPG figures anticipated to be decreased by around 20% (as the table below sets out), industry experts have suggested that CO2 emissions on a car-for-car basis could be as much as 20% higher under WLTP testing than the outdated New European Driving Cycle (NEDC).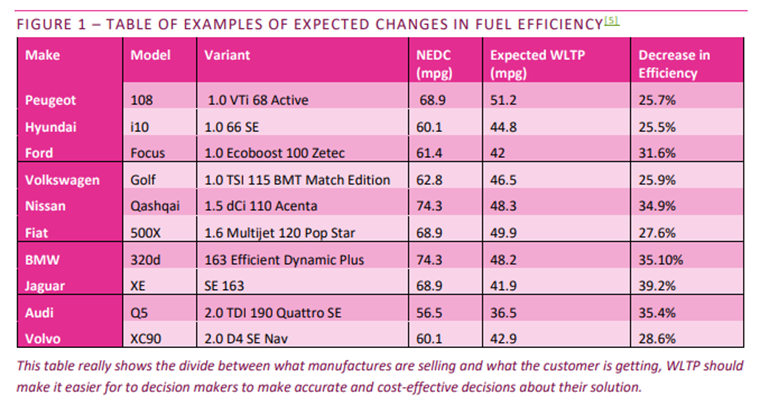 PVS founder Marcus Puddy, who has a 30-year fleet industry career behind him, believes many fleet managers - and consequently company car drivers - remain in the dark about the potential impact of WLTP and RDE on vehicle choice lists.
As a result, making the 'wrong' car choice could land employers and employees with tax bills significantly higher than currently.
Mr Puddy said: "Company car drivers are unaware of the implications of WLTP on their benefit-in-kind tax bills because, in many cases, fleet decision-makers have not told them about the impact of the new testing regime.
"Employees that are choosing new company cars now and over the coming two years will almost inevitably see their benefit-in-kind tax burden rise. However, by making careful choices they can minimise any increase."
What are the implication of the introduction of WLTP and RDE?
WLTP is the new laboratory-based emissions and fuel economy testing procedure replacing the NEDC regime. It is being introduced in two phases for cars - new models from September 2017 and all cars from September 2018.
It is being accompanied by introduction of the Real Driving Emissions (RDE) test procedure, which is undertaken on open roads and focuses on the reduction of emission levels of nitrogen oxides (NOx) and particle numbers.
Combined with WLTP data this is claimed to result in more accurate real-world emissions as well as MPG figures.
RDE is also being phased in with RDE2 applicable from January 2020 for all new car models and by January 2021 for all new cars.
During the Autumn Statement, there was some confusion around this as from this month (April) the current company car benefit-in-kind tax diesel supplement has increased from 3% to 4% on vehicles that are not RDE2 qualified - and there are none on sale. That's why Leased car may be quite the deal for you!
Simultaneously, a new Vehicle Excise Duty supplement applies to all new diesel cars first registered from 1 April. It means that the first year rate of Vehicle Excise Duty (VED) is calculated as if cars were in the band above unless they are RDE2 certified.
CO2 (g/km)
Pre-April 2018 first-year VED rate
Post-April 2018 first-year VED rate
(for diesels not meeting real-world Euro 6 standards)
1 - 50
£10
£25
51 - 75
£25
£105
76 - 90
£100
£125
91 - 100
£120
£145
101 - 110
£140
£165
111 - 130
£160
£205
131 - 150
£200
£515
151 - 170
£500
£830
171 - 190
£800
£1,240
191 - 225
£1,200
£1,760
226 - 255
£1,700
£2,070
Over 225
£2,000
£2,070
The government has confirmed that from April 2020 it will use WLTP-derived CO2 figures for tax purposes. However, until then a two-year transitional period sees WLTP-derived figures converted back to a so-called 'NEDC correlated' figure.
The introduction of RDE2 will help reduce NOx emissions and improve local air pollution in support of the government's 'UK Plan for Tackling Roadside Nitrogen Dioxide Concentrations' by forcing fleet managers to move away from a purely-diesel based solution.
As the government continues to encourage high emission vehicles off the road, it is clear to see that drivers and owners of plug-in hybrid and zero emission electric vehicle will be least affected by the new testing procedure.
Mr Puddy said: "2018-2020 is a transition period to a whole new world. Fleet managers must understand what is happening now and what will happen from 2020 when tax is based exclusively on WLTP CO2 emission test results.
"Vehicle manufacturers will introduce new efficient models, but the pace of introduction will vary across brands. As a result, vehicle choice lists will need regular reviewing to ensure tax bills for organisations and employees remain as low as possible."