Ford engineers reach for 3D glasses
Ford engineers have been donning 3D glasses to help them interact with virtual vehicles, as the company invests in cutting-edge technology to help develop the cars of tomorrow.
Called the CAVE (Computer Automated Virtual Environment), Ford has kitted out a room in Cologne, Germany with large white walls and projectors which throw images on to each wall and ceiling, in the centre of the room is a dummy car interior. Once sat on the car seat engineers slip on 3D glasses framed with motion detectors and the screens display a realistic virtual world. A second CAVE has also been created in Dearborn, USA which allows engineers from America and Europe to collaborate in a virtual world – both the B-MAX and the Focus are among the models to benefit from this new technology.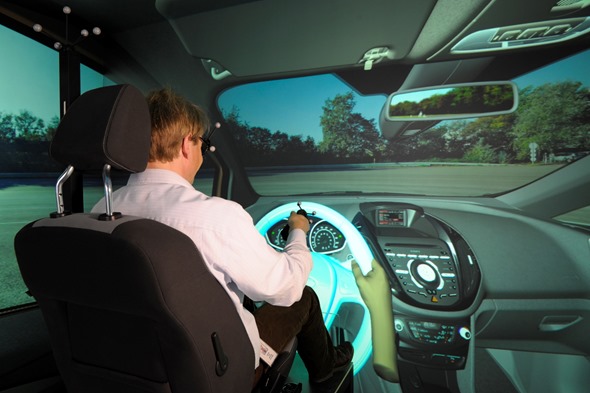 Ford
C-Max
1.5 EcoBoost Titanium X Nav 5dr Powershift
Profile:
3+47
Mileage:
10k Miles p/a
£351.18
Per Month, INC VAT
Initial Payment: £1,053.54
Personal Leasing Deal by: LV Contracts
"We can now conjure up a car in the digital world, and then actually get in and experience it," said Michael Wolf, virtual reality supervisor, Ford of Europe. "We still rely on the know-how and imagination of our prototype engineers to bring designs accurately to life, but now they have at their disposal a much more sophisticated tool to do so."
Uses of the 3D technology is varied, CAVE can simulate external environments complete with pedestrians and cyclists to help assess visibility of the outside world from inside the car. It also enables engineers to access and compare multiple designs – including vehicle interiors produced by Ford's competition.
"The CAVE makes it so much quicker and easier to analyse designs," continued Michael Wolf. "For example, to manufacture three different front pillar design examples and fit them to a prototype vehicle could take 10 days. The same project could be completed in just one or two days using our virtual reality simulator – and also saves physical resources."