Review: Honda CR-V
Diesels have been dropped completely, while an external refresh has brought the CR-V bang up to date. Add in those optional seven seats and it's a better bet than a Qashqai.
There's been a lot of diesel difficulties over the last few years, and that's had quite an impact on Honda's CR-V range. While the petrol engines remain, albeit downsized to 1.5-litres, the diesel versions have been dropped entirely and replaced with a petrol-electric hybrid system borrowed from the US-only Accord.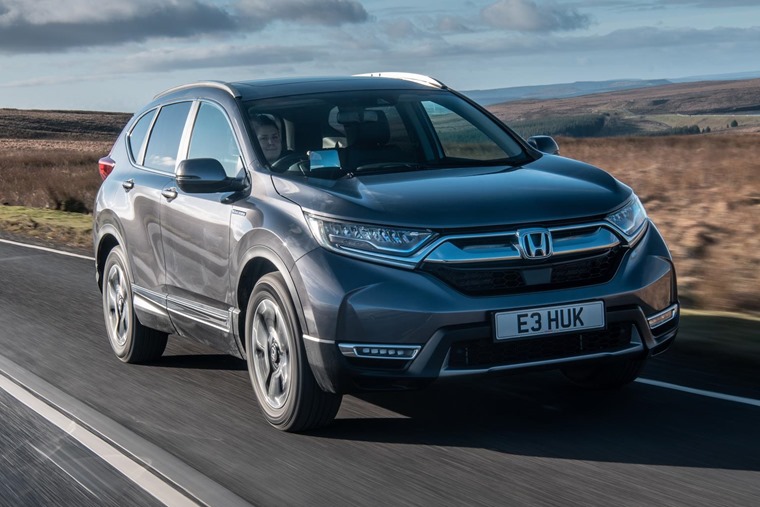 Don't think you'll be crawling silently around the country on pure electric power though. Whilst the CR-V will run without its engine, it won't do it for very long thanks to a tiny 1kWh battery - that's just 1.5% of the battery capacity you would find in a Hyundai Kona, for example.
However, the CR-V works its hybrid system differently from most other vehicles, and that's where the magic comes in. There's a 2.0-litre petrol engine under the bonnet that mostly operates as a generator, working at its most efficient point to create electricity for the motor to drive the car. The engine will switch off entirely on occasion, allowing the CR-V to run on nothing but battery power, while at other times it will close a clutch and drive the wheels directly.
Efficient. Economical. Excellent family transport. Leasing.com five-word review
The car decides for itself the best strategy, and the changes between each mode are barely detectable, although you can force it into electric mode at low speeds for short distances - perfect for manoeuvring around a town centre without adding to the noise and pollution of every other vehicle.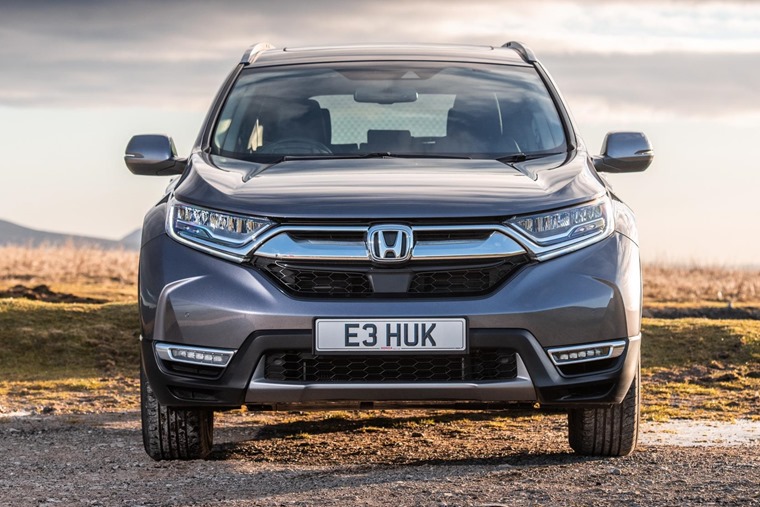 Hybrid mode is the where the car tends to settle for most situations. It creates an odd sensation, as there's no need for the engine speed to match the vehicle's speed on the road; the revs rise and fall as the computer demands power for the batteries or motors, but the sound is isolated very well and, once the radio is on, you'll barely notice it. It's helped by active noise cancellation going on in the cabin, making it an extremely quiet environment.
It soaks up imperfections in the road ably.
There's also an eco button that dulls throttle responses, and a rather incongruous Sport button that doesn't really appear to do much at all.
That's fine, as the CR-V is a long way from a sporting proposition. That's not a criticism, as what's there is comfortable and refined. It soaks up imperfections in the road ably, wafting along without consideration for apexes, lift-off oversteer or any other unnecessary distractions. Yes, there's a reasonable amount of body roll in corners, but you've got to be pushing it hard to find it and, happily, should you do that you'll find a surprising amount of grip.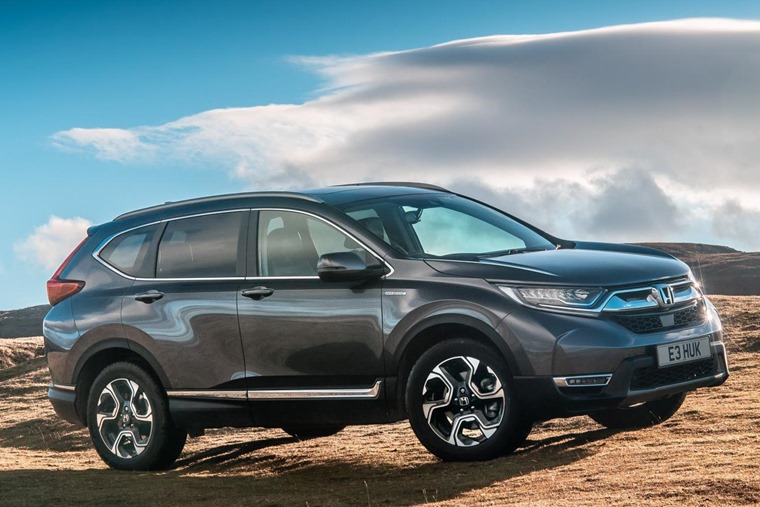 Equipment levels are high too, with this top-spec EX model featuring climate control, DAB radio, adaptive cruise control and heated leather seats, amongst many other items. The faux-wood trim in the cabin is a love or loathe item, but it can be replaced by high-tech-looking faux-aluminium instead. I like the wood, but it's at odds with the confused combination of piano black plastics, plastic-leather dashboard and brushed metal surrounds.
Both Android Auto and Apple CarPlay smartphone mirroring are standard.
It's also worth noting that Honda's infotainment system is still entirely unfathomable and could lead to anger. Fortunately both Android Auto and Apple CarPlay smartphone mirroring are standard, so it's probably easier to simply plug your phone in and use that through the touchscreen and voice controls instead.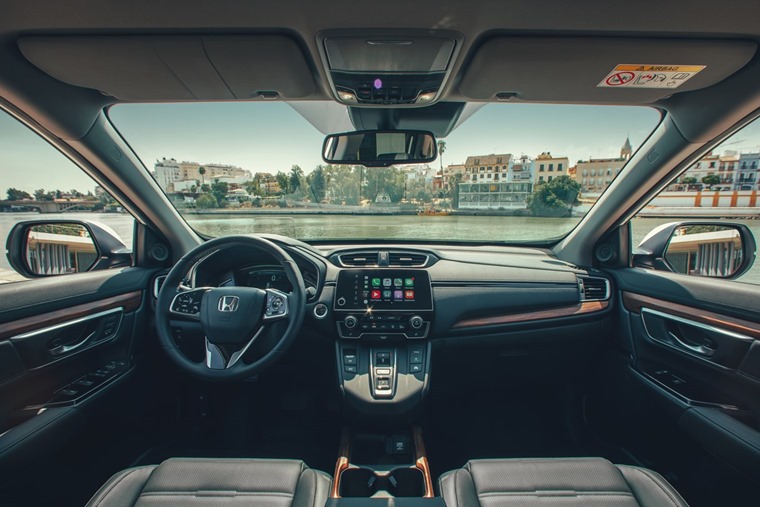 Switching to the hybrid means the CR-V loses a tiny bit of its practicality. Seats up, the boot reduces from 561-litres to a 497-litre capacity, expanding to 1,694 litres with the seats down and the boot stacked to the roof. It's still much larger than you'll find in a Qashqai, though. You don't get the option of seven seats with the hybrid, but the rest of the cabin is pleasingly spacious with seemingly endless storage areas.
Switching to the hybrid means the CR-V loses a tiny bit of its practicality.
Switching from petrol power to hybrid power comes at a bargain price. While the CR-V itself isn't cheap, upgrading from the regular EX model to this hybrid model adds just £1,500 to the CR-V, and you'll likely get all of that back when it comes to selling the car a few years down the line. That said, you could save more than £4,000 by sacrificing a few of the plusher options and taking the front-wheel drive SR option.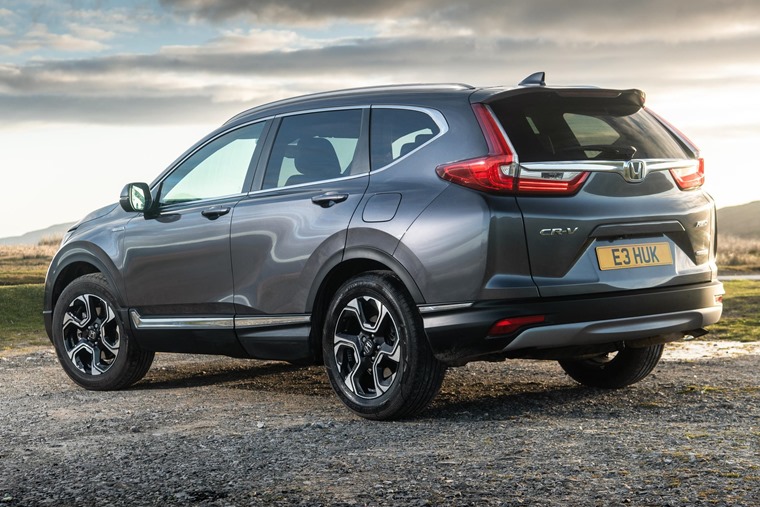 The switch to the Hybrid model improves economy - officially it'll manage 53.3mpg. Thanks to the way it works its systems, it was remarkably consistent during testing, returning high 40s. That's not bad for a car driven by this heavy-footed test driver, and about 30% less fuel than the standard petrol model used in similar circumstances.
Add in lower tax, better BIK rates for company car drivers, and the easy-driving nature of the near-silent car, and it's easy to be persuaded to make the move to hybrid power. It's better than the petrol-powered CR-V and, as long as you don't want on-the-limit handling entertainment, every bit as good as any of its obvious rivals.
Honda CR-V in brief
Exterior
Interesting styling details spice up what was previously a rather humdrum-looking crossover. But it's still not the most exciting thing to look at.
Interior
Build quality is exceptional, although infotainment not up to scratch compared to some rivals. Apple CarPlay and Android Auto are standard, however.
Driving
Honda claims it's the most dynamic car in its class. It isn't. But it's refined, seriously comfortable and pleasingly quiet.
Space
Optional third row of seats are useful, while 561-litre boot (with the rear-most seats down) is more than enough for most families.
Economy
1.5-litre petrol is decent enough, but opt for the hybrid for the best economy – officially 53.3mpg combined.