Parents spend FOUR DAYS a year getting their kids into the car
"Put that down." "Tie your lace, please." "Just get in the car will you." Sound familiar? New research from Seat reveals it costs families 96 hours a year getting children ready, out of the house and into the car twice a day. This means that parents spend four days out of every year getting their kids into the car.
Time spent doing this every day also has the knock on effect of making almost a third of parents 11 minutes late for work at least once a week.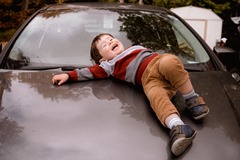 In higher commuter areas such as London, that figure increases to 18 minutes late for work, with kids in the capital taking even longer to get in the car.
Like herding cats, nearly half of parents state that toddlers aged between two and three are the worst culprits for dragging their feet leaving the house.
All in all, the job of getting children into the car adds 20 minutes on average to the morning routine. One in 14 families reported that it takes up to 40 minutes longer to start their morning journey since having kids.
And what's causing all this? Getting children strapped into seats, last-minute toilet trips, toy choice to accompany them and struggling with the large amount of kit that need to be loaded into the car are all given as reasons.
The most common bribes offered to children to try and smooth the process include offering sweets, favourite music being played in the car and promises of a treat once a destination has been reached.
Maybe the Seat Tarraco is the best choice to get the job done…