Hybrid rumble: Toyota Prius vs Hyundai Ioniq vs Toyota C-HR vs Kia Niro
Considering a hybrid as your next car? You aren't alone. We saw a 54% increase in hybrid enquiries in 2017, and with MPs calling for pure petrol and diesel engine ban to be brought forward to 2032, it's a trend that's only set to increase.
We've been treated to a deluge of them over the last year or so as more and more manufacturers embrace the technology, and we've been lucky enough to sample some of them.
You might have read our reviews of the Toyota Prius, the Kia Niro,  the Toyota C-HR and Hyundai Ioniq but, after spending time with each of them, the time has now come to consider which one we'd be taking home given half the chance. So without further ado…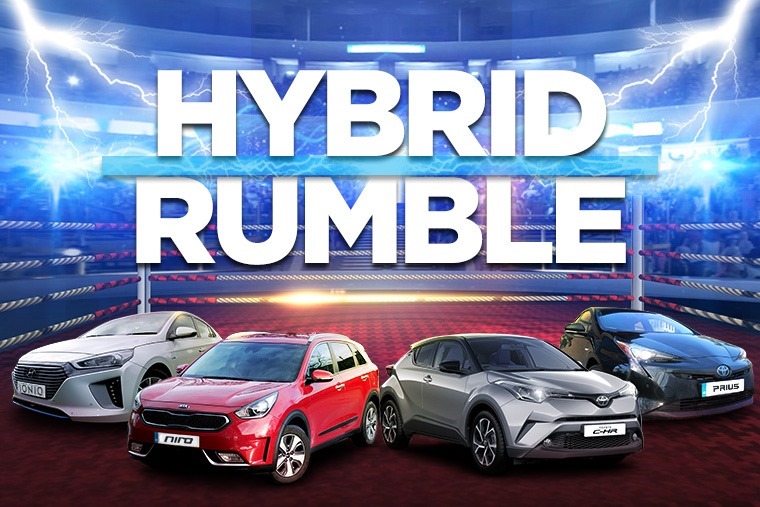 Don't know if a hybrid is for you? Here's a comprehensive guide on petrol, diesel, hybrids and EVs
Welcome to our the Ultimate-Hybrid-Rumble-Knockout-Extravaganza! Over five rounds, we'll examine each car individually to find out which one does what best, and of course decide on the one that has what it takes to become the lessee's hybrid of choice.
Round 1: Styling
Manufacturers seem to employ one of two schools of thought when it comes to sketching their hybrids; they either go crazy or make sure everyone knows you're driving something a little out of the norm or, as is increasingly becoming the case, they try and slot them seamlessly in with the rest of their range.
Both ends of the scale are present here, and nothing exemplifies the crazier end like the Prius does. The latest generation continues where the old car left off, and sticks out like a sore thumb courtesy of its futuristic lines and quirky styling cues.
And at the other end of the scale we've got the Kia Niro. It's the most ordinary-looking car here by quite a margin, taking the form of a crossover. Not a bad idea, if the larger Sportage's popularity is anything to go by. It isn't a carbon-copy of its sibling however, and its teardrop headlights and low roof line give it a classy look.
A glance at the Ioniq confirms there's some Prius-inspired lines, but its exterior is a much more toned down affair than its Japanese counterpart.
A glance at the Ioniq confirms there's some Prius-inspired lines but, while its silhouette is very similar, overall its exterior is a much more toned down affair than its Japanese counterpart. Hyundai's now trademark grille and angular headlights feature, and it fits into the range perfectly while also offering something a little bit different.
And now the car we think is the best looker – the C-HR. Yes, it's largely Prius-based under the skin, but style-wise it's the perfect halfway-house between too crazy and too ordinary. Like the Niro it's a crossover too, which will add to its appeal for many. It's not as over the top as the Prius, but sufficiently interesting enough to hold its own and stand out from the crowd.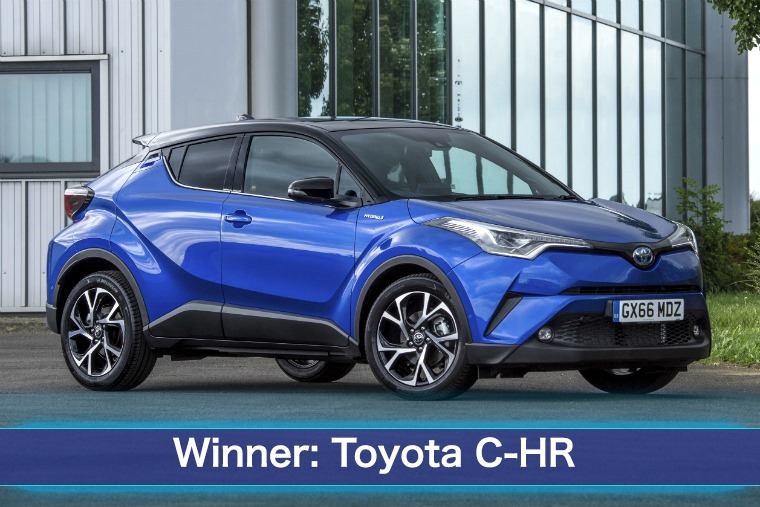 Read our Toyota C-HR review in full
Round 2: Interior
We'll start with the two Toyotas here, primarily because the perceived quality of its products has always been one of the company's top trump cards. Things are no different in the Prius and C-HR but, while it's not what you'd call dated, the Prius' interior can't compete with its younger brother.
A funky wraparound dashboard features in the C-HR and it really sets it apart from the Prius. As for infotainment, the Toyotas share a system which, while being perfectly acceptable, can be quite fiddly and over-complicated, especially compared with some other systems that are now available.
Step into the Hyundai or Kia and it's hard to believe how far both these manufacturers have come in recent years. Once upon a time it'd be laughable to compare the quality and fitment of their interiors to Toyota, but it's no joke now – build quality and materials are every bit as good as any Japanese rival, or European for that matter.
Step into the Hyundai or Kia and it's hard to believe how far both these manufacturers have come in recent years.
A bit like the C-HR and Prius, the Koreans share lots of components, so it's no surprise to see two very similar infotainment systems. Coming with either a 7in or 8in touchscreen dependant on trim, they get all the features Toyota's 'Touch 2' system gets, and is actually an easier bit of kit to use, too.
Choosing which one is best here is difficult because they are all top quality products, and in many cases use carried-over parts. If we had to pick one though, the Kia Niro takes the prize thanks to its well-thought out ergonomics, raised driving position, and generally being a bit brighter inside than the other three. Be in no doubt, Kia really can mix it with the rest of them in the quality department these days.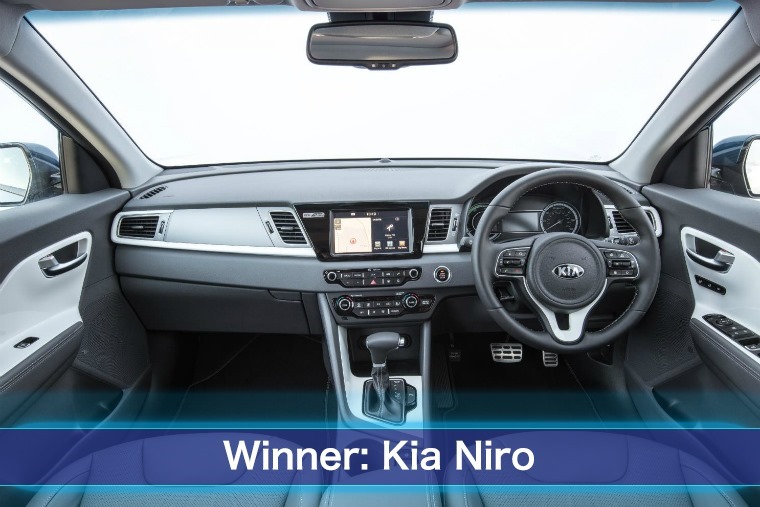 Read our Kia Niro review in full
Round 3: Practicality
High-riding driving positions are all well and good, and you may think crossovers make the more practical choice, but it's actually the low-slung cars here that are the most cavernous. The Prius offers up the most luggage space (447 litres), closely trailed by the Ioniq (443 litres). Due to those bulky batteries eating into the interior space however, the Niro gets just 427 litres.
Is it a case of style over substance with the crossovers?
The C-HR fairs worse though, with boot space standing at a miserly 255 litres – significantly less than you get in the pure-petrol version of the same car. So, is it a typical case of style over substance here then? It would appear so, as the space is squeezed even further when it comes to passenger space.
It's not unlikely to see a Prius or Ioniq plying their trade as an Uber but, due to those bulky batteries in the boot, the C-HR and Niro aren't great if you regularly carry rear passengers. So, your preferred choice here depends on where your priorities lie... style or space? If the latter is the more important consideration, you're better off with the Ioniq or Prius, with the Toyota just eeking ahead to take this round.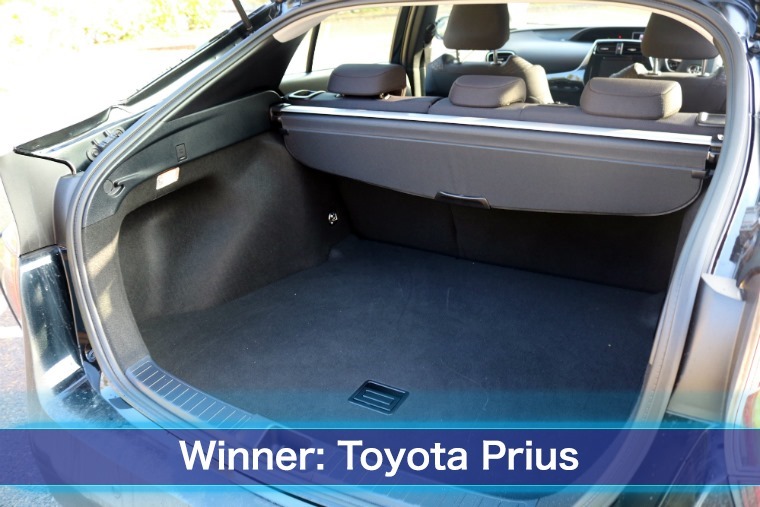 Round 4: Driving
The Prius and C-HR get a 1.8-litre petrol engine that works with an electric motor. It's a tried-and-trusted drivetrain and both cars sit on a very similar platform, but it's the C-HR that's more fun to drive – slightly odd considering jacked-up crossovers are often compromised behind the wheel.
The Toyotas also get three driving modes: Normal, Eco and Sport. Engaging the latter improves acceleration off the line and is useful for overtaking, which is good considering progress isn't what you'd consider neck-breaking, a thing that becomes more obvious on motorways.
It's a different story from the Korean competition. The Niro is nowhere near as fun to drive as the Ioniq, and we think the Hyundai is the best to drive of the four. Handling is on point and like the Toyotas it gets a "sport" mode, although by sport mode, we really mean slightly brisker mode.
If the feeling takes you however, both the Ioniq and Niro have a manual gearbox mode. This is a handy feature on motorways which, if we're honest, is somewhere not one of these four cars felt at really felt at home. For long-distance drivers, a diesel is still the best choice.
The Ioniq and Niro feel more refined courtesy of their conventional automatic gearbox as opposed to the Toyota which uses a noisy CVT unit.
The Niro uses an identical 1.6-litre petrol engine and 49bhp electric motor, but a higher centre of gravity and a heftier kerb weight make the Niro a less engaging prospect from the driver's perspective. There's nothing really wrong with it, but we soon realised the drivetrain is more suited to the Ioniq.
If refinement is on the top of the priority list, we'd plump for the Niro or Ioniq. They actually feel more refined courtesy of their conventional automatic gearbox as opposed to the Toyota which uses a noisy CVT unit. At speed, both the Kia and Hyundai offer a quieter ride.
What's more, considering these are two cars from manufacturers that have little experience with hybrids (well, compared to Toyota), their respective efforts seem even more impressive. Of course, a 1.6-litre hybrid hatchback will never be the last word dynamically, but if anything the Ioniq makes us look forward to what Hyundai has planned for the future.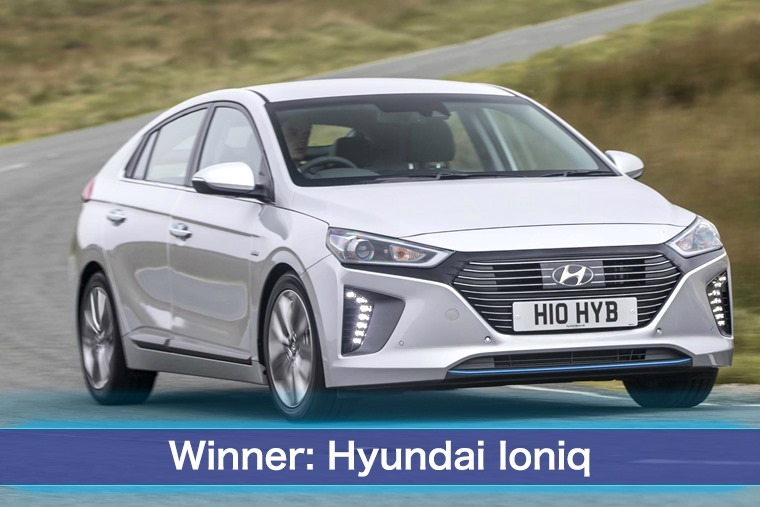 Read our Hyundai Ioniq review in full
Round 5: Economy
They've been heralded as the future and their uptake will no doubt increase following the government's recent announcement, but in the real-world conditions they still struggle to beat those demonised diesels. So which one is best if low fuel bills are a must?
Considering these cars share underpinnings, there were some varying results, particularly from the Hyundai and Kia. Crossovers might be taking off, but here we have a case-in-point that a lower kerb weight and aero-dynamics still count for something.
Anyway, we'll let the figures do the talking. Below is a table containing the manufactures' official combined mpg figures, along with the mpg our respective test cars achieved.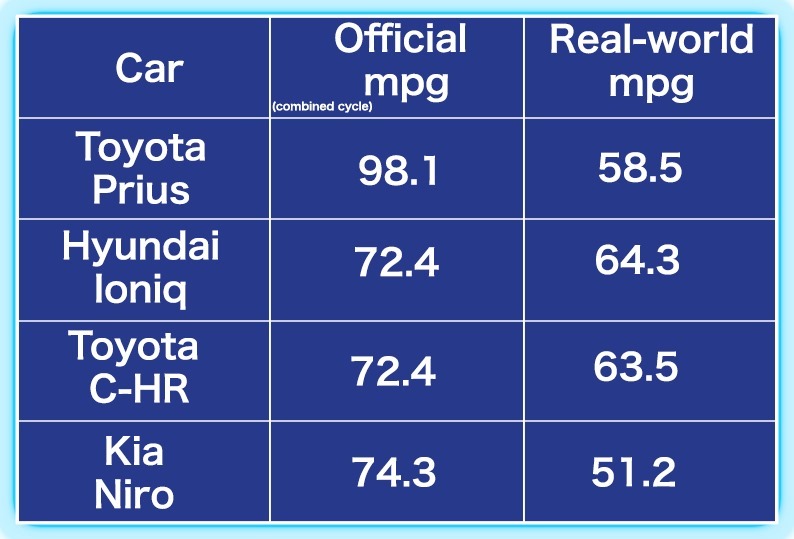 So which is best?
If you're looking to lease, which one's best? Well the funky C-HR and the classy-looking Niro offer that increasingly popular crossover look, but when it comes down to practicality, neither can touch the Prius or Ioniq.
The Prius makes a decent choice and there's little doubt it'll remain a stalwart of the hybrid scene for the foreseeable future. It's the most practical by quite a margin too, but those looks are likely to put some off.
The Ioniq ticks a lot of boxes: roomy, impressive MPG and a comfortable drive.
That leaves us with the Ioniq. It ticks a lot of boxes: it's roomy, its real-world MPG isn't far off official stats and it's not a bad car to drive. Most importantly though, it blows the competition out the water in terms of monthly lease price.
To give you a real idea of how they compare price-wise, we've delved into our database to find the *average leasing costs for both business and personal deals and, no surprise, the Ioniq is the cheapest by quite a margin.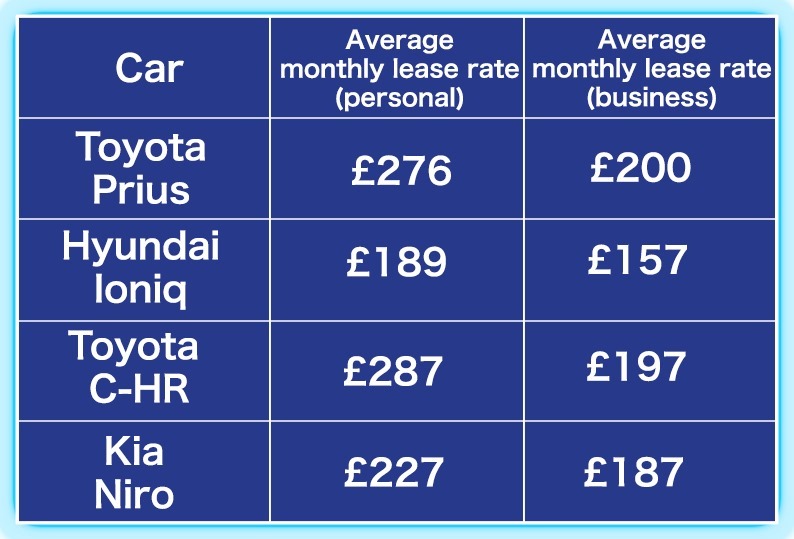 The conventional hybrid version we tested here is currently available to lease for less than £200 per month thanks to some impressive residual values. It's therefore only right we declare it our favourite, and thus the one we think makes the best lease.
It's a great car regardless, but at the end of the day it's this value-for-money factor that can't be ignored. A year from now however, who knows? Every week seems to bring more announcements from manufacturers declaring hybrid power to be the future. The one thing that's for certain though, is that the tech is really here to stay.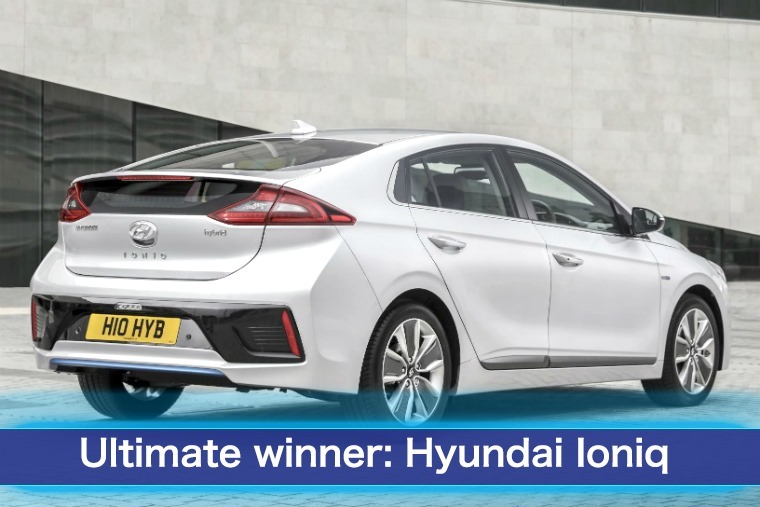 Whichever of these four you prefer, you can find fantastic deals on site right now. Just click on the links below to find the very best lease rates.