Top five things we learnt driving a hybrid every day
Hybrids have truly taken off in popularity recently thanks to their eco credentials and low running costs. What's more, with updated salary sacrifice rules and new VED charges in place, it looks like they'll be more a common sight on the roads than ever.
So, with more and more manufacturers eyeing up hybrid tech for future models, we thought we'd see how running one compares to a diesel which, despite a recent bad time in the press, remains staunch in its position as the company car driver's fuel of choice.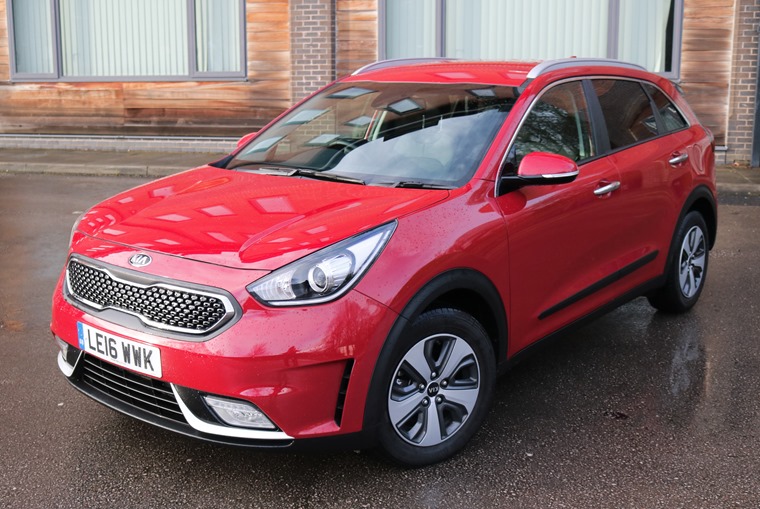 If you're thinking of going hybrid, a good starting point is the all-new Kia Niro, or if you like to stand out perhaps the
updated Toyota Prius
is a better bet.
Both claim to be capable of fantastic economy while producing minimal emissions, so we took them for a drive to find out what they are like to live with.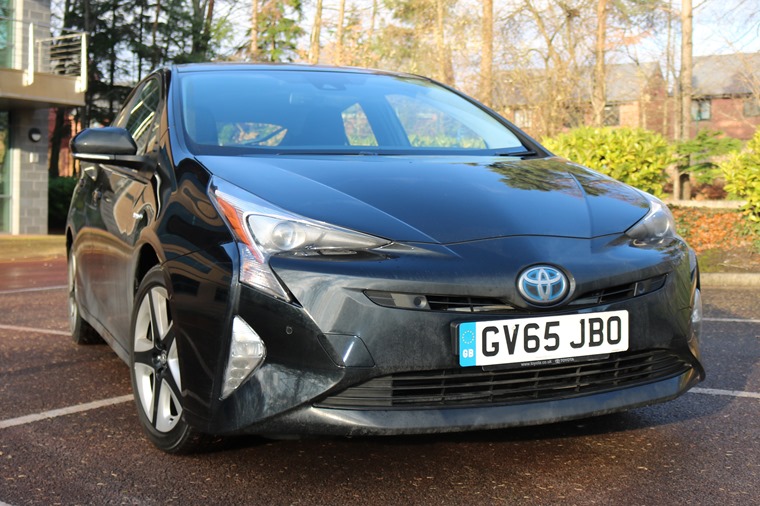 Here's five things we learnt from our week with some hybrids…
5. They are super-efficient in traffic
We put our hybrids to work tackling the dreaded daily commute. Ours involved around 20 miles of motorway driving and 10 miles of in town traffic and, I'm sure we don't need to say much more: commuting at peak times can be a living hell, particularly if it involves the clogged artery that is the A6.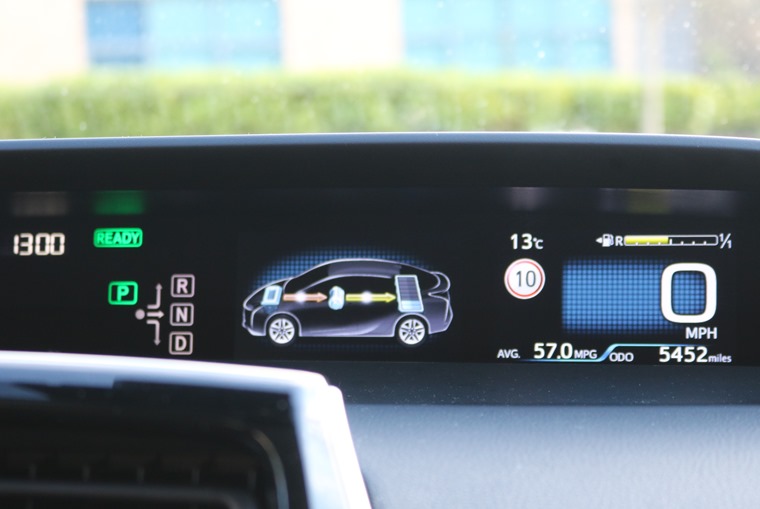 But sitting in traffic is really where hybrids come into their own. Instead of sat idly burning fuel if anything, mpg increases. Thanks to an electric motor doing the work at low speeds, it's a joy to see average fuel consumption go up instead of down as you crawl along.
4. They are easy to drive long distances
If you do long motorway miles, you'll be glad to hear the a hybrid is just as capable and comfortable as it is sat in traffic. In the Niro's case, its 11.5 second 0-60mph time doesn't sound great, especially next to some German diesels, but the 1.6-litre petrol engine and 43bhp electric motor makes acceleration feel quicker than figures suggest.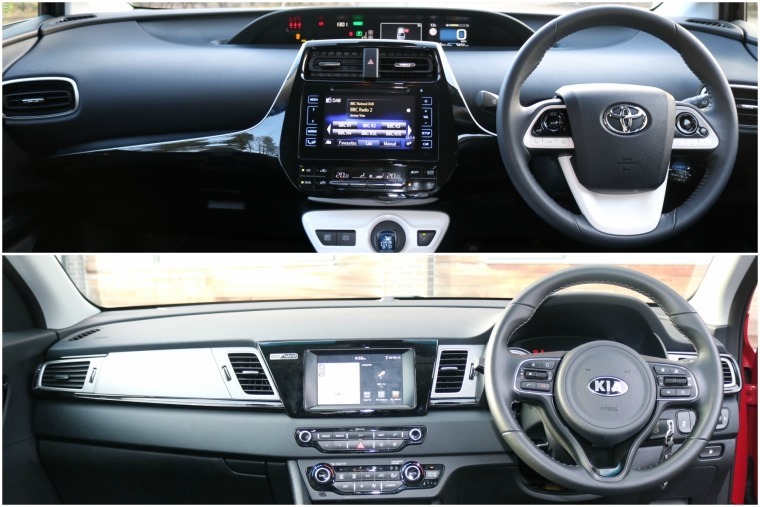 As for the Prius, it gets three driving modes; Eco, Normal and Power. Select the latter and there's a noticeable boost in power which is handy for the occasional traffic light grand prix, as well as making overtaking a doddle. As for fuel consumption, the Toyota will happily cruise at 70mph and return over 60mpg, but then again so will many diesels…
3. They are full of tech
Clamber aboard a hybrid and you may find the controls are a little different than the norm. The Prius has a fully automatic CVT gearbox which is operated via a tiny dash-mounted shifter. It may be a little confusing if you've never driven one before, but it feels second nature after just a few minutes.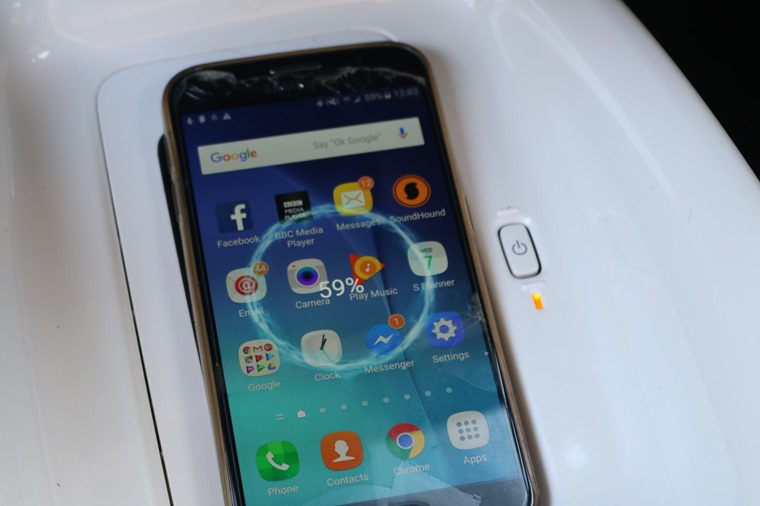 Conversely, the Niro gets a more traditional DCT automatic box, which is quieter than the Prius', and is as smooth as any gearbox you'll find in a petrol or diesel-powered automatic.
Something both cars like to do is remind you of is how economical they are, as is evident from the infotainment systems. Tap the 'car' button in the Prius and the satnav/radio display makes way for an animated diagram of the car which lets you know what the hybrid system is doing at all times.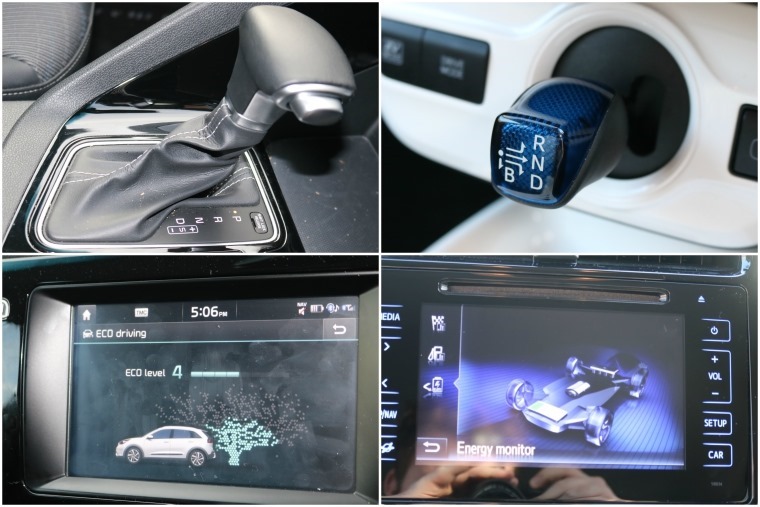 Meanwhile, the Niro's screen actually displays an "eco tree", which grows and develops depending on how economically you are driving. Whether that's a useful tool or an annoying novelty that will soon wear off depends on your prerogative really.
Another feature we liked was the central wireless phone charger, although we're not too taken with the white centre console. That just makes it look like a washing-up bowl. The Prius' trip also offers eco-driving tips when you shut off the engine. Whether that's a useful tool or an annoying novelty that
2. Their mpg is reduced in the real world
Both cars purport to be capable of a mightily impressive 94 mpg, but in our time with them we couldn't get anywhere near their official figures. In Eco Mode pootling around town, 70mpg is possible in the Prius; impressive, but still a far cry from official stats.
The Niro however was a little less impressive, and while 50mpg was attainable in traffic, that dwindled down to the mid-40s on longer journeys and motorway runs. However, this overstated mpg isn't just a hybrid thing. Just as emission testing has seen changes post dieselgate, maybe it's time to rethink fuel consumption tests too?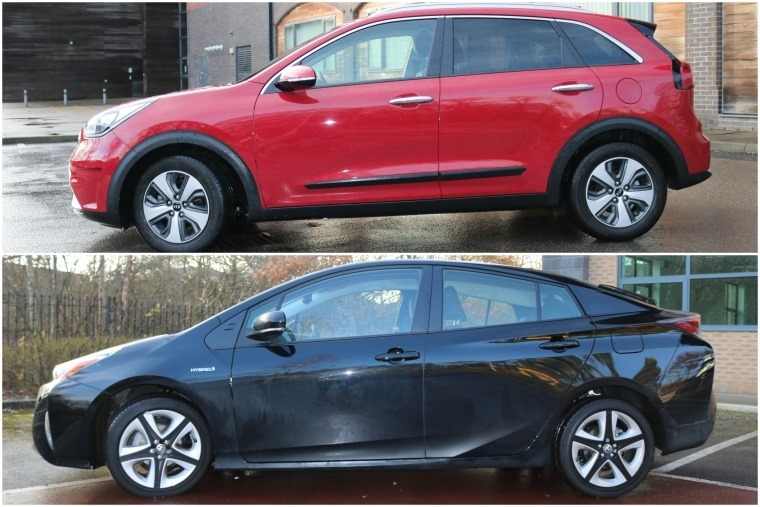 That's not to take anything away from it though, and this fact is not hybrid-specific. We read all too often about how official mpg figures do not reflect what is attained by drivers in the real world. Just as emission tests have seen an overhaul in the wake of dieselgate, maybe it's time to rethink mpg tests too?
1. They are the future
Mercedes. BMW. Porsche. Citroen. Volkswagen. Volvo. If you need proof that hybrids are no longer a bit of a novelty, these are just some of the manufacturers that have joined Kia and Toyota in adopting hybrid technology. With emission regulations becoming more stringent year-on-year, we'll be seeing a lot more hybrids hitting the roads over the next decade or so.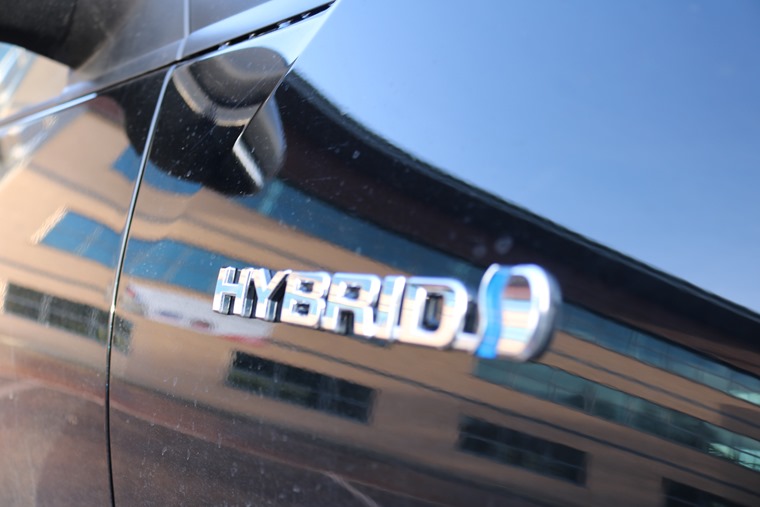 We enjoyed our time with the hybrids, and despite the rather average fuel consumption, both are as good as any diesel car to use everyday. If you're in an ecologically minded mood, check out these lease deals for less than £250.
Would we use one everyday?
Mpg figures aren't dissimilar to those you would get from some of the most efficient diesel engines, but with so much hype around devaluing diesel, it's hybrid and electric tech where manufacturers are putting their money. But which would we choose? When it comes to the Prius' looks it's quite a love-or-loathe car, but it's capable and comfortable and shouldn't be dismissed if you're considering it as a company car.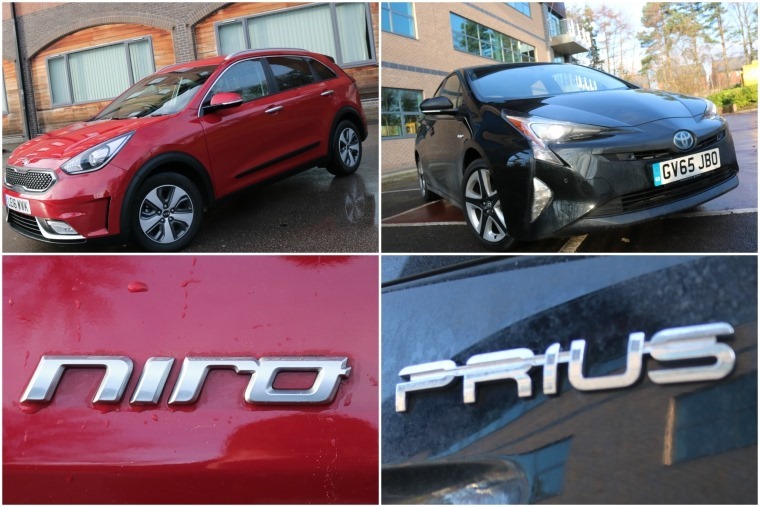 As for the Niro, it's amazingly well-equipped, feels at home on the motorway and is seriously good value. If you think either could be the car for you,