Hyundai announces £53k price tag for hydrogen-powered ix35
Hyundai has revealed that the hydrogen-fuelled version of the ix35 crossover, which is available to order from today, will be priced at £53,105.
That starting price – which makes the world's first mass-produced fuel cell vehicle almost £36,000 more expensive than the basic ix35 it is based on – includes nearly £15,000 in part-funding from the pan-European HyFive project, which works in a similar way to the British government's £5,000 plug-in grant. The ix35 Fuel Cell's unfunded price is, therefore, just shy of £68,000.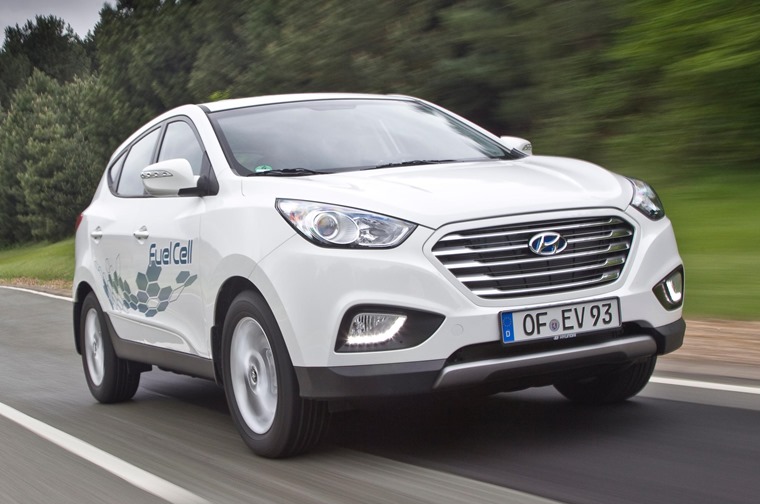 Although the ix35 Fuel Cell has been available to selected trial partners since 2013, this is the first time it has become available to the general public.
Kitted out with a 100kW (134bhp) electric motor, the ix35 Fuel Cell will manage 100mph, while two 5.6kg-capacity fuel tanks and a 24kWh lithium-ion battery will provide an official range of up to 369 miles.
As well as contributing the best part of £15,000 towards the purchase price, HyFive is also promising to install three new hydrogen fuel stations in London.
The new fuelling stations will compliment the two existing public hydrogen filling stations in the capital (in Hendon and Hillingdon), bringing the total up to five. According to Hydrogen.org, there are just ten hydrogen filling stations currently open to the public in the UK, with only one in Wales (Glamorgan University) and the sole Scottish hydrogen pump situated in Stornaway on the Isle of Lewis.