Kia introduces plug-in hybrids of the all-new Kia XCeed and Ceed Sportswagon
Kia has revealed details of its first plug-in hybrid models based on the Xceed crossover and Ceed Sportswagen.
Both models are powered by a 1.6-litre GDi engine combined with an electric motor and 8.9kWh battery pack. This helps produce 139bhp and 265Nm of torque, resulting in a 0-62mph time of 10.8 seconds for the Ceed Sportswagon and 11 seconds for the Xceed.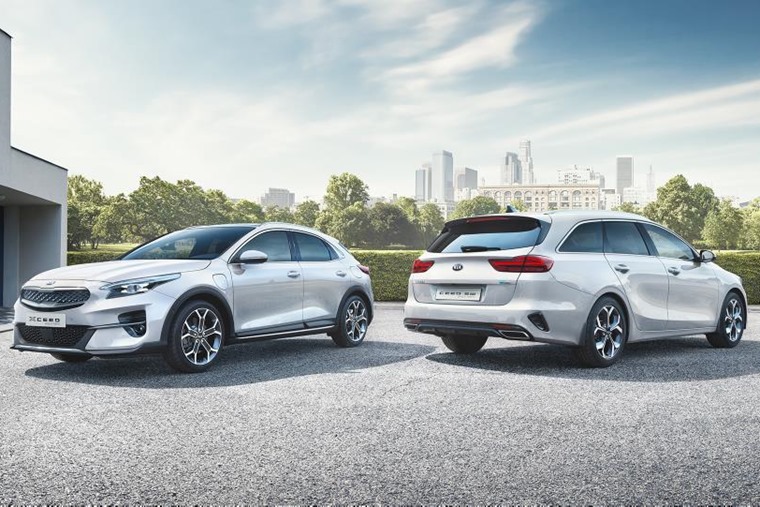 Both also feature a six-speed dual-clutch automatic gearbox rather than the traditional continuously variable transmission (CVT) found in most hybrids. Kia claims this will result in a more enjoyable driving experience and allows the full output of both the engine and motor to be transferred through the transmission. Standard regenerative braking technology also features.
In its EV mode, the XCeed is capable of travelling up to 36 miles while the Ceed Sportwagen manages 37 miles. Both models take 2 hours and 15 minutes to recharge to 100% using a 3.3kW AC charger.
Several design tweaks also serve to signal their PHEV credentials. These include a new closed 'tiger-nose' grille at the front of the car to aid aerodynamic efficiency and distinct 'eco plug-in' exterior badges. The charging port is integrated into the left front wing of each car.
New features have been added to the 10.25in infotainment unit too. These help drivers locate available charging points, show relevant information such as remaining battery levels, and also allows you to schedule when their vehicle should charge when plugged in at home. This allows you to take advantage of cheaper off-peak energy tariffs.
The Sportswagon PHEV is priced at £29,995 in its sole '3' trim level. The Xceed is available in either '3' or 'First Edition' trims priced from £30,695. Deliveries are expected in April.in