Clean Air Day: The best electric vehicles of 2019
Thursday 20 June marks Clean Air Day. Its aim is to encourage the public to partake in simple ways to improve air quality. This year's event is hopes to highlight the difference you can make by stepping into an electric vehicle.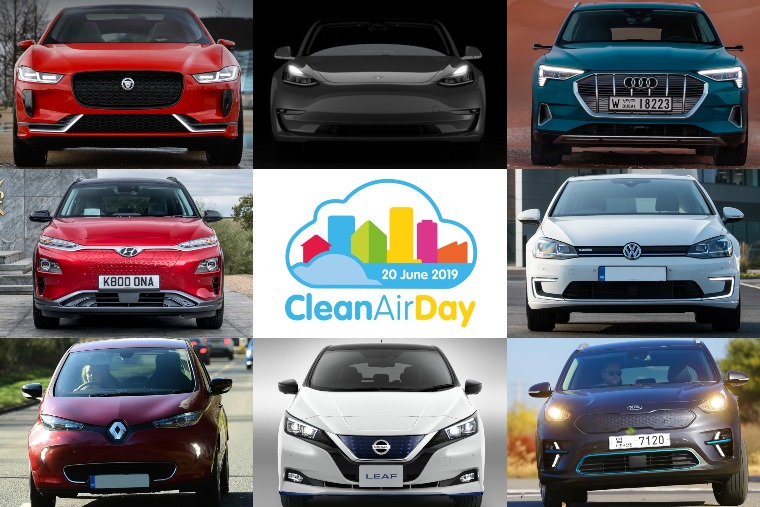 Whether they're petrol, diesel or hybrid, new cars are cleaner than they've ever been. However, the best way to reduce emissions completely is to increase uptake of all-electric vehicles.
Happily, an array of new models have hit the market in recent months and, to try and tempt you away from internal combustion, we've picked a handful of the best that are currently available to lease.
Jaguar I-Pace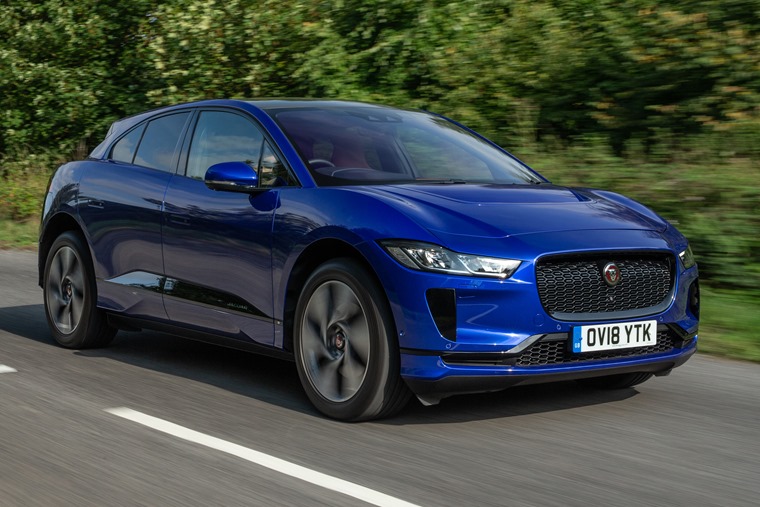 The stunning Jaguar I-Pace is now officially available to order. In both size and cache, it's a credible rival to Tesla's Model X. Offering stand-out style, enough power to worry most things with a petrol engine and up to 298 miles of range, if this is what the future looks like for Jaguar, then we're big fans.
The I-Pace successfully offers drivers an engaging driving experience rather than the ridiculously quick, but rather digital feel that most EVs offer. This is thanks to its low centre of gravity – it feels much sportier than the company's combustion-powered F-Pace. It's practical too – an airy cabin and 577 litres of boot space will make it a tempting family car proposition. What makes it even more appealing is that you can lease one for less than £600 per month.
Tesla Model 3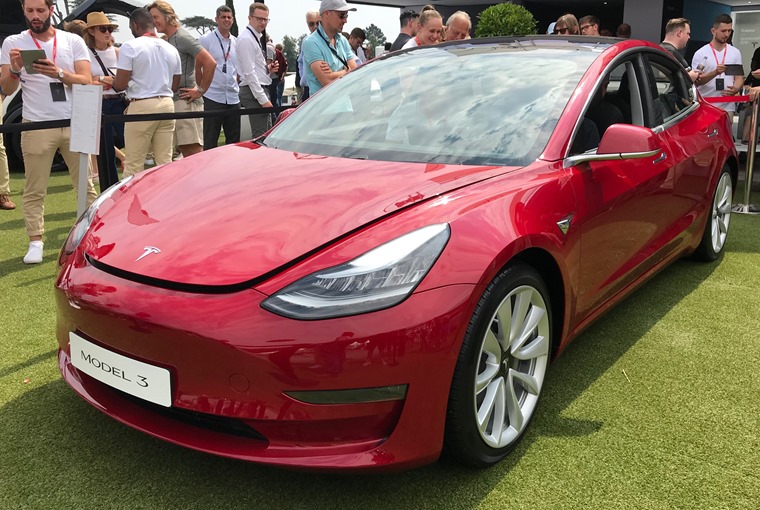 Read more: All you need to know about the Model 3
The Tesla Model 3 broke the record for the most cars ordered in a single day. When it was revealed a few years ago, 180,000 expressed an interest in driving Elon Musk's answer to the BMW 3 Series. After a series of delays and teething problems on the production line, we're happy to announce it is officially available in the UK.
In fact, after hitting the market last month it quickly became the most enquired electric vehicle on Leasing.com in a single week, while European deliveries stunned competitors into silence earlier this year too. With futuristic styling, potent performance and up to 258 miles of range in Standard Range Plus form, it's little wonder that it's such a hit. Fancy joining the electric revolution? It's available to lease right now from less than £500 per month.
Kia e-Niro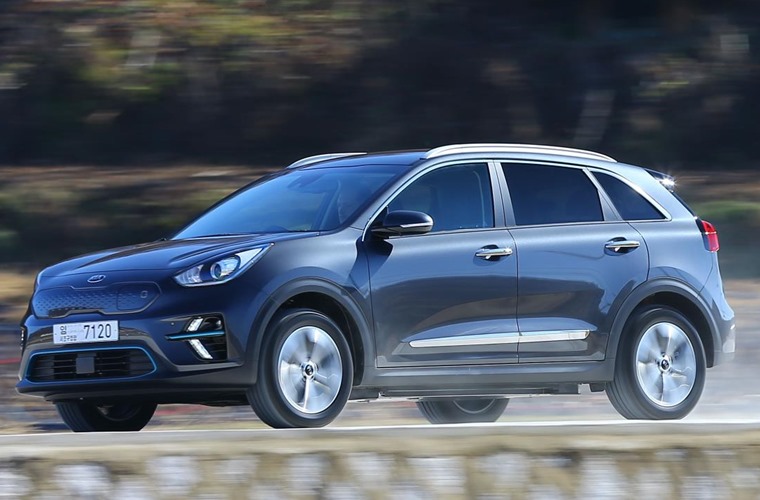 Think an EV must equal expensive? Well, there's a host of new-gen models hitting the market that prove that doesn't always have to be the case? Remember the Niro hybrid? Well, it's now available in full electric form. It costs from around the same as a Nissan Leaf, but benefits from a bigger battery that'll eke out a range close to 300 miles. That makes it a cost-effective EV that proves that range anxiety needn't be a major worry. Plugged into a rapid charger that you'll find at motorway service stations and the like, and you can expect a range of more than 100 miles in just 45 minutes.
While its styling isn't exactly revolutionary, it stands out from the standard Niro hybrid thanks to a sleek new front panel that replaces the grille. There's also some different lights and unique alloys to help it stand out from the crowd. It's not just the drivetrain that's cutting edge either; it's available with adaptive cruise control and wireless charging, while an 8in infotainment system comes as standard and is Android Auto- and Apple CarPlay-friendly.
Audi e-tron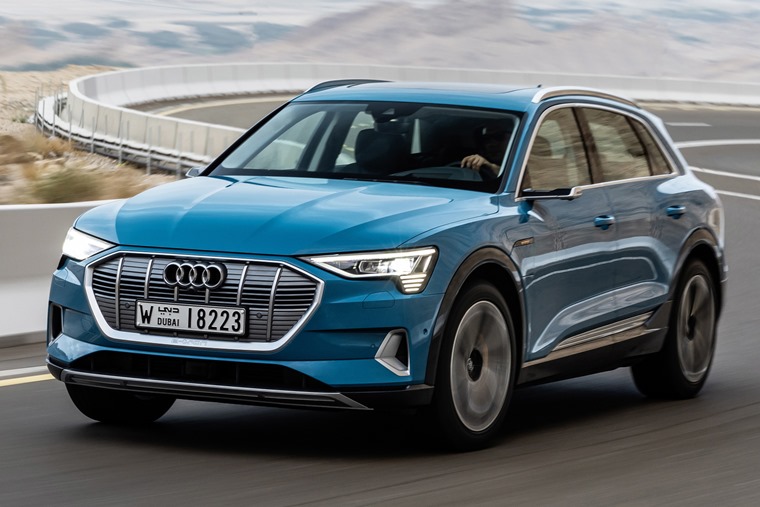 A direct competitor to the Jaguar comes in the shape of this – Audi's e-tron. Unlike the I-Pace, however, it gets much more sedate styling that, until you get up close, will have people mistaking it for a Q7. Whether that's a good or bad thing will depend on your own thoughts on the styling of electric cars, but it's fair to say there'll be lots of people who would rather blend in than stand out.
Inside, things are typically Audi: that's to say class-leading quality. The optional door cameras are an interesting option – they replace door mirrors to reduce drag. This helps boost range which, per official stats, is 248 miles. 0-62mph takes just 5.7 seconds and you get a (limited) top speed of 124mph. With a maximum charge rate of 150Kw, it takes just 30 minutes to achieve an 80% charge – that's comparable to the charge rate currently on offer via Tesla's Supercharger network.
Volkswagen e-Golf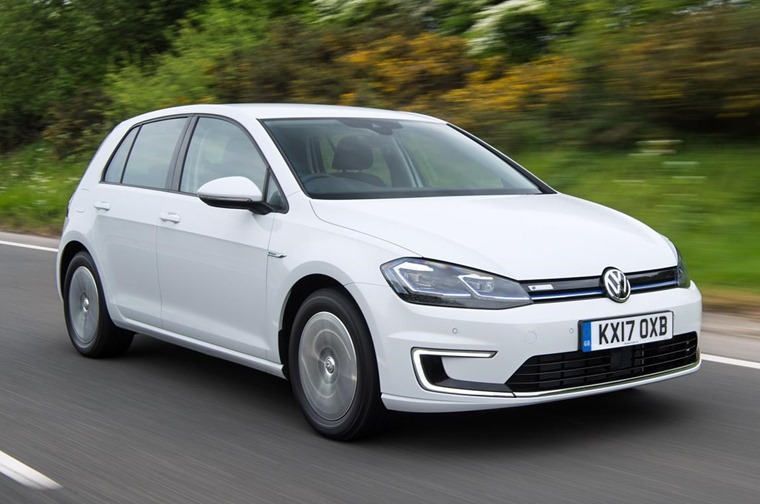 If you really want to fly under the radar in an EV, then Volkswagen has the answer. This is the e-Golf. Externally, it looks like any other derivative aside from a few badges and, from a size and pricing perspective, this is a car that'll be looking to take on the Model 3.
Ok, we'll have to wait for VW's I.D. to launch before the company can offer the same sort of kerb appeal as Tesla, but the e-Golf more than makes up for its anonymous style thanks to its build quality. Official range stands at186 miles according to WLTP-correlated figures. However, that's still more than most people need on a day-to-day basis and should keep that dreaded range anxiety at bay.
Hyundai Kona Electric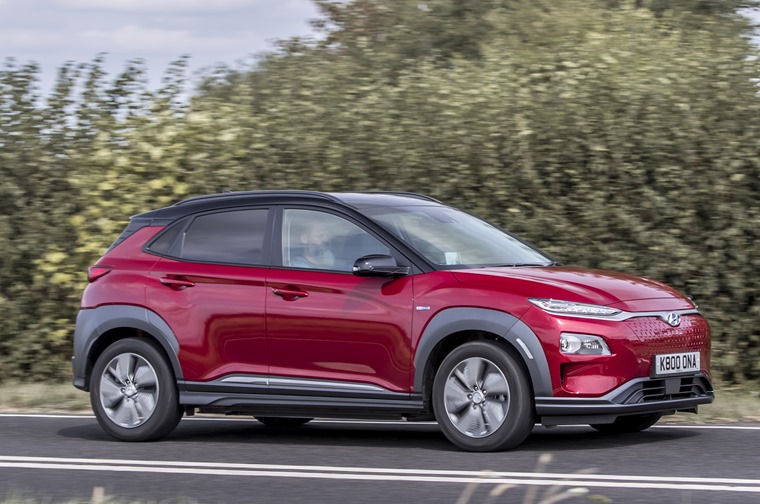 A close relative of the Kia e-Niro, this is Hyundai's latest offensive for the plug-in market, the other being its Prius-rivalling Ioniq hatchback. We actually lived with one for a week to prove that using an EV on a day-to-day basis was more than doable. It's available with the same 64kW battery as the Kia, which allows for a range of up to 279 miles.
However, a more affordable model featuring a 39kW battery is also available – making it one of the cheaper EVs currently on offer, although range does drop to 179 miles.
Tesla Model S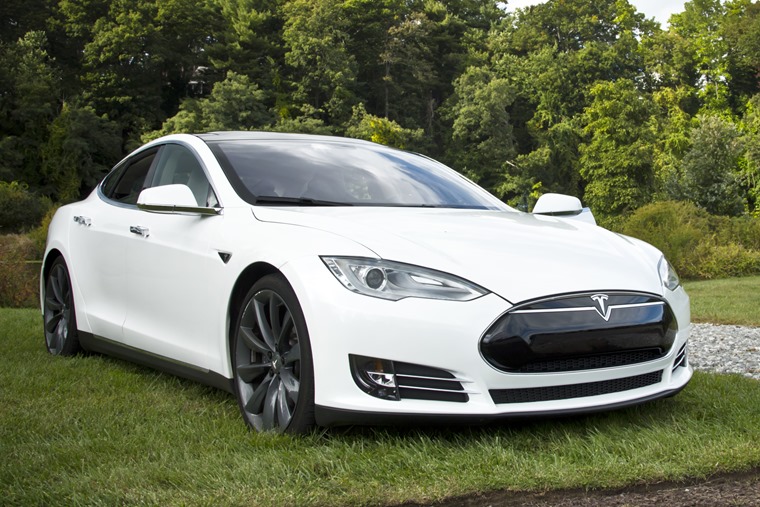 It might be the Model 3 that is the talk of the town, but Tesla's Model S can still more than hold its own. Now a well established player in the EV market, its executive looks, 300-mile range and impressive technology continue to pull people away from petrol power. The P100D Performance models can also get from rest to 60mph in around 3 seconds, making this sensible four-door saloon as fast as some supercars.
Nissan Leaf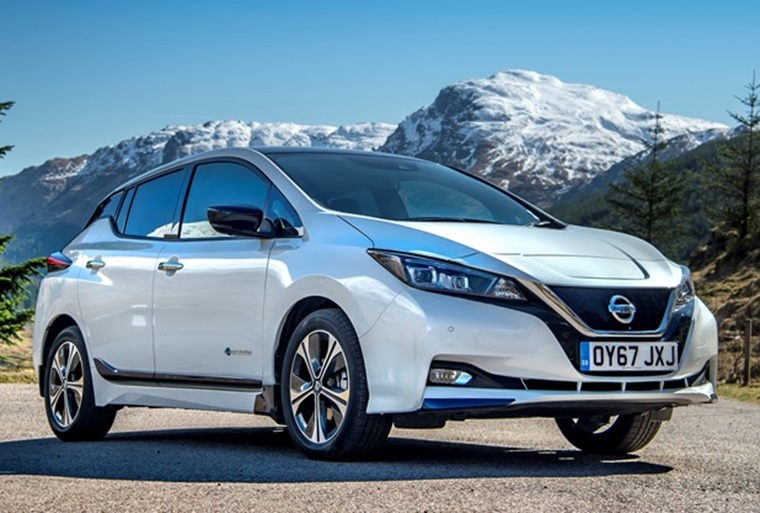 Read more: What happens when you run out of battery in a Nissan Leaf?
The Nissan Leaf was the world's first mass-market EV, and the second-gen model that launched last year continues to impress. Inside, it's the size of a practical family car that makes it a genuine alternative to something like a Qashqai.
Officially, you'll be able to eek out around 160 miles from a single charge. As we found out when we lived with one for a week, that's actually relatively accurate, and makes it a viable first step into the world of EVs for the vast majority of drivers.
Hyundai Ioniq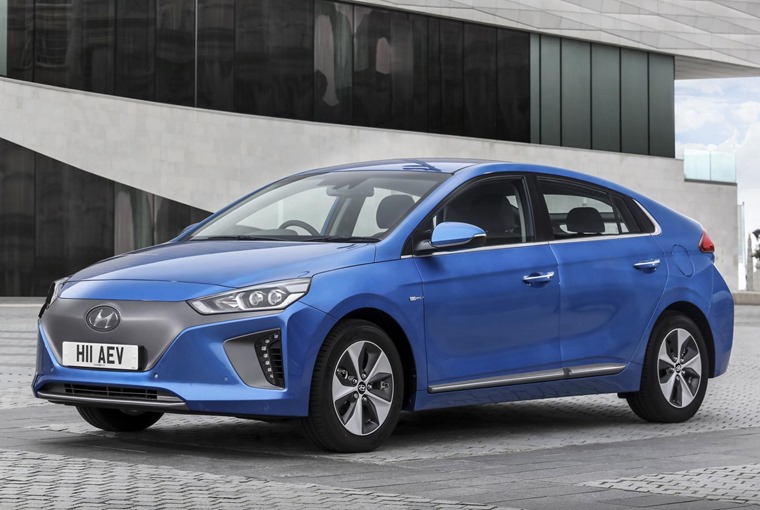 The Hyundai Ioniq is available with a number of powertrains. The most popular is the conventional hybrid model, while interest in the plug-in hybrid model is increasing. However, it's also available in all-electric form.
Without the assistance of petrol power, it can still travel 173 miles between charges – that gives it more range than the Nissan Leaf. Standard equipment is generous too, while a 350-litre boot and spacious cabin make it a great choice for families.
Renault Zoe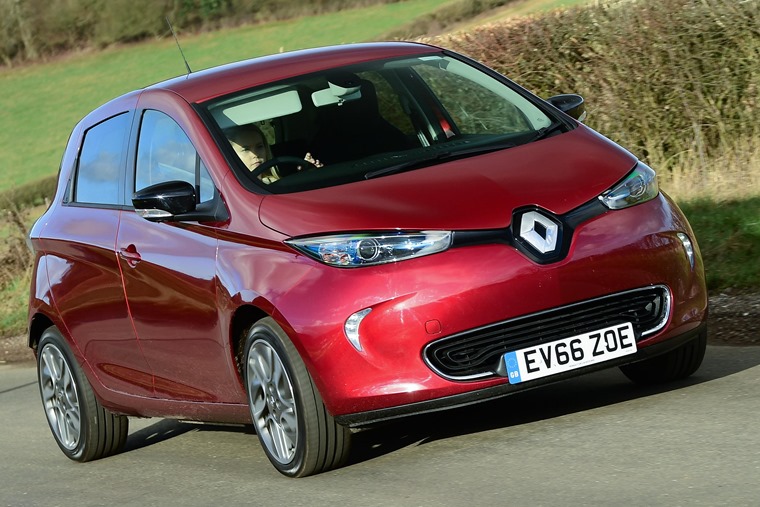 With a new-and-updated Zoe now confirmed, you can expect to see some tempting lease rates on the outgoing model very soon. And just because there's a fresh-faced version doesn't mean it'll be old hat.
Official range stats say it can manage 186 miles between charges, and plugged into a 7kW home charger the battery can be completely recharged in 7-8 hours (0-100%). According to Renault. you'll be spending just 3p per mile if you charge at home, too, so it won't be just the air you'll be helping; it'll be your bank balance, too.