Video review: Lexus RX
The luxurious Lexus RX is the brand's hybrid SUV that's aiming to take on the BMW X5. It might be well built, but can it offer a viable leasing alternative to the popular German brands?
The Lexus RX is a stylish and very luxurious SUV that completes with cars like the BMW X5. But it goes about its business in a much less showy way and is only available as a self-charging hybrid.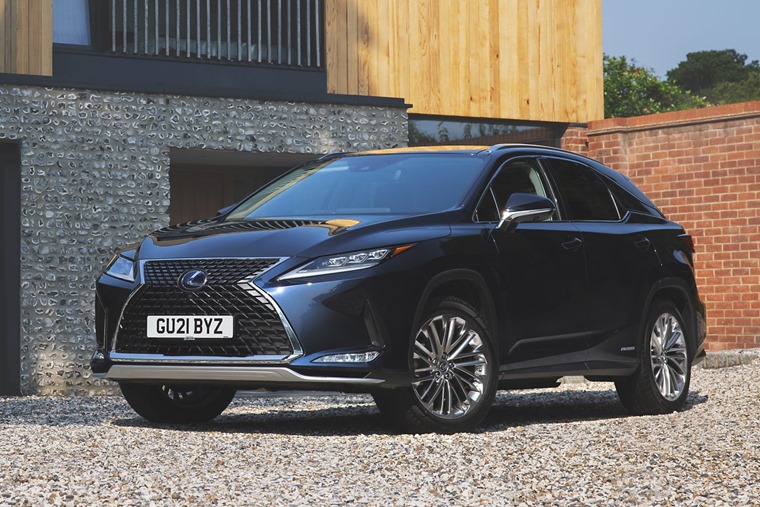 It's been around for a few years now, but it still looks as fresh as it did when it launched in 2016. Has it still got what it takes to offer a viable alternative to German brands? We sent Howard Ritchie to find out.
Watch the video in full below, or read on for everything you need to know about this plush family SUV.
What is it?
With a floating roof line and a seriously cool "spindle" front grille, the Lexus RX been constantly updated over the last few years and can still hold its own against the mainstream competition. The RX is a stylish SUV that stands out from the crowd.
Sumptuous. Swish. Excellent X5 antidote. – Leasing.com five-word review
It's distinctive look really sets it out from cars like the BMW X5, but whether you like that or not will be down to personal preference. If you like the angular and aggressive look of the BMW, then you might not rate the Lexus.
If you find the X5's styling a little bit too brash, then you'll probably appreciate the RX all the more.
Step inside and this theme continues. The interior is exquisitely put together and extremely well thought out. The dashboard is quite a unique design compared to the competition, with a floating 12.3in infotainment screen rising out of the top.
Standard equipment across the range includes a reversing camera, leather interior, heated front seats, automatic LED headlights, automatic wipers, dual-zone air conditioning, front and rear parking sensors and Lexus' satnav system. But more on the interior later. What's it actually like to drive?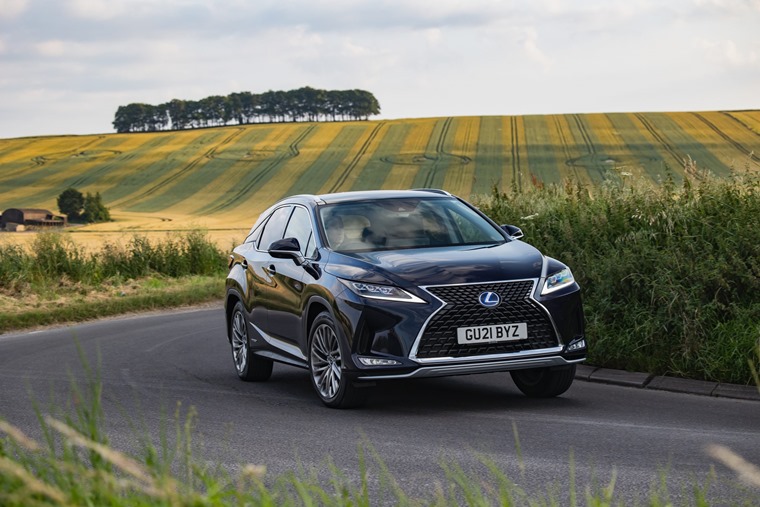 What's it like to drive?
In a word, relaxing. It might have a large 3.5-litre engine making up half of its self-charging hybrid drivetrain, but this is definitely a car that prioritises comfort over performance. The high-riding driving position gives you a great view of the road, and visibility is good. The cabin is super-quiet too, while the suspension does a great job at ironing out potholes whether they're big or small.
With its eerily quiet interior and hushed drivetrain, it's a great motorway cruiser.
We said there isn't a priority on performance, but don't go thinking that it's a slouch. The six-cylinder engine and electric motors can get you from 0-62mph in 7.7 seconds.  With its eerily quiet interior and hushed drivetrain, it's a great motorway cruiser. The only noise you're likely to hear is a slight drone from the CVT gearbox, but once you're up to speed that quickly dies away.
Economy-wise, Lexus claims that more than 50mpg is possible, but Howard found that it will manage between 35 and 40mpg in a mix of real-world driving. That's still mightily impressive for an SUV that weighs more than two tonnes.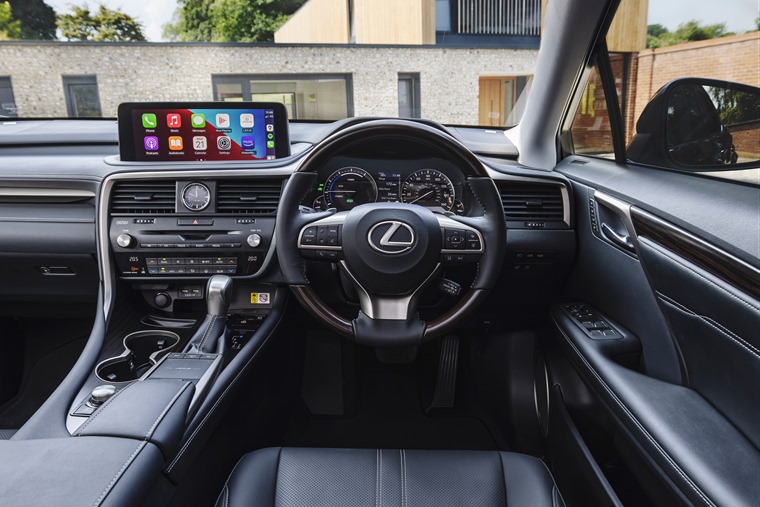 What about the inside?
The interior is brimming with quality trim – wherever you'll look you'll find plush high-quality soft-touch plastic. The carpets are sumptuously soft and the dashboard itself is a great piece of design. F-Sport models will get sportier seats and aluminium trim too, further enhancing the interior's feel.
It's where you'll find the 12.3in infotainment screen, which can be controlled via a mouse-like touch sensing pad in the centre console. This is probably one of the few flaws with the RX. The system isn't as intuitive or as cutting-edge as some rivals, but it makes up for it by being compatible with Apple CarPlay and Android Auto.
It can't quite match rivals on the practicality front.
There are some oddities though. For example, you might not think that the RX features heated and cooled seats. That's because the buttons are tucked well away in a cubby area ahead of the gear selector.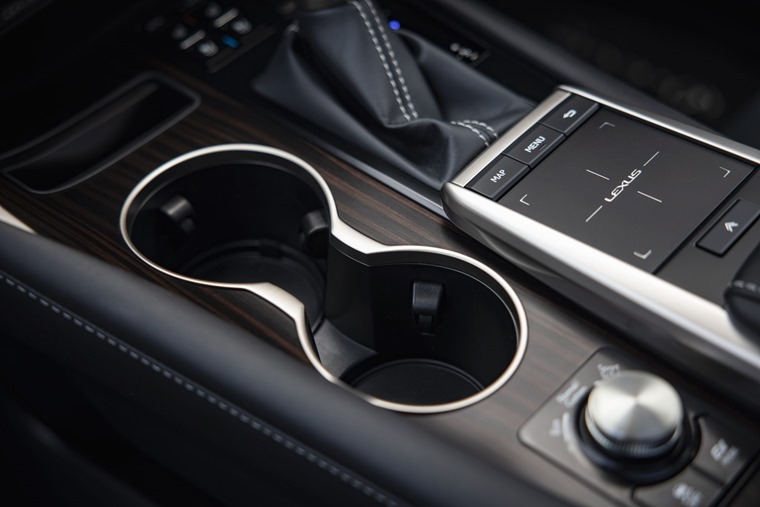 Likewise, that analogue clock feels a bit out of place these days, and there's still a CD player on the dashboard – that seems quite outdated compared to the high-tech dashes on offer from some rivals.
While it is a large and practical SUV, the RX can't quite match rivals on the practicality front. Its hybrid battery packs mean that boot space is reduced, with just 453 litres on offer.
The rear seats are more comfortable than those in the front of a BMW X5
That's much smaller than the X5, which gets a more useful 650-litre boot. However, it's not the end of the world, as clever folding 60:40 seats are standard which ups total capacity to 924 litres.
Whether you're in the front or the back, as a passenger the Lexus is a roomy thing. In fact rear seats are more comfortable than those in the front of a BMW X5.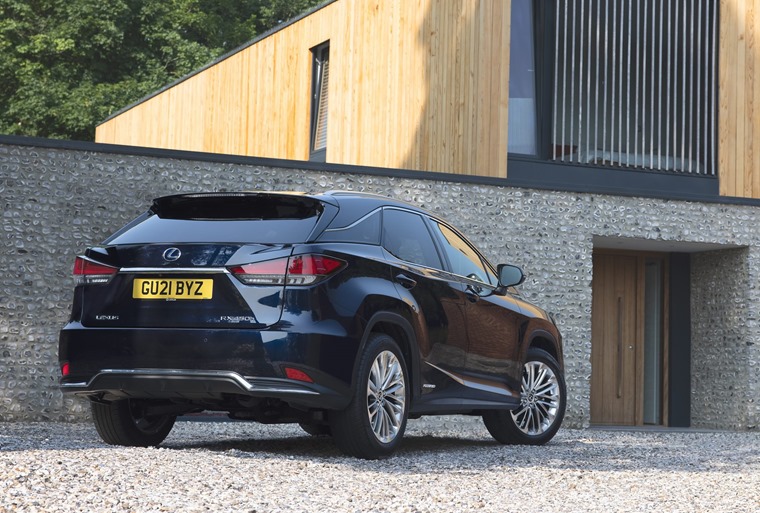 What's the verdict?
For those looking for a premium SUV that's just a little bit different, the RX is a great alternative to mainstream German brands. It might not offer quite as much practicality, but for covering miles in comfort it's a better bet.
The RX is a great alternative to mainstream German brands.
It's also the one of go for if you value an efficient hybrid drivetrain, which will take the strain (and emissions) out of town driving. With great levels of standard equipment and that bold front end design, it's a fantastic option for many and should be on your shortlist. It deserves to be more popular than it is.
Which brings us on to its problem. If you want to lease one, its price point is very similar to BMW's X5 and, for most people, that German badge holds bigger sway than the Lexus.