'Master plan, part deux': Musk announces Tesla pick-up and second SUV
A pick-up truck and a small SUV will feature in Tesla's future line-up, the company has confirmed.
Tesla CEO, Elon Musk, announced the new cars in his 'master plan, part deux', which also sees Tesla proposing a host of new tech and heavy-duty commercial vehicles.
Tesla
Model S
449kW 100kWh Dual Motor 5dr Auto
Profile:
9+47
Mileage:
5k Miles p/a
£1,021.59
Per Month, INC VAT
Initial Payment: £9,194.31
Personal Leasing Deal by: Jet Vehicle Finance
New pick-up
It's likely the yet-to-be-named pick-up will use the upcoming Model X's 4x4 drivetrain, but whether it'll benefit from the same combination of potent electric motors remains to be seen. It will get the same distinctive look as the rest of the Tesla line-up, and aims to take on traditional, conventionally powered American pick-ups such as the Ford F-150.
In Europe, it will compete with the likes of the Mercedes X-Class and Renault Alaskan – two upcoming high-end pick-ups. Few details of the new SUV have been confirmed, but it will sit beneath the seven-seat Model X in the line-up, and possibly use underpinnings from the upcoming Model 3.
Master plan, part deux
The new vehicles are only part of the company's future, that Musk says is now entering the next phase in its existence. Speaking on Tesla's blog, Musk said he plans to "expand to cover the major forms of terrestrial transport". This means buses and lorries are also in the pipeline, and will be designed concurrently with upcoming personal vehicles.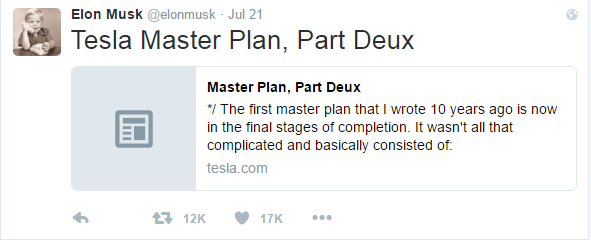 Musk said: "In addition to consumer vehicles, there are two other types of electric vehicle needed: heavy-duty trucks and high passenger-density urban transport. Both are in the early stages of development at Tesla and should be ready for unveiling next year."
Future-proof car sharing
Solar power will be an overriding feature on future Teslas too, with Musk aiming to create "a smoothly integrated and beautiful solar-roof-with-battery product that just works … and then scale that throughout the world".
Plans to develop Tesla's innovative autonomous driving aids are also afoot, that aims to make journeys 10 times safer than manual input. As the tech develops, it will enable Tesla to create a 'shared fleet', too.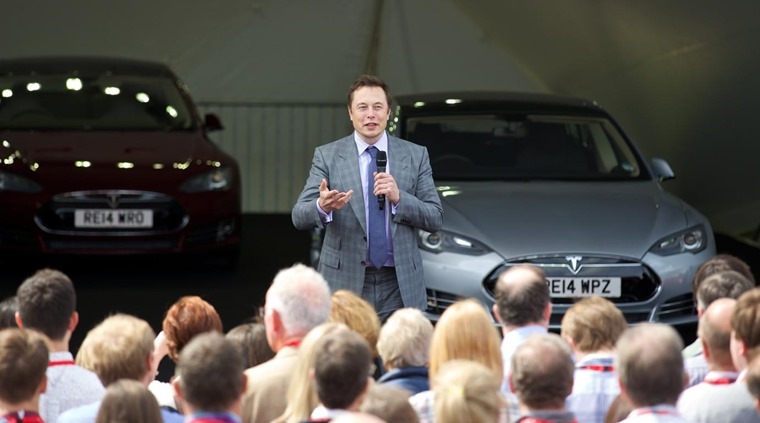 Musk commented: "You will also be able to add your car to the Tesla shared fleet and have it generate income for you while you're at work or on vacation, significantly offsetting and at times potentially exceeding the monthly loan or lease cost.
"This dramatically lowers the true cost of ownership to the point where almost anyone could own a Tesla."
Tesla is on track to start deliveries of its Model 3 in late 2017, while deliveries of the Model X should also begin at the start of next year. If you can see yourself in an electric car in the future, have a look at why we think the Tesla Model 3 could be the perfect business lease car.