Review: Mazda 3
Concept-inspired style, a minimalist interior and free-revving engines, the new Mazda 3 offers something different. It's refreshingly simple, and the hatchback segment is all the better for it.
The Mazda 3 has long been a left-field alternative to the Ford Focus. With an all-new model recently released, however, its Japanese counterpart was left somewhat lagging. The latest 3 has addressed this issue on all fronts.
But these days it doesn't just have to fend off the ubiquitous Ford. It's got to be premium enough to tempt people away from cars like the Mercedes-Benz A-Class and BMW 1 Series, and desirable enough to fend off competition from the sprawling crossover segment.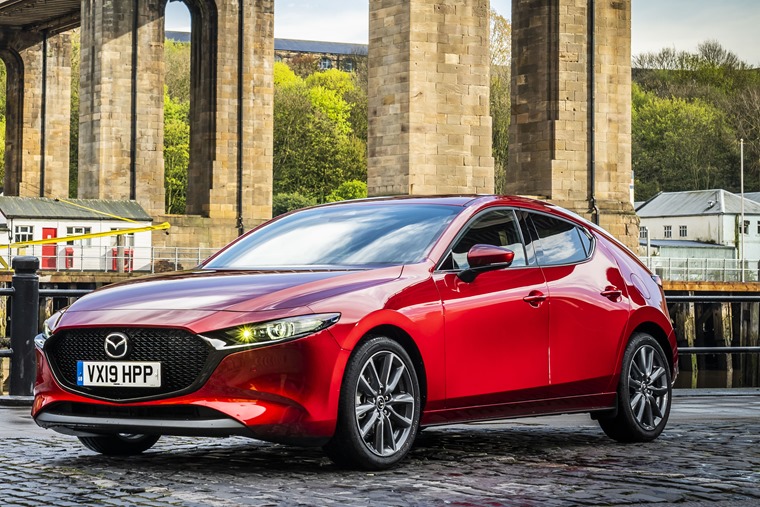 Stylish. Surprisingly satisfying. Stands out. Leasing.com - five-word review.
Cast your mind back to 2017 and you may remember Mazda unveiling a pair of striking concept cars – the Kai and Vision. The Japanese company then promised to incorporate some of the 'Kodo' design language into production cars, and with the 3 it really has pulled it out the back. It sets itself apart from other hatchbacks from almost any angle. The front is elegantly elongated with a strikingly low nose.
The sloping roofline is cut off quite suddenly at the rear giving it an extremely distinctive silhouette. Well, certainly distinctive compared to its predecessor. Whether most those looking for a family hatch care about styling is questionable, but the fact it sets itself apart from the crowd is something to be admired.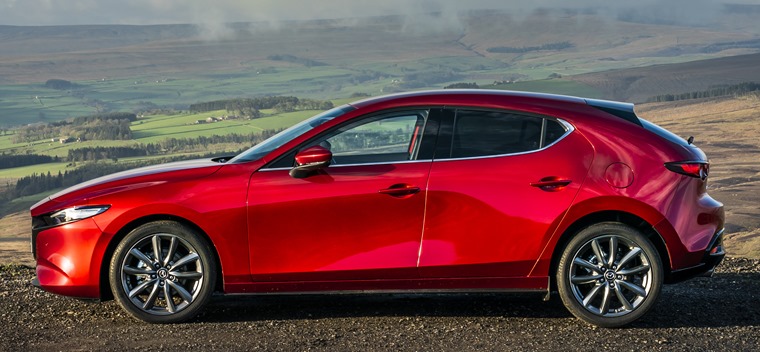 The interior offers a minimalist and premium feel, although it's all rather plain. This isn't a car for those obsessed with the latest connectivity and tech that you'd find in a A-Class, for example. Given the increasing trend of piling a cabin with screens, however, it's a refreshingly simple approach.
The cabin looks fantastic courtesy of much improved trim and a complete redesign.
The cabin itself looks fantastic courtesy of much improved trim and a complete redesign. The dashboard is covered in faux-leather soft-touch material and is laid out in a simple fashion which gives it a surprisingly elegant feel. This is mainly because the infotainment system remains a floating unit. This leaves space on the dash for the climate control switches, while those asymmetrical air vents demonstrate a bit of thought has gone into the design.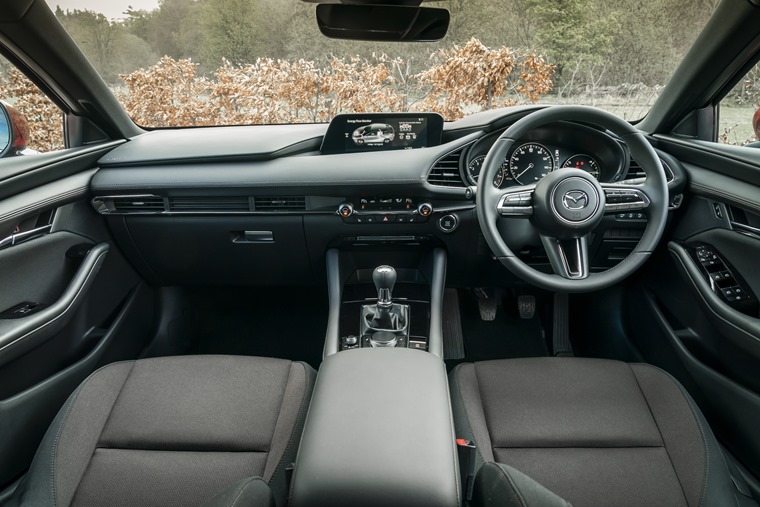 On the infotainment front, all trims feature an 8in colour screen. It's vivid, clear and easy to use compared to many rivals, although those expecting a touchscreen experience will be left disappointed. It's all controlled via a dial in the centre console, although it works via the steering wheel controls and voice activation, too. All trim levels come Android Auto- and Apple CarPlay-ready, while satnav is standard across the range, too. Unlike the VW Golf which is now available with a digital driver display, all Mazda 3s make do with analogue dials in the dash pod. They are very clear and easy to read, although the lack of a digital display is worth a mention considering this tech is now becoming mainstream in the hatchback segment.
All trim levels come Android Auto- and Apple CarPlay-ready, while satnav is standard across the range.
Trim levels kick off with the SE-L, with SE-L Lux, Sport Lux and GT Sport slotting in under range-topping GT Sport Tech. Equipment levels are impressive across the board with rear parking sensors, 16in alloy wheels, LED headlights and climate control standard across the range. In fact, unless you want to add luxuries such as a heated seats and dual-zone climate control, there's no need to go for any other trim than SE-L. There aren't any great variances in style, while safety tech such as autonomous emergency brakes, blind-spot warning and lane-keep assist are fitted as standard.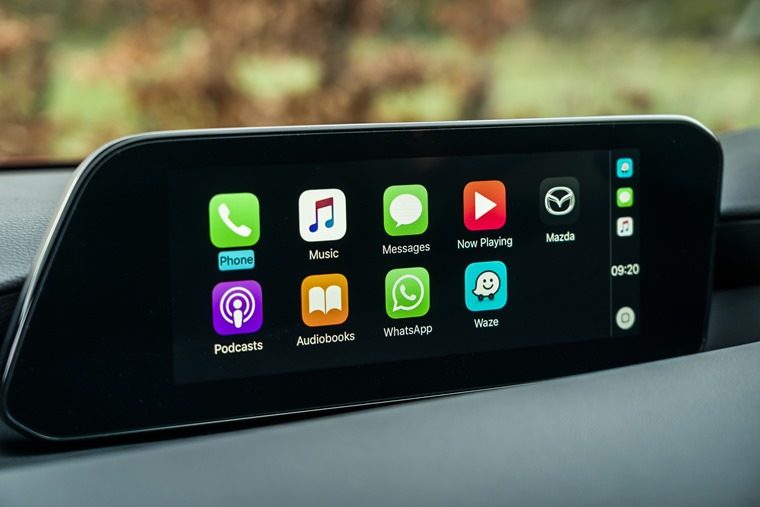 If you're after a practical vehicle, there are better options. It isn't too terrible, but that elegant fastback-like rear end limits boot space to 351 litres and, while that's around the same as the Focus and Golf offer, getting things in through that small opening can be a problem. Rear adult occupants will find things a bit of a squeeze too, which again is largely due to the swoopy rear end.
It's an enjoyable drive thanks to a great chassis, smooth petrol engine and a connected feel.
The Mazda 3 has always been one of the more pleasing hatchbacks to drive thanks to a great chassis, smooth engines and a connected feel. The new one doesn't break the trend. Steering is precise, and the driving position is excellent. Most people will be able to find a comfortable position easily. It's refined too, while a short and precise manual gearstick is a pleasure to use. But the engines themselves?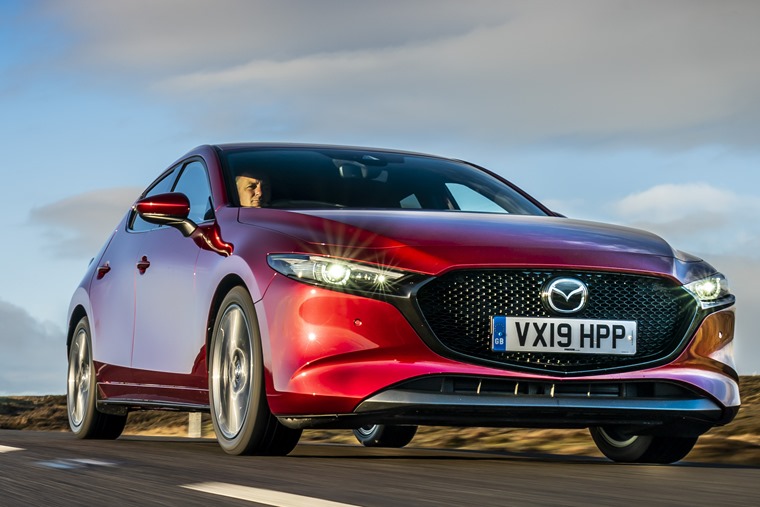 Well, two are currently on offer – a 1.8-litre diesel and a 2.0-litre petrol. We'll start with the latter. Despite offering a larger capacity than most rivals, the lack of a turbo charger means it produces just 120hp. On the upside, this means it's a lovely engine to use if you enjoy working your way through the gearbox. It's smooth, responsive and offers a linear acceleration we've kind of forgotten in the age of tiny turbocharged engines. On the downside, it isn't what you'd call quick. It takes more than 10 seconds to get from rest to 60mph, meaning a Ford Focus fitted with a 1.0-litre Ecoboost engine has it outgunned rather easily. It also incorporates a mild-hybrid system and cylinder deactivation tech, the result being an easy 40+mpg.
A Ford Focus 1.0 EcoBoost has it outgunned in terms of outright acceleration.
For outright economy, however, the 1.8-litre 112hp diesel is still best. It can achieve up to 56.5mpg – although it dulls the driving experience and is a little less refined than the petrol. Both engines are available with an automatic gearbox as well as the standard five-speed manual. The good news is that Mazda's Skyactiv-X petrol engine will be joining the range later in the year and, producing 177hp, it'll provide enough extra performance to match more potent rivals.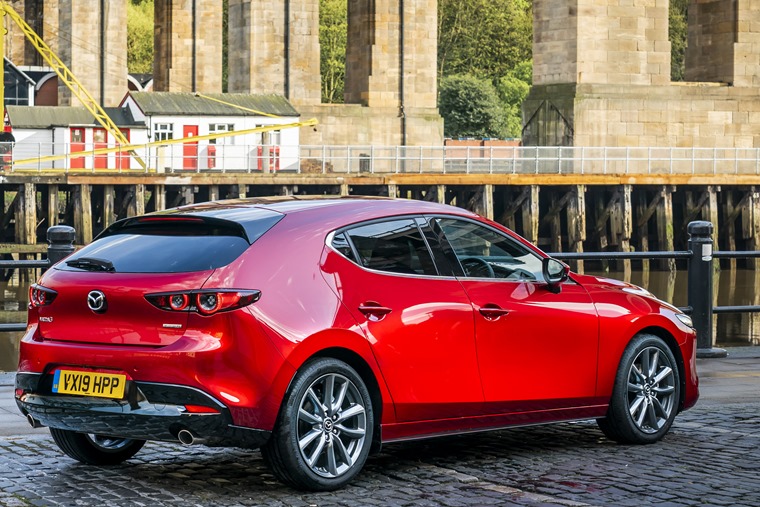 Our final thoughts? Well this is certainly the most polished Mazda 3 to date. You don't get the same tech or outright premium feel offered by an A-Class, but it's certainly still an attractive left-field alternative to the largely mundane bunch of cars that make up the family hatch segment.
Even without waiting for the upcoming Skyactiv-X petrol engine, its style, precise driving experience and refreshingly minimalist interior make it a tempting choice. But with most leasing deals currently available priced from more than £200 per month, you'll have to be truly enamoured with those looks to opt for one over a Focus or Golf.
Model tested: Mazda 3 2.0 Skyactiv-G Sport Lux
Exterior
The most stylish Mazda 3 yet, and one of the best looking hatches in years. Design takes its cues from Kodo design concepts.
Interior
Refreshingly simple in a lot of ways, although misses out on some of the screen-based technology being offered by key rivals.
Driving
Fun as ever, although we'll have to wait for addition of Skyactiv-X petrol engine to bring the Mazda 3 to life.
Space
351-litre boot is outdone by rivals like the Focus and Golf, while tight rear passenger space and small boot lid means it isn't the most practical.
Efficiency
All engines capable of 40+mpg, while the upcoming Skyactiv-x petrol should manage 52.3mpg while emitting just 96g/km of CO2.