Review: Mercedes-Benz B-Class
Rather than the frumpy boring MPV of old, consider the new B-Class a more practical A-Class. If you can live without the SUV styling, it's a fine family car.
Once upon a time, MPVs were the must-have family vehicle. Not so anymore. These practical family cars have long since given way to the plethora of high-riding crossovers that, while not being much more practical than their people-carrying forebears, offer much more style.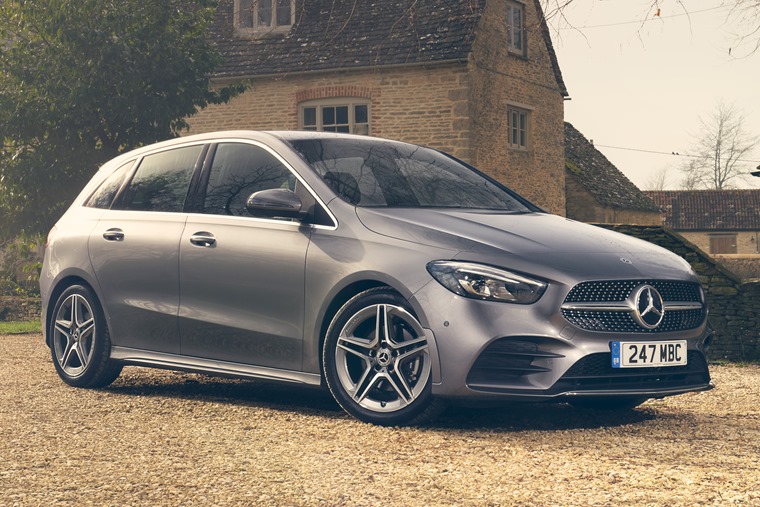 But if there's one manufacturer that can keep the people carrier flame alive, however, it's Mercedes. The number of models in its current line-up is rather staggering. Unlike some other brands, it hasn't let its people carrier go gently into that good night. Say hello to the latest B-Class.
Stylish MPV ditches its frumpiness. Leasing.com five-word review
Compared to the old model, it's a real revelation. We've not seen styling this sharp on a people carrier since... ever? The front gets the same sharp look as the latest A-Class, while a slightly more rounded rear makes it sleeker than an MPV has any right to be. It might not be as in-your-face flashy as some crossover alternatives – including some SUVs in Mercedes' own range – but a people carrier never will. But this certainly isn't a car you'd be embarrassed to drop the kids off at school in.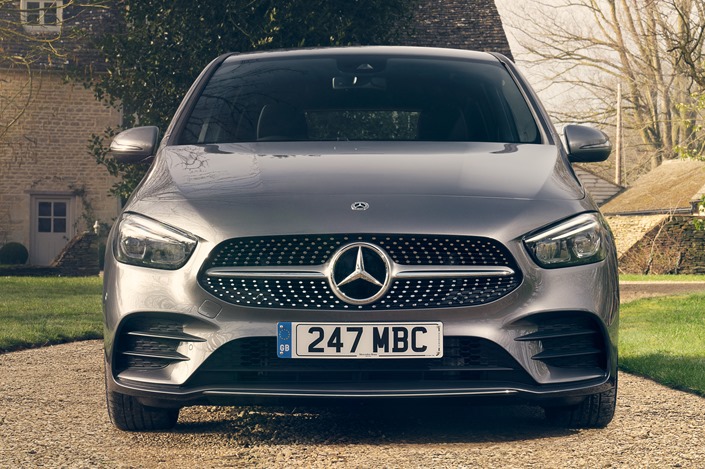 And remember the high-tech interiors of the A-Class and C-Class we've been obsessing over recently? Well the B-Class follows their lead. Two vivid screens adorn the dashboard. They're both 7in wide as standard, although you can upgrade to one or two 10.25in units if you fancy plumping for the Executive pack (an extra £1,400) or the Premium pack (£2,300).
Mercedes' latest MBUX system is one of the best in the business.
Mercedes' latest MBUX system is one of the best in the business, with tonnes of functions available via voice control – simply saying 'Hey Mercedes', followed by 'I'm cold' will see the car automatically adjust the temperature, for example. You'll have to pay extra if you want Apple CarPlay and Android Auto connectivity though (£495), as you will if you fancy Mercedes' latest augmented reality satnav system (also £495).

It isn't just the tech that helps it stand out from rivals though; the rest of the interior is up to Mercedes' usual impeccable standards. Most trim pieces are made of soft-touch plastics and aluminium-effect pieces really set it apart from rivals like the BMW 2 Series Active Tourer. The B-Class' interior really does belie its price point.
The B-Class' interior really does belie its price point.
But let's be honest: you're choosing an MPV rather than an A-Class because you want more space. So how does it fair? Not too badly, really: there's an airy feel to the cabin and you'll have no problem fitting four adults and their luggage in. Considering it's still a rather compact car, legroom is good in the back and, despite the roofline now being a little lower, there's still lots of headroom, too.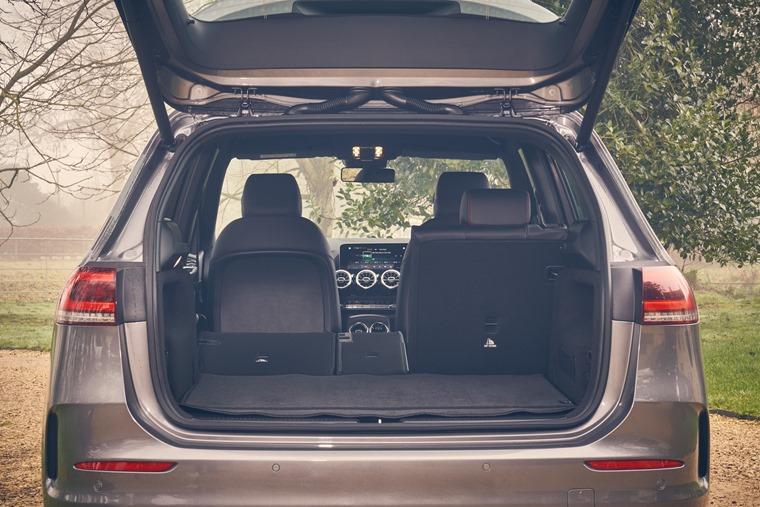 Where it's not quite up to other MPVs is in the boot, where you'll find 455 litres of luggage space – that's not as large as its main rival – the BMW 2 Series Active Tourer – but it should still suffice for most families. Practicality can be increased courtesy of a sliding rear seat that increases the boot space on offer to 705 litres. They also split into three (40:20:40) which boosts versatility further.
We'd avoid the least powerful diesel unless your top priority is economy.
The B-Class' bulk means it won't ever look quite as suave as an A-Class, but can it drive in the same way? Almost. Lots of parts are shared between the two models and, while the B-Class is a taller, heavier machine, it doesn't feel all that different than an A-Class. Plump for AMG Line trim and you'll get the potent 189hp B220d diesel engine and a revised suspension set-up that reduces body roll. This is the one we'd pick.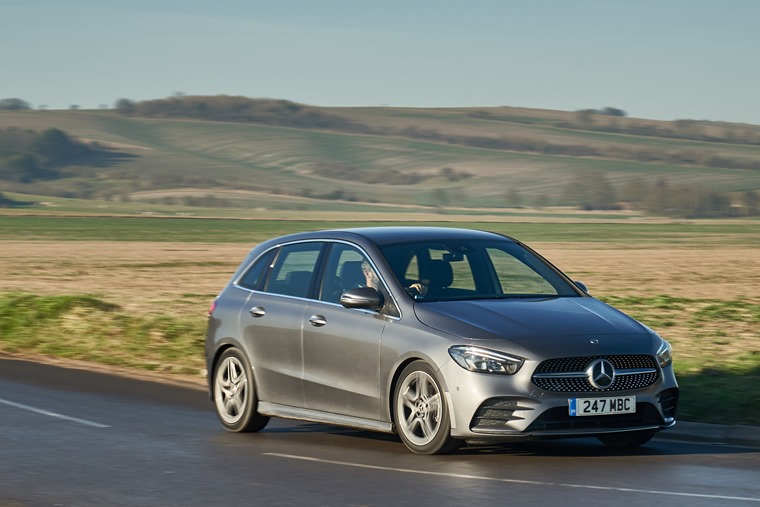 Less powerful models – the B180d and B200d – produce 116hp and 150hp respectively, with the B200d and B220d benefiting from a smooth new eight-speed automatic gearbox. Fancy a petrol? You've got two options – both of which are a 1.3-litre four-cylinder. It's available with 136hp (B180) and 163hp (B200).
We'd avoid the least powerful diesel unless your top priority is economy, but all other choices offer more than enough poke for a family MPV. Our only complaint is that the petrol engines can seem a little noisy under acceleration, although it's fine once you're up to speed. The B-Class isn't a fun car to drive, per say, but then again, a load-lugging people carrier isn't meant to be engaging.
The B-Class has historically lagged behind key players like the A-, C- and E-Class.
It is however, extremely safe. The B-Class is by far and away the best in class when it comes to active driver aids. Plump for the Driving Assistance pack and you'll get a clever active cruise control system that anticipates hazards and slows down the car accordingly. There's also tonnes of safety tech including a collision prevention system and autonomous emergency brakes as standard.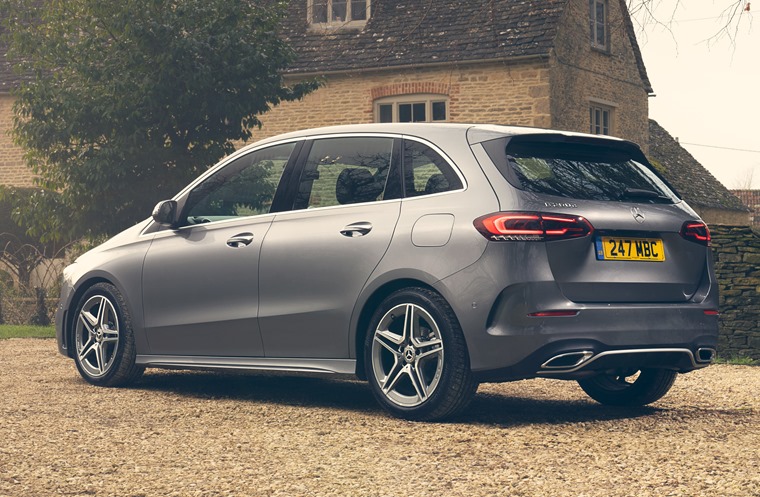 But should you lease one? Mercedes is always a popular choice on the leasing market, although the B-Class has historically lagged behind key players like the A-, C- and E-Class. That's not really the car's fault though. That's just the fact that the people carrier segment has taken a serious hammering in recent years – they just aren't as popular as they once were.
If you want the tech of the A-Class, classy interior of the C-Class and the flexibility an MPV provides though, the only reason you'd plump for a more expensive GLC SUV is for its style. With B-Class monthly rates from less than £300 for a B180 AMG Line, it's really quite affordable too. Whether you can live without that SUV street cred will be up to you.
Watch our latest Mercedes reviews on our YouTube channel here
Quick stats: Mercedes-Benz B200d AMG Line
Lease price: From less than £300 per month
Top speed: 145mph
0-62 mph: 7.2 seconds
Official economy: 50.4 mpg
CO2 emissions: 116 g/km
Car tax: £140
BIK: 24
Power: 190hp
Torque: 400Nm