Review: Mercedes-Benz CLS
The CLS offers something for everybody: looks, tech, practicality, mile-munching GT-like capabilities. In short, It's the most well-rounded four-door coupe currently around.
Mercedes-Benz excels itself at filling a niche. Look at the X-Class – a luxury pick-up truck. Look at the A-Class Saloon – a booted version of the immensely popular hatch. A-Class Saloon a little too small? How about the CLA? The pioneer that kicked off this niche-finding trend, however, was the CLS.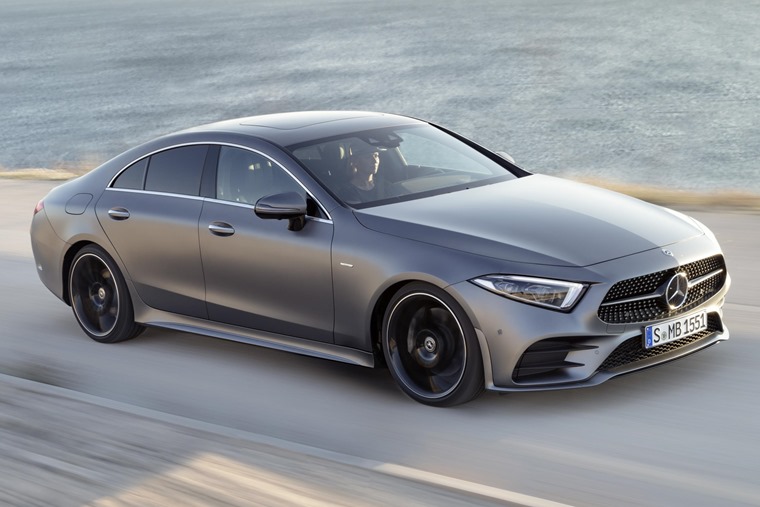 When it arrived back in 2004, nobody knew they needed a four-door coupe, but rivals were quick to cotton on. Today almost every premium manufacturer offers a car that claims it can offer the best of both worlds: swoopy coupe style with the four-door practicality of a family saloon. Consider Audi's A7, BMW's 6 Series and the Porsche Panamera. These are cars that might never have existed if Mercedes hadn't decided to wrap up its E-Class in a fancier package. And now there's a new CLS. Can the original fend off these pretenders?
Coupe characteristics meets saloon sensibilities.Leasing.com five-word review
Externally, you'd never know the CLS shares a platform with the more conservative-looking E-Class. Mercedes says that it is "emotionally charged with elegant beauty". That's perhaps a bit of an overstatement, but the CLS certainly pulls it out the bag in the styling department. It gets the company's latest design cues up front, which together with a sloping roofline, high waistline and thin, pillarless windows give it a really classy look. It's every bit as elegant as an E-Class Coupe, in any case.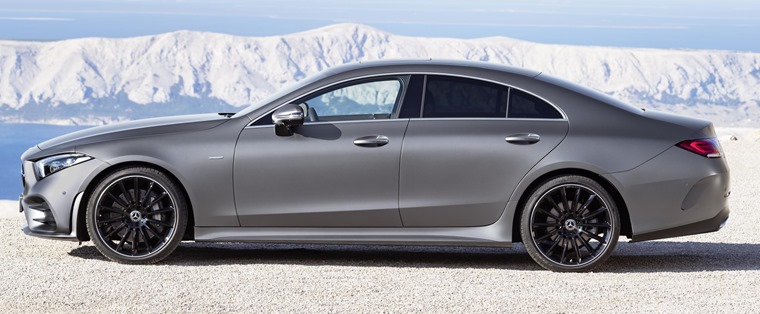 The interior will be instantly recognisable if you've sat in an E-Class, or any of Mercedes' latest models, for that matter. The CLS manages to add a little extra magic. For example, those striking 12.3in infotainment and driver display screens are standard rather than a pricy option as they are on the E-Class. In fact, the CLS is only available in one trim form – AMG-Line. It's very generously equipped and features leather upholstery across the range, while other niceties include a 64-colour ambient lighting system that illuminates those ornate jet-fin air vents. All Mercedes are full of high-quality, premium touches, but it's the little things like this that'll make the CLS worth the extra cost for some.
You'd never know the CLS shares a platform with the E-Class.
The latest generation of driving assistance systems are on offer too, with route-based driver support provided by an optional Driving Assistance Package. Thanks to improved camera and radar systems, the new CLS also has an even better view of the surrounding traffic and for the first time it also makes use of map and navigation data to calculate driving behaviour.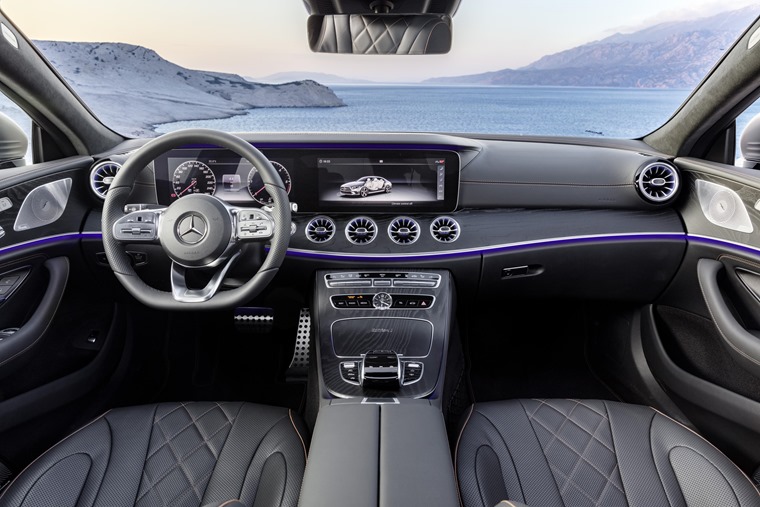 If that button-laden steering wheel looks a little intimidating, don't worry: the infotainment is actually relatively easy to navigate with touch-sensitive pads now the primary form of changing settings. Despite the CLS feeling special and featuring a generous standard spec, it's worth keeping in mind you'll have to add the Premium Equipment Line pack if you want a Burmester sound system, surround-view camera, a panoramic roof and electric front seats.
Rear passengers pay for the swoopy look by way of reduced rear headroom.
Remember we said a four-door coupe offers the best of both worlds? Well, everything is relative, because rear passengers pay for the swoopy look by way of reduced rear headroom. Legroom is generous, and you'll be able to fit three adults in, but realistically it's not in the same league as the E-Class for rear passenger comfort. That said, it gets a 490-litre boot and a 40:20:40 folding rear seat, making it surprisingly practical. Outright luggage space is more than a BMW 4 Series Gran Coupe, but less than Audi's A7 offers.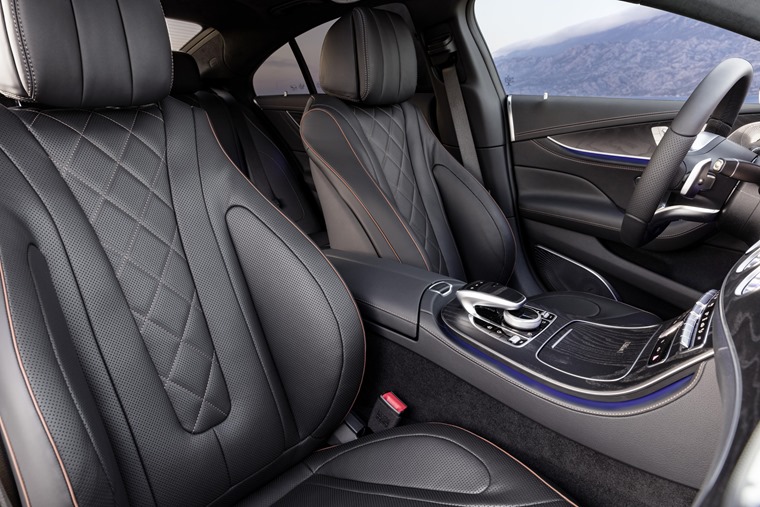 Driving the CLS is an effortless experience. This is in part thanks to that sumptuous interior that isolates you from the rest of the world. It also has something to do with the fact it's impossible to order one that isn't blisteringly quick. The least potent model on offer is the 350d. Offering 284bhp and 600Nm of torque, it'll get the CLS from rest to 62mph in 5.7 seconds and is capable of cracking 150mph. No slouch, then.
Driving the CLS is an effortless experience.
Other drivetrain options include a more potent diesel that gets 335bhp, as well as a 3.0-litre six-cylinder petrol with 362bhp that's borrowed from the S-Class. The range-topping AMG 53 variant cuts that to 4.5 seconds – a time that can worry some some seriously quick sports cars. Alas, the CLS isn't a sports car. For a truly engaging drive, you should look elsewhere, but for a seriously comfortable motorway cruiser with effortless overtaking abilities, it makes the perfect companion. All models come kitted out with 4Matic all-wheel drive and a nine-speed gearbox, too.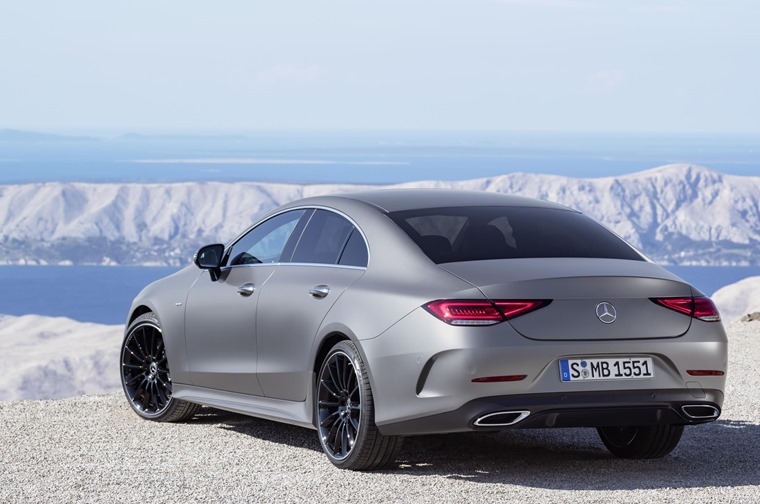 The CLS isn't what you'd call a cheap proposition, but is it worth it? Monthly lease rates can be had for less than £400 per month, but more realistically you should up this to between £450 and £600. Ok, that's quite a bit more than you'd be paying for an E-Class, but if you're considering a CLS, you'll already know. With its stand-out looks, cutting edge tech and generous AMG Line trim, you can't deny it's worth the extra, either.
Pricing is generally in line with its key rival – the Audi A7, although it's undercut by some versions of the BMW 6 Series Gran Turismo. But, it's a car that's much more up to date than the BMW, and if looks are a priority – which if you want a four-door coupe, they probably are – then the CLS's lines far outgun the Audi. In fact, it's the most well-rounded four-door coupe available.
Model tested: Mercedes-Benz CLS

Exterior
The CLS oozes class from the get-go thanks to that curvy bodywork. Want to stand out from the rest of the Mercedes crowd? This is how to do it.
Interior
Excellent, class-leading tech and infotainment wrapped up in a luxurious package of leather and high-quality trim. If you thought it impossible to improve on the E-Class' cabin, the CLS is worth a look.
Driving
Potent engines, 4Matic all-wheel drive system and semi-autonomous capabilities make it a great mile muncher. All versions are quick, but AMG 53 has enough power to worry a few supercars.
Space
Four doors mean it's infinitely more practical than a car this shape has a right to be, but it's still a case of style rather than space: rear headroom suffers and the boot opening isn't the best.
Efficiency
Both diesel versions capable of more than 50mpg on paper, but expect a little less than that in the rear world.