16% of the working day is lost to congestion, report reveals
Congestion is increasingly becoming a critical business issue for delivery drivers, according to the latest research from the Mercedes-Benz Vans Business Barometer.
Drivers say that, on average, 16% of their working day is lost due to congestion. During an eight hour working day this equates to 1 hour 17 minutes, or more than six hours across a typical working week. In total this adds up to 37 working days a year lost due to congestion for the average delivery driver.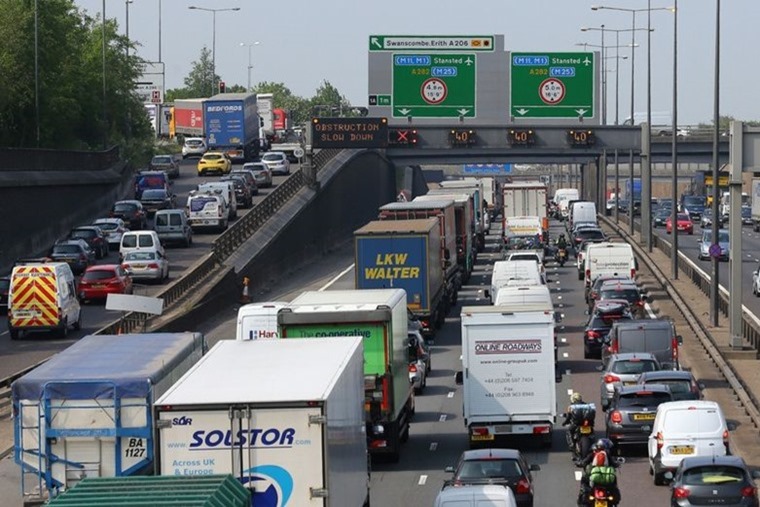 Greater London reaffirms its place at the top of the 'congestion league', with respondents saying 18% of their working day is lost to congestion – higher than anywhere else in the UK.
The research, undertaken among 2,000 van owners and operators in the UK, also highlights that congestion is now the second biggest barrier to growth for businesses, with 31% believing this will be a barrier to growth in the coming year, rising to 38% amongst fleet managers.
The top six transport related growth barriers:
Rising fuel costs 57%
Congestion 31%
Vehicle Expenditure 29%
Driver shortages 21%
Meeting increasing customer demand 16%
Servicing 'down time' 10%
More than 40% (43%) of respondents in the North West say that congestion will continue to be a barrier to growth – the highest figure nationally.
This figure is a huge blow following the recent opening of the Smart Motorway around the M60 ring road. Impacting some of Britain's busiest motorways including the M6, M56 and M62, the Smart Motorway has so far had no positive impact on congestion levels as promised by Highways England.
Everything you want to know about smart motorways (but probably haven't been told)
Further to this, more than half (55%) of owners and operators said they plan on increasing the number of vans they own or operate within the next 12 months, only adding to the strain on the vital arteries of the UK's business network.
With the delivery economy on the rise, business operators are citing growing customer bases (47%), continuing growth of online shopping (40%) and a shift away from heavy goods vehicles as the main reason they'll be investing in bigger fleets.
Steve Bridge, managing director, Mercedes-Benz Vans UK Ltd, said: "Anyone who has travelled along the M6 recently will fully understand the frustrations felt by our hard working van drivers – the amount of roadworks dotted all along the motorway is causing significant congestion issues, not least the stresses it puts time-sensitive couriers and distribution drivers under.
"We know from our Business Barometer that a growing customer base ever more focused on online retail is a positive for the industry, but unless the issue of congestion is tackled, these businesses will suffer. Congestion causes delays that cost money as well as time and can damage the reputation of business that rely on their deliveries.
The Mercedes-Benz Vans Business Barometer is a nationwide quarterly survey of 2,000 businesses large and small, created to help understand the economic landscape and discover what van owners and drivers need to keep their business moving.