The 10 most popular cars to lease in 2021: REVEALED
With the end of 2021 in sight, we thought it's probably time for us to check out just which cars made the leasing charts over the last 12 months.
It's been another interesting year for automotive, with demand outstripping supply for many new car models. Has this affected our top ten?
We took a look at the top ten most popular lease cars of 2021, and compared them to how things stood at the end of last year. And there's a few surprises.
10. Range Rover Evoque
In as the tenth most popular Leasing.com car of 2021 is the Range Rover Evoque. It's been a consistent hit on the leasing scene thanks to its premium appeal and enticing monthly prices.
The latest iteration also borrows styling from the luxurious Velar too, which can only add to its appeal. That said, it is down from fifth place in 2020, so we'll have to see if it can maintain its position in the top ten next year.
Compare Range Rover Evoque deals
9. BMW 2 Series
The BMW 2 Series is available in a range of formats: the practical Active Tourer, the sporty Coupe and the swoopy Gran Coupe. It's also the second consecutive year it's appeared in our top ten list.
The good looks and affordable pricing of the Gran Coupe will have helped maintain its popularity, while additional tech like the BMW Live Cockpit complete with 10.25in touchscreen interface make it seriously good value.
8. BMW 1 Series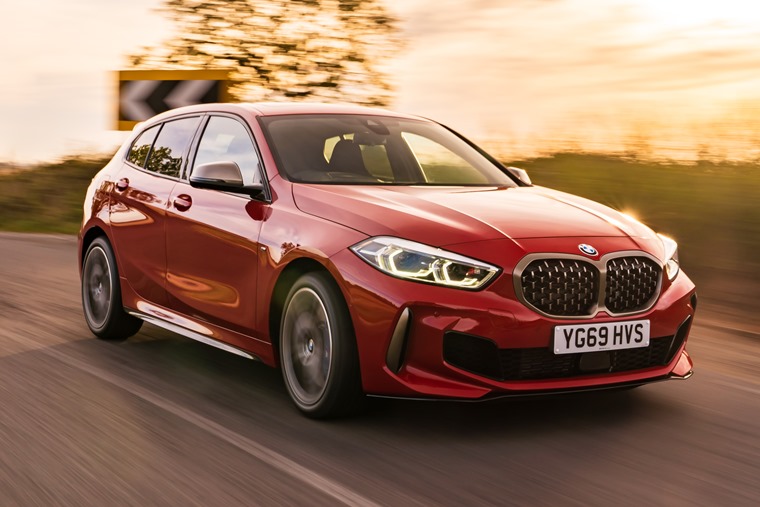 The BMW 1 Series didn't feature in our 2020 list, but the new model has gained much ground in 2022. Despite keen drivers sad to see the end of BMW's rear-drive hatchback platform, it clearly hasn't had a major effect on leasing fans.
The five-door hatchback is available with a range of potent petrol and diesel engines and, with its five doors, it's a real contender for the Golf. Add in affordable monthly prices and you've got a seriously popular lease car.
7. Volvo XC40
The Volvo XC40 has won countless awards since it launched a few years back, and that prestige is still shining through for lease customers wanting a premium crossover that's a little bit different.
With its elegant yet understated styling and range of petrol, plug-in hybrid and electric drivetrains, there's really something in the XC40 range for everyone.
6. Cupra Formentor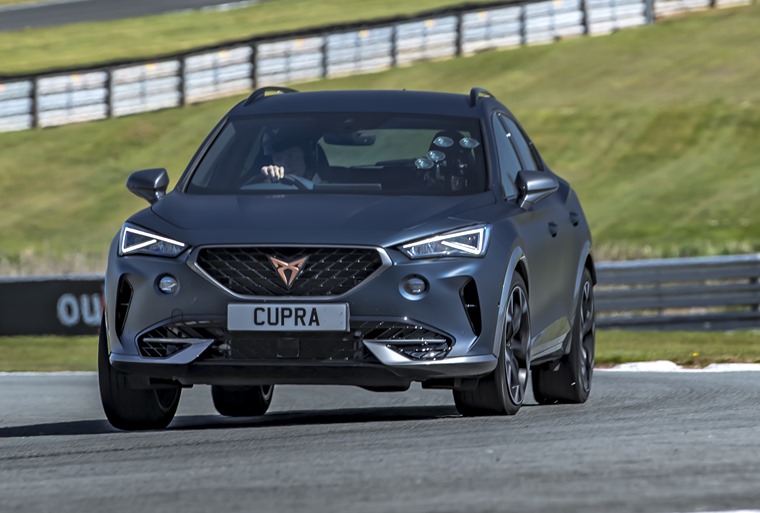 And now for a new entry: The formidable Cupra Formentor SUV has taken the leasing market by storm in 2021, ending up in sixth position on our leader board.
You can consider it a sportier version of the Seat Ateca – certainly in the way it drives. But the Formentor is immediately marked out thanks to its sharper body, angular creases and rear haunches.
No wonder it's proved a popular model – especially when monthly rates start at less than £300.
5. Nissan Qashqai
The Nissan Qashqai is a firm family car favourite, and the new one rightly deserves a place in the top ten most popular cars. The latest generation moves the Qashqai on in leaps and bounds with fresh styling, improved interior tech and of course mild-hybrid drivetrains.
Leasing numbers aren't quite as high as they were in 2020 (it's down from number 2) but we can put this down to the outstanding deals that were available on the new car, combined with lead times in 2021 – not the car itself.
4. Audi A3
In fourth place for the second consecutive year we find the Audi A3. The new model might not be as "new" as it once was, but it has held its position as one of the go-to leases for 2021.
The interior is one of the best available on any hatchback, while in S Line trim it really is a contender for the likes of Mercedes' A-Class and BMW's 1 Series. With monthly rates, it's no wonder the A3 ranks 4th in 2020.
3. Volkswagen Tiguan
The Tiguan missed out on the top ten popular lease cars last year, but in 2021 it's up in third position. A mild facelift that ushered in additional petrol engines and a fresher look will of course have helped.
But the biggest deciding factor by our book are the monthly rates: Many trim levels are available for less than £300 which, for one of the best built and premium family SUVs on the market, is a bargain by anyone's standards.
Compare Volkswagen Tiguan deals
2. Vauxhall Corsa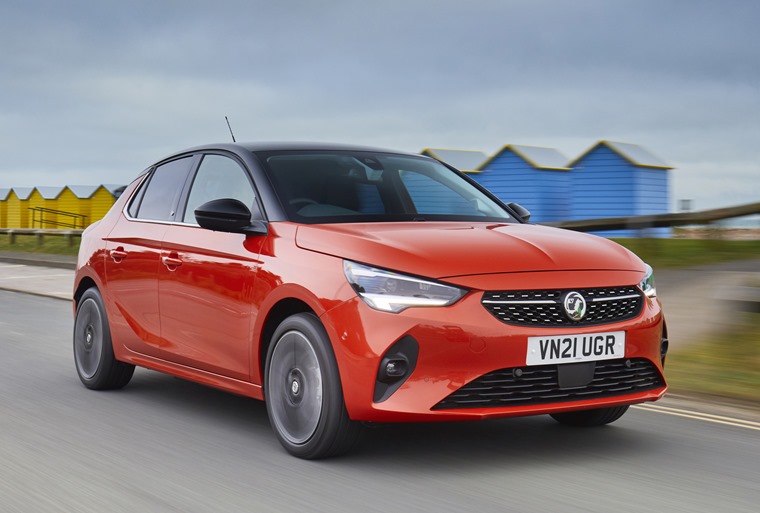 Another new entry now, in the form of the Vauxhall Corsa. It's been a challenge to knock the dominant Ford Fiesta off the supermini spot, but the latest Corsa has done it.
It's racked up a number of awards thanks to its good looks, efficient drivetrains and added practicality. It weighs significantly less than the old model did too, which delivers a much more rewarding driving experience.
The biggest reason for its popularity though? Well that's down to its platform, which is available as a petrol, diesel or all-electric model. There's a Corsa to suit everyone.
1. Volkswagen Golf
And the winner? It's the Volkswagen Golf. Up from third position in 2020, VW's ubiquitous hatchback is back on form following a complete redesign that is proving a hit with lease customers.
2018 was the last time the Golf topped the leasing charts, but the new car's more efficient engines (including a plug-in model), state-of-the-art infotainment technology and of course fresh looks have helped it regain its top spot which was taken by the Mercedes-Benz A-Class last year.
So how do things compare to last year?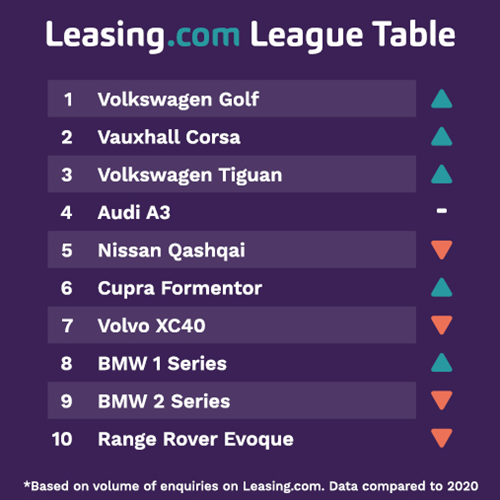 We've put together a little chart showing which cars have moved up and down the list from last year, but which cars have completely dropped out of the top ten? Well the Tesla Model 3 and BMW 3 Series for starters. They're still popular choices, but no sign of them on our 2021 list.
The Seat Leon and Mercedes-Benz A-Class have also slipped out of the list. Will they be able to make it back into the top ten next year? We'll have to wait and see.