Top five favourite drives of the year
If you're a regular reader of our newsfeed, you'll already know we've driven our fair share of new cars this year. Yes, we know, it's a tough job.
But which out of these hundreds of awesome new cars did we appreciate most?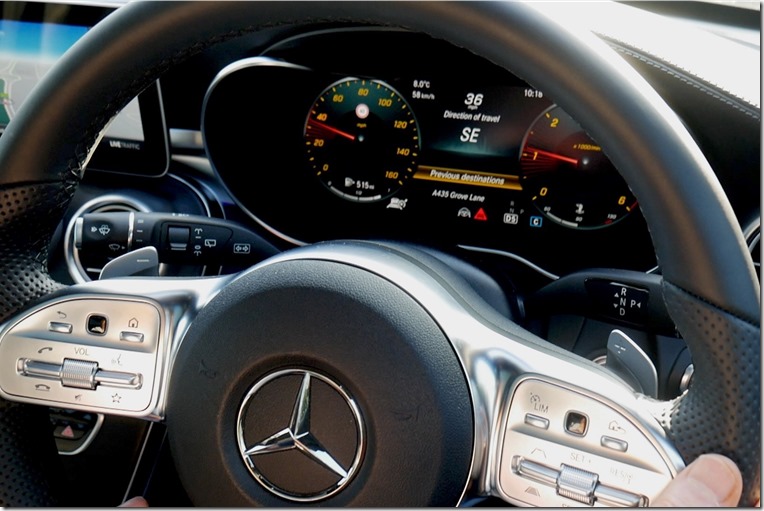 We've put together the top three picks of our writers/reviewers/contributors to come up with a definitive list of our favourite cars of 2018. So without further ado…
Neil Thomason
BMW i8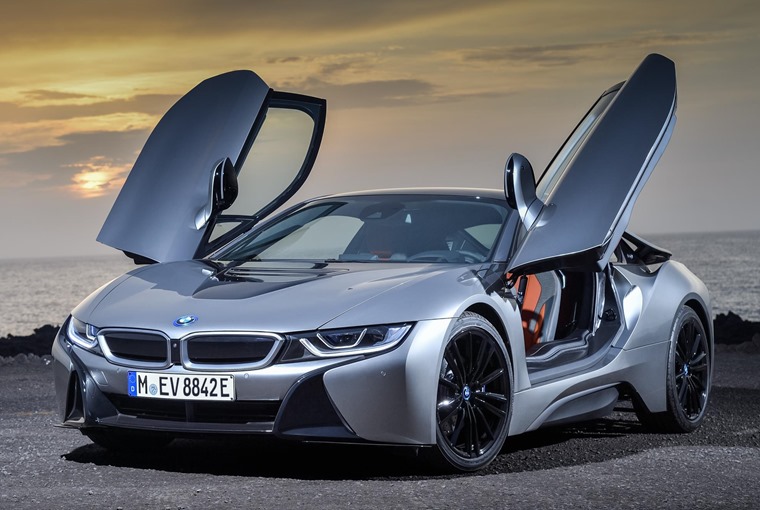 Read more: Five things we learned driving the refreshed BMW i8
Every now and again it's great to just let loose and go a little wild in a car, and as the only hybrid supercar on the market the BMW i8 allows just that.
Though I needed a quick warm-up and stretch so I was limber enough to clumsily wedge myself through the scissor-doors and behind the wheel of the i8, once there it felt like such a natural and safe vehicle to drive and that allowed you to push on in ways you might not feel comfortable in other cars.
With 0-62mph in 4.4 seconds and a total of 374hp available at the twitch of an ankle, you would rightly expect the car to be fast. But those figures really don't do driving the i8 justice.
Offering raw speed and no compromise on acceleration, things get a little sinister when you shift to Sport mode as the dials turn red, the friendly eco-meter morphs into an angry rev-counter, the damper settings firm up, and the engine suddenly sounds like it's been possessed by the same thing from the Exorcist. I'd sell my soul for an i8 that's for sure.
Honda Civic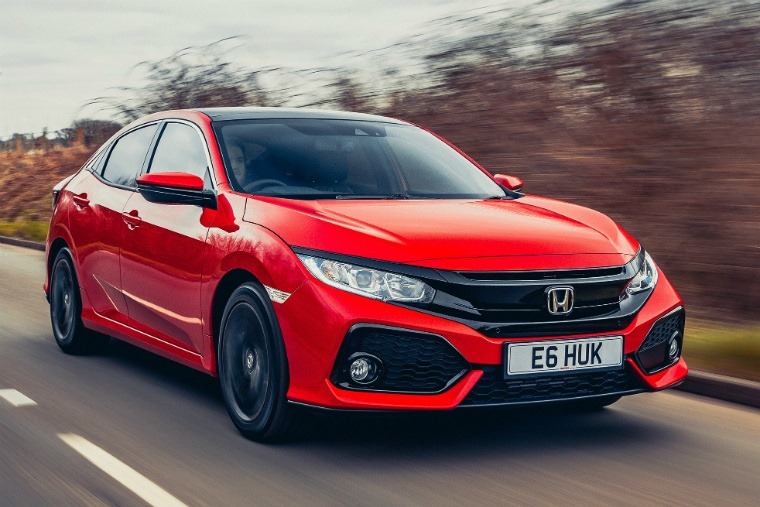 Read more: Top five reasons the 1.0 iVTEC is the most popular Honda Civic to lease
2018 proved to be a great year for turbo-charged 1.0 litre engines, but the iVTEC turbo in the new Honda Civic outmatched and outwitted all the competition and for that it's an easy choice for this list. While the styling of the regular Civic has been divisive, with some arguing it's not subtle enough and too much like the Type R, it was exactly what I wanted from Honda's marquee model.
The triple cylinder engine gives a rough-sounding thrum upon ignition which was all the more noticeable due to the cars so-so soundproofing. This just added to the appeal for me.
While the engine is under half the size and produces just one third of the power of the headline-grabbing Type R, the 1.0 iVTEC turbo truly gives the car a lot of character and proved to me there's still a time and a place for the downsizing of engines no matter what others *coughvolkswagencough* may think.
Not one person I met didn't like how beastly the Civic looked and similarly they were all surprised about its one litre capacity in comparison to its size. I think that equates to a big victory for the brand.
Audi RS4 Avant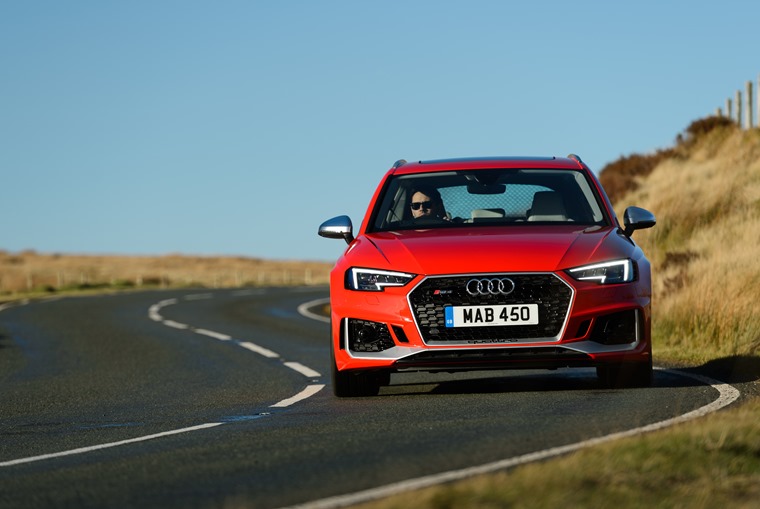 Read more: Audi RS4 Avant review
Isn't it nice when a car genuinely puts a smile on your face? With the Audi RS4 Avant that grin arrived the moment I pressed the ignition starter and heard the twin-turbo 2.9-litre V6 spark-ignition engine roar into action. And with 444bhp at your disposal as well as 600 Nm of torque when the car hits 1,900 rpm, you'd better be ready for it because the RS4 Avant is a car that shows you no mercy.
It is quick. It is incisive. It is planted and responsive. For an estate, it offers an alarming level of agility to the point you may do a double-take as you exit the car expecting to find you were in a sporty coupe all along. You weren't.
Ultimately, the RS4 offers drivers real-world access to extreme performance via an intoxicating blend of every day usability and phenomenal pace. And that's something not a lot of other manufacturers can boast.
I should give an honourable mention to Mitsubishi too, who I think had a cracking year. I enjoyed my time in the Eclipse Cross, which offered a comprehensive level of kit as standard and standout stylish looks, as well as the new pick-up derived Shogun Sport, which is probably my ideal vehicle day-to-day.
James Kelly
Abarth 124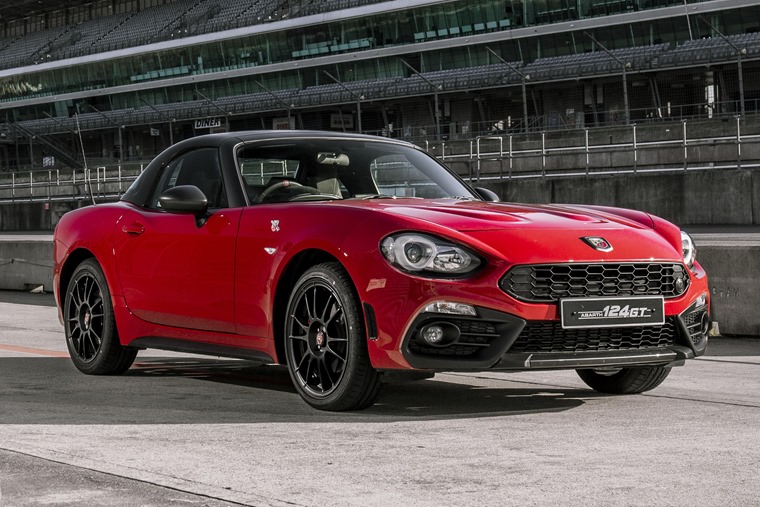 We've driven a few Scorpion-badged cars this year and, as fun as the Abarth 595 was, it's the droptop 124 Spider that I'd be spending my own money on.. Underneath the retro bodywork lies the same platform as the fantastic MX-5, but Fiat saw fit to don it with a turbocharged 1.4-litre engine. In the Abarth, it's boosted to 168bhp which, in a roadster weighing 1,060kg, is enough to have an absolute hoot.
With a 6.8-second 0-62mph time, it's never going to be the quickest sports car, but that gurgling turbo more than makes up for any lack of performance. The old-school six-speed manual is a seriously sweet unit, too. If there's one downside, it's refinement; it's by no means the most sensible choice as a long-distance commuter or, in fact, generally. However, if smiles-per-mile is a priority and you're after a great driver's car, then look no further.
Mercedes-AMG G63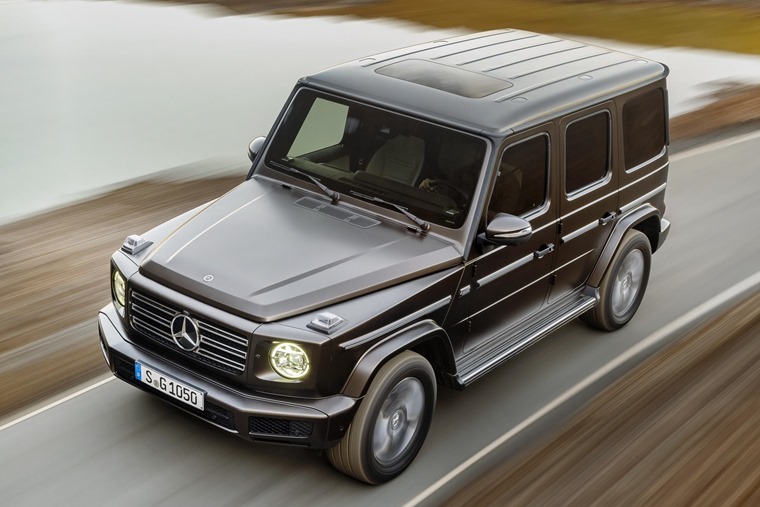 Read more: Clash of the titans – new G-Class meets old-school Defender
From one retro-inspired car to another, albeit one that takes a very different form. It's the G-Class. It might look familiar, but almost every component on this car is new. In bonkers G63 guise, it made me reassess some long-held beliefs of what a car this size can do. Thanks to a 4.0-litre bi-turbo V8, you can propel this two-and-a-half-tonne truck from rest to 62mph in 4.5 seconds. See what I mean? A car that looks like this should not be able to do such a thing. Despite being the same shape as a breeze block, in standard guise it's capable of 137mph, too. Add the AMG Driver's Pack and that shoots up to 149mph. Suffice to say, you really don't need the Driver's Pack.
It's never going to be a Porsche Cayenne in the handling stakes, but compared to its predecessor, it's a serious improvement. The cabin is also impeccably well put together, and in spite of its agricultural appearance the interior is now comparable to the most luxurious of SUVs. But you don't drive a car like this for its handling or even its quality: you drive it for the theatrics it provides and a road presence that is currently pretty much unrivalled – and likely to stay that way.
If those things are on the top of your priorities list, nothing else will really do.
Ford Focus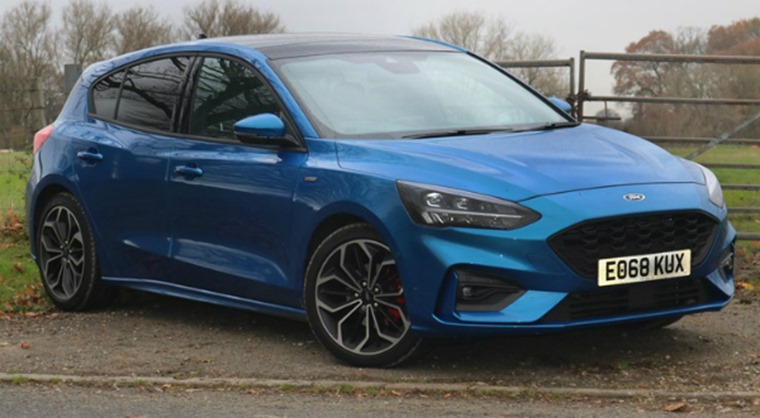 After those two, there had to be a sensible one, didn't there? Well they don't come more sensible than the Ford Focus, and the all-new one is available now. It's a car that no longer has to just compete against its arch-nemesis – the Golf – but also the increasingly popular crossover market, which families looking for a practical everyday car are now turning to in droves. Happily, the new Focus is more than up to the job.
Boot space has improved, cabin quality is now on par with its German rival, but the best stuff happens behind the wheel. The original Focus redefined how a hatchback should drive when it first arrived two decades ago, and the new one does the same to a large extent. Until the new Golf arrives next year this is without doubt the best hatchback of 2018, and indeed one of the best all-round cars I've driven.
Al Suttie
Jaguar I-Pace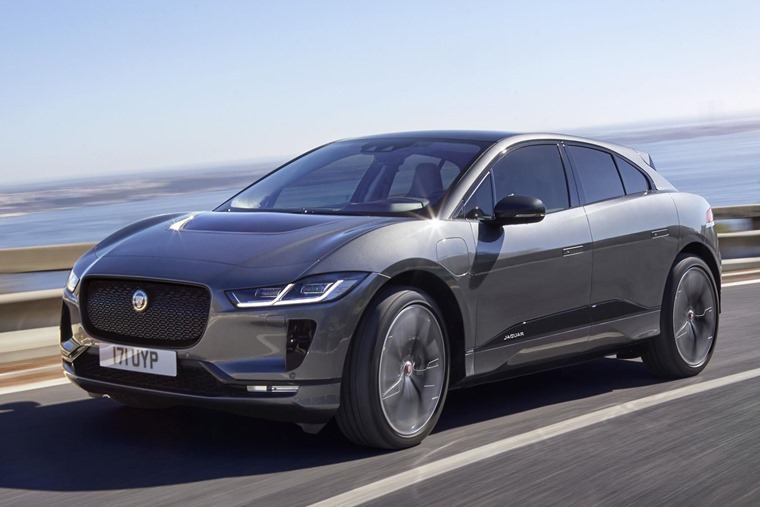 Read more: Jaguar I-Pace review
Flicking back through my notes and pictures of 2018's new cars, I was expecting it to be an unremitting procession of SUVs and crossovers. Yes, these are the cars that so many of us want to driver, but when it's your job to write about them, a bit of variety is always welcome.
So, it was a pleasant surprise to find that the past 12 months have witnessed the launch of a lot of very good cars, and not all of the SUV-shaped. However, let's start with that hot-to-trot category first as one of the stars of this year was unashamedly an SUV in style: the Jaguar I-Pace.
For long enough, Tesla had the admittedly very rarefied premium EV SUV market all to itself. Then along came Jaguar and not only knocked Tesla off its perch, it did it with a car that looks great, drives brilliantly and offers the sort of battery range to make it a practical proposition.
At around £25,000 cheaper than its rival from Tesla, the British Jaguar is always going to have an edge in a comparison test. Yet this isn't where my admiration for the Jag started. That began with the looks. It's a much more cohesive shape and design than the E-Pace to my eyes, giving just the right amount of techy signals without being too smug about its zero tailpipe emissions.
It's just as good when you step inside the I-Pace as the cabin's a much better modern take on what a Jaguar's interior should offer than the current XJ, which is a dog's dinner to my mind. All of the technology in the I-Pace is easy to use and understand, so it's not going to alienate many of those who can afford its hefty price tag.
There's good space front and rear, so it's practical too. And, jeez, is it quick. Forget about range, prod the throttle flat to the floor and the I-Pace will tick off 0-62mph in 4.8 seconds. Drive more considerately and it can match the maker's claim of 298 miles between recharges.
The I-Pace has been a very bright spot in a tough year for Jaguar, so here's hoping that 2019 brings some more good news for this bold approach to the upscale SUV sector.
Nissan Leaf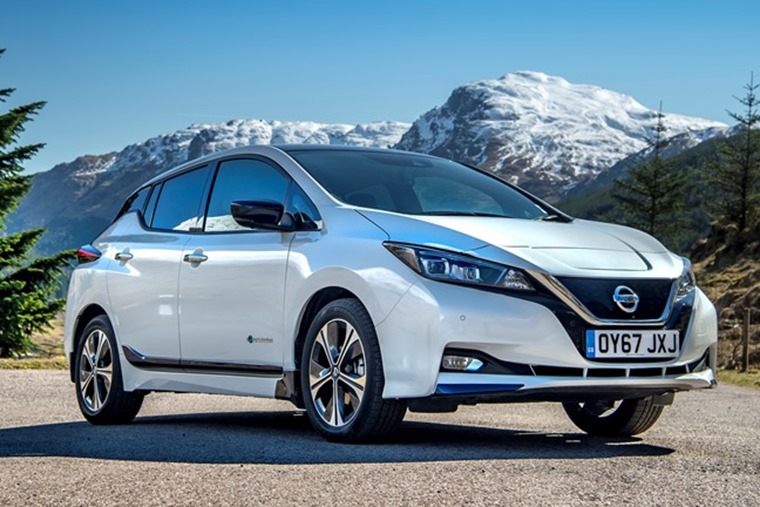 Read more: Commuting 60 miles a day in the new Nissan Leaf
The second car that's wormed its way deeper into my affections in 2018 than most is the most surprising to me and it's the Nissan Leaf. Frankly, the first generation Leaf was a massive disappointment to me. Ugly, poor ride and handling, and a range that never lived up to the claims. It didn't fill me with joy to get behind the wheel of the second generation model, yet perhaps that downbeat feel made it all the more special.
Here is an electric car that truly works for families and can cover up to 258 miles. Performance is more than decent, too, and it rides over bumps every bit as competently as the likes of the Volkswagen Golf or Ford Focus that are its mainstream rivals. Of course, refinement is excellent thanks to the electric motor doing away with any noise from under the bonnet, but the Leaf has another trick up its driving sleeve that left me deeply impressed.
The e-Pedal is a wonderful thing in the Leaf and, with only a brief period of familiarisation, you can make seamless progress on all roads without ever touching the brakes. It soon becomes second nature to drive like this as you modulate the accelerator pedal to suit conditions. If this is the way ahead for daily driving, I'm all for it.
There's also the Pro-Pilot system in the Leaf that left me thinking this is one of the best ways to travel on our congested roads. It's not an autonomous way to drive, but works more as a very sophisticated cruise control to maintain the right speed and road position. The way it reacts to other vehicles around the car is also very impressive and means the Leaf puts itself to the front of the small hatch class regardless of what fuel it uses.
Mazda MX-5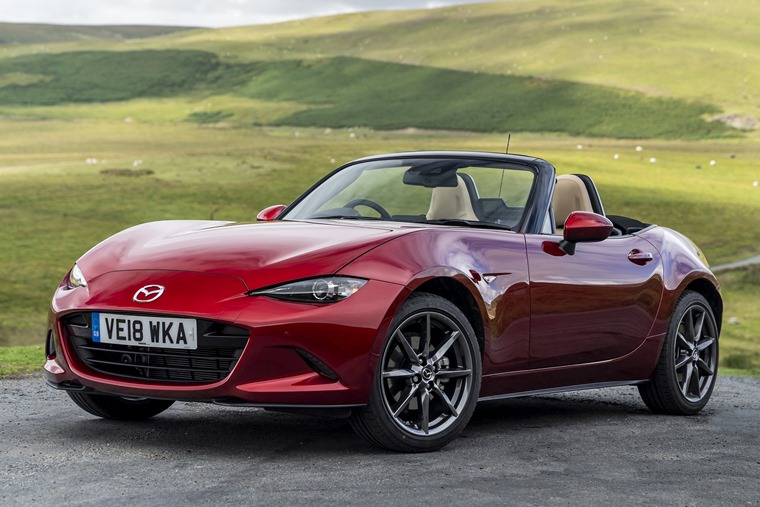 Read more: Mazda's MX-5 – the best and most affordable roadster by far
The third and final car to make me grin more than any other in 2018 is very different from this pair of EVs. Say hello to the Mazda MX-5 in updated 184hp form. The jump in power of 24hp for the 2.0-litre model is unusual for Mazda, which generally sticks to the same power outputs or very modest increase with its roadster. That's the case with the 1.5-litre model, but the 2.0-litre is a very different offering now.
Performance has gone from decent to downright swift and this MX-5 can now keep pace with the thick of hot hatches thanks to 0-62mph in 6.5 seconds. That's for the soft-top model and, as this is my pick of best cars in the past 12 months, I'm going to be very specific and say you should have the roadster, not the RF. After trying the two back to back, I just don't get the RF. I don't think it's very pretty and the roof is a marvel of engineering over purpose. Also, with the RF's roof open, the level of noise and buffeting makes it an unpleasant experience when an open-top sports car should be a joy.
Take the roadster, drop the roof and you have sports car driving sewn up in once delightful package. It sounds great, goes quickly enough to always be entertaining, handles supremely and still offers just enough cabin space and comfort to be everyday usable.
So, that's another year of road testing and reviewing completed. Looking ahead to 2019, it already seems to be a very busy year of new cars, new technology and ever more rapid change in the auto industry. I can't wait to get stuck in and sample as much as possible, but in the meantime have a very happy Christmas and best wishes for the New Year.
Howard Ritchie
Video reviewer Howard Ritchie has been busy this year, too, sampling the latest and greatest cars for our YouTube channel. But which did he enjoy best? Here's three of his favourites…
Kia Stinger GTS
With its 3.3 litre petrol V6 engine and rear-wheel drive craziness, this is a Kia with a difference. Hoping he wouldn't break it, Howard takes this Korean BMW 4 Series alternative for a spin. What could possibly go wrong?
Volkswagen Arteon
Featuring Tesla-beating tech, the Arteon was billed as being Volkswagen's new flagship saloon. Howard takes it for a spin to sample its semi-autonomous capabilities, and test it out in the real world. Is it a viable cruiser for a personal or business lease customer?
Mercedes-Benz C-Class
The Mercedes-Benz C-Class is consistently one of the most popular cars to lease – whether for personal customers or business users. So, with the refreshed version now sporting a mildly tweaked look, a host of new tech borrowed from the latest A-Class and clever new driver aids, Howard Ritchie set out to see if it remains the best in class. It turns out it's not only that, but also the best car he's driven all year.
You can check out his thoughts on other all-new cars by visiting our YouTube channel here.