Paris Motor Show 2016: Live Blog
Welcome to the ContractHireAndLeasing.com Paris Motor Show 2016 live blog. We'll be updating this page regularly with all the latest new car news from one of the biggest events in the automotive calendar.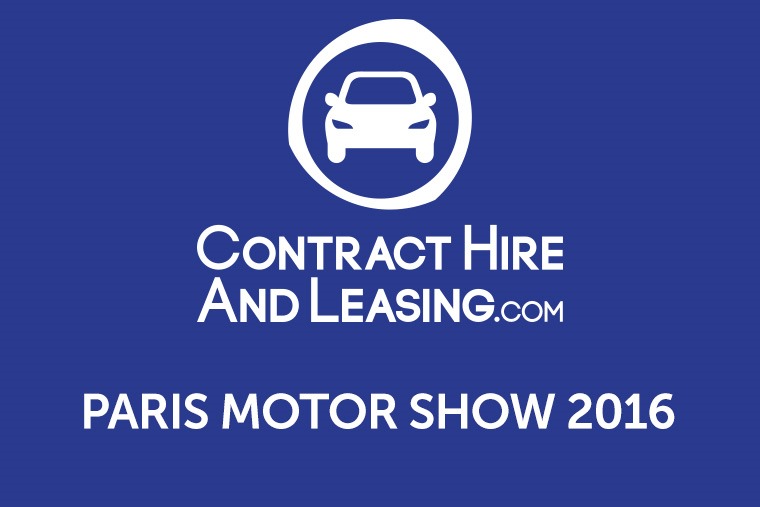 Abarth
124 Spider
1.4 T Multiair 2dr Auto
Profile:
3+23
Mileage:
8k Miles p/a
£188.42
Per Month, INC VAT
Initial Payment: £565.26
Personal Leasing Deal by: Mangoletsi Abarth
16:32 – Things are winding down
With the major unveilings over, we'll be signing off shortly. However, if you want more info on the key cars that have debuted, fear not, as we've been busy with that too…
16:07 – New look for Peugeot SUVs
At last, it appears Peugeot has finally discovered the formula for a decent SUV. Its stand this year is dominated by the new 3008 and 5008. As you'd expect, the smaller five-seat SUV is marketed as such, while the larger car can be described as an MPV thanks to its seven seats.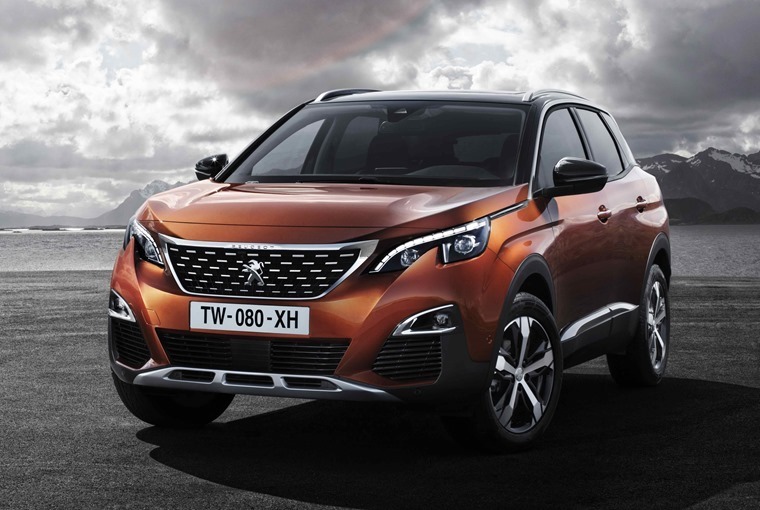 The stodgy looks of Peugeot people carriers of old is most definitely gone though. In fact, those good looks and commodious interior makes the 5008 a perfect Kodiaq alternative. Which would you choose?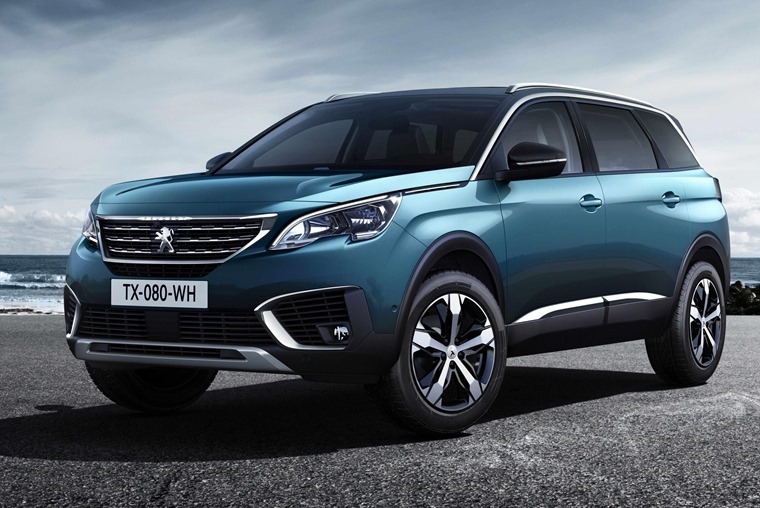 15:28 – Blast from the past
All's calm following the automotive deluge of the last few hours. So, while we were waiting for something interesting to happen, we stumbled on some footage from a prior Paris Show – 1966's Mondial d'Automobile to be exact. Here's what you would have seen on display 50 years ago…
15:00 – Hyundai's new i30 and RN take a bow
Here it is, Hyundai's centre piece for 2017 – the new i30. This Focus-sized hatchback gets new engines, the latest connectivity tech and active safety features. It's also had a sizeable nip and tuck session, so it looks as fresh as it feels to drive.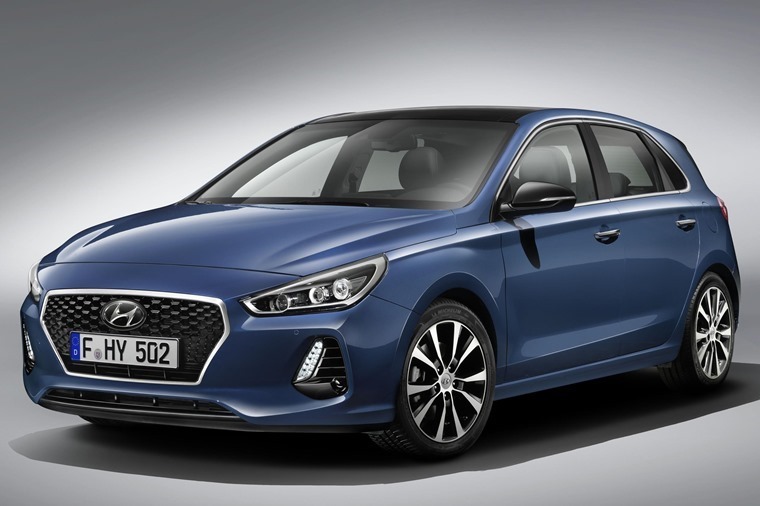 In honesty though, we're more interested in its latest RN concept that's also on show. It is based on the new i30 after all. It just adds a turbo charged 2.0-litre engine that produces around 375bhp, a four-wheel-drive system, and a transmission fit for a rally car.
More bonkers than the actual car is perhaps the fact Hyundai has employed an actual rally driver to showcase the new model, instead of several scantily clad models. And this is a Motor Show – What ever next?!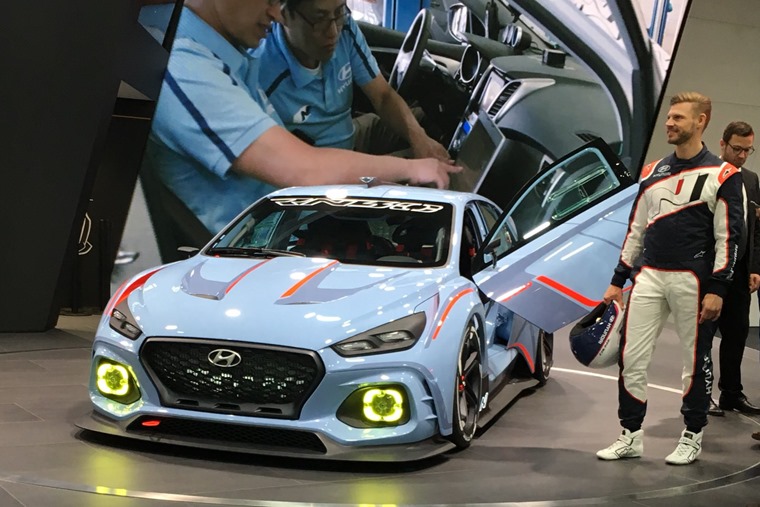 14:19 – Renault adds Koleos and reviews Zoe
Renault entered the SUV market a bit late with the Kadjar, but it's been a hugely popular model. It will be hoping its new upmarket SUV, the Koleos will find similar success. From the front, it gets the same look as the new Megane which, considering its size, works rather well. Despite its bulk though, it only gets five seats. It should be in UK showrooms by summer 2017…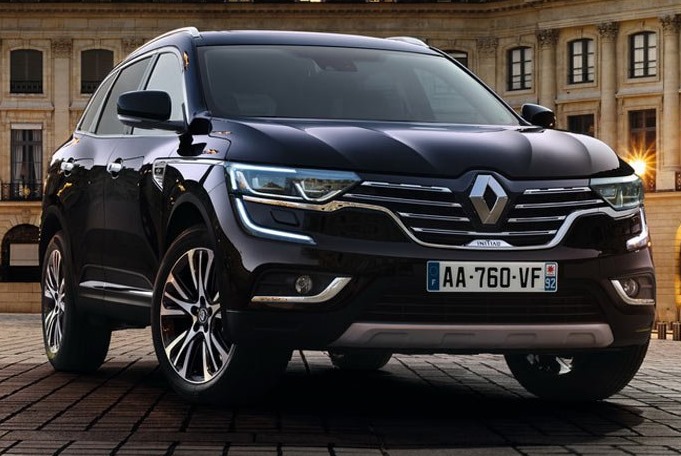 Hot on the heels of Opel's new Ampera-e (which won't be coming to the UK), Renault has updated its Zoe (which happily is coming to the UK). The refreshed look isn't all that's new – it now has a range of up to 250 miles. That's exactly the same as the new Ampera!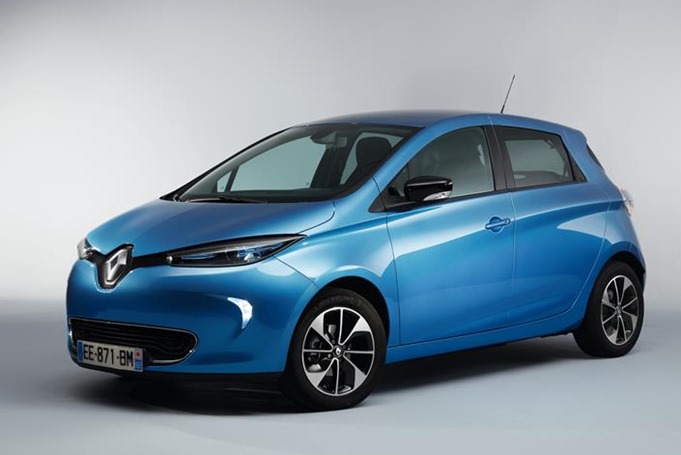 13:49 – New Porsche hybrid hints at electric future
It might still be a few years away, but Porsche has recently confirmed its intentions to produce an all-electric saloon. The so-called Mission E won't be available until 2020 at the earliest, but it's just unveiled a new e-Hybrid version of its Panamera saloon. Visually, it looks very similar to the latest 911, and that's no bad thing.
Just like a Mitsubishi Outlander PHEV, the new E Hybrid gets an electric range of around 31 miles. Unlike the Mitsubishi Outlander PHEV, this green machine has a fire-breathing 455bhp V6.
— Porsche GB (@PorscheGB) September 29, 2016
13:22 – More from Audi…
It's not all about the crossovers and SUVs after all. Audi has also unveiled its new hyper-hatch RS 3. The 2.5-litre turbo charged engine produces a whopping 398bhp! as a result, its 0-62 time is just 4.1 seconds, and unlimited it's capable of 174mph. In the game that is hot hatch top trumps, Audi has just blown Ford's Focus RS out the water…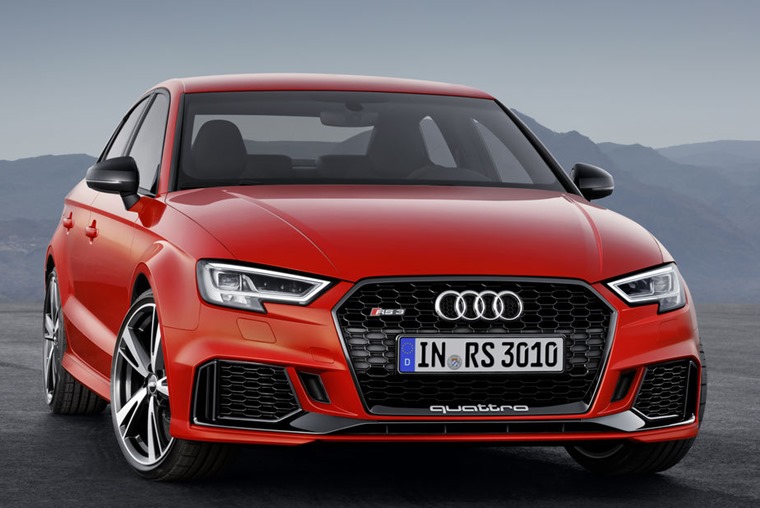 13:10 – Queuing up for a look at the new Q5
Right on cue, the Audi Q5 has been revealed. It looks sharper and more contemporary all round, taking lots of styling cues from its bigger Q7 sibling. Something else carried over is the tech – it get Audi's latest MMI infotainment system and will be launched with a plethora of new and improved engines.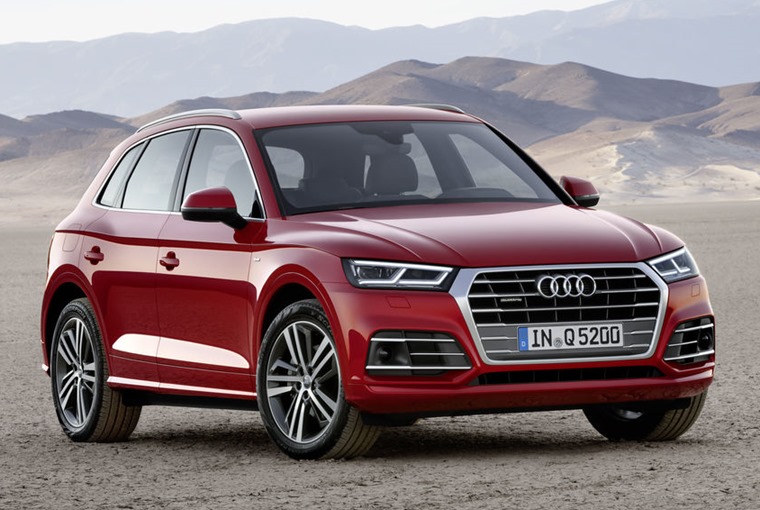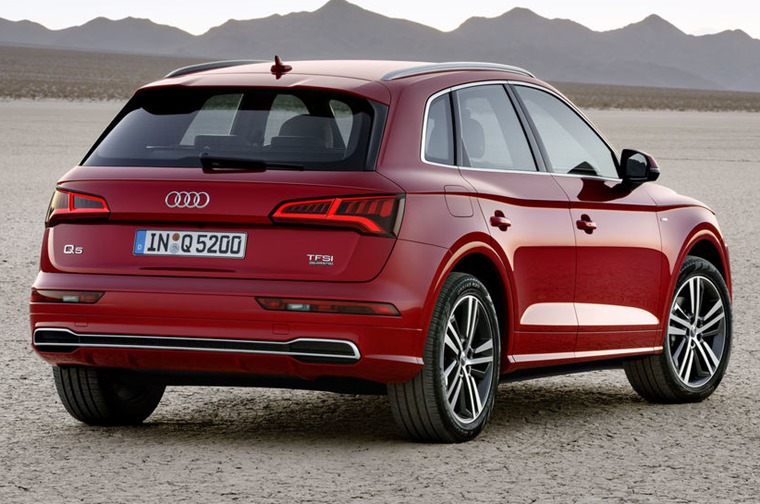 12:24 – Lunch! What to look out for this afternoon.
Don't worry… we're not all on a jolly in Paris, so no two-hour lunches and bottles of red here. If anything, this afternoon will be even more jam-packed than the morning with press conferences from Audi, Peugeot, Citroen, Hyundai to name but a few.
As a taster, here's what we can expect from Hyundai….
Here's a preview of our 2017 #WRC challenger presented today at the @MondialAuto in Paris. We can't wait to see it in action next year! pic.twitter.com/aXCPsQhaUp

— Hyundai Motorsport (@HMSGOfficial) September 29, 2016
12:07  Dusting off the Duster
Dacia has just unveiled an updated version of its back-to-basics Duster. Truth be told, it doesn't look at much different (at all) from the current model, but it is now available with a Dual Clutch automatic gearbox option for the first time…
It's here! The Dacia #Duster now available with Efficient Dual Clutch automatic transmission! pic.twitter.com/YPPzxl1uQV

— Dacia UK (@daciauk) September 29, 2016
12:05 –  Too close for comfort?
This is a common sight at new model launches.  Someone's getting a little too close and personal with the new Kodiaq – wonder who he works for?
Some people just can't see enough of our new #kodiaq #ParisMotorShow pic.twitter.com/dlfSyg6DTm

— ŠKODA UK Media (@SKODAUK_Media) September 29, 2016
11:54 – Another SUV from Seat
Just months after launching its first ever SUV, Seat has confirmed plans for a smaller Ibiza-based crossover this morning. If the Ateca is anything to go by, it should be on to a winner.
11:48 – BMW Press conference
BMW Group's press conference has begun and we reckon it will be focusing on its X2 concept. That's right – yet another crossover and, should it make it into production, will be up against the Audi Q2 and Mercedes GLE…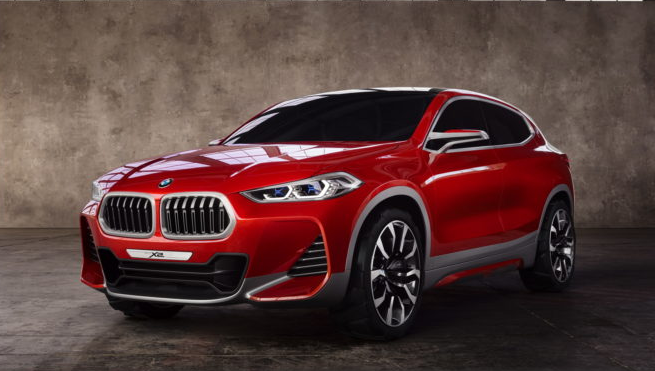 11:38 – Suzukis old and new
After nearly a ten year break, Suzuki has just confirmed it'll be bringing its cute Ignis crossover back to UK shores. It's certainly no Range Rover, but this teeny car will be available with four-wheel-drive. Featuring a 0.9-litre engine, it really does hark back to the microcar Suzukis of old, but it'll be interesting to see how UK customers will take to it…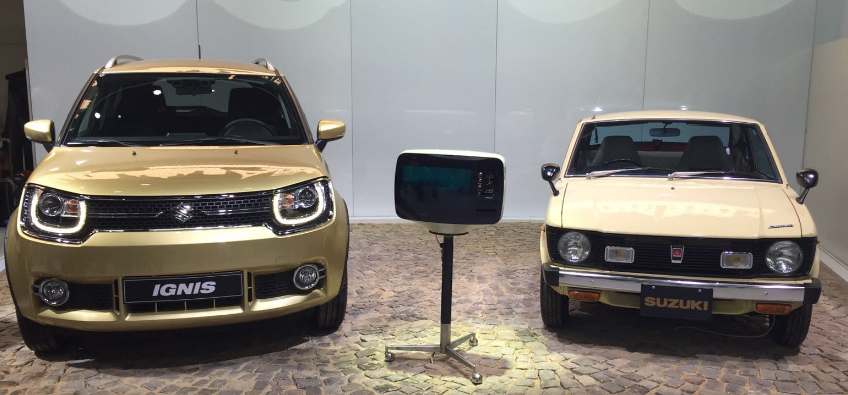 11:14 – Citroen C3… you want air bumps with that?
The upcoming C3 will take centre stage along with the CXperience concept car on Citroen's stand this afternoon, but if you don't like the looks of those air bumps, then good news! You'll be able to get one without them. Which style would you pick?

10:37 – Volkswagen I.D. concept
Volkswagen's future electric car is certain to be one of the most significant stars of this year's show. All we know so far is it'll be capable of up to 370 miles on one charge, and will have 168bhp.
If the Beetle and Golf are anything to go by, it's quite possible when a production version comes to fruition, it'll become the first mainstream electric car on the market. Watch out Tesla Model 3…
We've shown you the sketches and now here's the real thing! Check out our all-electric new concept car at the Paris Motor Show, the I.D. pic.twitter.com/XusjA6OOu4

— Volkswagen UK (@UKVolkswagen) September 29, 2016
10:27 – Mercedes EQ
About 2016 being the year of the SUV… here's another concept from Mercedes. Unveiled by CEO Dr. Dieter Zetsche himself, this looks like one of the few concept cars that could actually make it into production. It's all-electric and called the EQ, and is touted to be a future sub-brand for Merc…
We electrify Paris. #switchtoEQ #MondialAuto pic.twitter.com/FifBMcZCUN

— Mercedes-Benz (@MercedesBenz) September 29, 2016
10:12 – 2016… the year of the SUV?
It's a landmark year for the SUV, with new models coming in thick and fast. We've already seen the new Discovery, the Kodiaq and Koleos to name but a few, but this Ssangyong Liv 2 concept is in essence the Tivoli's replacement and it looks like it'll have seven seats. Have a bonus pic of the hi-viz Skoda, too…
Skoda Kodiaq or SsangYong Liv2? #ParisMotorShow pic.twitter.com/6wi5N07bBD

— Phil Huff (@FrontSeatPhil) September 29, 2016
09:43 – Renault TreZor Concept
We don't know much about the TreZor yet, but this breath-taking concept car is all-electric and could give us a picture of what we can expect from Renault's future cars. Watch this space…
Electric #UFO just arrived from #MondialAuto! #Renault #RenaultSport #TreZor #parismotorshow pic.twitter.com/7nSig0qCrx

— Renault Sport (@RenaultSport) September 29, 2016
09:38 – Nissan takes covers off new Micra
Undoubtedly one of the most important launches of the day, the funky new Micra is now out of the bag. We're pleasantly surprised by the refreshing design. This really could be a car that can take on the supermini mainstream…
The new Nissan Micra is a massive step forward! #ParisMotorShow pic.twitter.com/G1VVK4Wp9D

— Phil Huff (@FrontSeatPhil) September 29, 2016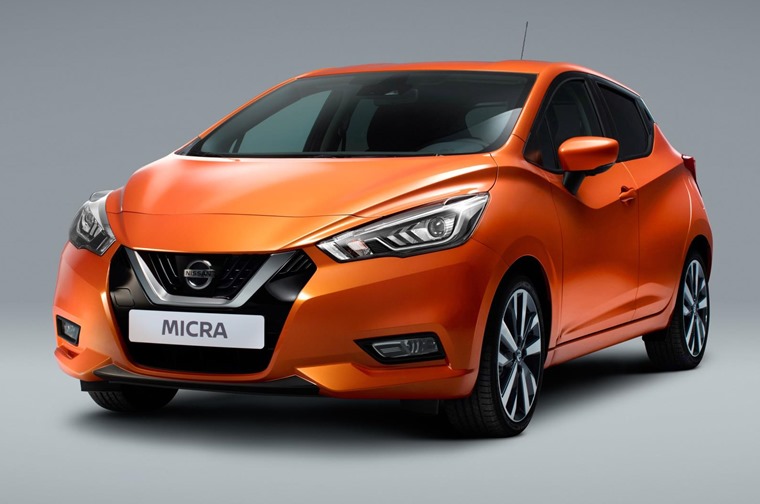 09:28 – Ferrari revs up the GTC4Lusso
680bhp, 208mph and room for the dog. Ferrari has just unveiled its new FF replacement, the GTC4Lusso. We'll think you'll agree, it's simply a work of art...
The new #Ferrari #GTC4LussoT was officially revealed at the #ParisMotorShow. Discover all its details! #MondialAuto https://t.co/StCIc5aQ4w

— Ferrari (@Ferrari) September 29, 2016
09.00 – Honda Civic Type Grrrrrrrrr
Our own Phil Huff is in Paris and has caught a glimpse of the new Civic Type R. We think he likes the look of it. We do too. Very menacing looking.
Looking forward to 2017... #ParisMotorShow #TypeR pic.twitter.com/oQAXabufOc

— Phil Huff (@FrontSeatPhil) September 29, 2016
08:35 – New Kia Rio
The Kia Rio is set to make its mark when it comes to the UK. We know quite a lot about it already, but now it's official.
Discover excitement in your lifestyle, starting today. All-new #Kia #Rio. #ParisMotorShow pic.twitter.com/o71XyTjO0L

— Kia Motors Global (@Kia_Motors) September 29, 2016
When she shines she really shows you all she can... #ParisMotorShow #Rio pic.twitter.com/ygHhm145sd

— Phil Huff (@FrontSeatPhil) September 29, 2016
08:30 – Land Rover Discovery images leaked early
As we kick things off, the big news is that photos leaked overnight of the new Land Rover Discovery. We've never been the biggest fan of the orange colour that's currently flavour of the month for press photos. And the back end of the new Disco is raising a few eyebrows too.