Peugeot 2008 vs Toyota Yaris Cross: Which one wins?
Two competitively priced crossovers. But which one should you lease?
Small crossovers are well on their way to becoming the most popular type of car in 2022. They're compact enough to be convenient around town, large enough to be a great family vehicle, and offer similar styling to their larger SUV siblings.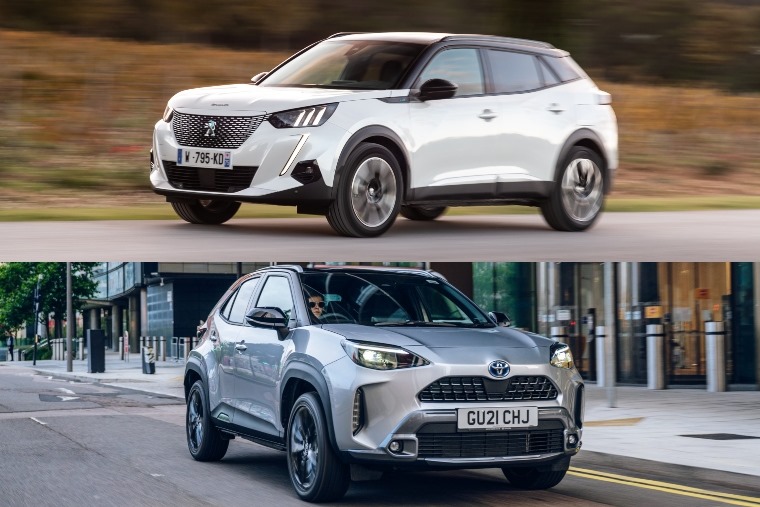 We could have chosen any number of them to compare really, given their popularity with leasing customers. So why did we choose the Peugeot 2008 and Toyota Yaris Cross? Well, monthly prices, for starters. At the time of writing, both models start with prices for less than £200 per month.
What's more, both offer styling aplenty and are available with hybrid and electric drivetrains. There are differences though, and to demonstrate this, we put them head-to-head in all the areas that matter – style, practicality, interiors and drivetrains. Will there be an obvious winner? Let's get to it.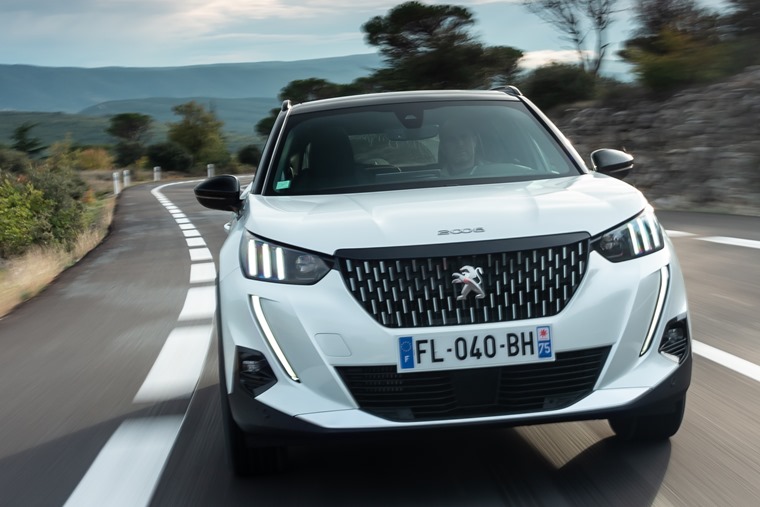 Compare Peugeot 2008 lease deals
Styling
In a market bulging at the seams with similarly sized crossovers, bland these two are not. Let's start with the Peugeot. It's the older design of the two, but it was refreshed relatively recently, ushering in all Peugeot's latest styling elements. A large grille dominates up front, with the daytime running lights and tail lights featuring the brand's claw-style illuminated design.
From a distance, it's hard to tell the 2008 from the larger 3008. But we reckon proportionally at least, it's a better-looking car than the larger 3008 and 5008. It sits well on the road, with the tapering rear window line and contrasting black roof setting it out from other crossovers. Unless that crossover is a Toyota Yaris Cross.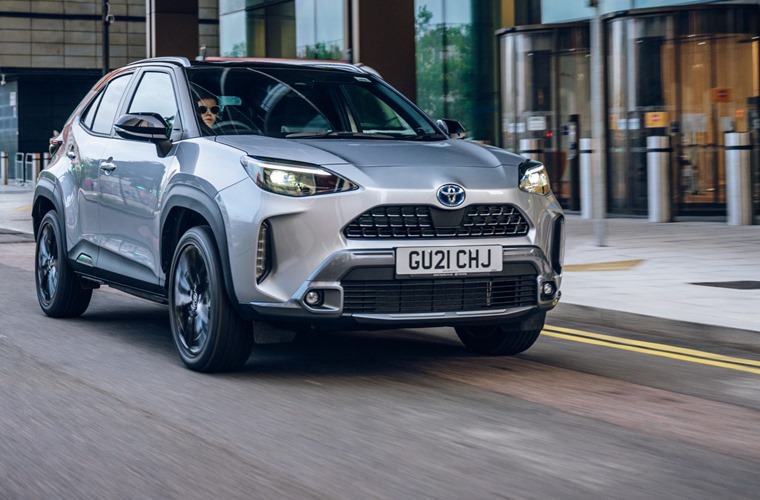 Compare Toyota Yaris Cross lease deals
Interestingly, the Toyota has a similar upwards taper between its rear window and roof. In most cases, a contrasting roof colour will be present too (depending on specification). While the Yaris Cross might be a bit plainer than the Peugeot from most angles, it makes one thing clear: this is more a downsized RAV4 than an upsized Yaris hatch. The rear features haunches and lights reminiscent of the larger SUV – notably shorter than the Peugeot.
Up front, you'll find a smaller grille than the Peugeot, flanked by a handsome well proportioned set of headlights. There's not as many neat details as the Peugeot, but it's pleasing to the eye at the very least. Styling is of course subjective, so which one wins here is down to your personal taste. For outright style, we'd suggest the Peugeot, but the Toyota is the out-the-box model here, and we're sure that'll appeal to some lease customers.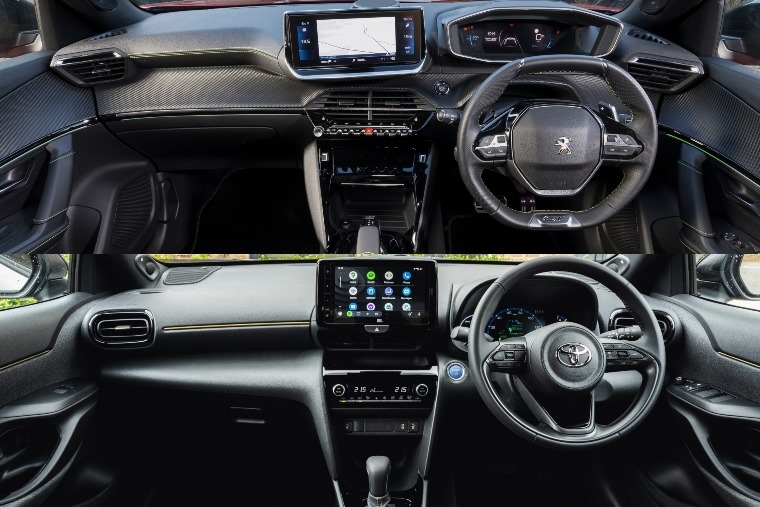 Interior, infotainment and practicality
When the new 2008 arrived, its interior offered something different from most other rivals. It's a little quirky, but it's still up there in terms of tech and overall feel. You'll find everything that's important is covered in high-quality soft touch materials, while the dashboard is dominated by two screens – a centrally mounted infotainment system (either 8in or 10in) and Peugeot's iCockpit digital driver display. For the latter to work effectively, Peugeot fitted a notably small steering wheel that's mounted quite low down. This pushes the driving position down, so you might not be quite as high up as you'd imagine in the 2008.
A bit like on the outside, the Yaris Cross isn't necessarily as attractive as the Peugeot. But in terms of functionality and quality, it's actually ahead in many areas. The materials might not feel as attractive when the car is a week old, but being a Toyota you know it's screwed together and will stand the test of time. Toyota have also added ambient lighting on most trims and, the centrally mounted touchscreen infotainment system is a little slicker than the Peugeot's too. You'll get either a 9in or 10in unit, with both systems being fast and responsive and featuring satnav as standard.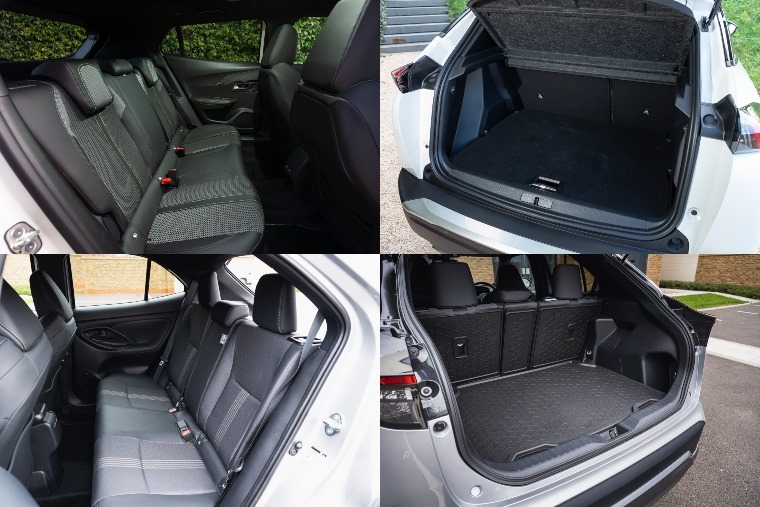 Let's talk pure practicality. The 2008 is a seriously roomy car given its proportions. Up front, even with that low-slung steering wheel, there is tonnes of room for the driver. Passengers get a nice ride too – the back has ample legroom and headroom for two adult passengers, while it's also possible to fit three child seats side-by-side if you need to. With 405 litres of boot space, the Peugeot comes in towards the top of its class as far as load lugging goes. What's more, there's another 30 litres hidden under the boot floor. With the 60:40 rear seats both folded flat, you get almost 1,500 litres of cargo capacity.
It's a similar story for the Yaris Cross. There's plenty of passenger room in the cabin, although you might find getting three adults in the back a bit of a squeeze. The boot is almost as capacious as the Peugeot's, just falling short with 397 litres of space. That's well ahead of many other crossovers in its class. This will drop significantly to 320 litres if you opt for the all-wheel drive system though. The Yaris Cross gets something the Peugeot doesn't too – you can specify a 40:20:40 folding rear seat that increases flexibility when carrying bulky items. An adjustable boot floor adds further to this car's carrying ability.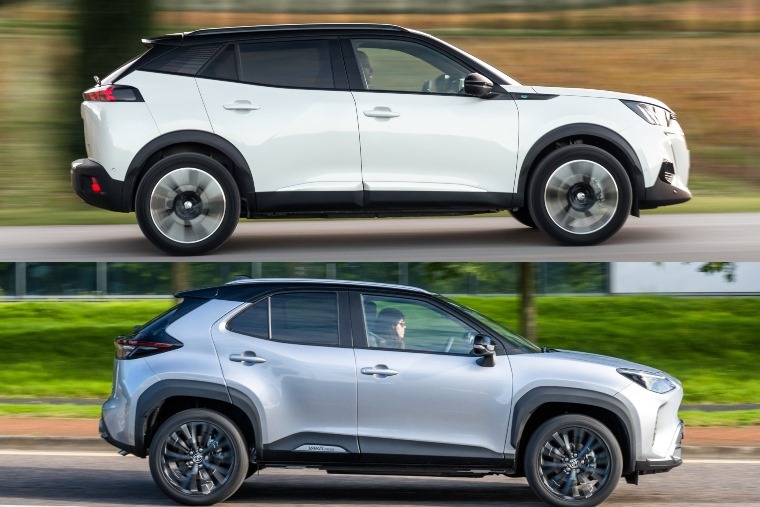 Drivetrains and performance
As far as offering something for everyone, the Peugeot has it covered. It's available with a range of petrol, diesel and electric drivetrains. With an official range of 214 miles, the latter goes head to head with cars like the Vauxhall Mokka E and Nissan Leaf, and is a great choice for those looking at a first foray into EVs. For most people, however, one of the three petrol options will probably suit.
A 1.2-litre turbo petrol is available with either 100, 130 or 155hp. In our opinion, the 130 unit is the pick of the bunch. It's capable of around 50mpg and allows you to opt for a fantastic automatic gearbox that makes the Peugeot a seriously relaxing car to drive. For outright economy, a diesel remains available. The 1.5-litre can muster more than 60mpg.
At first glance the Yaris Cross offers customers a more limited set of options. For starters, it's only available as a self-charging hybrid at the minute. So, it's a good job the 1.5-litre petrol engine and electric motor makes for one of the best hybrids on the market. Toyota is well versed in creating excellent, fuel-efficient hybrids, and the Yaris Cross uses the latest generation of the company's tech.
It uses a smooth CVT automatic gearbox, which offers a fantastic drive. The only negative is the fact it's a little loud under harsh acceleration. Around town though, the Yaris Cross' whisper-quiet hybrid system takes the strain, and it can run on electric only power in many situations. The result? Up to and above 55mpg. There is one option to decide though; do you want the two-wheel drive or the four-wheel drive? We'd go for the two-wheel drive really, because the amount of times you may need extra grip is probably outweighed by the amount of time you wish you had a little extra boot space (as we mentioned above).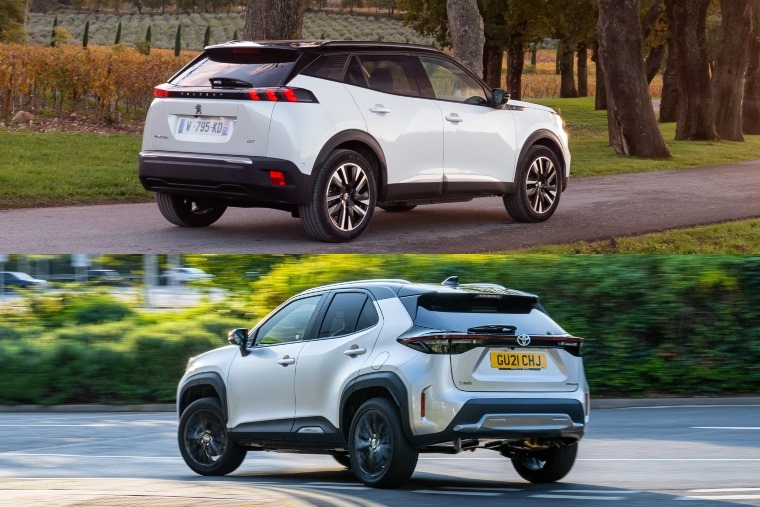 So which one should you lease?
That's a hard question. The 2008 offers a more individualistic look, and its styling is fantastic considering its price. The Yaris Cross tones things down a little – both externally and on the inside – but it's a little fresher than the Peugeot and it might turn a few more heads if that's what you're after. Spec-wise, both models are competitive. The 2008 edges ahead on the practicality front, while the Yaris Cross has it in the bad if you're looking for a slick infotainment system. What often matters most for cars like this, is cost.
Again, a petrol Peugeot or hybrid Yaris Cross will offer like-for-like running costs, with both returning between 50 and 60mpg. As for leasing prices, with both currently available for less than £200 per month*, we're not really any closer, are we? Considering the Yaris Cross is a brand-new model – and is available with a high-tech hybrid drivetrain – for pure value for money we'll have to say the Toyota wins. The Peugeot might be available as an EV, but that model will cost you more than a petrol.
The hybrid Yaris Cross is the perfect halfway house between a petrol car and an EV, and it's really affordable to boot. If you want to compare prices on these cars, or any other, just hit the button below.
*Prices correct as of 27/01/22, exact monthly payments depend on specification, trim levels and rental profiles