Mobile chargers for empty EVs: is this the end of range anxiety or does it create an eco-paradox?
We've heard a lot about 'range anxiety' where electric cars are concerned. Most manufacturers have addressed this to a point, with EVs now able to travel much further on a single charge to stop the worry about being stuck with no power at the end. Despite this, worry lingers about what happens to the electric car if they do get stranded and cannot reach a charger.
This is where the RAC has stepped in with its EV Boost system. It's a portable charging pack that can be fitted to its patrol vans to assist EVs stuck without any power. At present, the RAC is trialling the system on six of its vans, but says it can be rolled out across most of its fleet to make sure the recovery service is ready to deal with the ever-growing fleet of EVs on UK roads.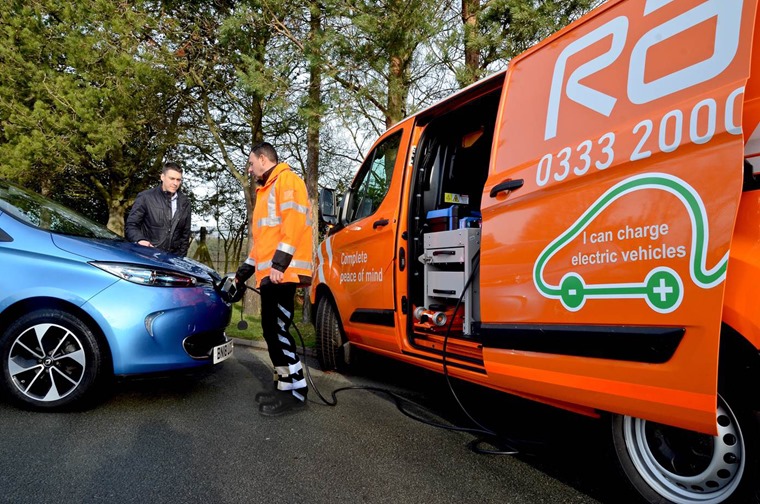 Next month, these six vans will be on the road in London, Birmingham and Manchester in areas where there has been the highest call-out for this type of breakdown. Developed with Original, the RAC's onboard charger gives a top-up battery boost that's enough to get a stranded EV from the roadside to a suitable nearby charger. The connections are for Type 1 and Type 2 chargers, which means almost all EVs in the UK are catered for.
The reason this is an important step for EVs, their owners, and the RAC is that electric cars present a unique challenge when they run out of power. EVs cannot be towed in the way a car with an internal combustion engine can. They also have to be removed while keeping all four wheels flat and level, so that means using a flat-bed lorry rather than just lifting the front or rear wheels. This is not always the most practical, convenient or possible solution, hence the RAC's introduction of the EV Boost system.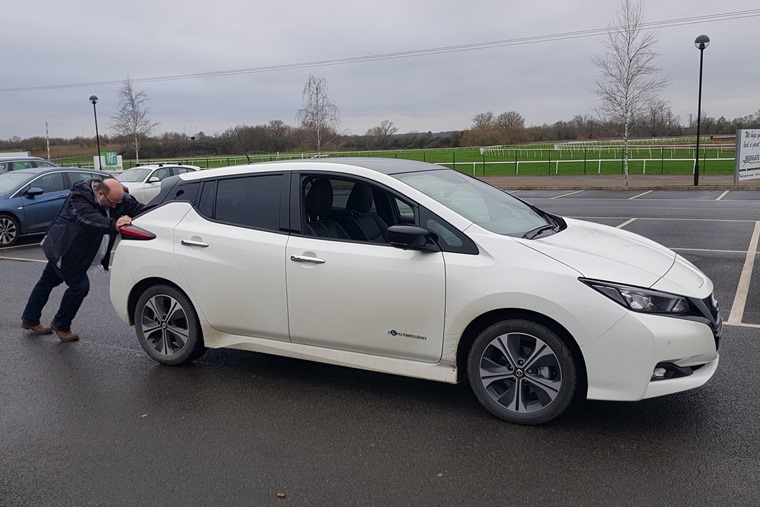 Case study: What happens when you run out of battery in a Nissan Leaf?
Chris Millward, head of roadside rescue innovation for the RAC, said: "With nothing like it on the market the real challenge was to develop a mobile EV-charger system which is compact and light enough to fit into our normal patrol vehicles without compromising on space so we can still carry all the normal parts and tools to help our patrols continue to fix four out of five vehicles at the roadside.
"Other solutions that are available require valuable van space to be taken up by heavy portable chargers that negatively affect fuel economy and also need to be recharged after use. Our on-demand solution means that the power is always available when needed."
He added: "We also expect it will help address the anxiety some potential EV buyers have about the current charging infrastructure and vehicle range.
"The number of electric vehicles on the road will grow rapidly in the next few years, in particular we are seeing increased interest and take-up from business and fleet managers, so it is critical that we have an effective mobile power source for these cars in an emergency giving EV-owners complete peace of mind. The new mobile RAC EV Boost charger has also been well received by our manufacturer partners."
How does the EV Boost system work?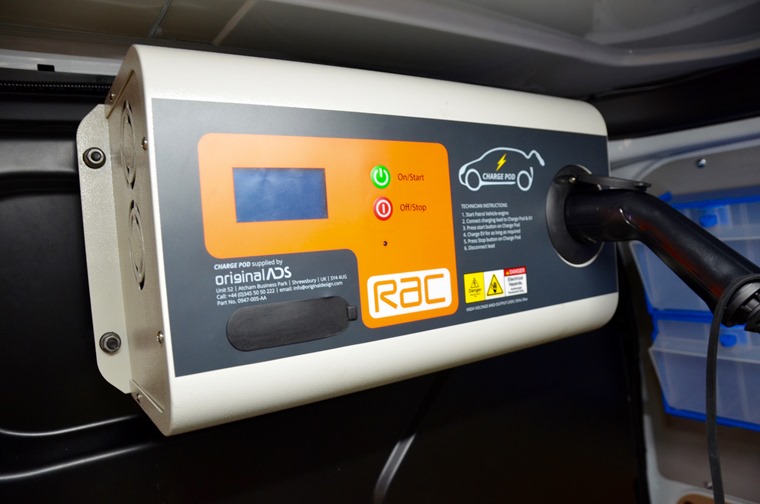 Rather than carting around a large heavy battery to give an electric car a boost and then need to be recharged, EV Boost uses the existing engine of the van. In this case, that's a 1.9-litre turbodiesel motor which the RAC is at pains to point out is an EU6-compliant unit. An additional alternator fitted to the engine sends power to an invertor that turns the power into a form that can be transferred to the stranded EV.
This isn't a rapid charge system, so it will only provide enough power to the battery to get you a few miles. In effect, it's a get out of jail card that has the benefit of not presenting any harm to the car's battery pack which can result from repeated fast-charging.
However, there is the paradox of using a fossil-fuelled van as the saviour of a stuck EV. After all, many people choose an EV for its environmental credentials and zero tailpipe emissions. Is this a case of double standards on the part of EV drivers or just a practical admission the charging network and battery range is not quite up to demand as yet?
Erik Fairbairn, founder of Pod Point, says: "The number of EVs on UK roads is increasing exponentially and it's great to see the RAC adapting its patrol vehicles accordingly. Range anxiety is a common phenomenon, particularly among those new to EVs, and this mobile charger will help reassure drivers there is help in the unlikely event of them running out of charge."
So, a pragmatic acceptance that EVs need a helping hand now and again. And, after all, plenty of petrol and diesel car drivers get stuck every day when they run out of fuel – it's one of the most common reasons for a recovery service to be called out.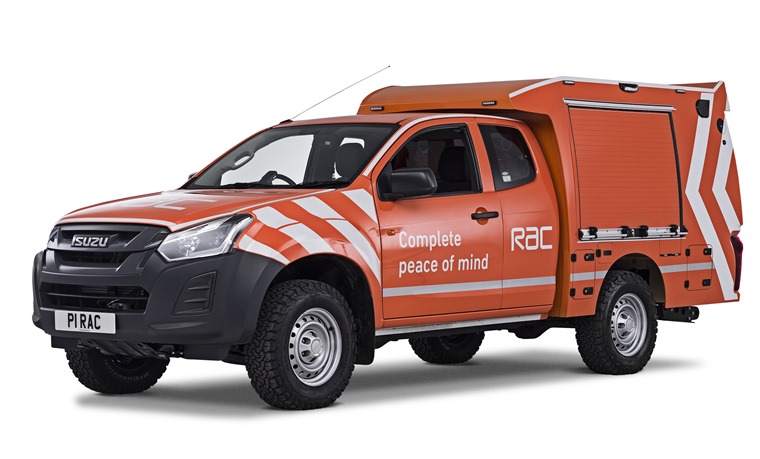 The RAC's custom-built Isuzu D-Max comes equipped with the EV Boost charging system
Even so, it does highlight a problem particular to EVs: they are more difficult to recover than fossil-fuelled cars and present new challenges to the likes of the RAC and other recovery services. What this means is we're likely to see a change in the way they operate, recovering EV cars to safe places and charging points rather than the roadside fixes we've been more used to up until now.
That's another instance of drivers having to shift their behaviour to suit EVs. For some, that's a hassle but for others it's a change worth making. Whichever way you view this is going to be down to you attitude to electric cars. Either way, you will have to accept the reality that EV Boost and similar systems becoming more commonplace in the very near future as the presence of EVs continues to grow on the UK's roads.