Review: Kia ProCeed
The Kia ProCeed will turn heads. It looks like a bargain basement Porsche Panamera, in a good way. A decent if not dazzling drive, it's a car to keep your eye on.
The ProCeed has a very challenging brief to meet. It is Kia's attempt at offering a car that is not only an engaging drive but at the same time offers a combination of design, space and versatility, all wrapped up in an enticingly stylish shooting brake design.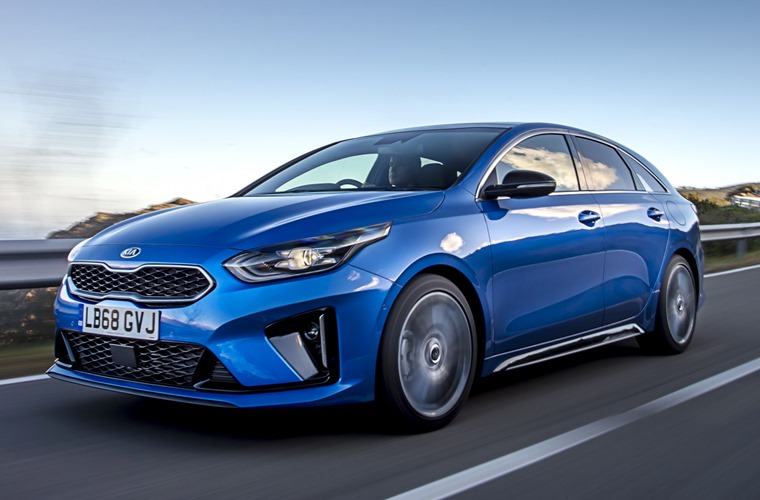 Stylish shooting brake turns heads.Leasing.com five-word review
Replacing the Pro_cee'd, a three-door sporty hatchback that raided the Window's Character Map, this replacement has a massive weight of expectation on its shoulders. Engineered on European roads, for European drivers, Kia expect this model to eventually account for a quarter off all Ceed models on the road. No pressure then. Can it live up to these weighty expectations? Well, let's see…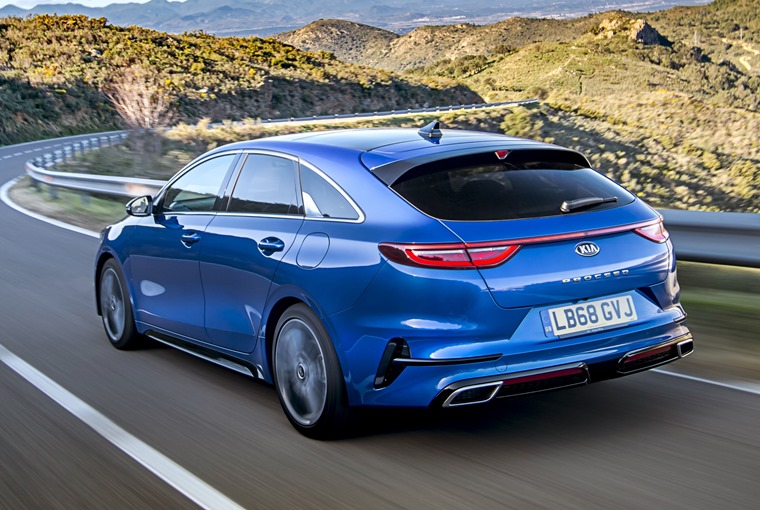 First we'll start with the change in styling. Kia is to be applauded for moving away from convention to something that looks as sporty as this car, with the universal opinion being it looks like a bargain basement Porsche Panamera from the roofline down to the rear. This gives the car a sense of sporty kudos from the off, never mind its estate-car practicality. With a 2650mm wheelbase and a lower roofline than other Ceed's, it straddles this balance quite well. Where it falters is in the lack of rear visibility. Not only is the window small and low down, it offers little clue as to what is behind you leaving you to rely on your wing mirrors more than anything else. This also means headroom in the rear seats is drastically reduced, but it's a shooting brake so you knew that already.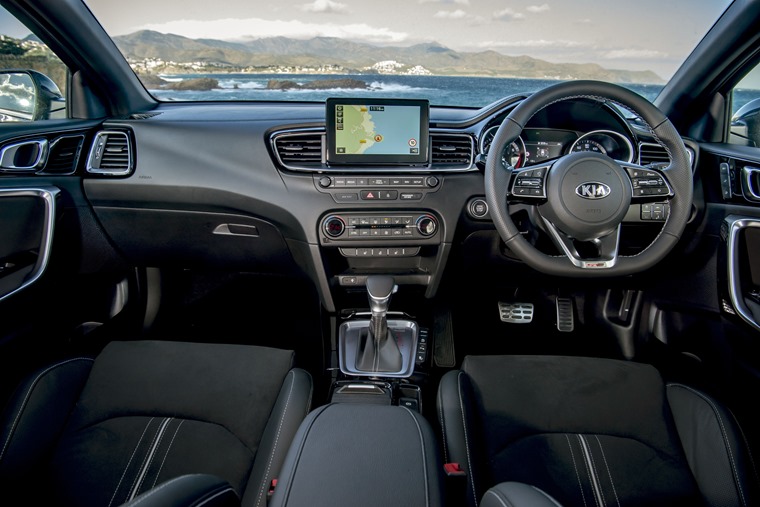 Step inside the vehicle and it offers a sense of luxury you might not be expecting from Kia, which goes to show just how much the manufacturer continues to improve with each and every model. While it can't compete with the usual suspects for fixtures and fittings, it does more than enough that you're not left wanting by the level of equipment on offer.
With premiere body control and light steering backed up by the sheer grip of the tyres, you can throw the car into corners and turns without a care in the world.
The dashboard is angled slightly towards the driver with an 8in touchscreen infotainment system both integrated nicely and easy to use too, sitting just above the similarly simple heating and ventilation controls. Navigation, DAB radio, Bluetooth, Apple CarPlay and Android Auto all come as standard across the Proceed range, with the GT-Line S model we tested coming with an eight-speaker JBL sound system too. Driver assistance perks such as adaptive cruise control, smart park assist and reversing camera also feature in the model we tested.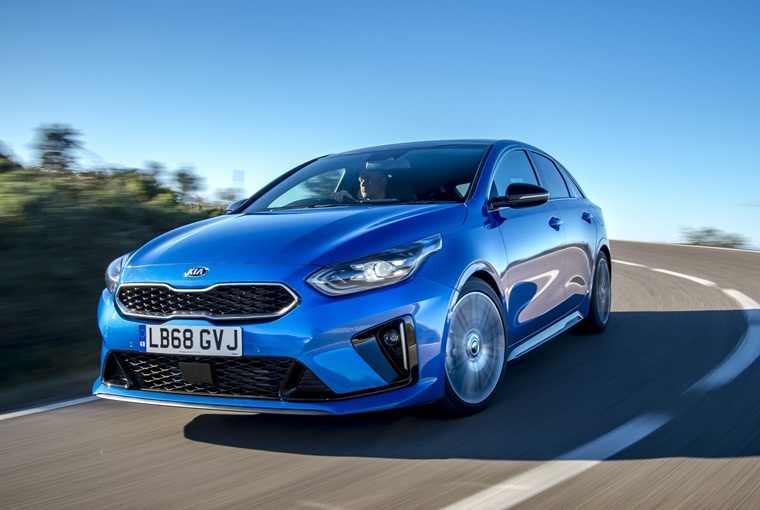 But on the road is where this car should really excel. Powered by a 1.4-litre T-GDi engine and seven-speed automatic gearbox, it offers drivers a 0-62 of 9.4 seconds with 242 Nm of torque helping it along its way resulting in a combined mpg of 51.4 and CO2 output of 133g/km. The automatic isn't the most responsive set-up I've ever come across and almost holds the car back at points, acting stubbornly and refusing to shift up to match your intentions on the road unless you really floor it. Swapping to the steering-wheel mounted paddles doesn't exactly move things along either, as shifting up and down the gears doesn't provide the racer-esque razor-quick precision you want.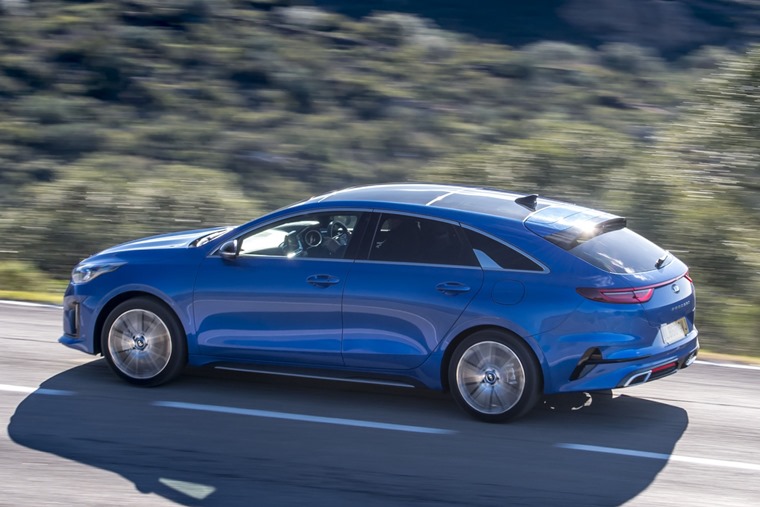 One thing Kia should be applauded for is bringing the shooting brake model to the affordable family car segment
However, any misgivings over the transmission are forgiven by the way the Proceed performs on the road. With the body of the car lowered by 5mm, suspension retuned and firmed up, and softer anti-roll bars fitted at both ends compared to the rest of the Ceed range, on winding country roads this set-up excels and the handling comes into its own. With premiere body control and light steering backed up by the sheer grip of the tyres, you can throw the car into corners and turns without a care in the world.
So what's the issue? Aside from the car's sluggish acceleration belaying its sporty looks, the comfort you expect from the ride and interior just doesn't add up on long motorway jaunts. While the low-down driving position is great and the seats firm enough for the type of lane driving the car excels at, on long-haul drives the comfort just isn't there. These are, of course, minor quibbles but noticeable ones too.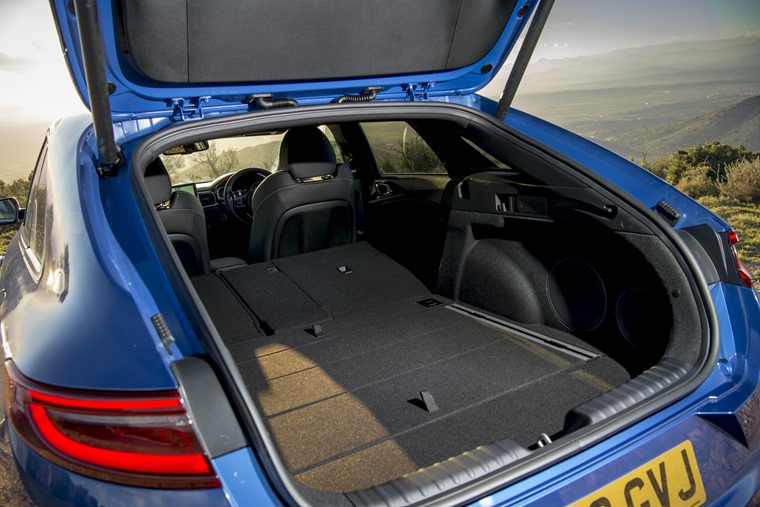 One thing Kia should be applauded for is bringing the shooting brake model to the affordable family car segment, especially as the concept has been restricted to the premium sector for too long. But is it a car fit for family use? Space is good, with the boot offering 594-litres with the seats up or 1545 with the 40-20-40 split remote folding rear-seats folded down. Additional underfloor storage compartments add to that level of practicality too. There is the aforementioned lack of headspace in the rear, and legroom isn't great either, but again this is a shooting brake and we know this so it's nothing you can complain about.
On the whole there's a lot to like about the Proceed from a driver's perspective, with a few tiny niggles spoiling the experience just enough to be noticeable. It turns heads, and is fun to drive for the most part, making it a successful first attempt for Kia. Certainly a car to keep your eye on.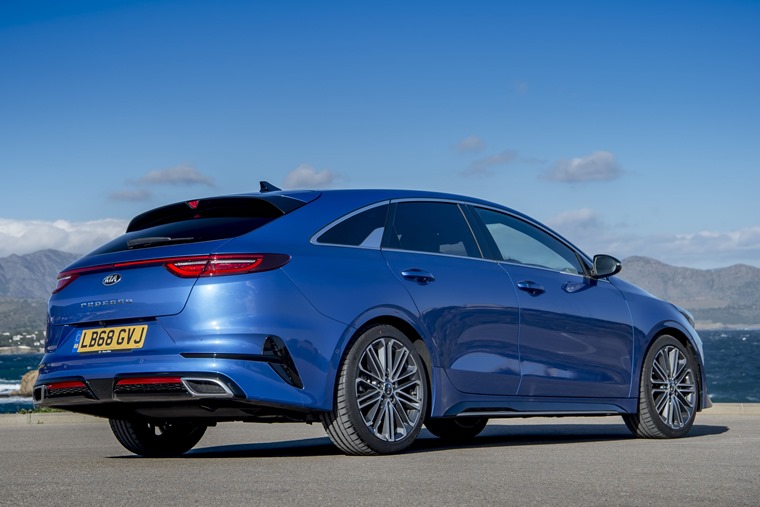 Model tested: Kia ProCeed 1.4 T-GDi 'GT-Line S'
Exterior:
Shooting brake styling is a first for the affordable family car segment and brings a lot of sporty kudos to the car.
Interior:
A wealth of tech and driver assistance come as standard, while there is a level of luxury you might not expect from Kia.
Driving:
Seven-speed DCT auto DCT leaves a lot to be desired, but as a pure driving experience it is a lot of fun around country lanes. Seating verges on uncomfortable the longer the drive.
Space:
Plenty of space for driver and passenger, not so much for any adults in the rear. Boot space is decent, offering 594-litres of space.
Efficiency:
Kia state the 1.4 petrol engine will return 51.4mpg. Over the course of a week involving a lot of motorway driving we returned around 42mpg.