Review: Skoda Kodiaq vRS
The Skoda Kodiaq vRS spices up the brand's 'Simply Clever' philosophy, but that's bumped the price up too. Does it live up to the vRS badge, or should you stick with a milder model?
Skoda is rightly proud of its vRS branding. When there's a car with a vRS badge on the back, you know it's going to be quite quick and reasonably priced, but somehow be more entertaining than the price tag suggests it should be.
And then there's this, the £43,390 Kodiaq vRS. That's a big price tag (admittedly on a big car) and that puts a little more pressure on the Czech manufacturer.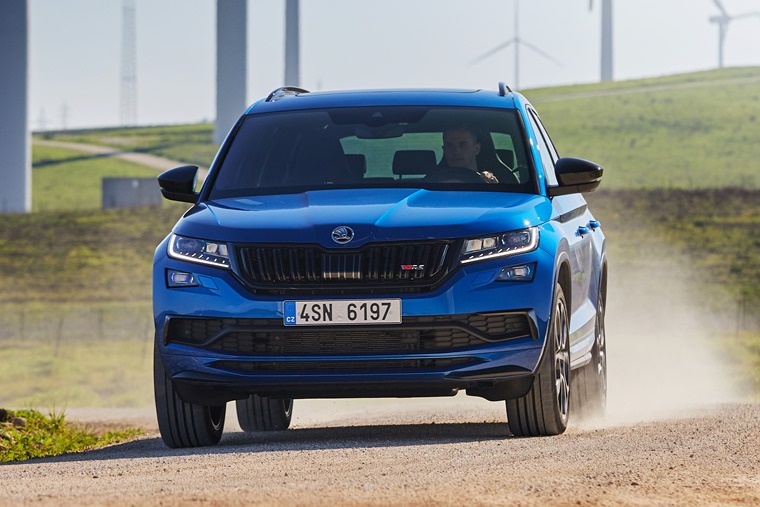 Fortunately the basics are fine. The Kodiaq is in impressive bit of machinery, although maybe not quite as large as it appears - it's actually a little shorter than the Superb hatchback, but carries a lot more metal around with it. There's enough to squeeze in seven seats, although the rear most set are best reserved for occasional journeys, and then only with children.
Swift seven seater. Still sane.Leasing.com five-word review.
Despite the extra seats, the boot is still larger than you'll find in a Land Rover Discovery Sport, and the gap extends once you fold the seats down. The middle row of seats fold flat too, and passengers will find there's plenty of room for three even when they're in place.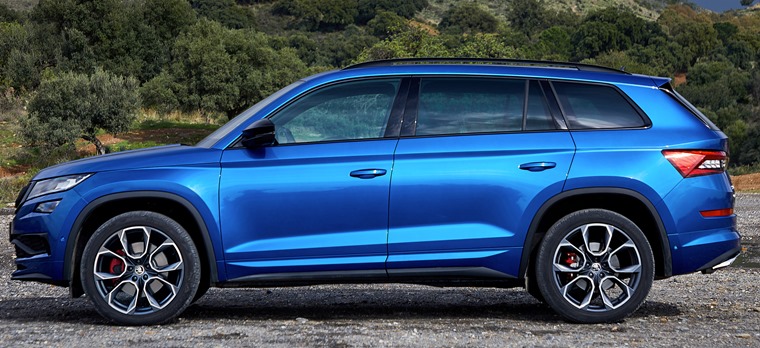 The cabin is also littered with touches that Skoda likes to call 'Simply Clever', such as storage bins, luggage hooks, an ice scraper hidden in the fuel filler flap and even umbrellas hidden in the front doors.
There's an aural reminder in the cabin that you're in the hot version of the Kodiaq.
Those up front are looked after very well, but are left a little unexcited. The dashboard is quite industrial in design, with straight lines and a somewhat clinical look to things. It's not ugly, but it is forgettable, and there's little to hint that you're in a vRS model. Yes, the plastic swathe across the width of the car is a faux-carbon fibre style element, and there's a bit of red stitching about, but little has been done to lift the cabin.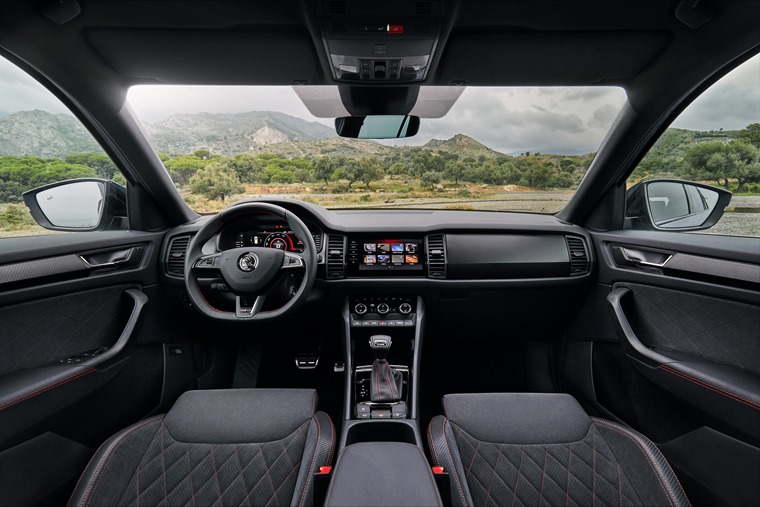 It's the 500Nm of torque that really impresses.
Skoda has piped some exhaust noise into the cabin though, as an aural reminder than you're in the hot version of the Kodiaq. And, if there is a volume control on the engine synthesiser, it's been turned up to 11. It's laughably loud, but manages to be entertaining and, even if it's trying just a bit hard to sound like something far sportier than it is, always raises a smile.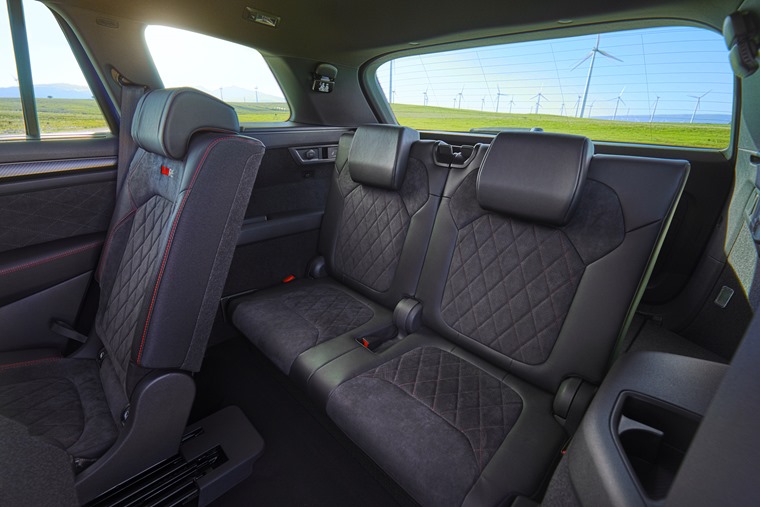 Eventually, it grates a little, but it's really down to the various drive modes. While Sport has the exhaust enhancement turned on, it's also left on while in Normal mode - that's the mode that leaves the suspension at its softest setting, relaxes the steering a little, and allows the seven-speed automatic gearbox to change gear rather more sedately than in Sport mode. However, that exhaust note is still present, which is odd when you're just trundling through the village to the garden centre.
Steering is surprisingly precise and allows you to find every bit of grip available.
But how does this fast SUV drive when you're not on your way to the garden centre? With a 2.0-litre twin-turbo diesel engine producing a reasonably significant 239hp, it should be good. It's the 500Nm of torque that really impresses though, the Kodiaq launching itself from the line as if it's a theme park roller coaster. It takes just seven seconds to hit 62mph, which doesn't sound earth shattering, but then it does weight the best part of two tonnes.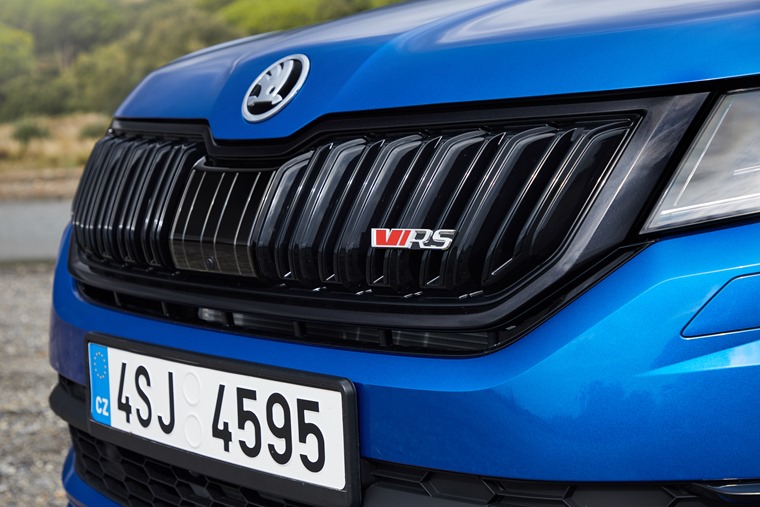 You can tell that once you find a corner. Turn in and you'll find the steering is weighted artificially, leading to a little guesswork, but the end result is surprisingly precise and allows you to find every bit of grip available. That's aided by adaptive dampers that, if they're to keep the 1,880kg's of Kodiaq under control, need to set to their firmest settings. This has the side effect of adding a degree of harshness to the ride, which is surprisingly supple when left in Comfort.
Your monthly payment will be better served with a Kodiaq Sportline though.
Every time you change one setting, it upsets another, leading to a sense of inconsistency. It's not that the Kodiaq vRS is a bad car - it's very definitely not - but perhaps it's just too big and heavy to wear the vRS badge.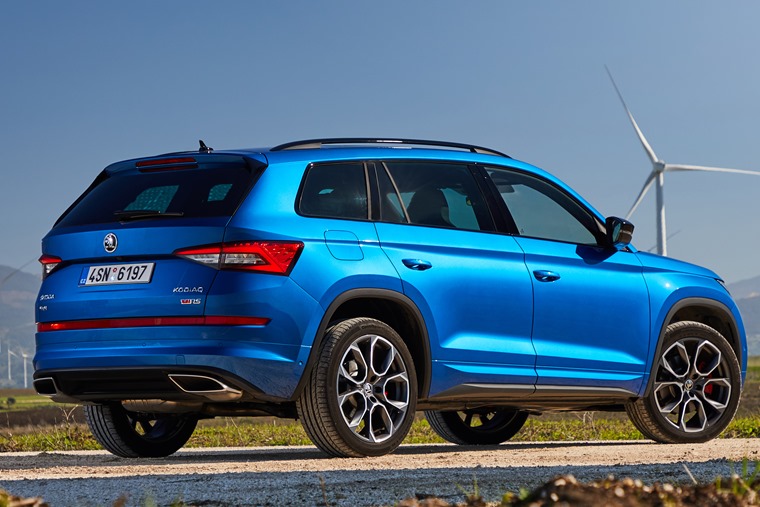 Add in official economy of just 34mpg (and realistically you'll get less than that) and it's an expensive play thing that's not necessarily that great at playing. The Octavia vRS is a far greater car, one that entertains by the bucket load but, despite the large estate option available, it's not as accommodating as the Kodiaq.
Your monthly payment will be better served with a Kodiaq Sportline though. Yes, you give up a bit of pace, but there's as much style about, plenty of equipment, vastly improved economy, and a saving of more than £5,000, which is reflected in the leasing rates.
Skoda Kodiaq vRS in brief
Exterior
Marked out from slower Kodiaqs with large alloys, unique bumpers, gloss black trim and of course vRS badges; purposeful and stealthy.
Interior
Still simply clever and as well built as ever, but quilted sports seats, flat-bottomed steering wheel and carbon-effect trinkets give it a more special feel than before.
Driving
500Nm of torque ensures thrills, although steering isn't as sharp and for outright fun it can't match the Octavia vRS.
Space
630 litres of luggage space with the rear-most seats folded down, decreasing to 270 with all seven seats in place.
Efficiency
Capable of 44mpg according to official stats, but this will soon dwindle if you put both those turbochargers to work.