Low-emission vehicles reach record market share as diesel hits record low
Alternatively fuelled vehicles (AFV) have continued the momentum gathered in 2019, with the first month of 2020 revealing they now hold 11.9% of the market, according to figures released by the Society of Motor Manufacturers and Traders (SMMT). This is the highest on record, up from 6.8% in the same month last year.
Hybrids (HEV) increased by +20.6%, with 8,941 hitting British roads, while plug-in hybrid electric vehicle (PHEV) demand more than doubled, up +111.1% to 4,788 units.
Battery electric (BEV) registrations continued to surge, up 203.9% to 4,054 units and a 2.7% market share for the month.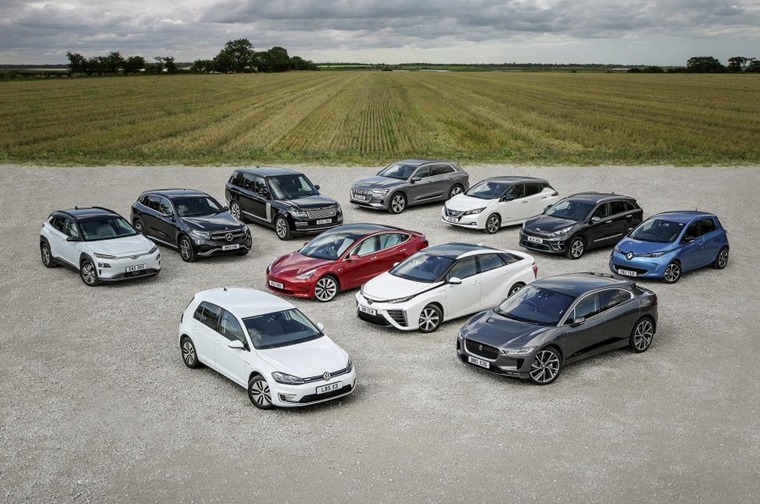 Alas, it wasn't all good news. The UK new car market declined -7.3% in the first month of 2020, with registrations of new diesel cars falling by -36.0% to record the weakest performance since 2000. With just 19.8% share of the market, it is the 34th month for declining diesel sales. Petrol demand also fell, by -9.5%.
Continued confusion surrounding diesel and clean air zones, as well as ongoing weak consumer and business confidence, are cited as causes for this fall. Both private and fleet new car registrations were down -13.9% and -2.2% respectively.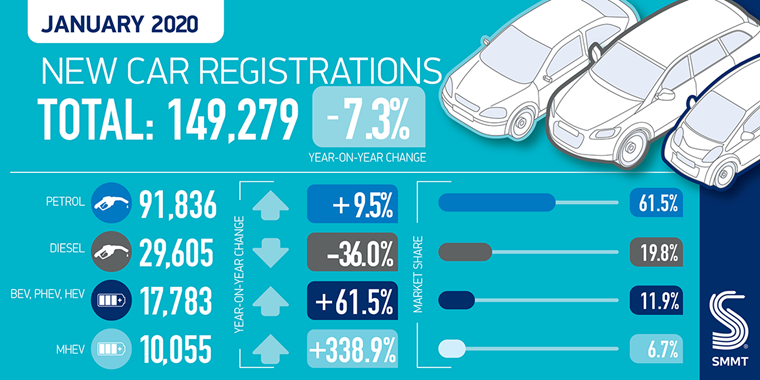 In light of this, following the government announcing its ambition to end the sale of all vehicles with an internal combustion engine, including HEVs and PHEVs, by 2035, it will be interesting to see if the meteoric rise among AFV continues in February.
Similarly, with the Plug-in Car Grant due to expire in March and with no announcement forthcoming about its continuation, could further confusion in the new car market halt the rise of all-electric vehicles?
Mike Hawes, SMMT chief executive, said, "The new car market is a key driver of the UK's overall economy, so another month of decline is unsettling. Consumer confidence is not returning to the market and will not be helped by government's decision to add further confusion and instability by moving the goalposts on the end of sale of internal combustion engine cars.
"While ambition is understandable, as we must address climate change and air quality concerns, blanket bans do not help short-term consumer confidence. To be successful, government must lead the transition with an extensive and appropriately funded package of fiscal incentives, policies and investment to drive demand. We want to deliver air quality and environmental improvements now but need a strong market to do so."