SMMT: EVs and hybrids reach record market share of 10.2%
Demand for the latest electric cars surged by 228.8% in November, with 4,652 registered, while plug-in hybrids and hybrids also rose by 34.8% and 15.0% respectively according to figures released by the Society of Motor Manufacturers and Traders (SMMT).
This means that for the second consecutive month alternatively fuelled vehicle (AFV) registrations reached a record market share, with more than one in 10 of cars joining UK roads either hybrid, plug-in hybrid or pure electric. This is equivalent to 16,052 cars.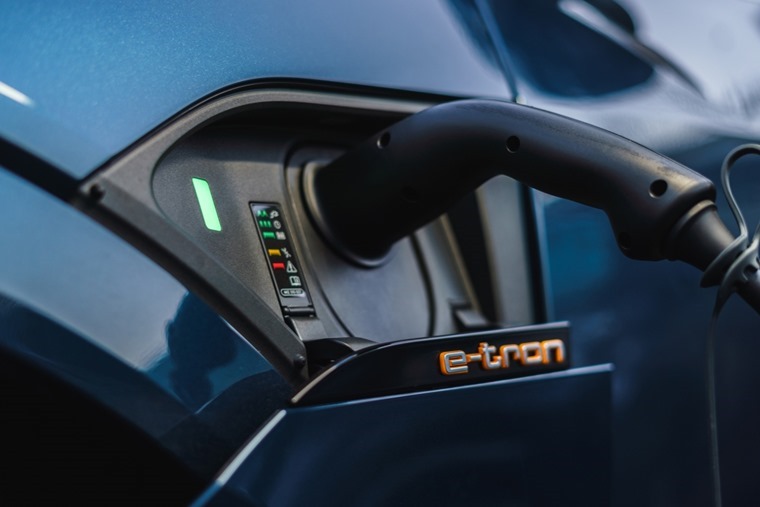 Top reasons to lease an electric car
Alas, it wasn't all good news. The UK new car market as a whole fell -1.3% in November, with 156,621 models registered overall. This continues the downward trend throughout 2019, with the decline primarily driven by weak private demand as registrations fell -6.1%. The business market also fell, down -3.2%, but fleet registrations fared better and were up 2.8%.
Multiple factors, including weak business and consumer confidence, economic uncertainty and confusion over diesel and clean air zones, were cited as reasons for the continued decline.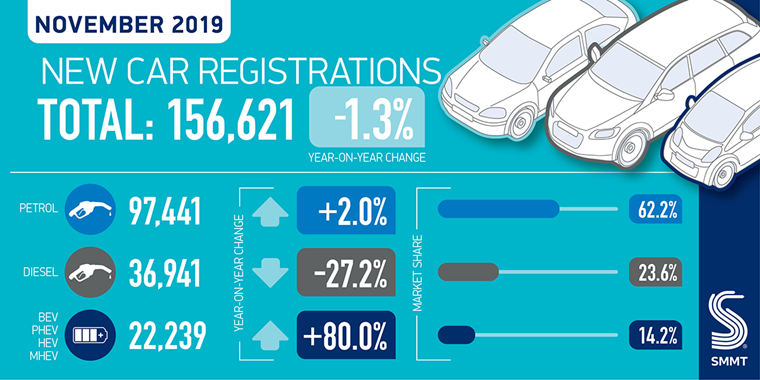 Elsewhere, petrol grew 2.0%, taking the lion's share of all registrations (62.2%), as diesel fell to a staggering -27.2%.
Year-to-date, the overall UK new car market is down -2.7%, with 2.2 million cars registered, in line with current industry forecasts.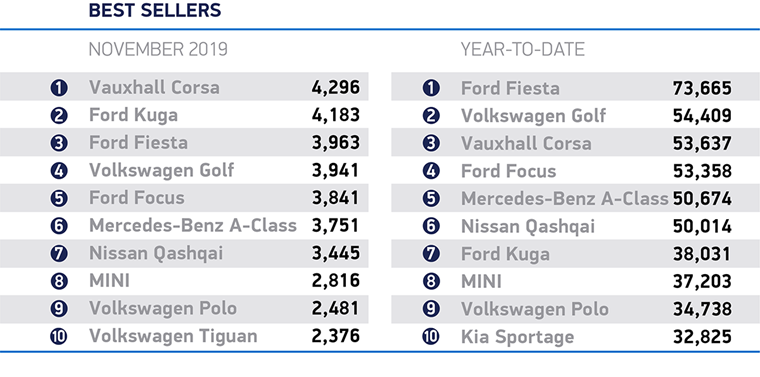 The outgoing Vauxhall Corsa was the UK's best-selling new car last month, with 4,296 models registered. Ford's Kuga SUV was second, with 4,183 registrations, while new Fiesta ended up shifting 3,963 units.
Mike Hawes, SMMT Chief Executive, said, "These are challenging times for the UK new car market, with another fall in November reflecting the current climate of uncertainty.
"It's good news, however, to see registrations of electrified cars surging again, and 2020 will see manufacturers introduce plenty of new, exciting models to give buyers even more choice."