The top ten best road trip movies
Life is about the journey, not the destination. That's why we've all got a soft spot for road trip movies. Even more so when we're on lockdown during the Covid-19 pandemic. They're about more than tyres and tarmac, they're stories of bonding and personal discovery on the open road.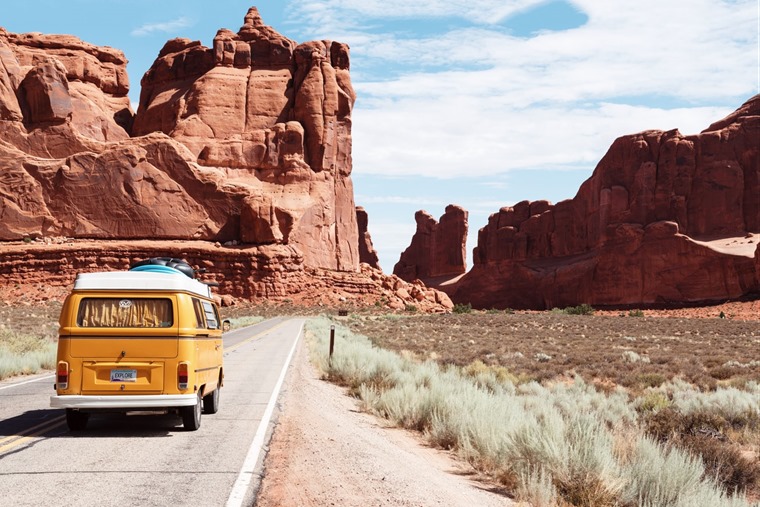 We've got 750 words to fill, a full tank of gas in a car that hasn't moved for days, half a pack of cigarettes, the kids are running riot, and we're wearing sunglasses working from home. So without further ado, let's hit it. Here's ten of the best road trip movies.
Dumb and Dumber
Route: Providence, Rhode Island to Aspen, Colorado.
What they drive: The Shaggin' Wagon  (a Ford Econoline van made up to look like a pampered pooch).
Why it's a good road movie: Friendship, unrequited love, laughs, it's safe to say Dumb and Dumber has them all. That it's wrapped up in a crass package of slapstick toilet humour makes it that much better, as two friends drive to Aspen to return a briefcase to the beautiful Mary.
Mad Max Fury Road
Route: Immortan Joe's Citadel to the Green Place (and back).
What they drive: A Tatra 815 aka The War Rig (because no one will be driving EVs come the apocalypse).
Why it's a good road movie: Though Mad Max is perhaps more famous for his V8 Interceptor, and while a post-apocalyptic film set in the desert may seem like an odd choice for this list, hear me out. Fury Road is an unrelenting onslaught of escape and pursuit in the hopes of freedom as Max and a collection of rebels go to hell and back across the wastelands of Australia. Think of a more extreme version of the Dakar Rally, staged by a nihilistic version of Cirque du Soleil.
Every Which Way But Loose
Route: San Fernando Valley to Denver, Colorado
What they drive: A 1955 Chevrolet 3100 (with demountable camper).
Why it's a good road movie: Philo (Clint Eastwood), a trucker and bare knuckle boxer – along with his orangutan, Clyde – take off in pursuit of the troubled singer Clint fell for at his local bar. They also incur the wrath of a biker gang along the way. Need I say any more?
The Straight Story
Route: Laurens, Iowa to Mount Zion, Wisconsin.
What they drive: A John Deere 110 Lawn Tractor.
Why it's a good road movie: When he hears his estranged brother has had a stroke, old age pensioner Alvin Straight loads up his tractor and sets off a 5mph to drive 240 miles to  see him and bury the hatchet. Based on a true story, it's a bittersweet and lovely film as Alvin has to frequently stop off along the way, touching peoples lives in a profound way.
Cannonball Run
Route: From sea to shining sea.
What they drive: A Dodge Tradesman ambulance, Aston Martin DB5, Rolls-Royce Silver Shadow and more.
Why it's a good road movie: A bunch of misfits, outlaws and characters drive from Connecticut to California in a variety of souped-up vehicles and disguises. This includes a man who thinks he's James Bond and has had plastic surgery to look like Roger Moore (played by Roger Moore) and Dean Martin and Sammy Davis Jr dressed as priests driving a Ferrari. Oh and Captain Chaos (but we don't talk about him).
Thelma and Louise
Route: Arkansas to the Grand Canyon.
What they drive: A 1966 Ford Thunderbird.
Why it's a good road movie: At heart, each film on this list deals with personal freedom as nothing quite personifies this theme like life on the open road. Few films do a better job of representing that freedom than Thelma and Louise. The end scene is perhaps what people most remember, but it does a disservice to the story of love and friendship and escape that comes before.
Midnight Special
Route: Texas to Florida.
What they drive: A Chevrolet Chevelle.
Why it's a good road movie: Part road trip movie, part redemption story, part coming of age, Midnight Special is the tale of a boy with special powers and the collective commitment of strangers to help get him to where he needs to be, while the government and a religious cult follow in pursuit for differing reasons. While everyone has been distracted by Marvel snaps and DC reboots, this is one of the most profound and heart-wrenching 'superhero' films you'll ever see.
Blues Brothers
Route: All over the great state of Illinois.
What they drive: The Bluesmobile (1974 Dodge Monaco).
Why it's a good road movie: Featuring some of the greatest car chase scenes and pile-ups you'll ever see on screen, the Blues Brothers isn't just any old road movie. No, Jake and Elwood Blues happen to be on a mission from God to save the Catholic orphanage in which they were raised. To do so requires them to travel all over Illinois to reunite their R&B band, raising the ire of a mysterious homicidal woman, Neo-Nazis, and a country and western band along the way—all while being relentlessly pursued by the police.
Sideways
Route: The many wineries of Santa Ynez Valley.
What they drive: A Saab 900 cabrio.
Why it's a good road movie: Two men in their forties, Miles and Jack, have one last hurrah before Jack's imminent wedding. Touring the wineries of Santa Ynez Valley it soon becomes apparent that while Miles wants to relax and enjoy the wine, Jack is in search of a last fling before his nuptials. Needless to say, the trip is soon sent into disarray.
Planes, Trains and Automobiles
Route: New York to Chicago for Thanksgiving.
What they drive: A 1986 Chrysler LeBaron Town and Country convertible.
Why it's a good road movie: For Neal, a highly strung exec who needs to get home for Thanksgiving, life is about the destination. For Del, a goofy salesman, it's about the journey. As both men reluctantly buddy up to contend with rerouted flights, stolen cash, broken down trains, useless car rental firms, angry cabbies and shared beds, a story unfolds of love, loss and true friendship.