Top five reasons why the Audi A5 is the trendy lease
It goes without say that Audi is one of the most aspirational manufacturers out there to motorists. The Audi A4 has always be an A* performer in the compact exec class and consistently popular choice.
But, in January 2018, the A5 surged in popularity and became the second-most popular car on ContractHireAndLeasing.com behind the ever-reliable Volkswagen Golf. Why?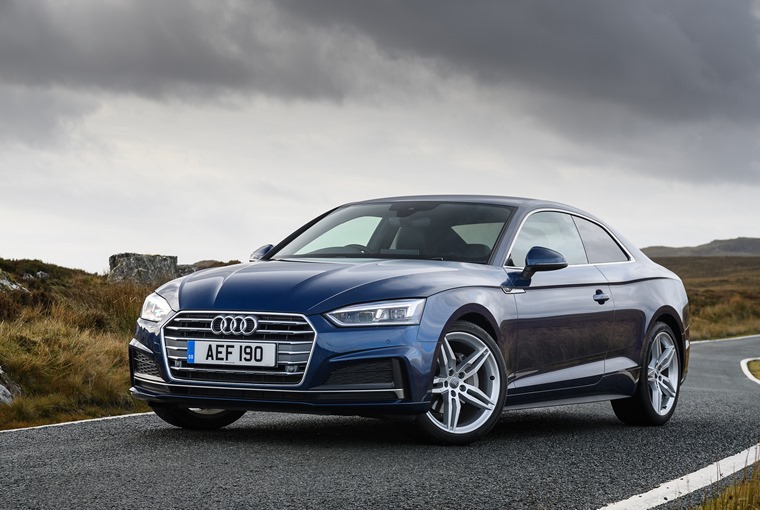 Here's five reasons why more and more people are choosing the sleek and sporty coupe:
It offers all the practicality of the Audi A4 but with a little more sizzle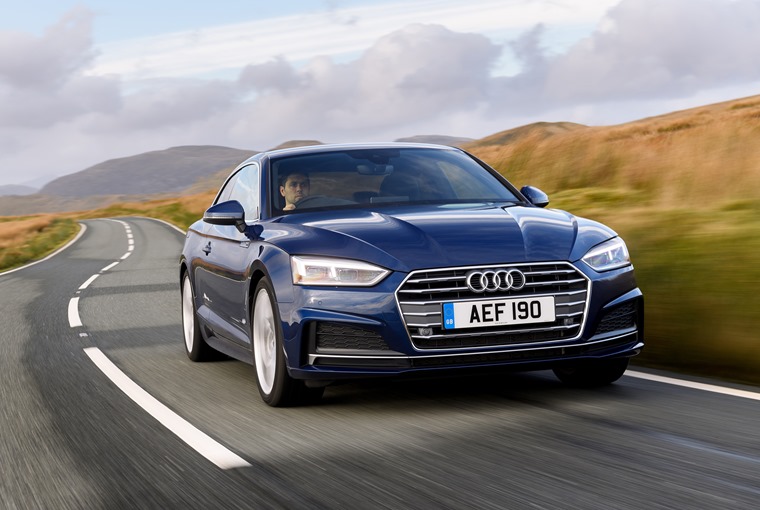 When someone says 'coupe' your mind may automatically turn to the poor people who have to sit in the back. If this is you, we question your priorities as a driver but can understand your humanitarian intentions.
If space is your main priority there's no real reason you should consider a coupe, but the A5 is a little bit different to some of the more pokey coupes out there such as its TT stablemate in that two adults can actually fit in the back easily enough for a quick run around. Add to that the fact there's more boot space than its BMW 4 Series or Mercedes-Benz C-Class rivals and the little touches make a big difference.
While the Audi TT is a lot more fun coupe-wise to drive, the 2.0 TDI Ultra S Line we tested very much feels like the sporty equivalent to the A4 and that brings with it its own attraction in the market. The steering is as precise as you would expect, while it gripped the road well around the country lanes of Kettering on our test drive with little discernible body roll. If you like the A4 but want something just a little bit more adventurous in the range, this is the car for you.
There's an engine for everyone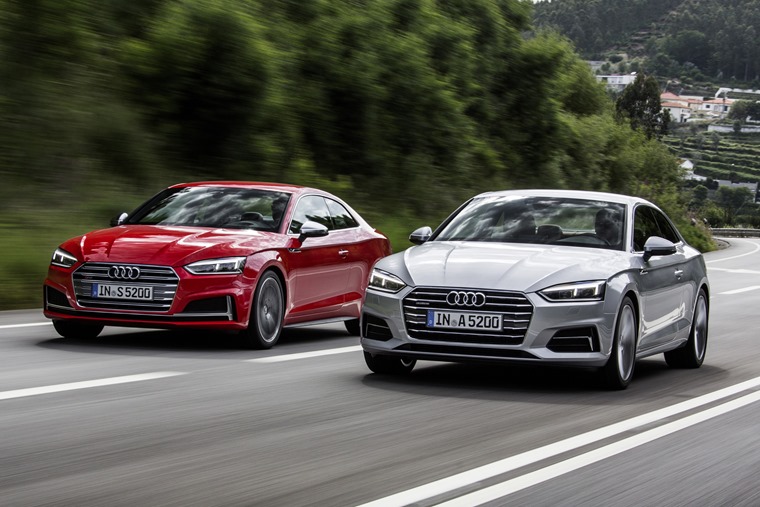 Consulting our enquiry data, the majority of searches for the A5 appear to be for the 1.4 and 2.0 TFSI engines. Both of these offer the smoothness many want from an engine but they do need to be worked harder to make them feel anywhere near as quick as the diesels.
While diesel has become a swear word in the UK lately, the 2.0 TDI we tested is our pick of the bunch thanks to its 190PS power making it practical while still pretty nippy with all that power being sent to the front wheels.
If you want to go a bit bigger, the 218PS and 286PS 3.0-litre A5's get quattro four-wheel-drive system and automatic gearboxes as standard while also offering the kind of power which can really take your breath away when you floor the accelerator.
Those of you wanting even more performance (and there are a lot of you) can opt for the range-topping S5 V6 petrol which offers an eye-watering 354PS and a 0-62 of 4.7 seconds.
It just looks good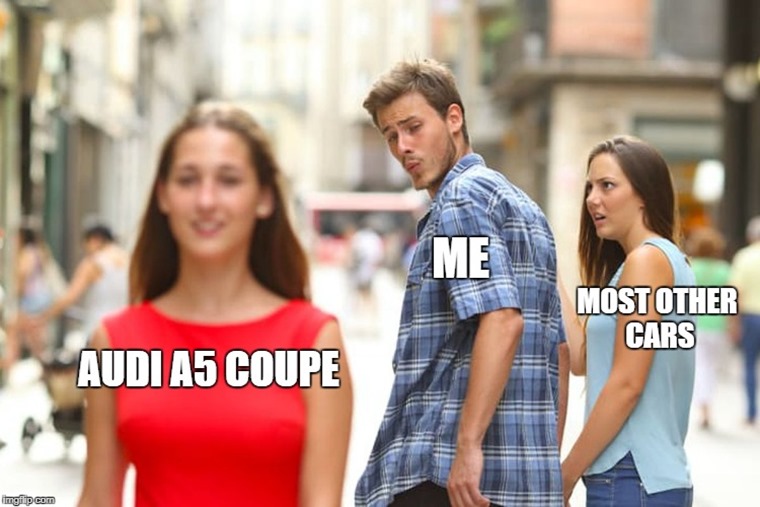 Sorry to be vain, but this is a car you will never get tired of looking at. The eye-pleasing profile and sloping roofline gives its some serious street-cred while the embossed lines of the bonnet not only differentiates it from the A4 but gives its exterior a subtly racy look.
While the exterior has a classy sportiness to it, the good looks extend into the cabin too, offering sporty styling with luxury motoring. Speaking of which…
A cabin that appeals to everyone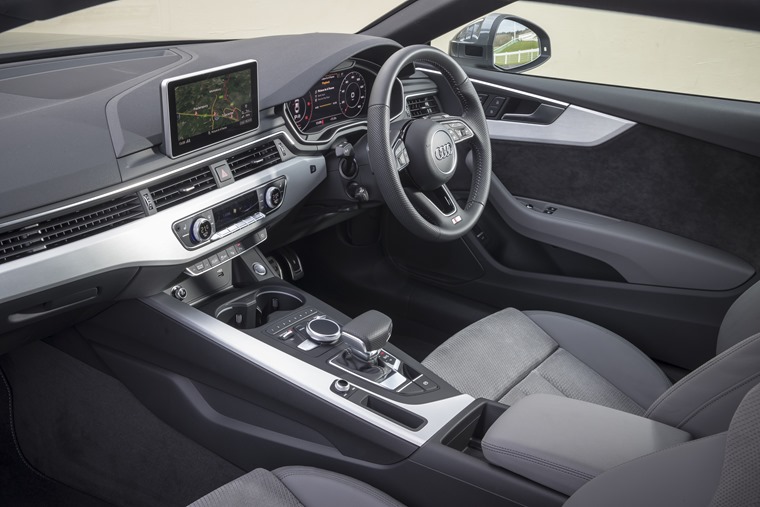 Driver or passenger, there's not one thing to dislike about the cabin of the Audi A5 coupe – a statement which arguably runs across the entire Audi range.
As standard, every A5 comes fitted with xenon headlamps, cruise control, 17-in alloy wheels, three-zone climate control, LED daytime running lights, Bluetooth connectivity and Audi's MMI infotainment system. Add to that a brilliant build quality throughout, intuitive layout and plush seats, and it appears that every need is catered for.
If you foresee spending a lot of time in your car, Audi have made that feel less of a burden and more of an enticement to go the extra mile just so you can spend a little longer in the vehicle.
Class-leading safety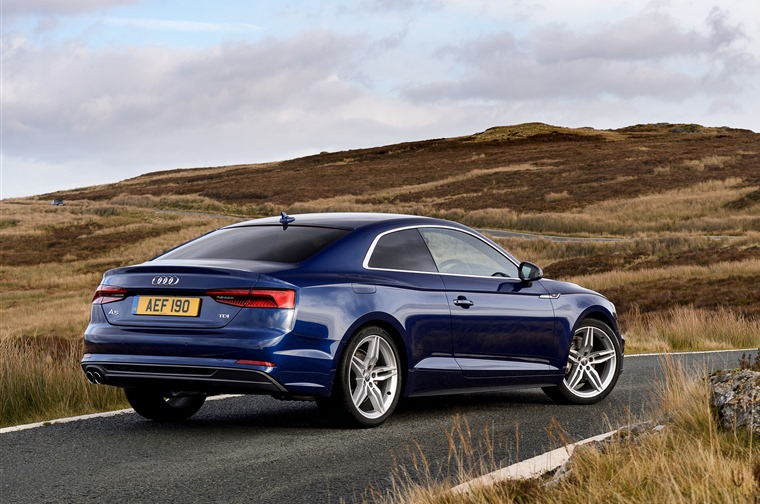 Looks, speed and comfort only go so far if the car you're in doesn't offer you peace of mind. Luckily, the A5 coupe backs up all the things that makes it appealing with a five star Euro NCAP score.
The A5 coupe comes with autonomous braking, stability control, a host of airbags and child-seat mounts as standard, while the test model we drove also included the optional Audi's Driving Assistance pack which includes blind spot monitoring, adaptive cruise control and lane departure warning.