Top five infotainment systems
It's safe to say that one of the biggest factors when it comes to choosing a new car these days is how good the infotainment unit is. You stare at it every day. Use it every day. It's no longer just a glorified media player, it's pretty much the vehicle's hub now.
Which isn't to say all infotainments have been created equal. Usability varies from manufacturer to manufacturer, with some excelling and others leave us prodding aimlessly at an unresponsive screen.
Looking at usability, performance and responsiveness, we've picked out our five favourite infotainment units.
5. Ford SYNC 3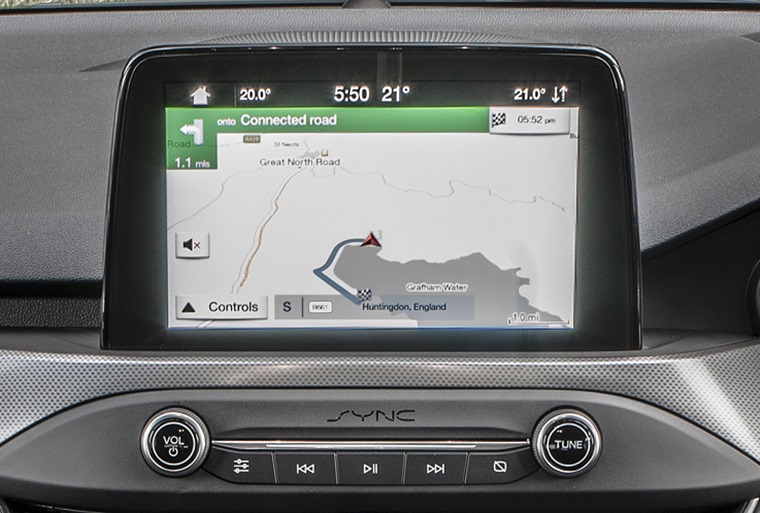 Whereas Ford's SYNC 2 system left a lot to be desired regarding functionality and usability, despite having all the bells and whistles you'd want from an infotainment system, any criticisms labelled at it have been answered and improved upon with aplomb with this system.
As an example of function over form, SYNC 3 shows just how much smartphone layout and design has bled over into the world of car infotainment units. That means Ford has moved away from the integrated dashboard design for a free-floating 6.5in standard unit with an app-style layout. Don't worry though, if you prefer screen mirroring Apple CarPlay and Android Auto are also offered.
Stripped down from the at-times-confusing and unresponsive previous infotainment system, Ford has jettisoned the bloat and designed SYNC 3 to be used by someone on the move as something that is simple, functional, easy to use on the go, and most importantly responsive.
4. Volvo Sensus Connect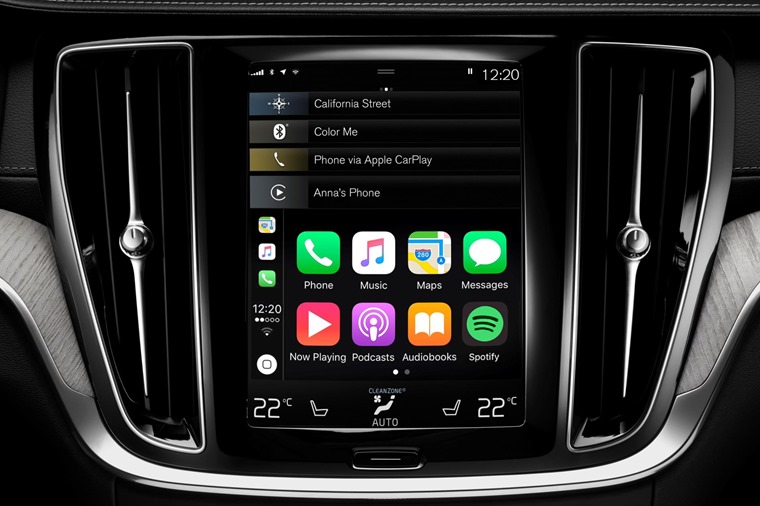 Volvo's infotainment has the dubious distinction of being one of the few portrait-aligned infotainment units along with Tesla. But what Volvo does to differentiate itself even more from Tesla is why it features on the list.
Sensus Connect is certainly one of the most stylish infotainment units available, featuring a user interface with several innovative functions such as cloud-based services integrated in the car, improved navigation with 3D maps and free map updates, a local search function and an option to remotely send destination instructions to the car.
This is on top of  the likes of Apple CarPlay (pictured above) as well as controlling all of the cabin's functions such as heated seats.
This could improve even further come the next generation of Volvo vehicles though, with the company recently announcing a partnership with Google to bring their Android operating system to the vehicles as well as offering the voice-controlled Google Assistant, Google Maps and Google Play Store.
3. BMW iDrive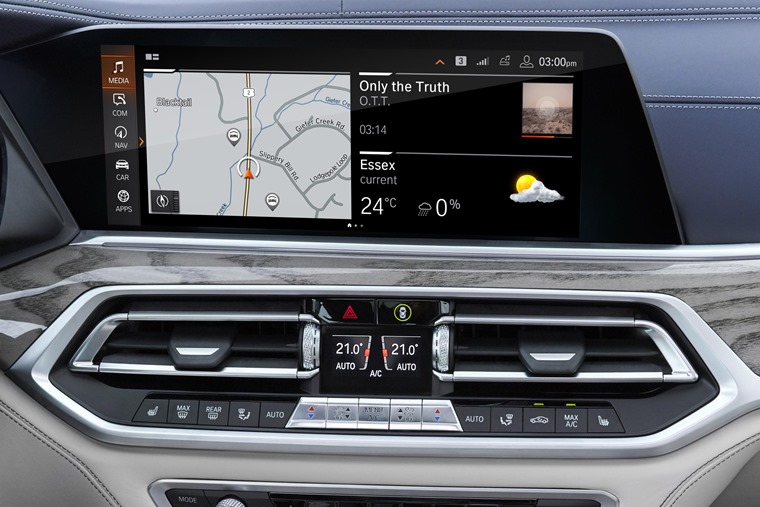 Size isn't everything, as the old saying goes, and BMW's iDrive infotainment system proves that.
The standard 6.5in infotainment display floats on the dashboard, with its menus logically laid out with shortcut buttons featuring on the centre-console and close to hand so you're not distracted for long.
Seen most recently on the BMW X4, satellite navigation comes as standard.You can input a postcode using either the touchpad on top of the scroll-wheel in the centre console or via on-screen keyboard.
While it might not have to wow factor of others on this list, what it does it does well. It offers the kind of usability and navigability you'd expect from the German manufacturer.
2. Mercedes-Benz MBUX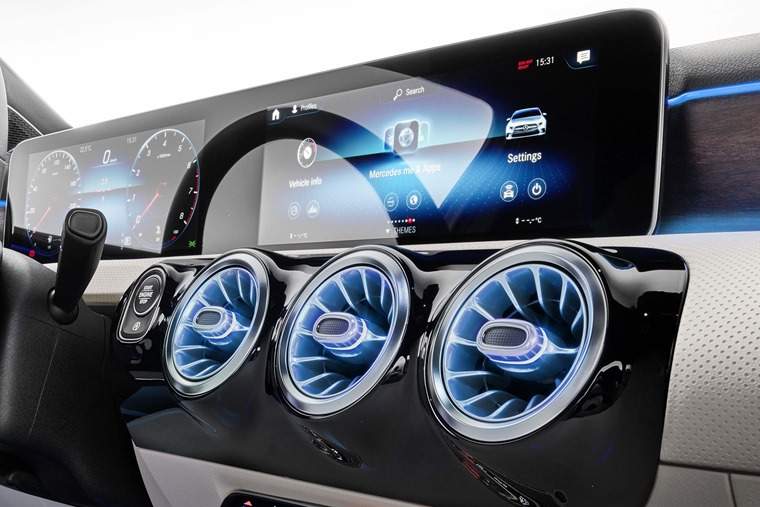 "Hey Mercedes, why is your infotainment unit so good?" Yep, part of the reason is because it features probably the best voice assistant on the market.
Whereas Toyota has partnered with Amazon Alexa, and the the next generation of Volvo's Sensus will run on Android, Daimler seems to understand that user data is going to be one of the major commodities when it comes to the car in the near future so developed its own in-house.
Launched with the new A-Class, Mercedes-Benz MBUX is as close as a current car gets to the likes of Alexa. It even understands indirect speech so all you have to do is say: "Hey Mercedes, I'm cold," and the air vents will glow red to indicate a rise in temperature.
It also offers one of the most elegantly designed units on the market, with the infotainment and driver display seamlessly joined together. The new system also allows users to touch, swipe and pinch-to-zoom on the screen itself whereas previous Mercedes restricted you solely to using the touchpad in the centre column.
1. Audi MMI

Technology is at the heart of Audi's new design language, with the vanguard of this approach being the new A8 luxury saloon. This model introduced the next stage of Audi's infotainment offering, replacing the rotary-control based infotainment system of yesterday with an innovative touch-based system.
The standard infotainment is controlled via the large 10.1in touchscreen, while a second touchscreen below controls everything from air conditioning and heated seats as well as providing a keyboard to type instructions onto.
These 'invisible' screens, finished in piano black, only illuminate when the engine is on so they seamlessly blend into the cabin materials. From there users can connect their smartphone for Apple CarPlay and Android Auto with Bluetooth as standard.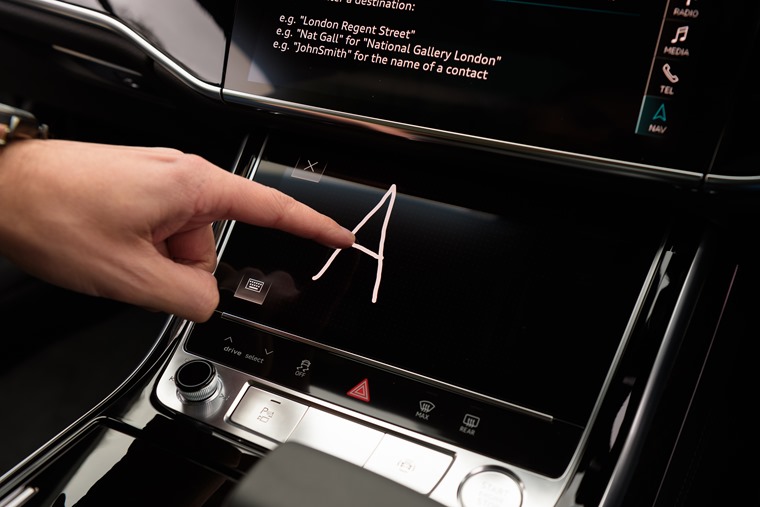 One reassuring little touch puts Audi's infotainment unit above all the others on this list, and that is a click being heard and felt with each choice made on the touchscreen to acknowledge your input so you're not taking your eyes off the road.
As for the satnav itself, Audi uses quality pictographic images for the map with the option to use Google Maps satellite images for the background instead if you have an internet connection, with any directions transferred either to the Virtual Cockpit or the driver display.
Lastly, the infotainment unit is fully customisable. If you use specific apps constantly and need one-touch access you can create a shortcut to it on the live screen so you aren't constantly digging through menu after menu and again helps avoid distracting you from the road.
Whereas the likes of "Hey Mercedes" and other voice assistants might be the future of in-car infotainment, in the here and now, Audi remains king.