Top five things we learned this week
So far this week we've learned that Donald Trump is never far away from starting World War 3, while Harry and Megan are sick of warring with the press and want to resign from royal life. But what about the automotive world?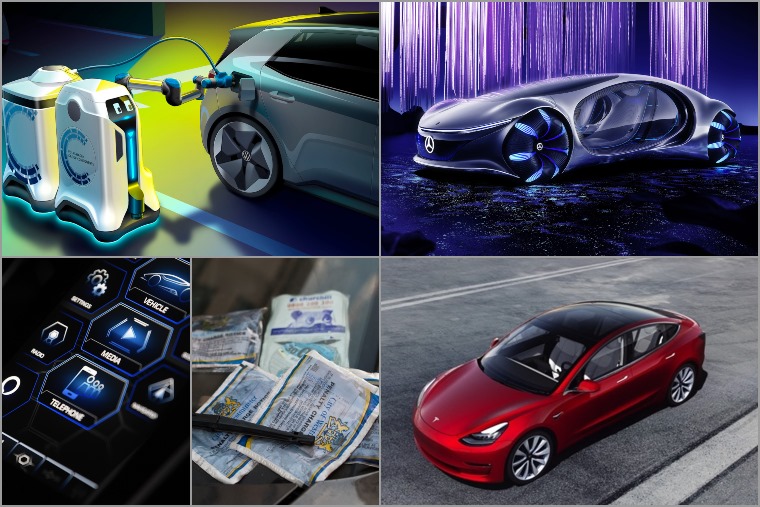 With the 2020 Consumer Electronics Show (CES) taking place in Las Vegas and providing some eye-raising innovations, here's what we learned this week.
Mobile robots may soon be able to charge your car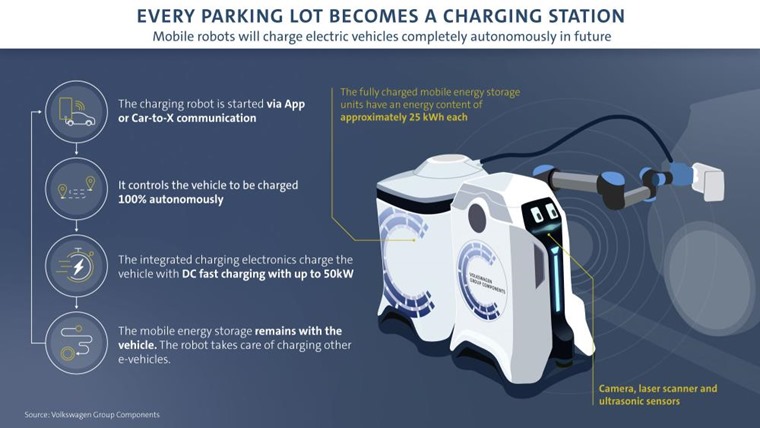 Volkswagen has provided a glimpse into a future where the search for charging stations for electric cars is no longer a concern. Their solution? Mobile robots which charge EVs autonomously.
Effectively turning any parking space into a charging point, the robot is summoned by drivers via a smartphone app or through a connected car system. The mobile robot then brings a trailer in the form of a mobile energy storage device to the vehicle and charges the EV.
From opening the charging socket flap to connecting the plug to decoupling – the entire process occurs without any human interaction. Capable of DC fast-charging at up to 50kW, the robot is fitted with a camera, laser scanner and sensors to ensure it can move freely around the vehicle.
Once the service is complete, the robot collects the energy storage device and brings it back to the charging station.
While the system is currently "a visionary prototype", Mark Moller, had of development at Volkswagen Group Components, claims it could be "made into reality quite quickly".
The weirdest concept car at CES was inspired by Avatar. Yes, that film with the blue alien people in it.
The future of mobility is here! Mercedes-Benz is thrilled to announce a new partnership inspired by the @officialavatar sequels showcasing our collective drive for innovation, creativity and authenticity #VISIONAVTR pic.twitter.com/r0R2uEGiRM

— Mercedes-Benz (@MercedesBenz) January 7, 2020
Mercedes-Benz revealed a concept car designed in partnership with Hollywood film director James Cameron at CES this week. Inspired by Cameron's mega blockbuster film Avatar, Mercedes Vision AVTR is a concept which aimed to show a completely new interaction between human, machine and nature.
That means a variety of unique features. First there's the lack of a steering wheel. Instead a multifunctional control element in the centre console allows human and machine to merge by placing your hand on the control unit. This brings the interior to life and the vehicle recognizes the driver by his or her heartbeat and breathing.
Other unique touches include 33 scales which cover the rear of Vision AVTR. Dubbed 'bionic flaps' they're reminiscent of the scales of reptiles and can communicate with the driver and through the driver with their outside world through naturally flowing movements in subtle gestures.
As strange as that is, there's also the fact Vision AVTR can move sideways by 30-degrees due to the design of the front and rear axles. This crab-like manoeuvre is to maximise agility and movement.
While you're not likely to see the Vision AVTR on the road ever, it's a pretty cool film tie-in if nothing else.
Tesla dominated the safest cars of 2019 list
2019 proved to be one of the most impressive years for car safety, with Euro NCAP assessing 55 cars over the course of the year and an astounding 41 of those being awarded a five-star rating.
This week Euro NCAP revealed it 'best in class' list for 2019, and Tesla proved to be the real star manufacturer of the year. The Tesla Model 3 was joint best in class in the large family car and electric category, while the refreshed Tesla Model X came top in the large off-road category and runner-up in the electric category.
The Tesla Model 3 scored 94% in 2019 Safety Assist tests - the best yet under Euro NCAP's most recent protocol – thanks to its superb driver assistance systems such as lane support, speed assist and autonomous emergency braking. It also achieved a perfect score in the frontal offset deformable barrier crash test.
Michiel van Ratingen, secretary general of Euro NCAP, said: "It's great to see cars doing so well. Our tests get tougher and tougher, and cars continue to perform well, which means that car-buyers are getting an ever-safer range of vehicles to choose from."
Lamborghini is the first automaker to fully incorporate Amazon Alexa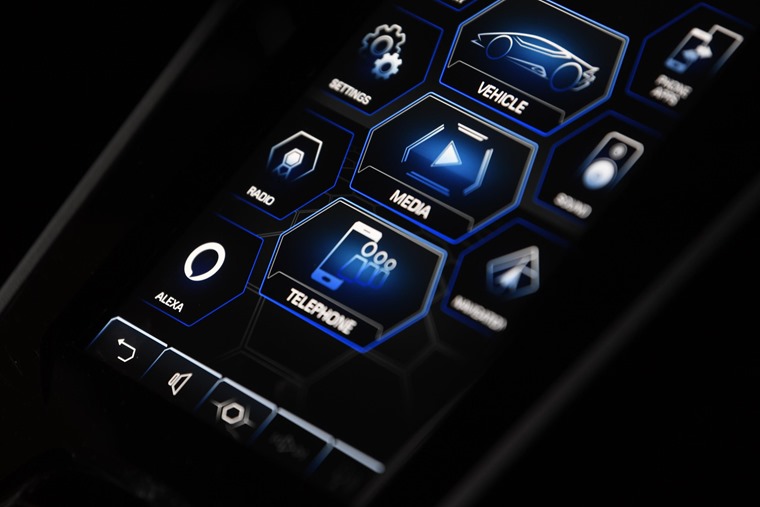 Lamborghini has kicked off 2020 with some serious kudos: it has become the first automaker to incorporate full in-car control by Amazon Alexa.
Revealed at CES, Alexa features across its Huracan Evo range. This is also the first time Lamborghini has introduced a connected infotainment system with digital services on a super sports car.
Drivers will be able to adjust functions such as climate, interior lighting and seat heating with a simple voice command, allowing them to focus on the road ahead.
The Alexa integration also connects Lamborghini owners to the growing number of connected devices that work with Alexa. So with a simple voice interaction, drivers in the Huracan Evo can control everything from entry gates to thermostats and lights, directly from the car.
"Our vision is for Alexa to become a natural, intuitive part of the driving experience, and Lamborghini has embraced that by integrating Alexa directly into its onboard infotainment systems," commented Ned Curic, vice president of Alexa Auto at Amazon.
Drivers who accidentally key in the the wrong numberplate can now appeal parking fines
If you've ever been stood at a parking machine and had a momentary panic at misremembering your numberplate, or accidently put in the wrong digit only to find yourself with a ticket, there's good news: you can now appeal.
The British Parking Association (BPA) has published a revised Code of Practice which instructs private parking operators to cancel charges if one letter or number is incorrect or in the wrong order.
"We recognise that genuine mistakes can occur, which may result in a parking charge being issued even when a motorist can demonstrate they paid for their parking.  In recognition of this we have further clarified the situation for all parties." commented Steve Clark, BPA Head of Business Operations.
Motorists will still need to appeal, but are expected to be dealt with appropriately at the first appeal stage.
Parking On Private Lands Appeal (POPLA), an independent service for parking fines, has welcomed the news. John Gallagher, lead adjudicator at POPLA said: "The revised code will bring greater clarity for motorists and parking operators alike on issues such as simple keying errors.",