The Top Gear presenters that time forgot
A brand-new series of Top Gear starts on Sunday 16 June at 8pm on BBC2. Will you be watching? It was announced last year that Matt LeBlanc a.k.a Joey will be replaced by Lancashire pair Paddy McGuinness and Freddie Flintoff replacing Matt LeBlanc. Automotive fountain-of-knowledge Chris Harris will remain, however, though Rory Reid will step down from his main presenting role, too.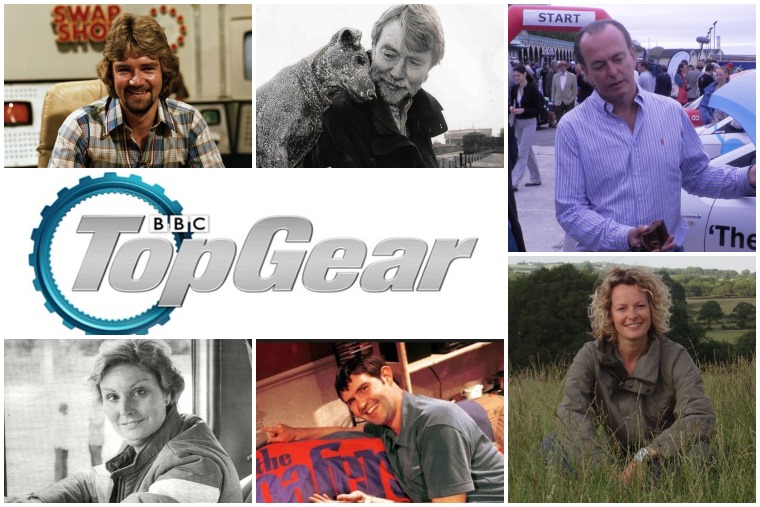 With all the commotion that came with Jeremy Clarkson's sacking – and the mixed bag of presenters that followed – it's easy to forget that Top Gear was a flagship BBC show for decades before the trio hit the small screen. That said, if you've ever watched an episode of circa 1987 TG, it's pretty obvious why it's so forgettable.
We've taken a trip down memory lane and had a look at some of the various presenters of the show over the years. Here's some of the ones you might have forgotten about…
Angela Rippon
Top Gear has occasionally been called out for not being the most inclusive of TV shows, what with it being about motoring and the majority of presenters being middle-aged men. However, the first episode featured none other than Angela Rippon. These days she's more known for hosting Rip off Britain, but between 1977 and 1979 she was a regular presenter on the show.
Noel Edmonds
Some love him, although the majority loathe him – Noel Edmunds has been part and parcel of Britain's televisual viewing since the 70s, so it's no surprise to see he made it on to the Top Gear line up in 1979. He didn't last long though, and is probably best remembered today for the his Saturday Night show Noel's House Party, featuring the cringe-worthy Mr Blobby.
William Woollard
One of the stalwarts of the show in its original format, Woollard was the main presenter for a decade between '81 and '91. It was under his stewardship that it really took off with the British public, with weekly viewing figures of up to 5 million – nothing compared to its success in the 2000s, but for a relatively dry, fact-focused show, still quite impressive.
Chris Goffey
A motoring journo of the old school, Chris Goffey was peak 80sTop Gear. Always well-dressed and donning a grey beard his dry reviews were always full of facts, but a world away from what the increasingly cocky Clarkson – who joined the show in 1988 – was offering viewers.
Quentin Wilson
Quentin Wilson joined Top Gear in 1991 and appeared right up until the original format went off air in 2001. With an appreciation of a good bargain, his segment offered advice on buying used cars. He also fronted a BBC show called The Car's the Star, before moving to Channel 5's Fifth Gear.
Vicki Butler-Henderson
She's much better known as a Fifth Gear presenter rather than Top Gear, but she did feature on the BBC's show in 1997. In fact, after the show was cancelled in 2001, it was herself, Quentin Wilson and Tiff Needell who moved to Channel 5 to create the rival show. A fan of all things fast, she's a well-known racing driver, too, and has presented coverage of the British Touring Car Championship among other race-related things.
Tiff Needell
Tiff originally joined Top Gear in 1987, and remained a regular presenter until jumping ship to Channel 5 in 2001. He offered a bit of a bridge between Goffey's deadpan deliveries and Clarkson's increasingly outspoken outbursts. He was a decent driver, too, having even made it on to the Formula 1 grid in 1979.
Kate Humble
Despite her seeming love of nature and wildlife (think Springwatch, Animal Park etc) it would appear naturist Kate Humble is also a secret petrolhead. Well, she was in 1999 when she presented Top Gear anyway.
Brendan Coogan
Brendan Coogan is probably most well known for being the brother of comedian Steve Coogan. He's also well known for being the brother of Mock Turtles singer Martin Coogan. He's less well known for presenting Top Gear. This is probably because he left his role after just a few months due to a drink driving conviction. Not really something you want if you're a presenter of a motoring show.
Jason Dawe
Of all the former Top Gear presenters, it's probably Jason Dawe that drew the short straw. Why? Because he featured in the first series of Clarkson's new-style Top Gear in 2002, along with Clarkson and Hammond. Unfortunately, it just didn't really work and he was replaced by Captain Slow for the second season. Unlucky.
How do you think Flintoff and McGuiness will do? Let us know in the comments below.