Top reasons to lease a Nissan Juke
Advertising feature
The Nissan Juke has always been an extremely popular car. Its SUV-like driving position, quirky styling and tempting pricing always ensured that. The next generation Juke, offers all that, and more.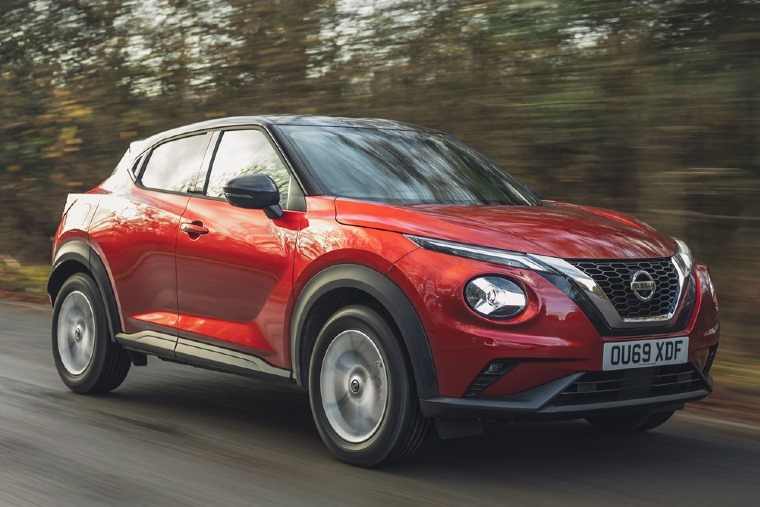 With a fresh and contemporary design, a host of driving aids available and of course its continued affordability means it's a more enticing prospect than ever. So, we picked out some of the main reasons we think you should lease a Nissan Juke in 2020.
Let's get to it.
Styling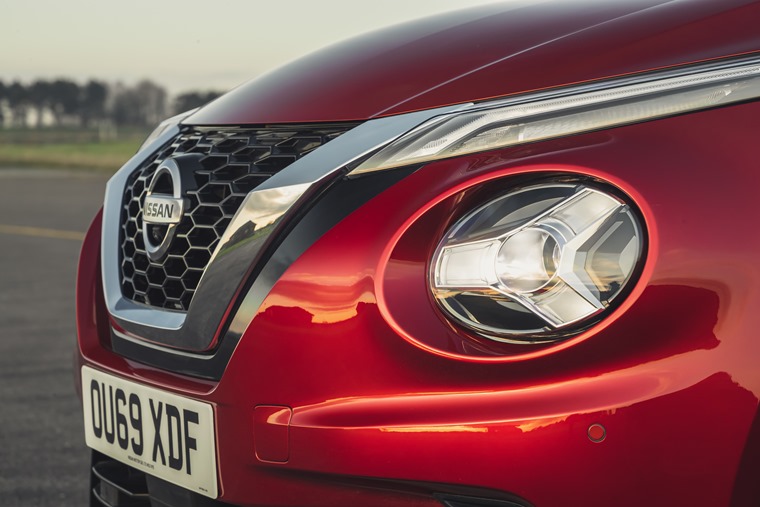 The styling of the original Juke was no doubt one of the main reasons it sold so well – people liked its quirky lines and stand-out design. However, the next generation Juke should manage to win over even more fans, combining the styling elements of more conservatively styled Nissans and keeping just the right amount of uniqueness.
It's wider than before, but those bold circular headlights at the front still ensure you can't mistake it for anything else. It gets a more angular, sloping design at the rear too, where you can see Nissan has clearly been influenced by SUV-coupes – the must-have cars of the moment. Along with a host of new alloy wheel designs and contrasting colours that give it a floating roof appearance, it's a crossover that can more than compete with the looks of rivals like the Ford Puma and Volkswagen T-Cross.
Improved practicality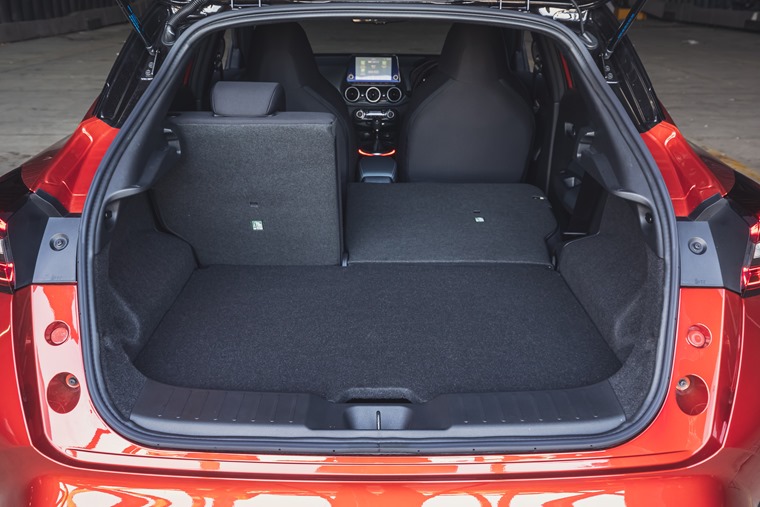 The wider body and overhauled interior of the next generation model improves the rear passenger area and boot space. Open the Juke's boot and you'll find 422 litres of luggage capacity – that's 20% more than the previous model.
60:40 folding rear seats are standard across the Juke range too, allowing you to split space more evenly should you require to carry larger items. What's more, an adjustable boot floor also features on the N-Connecta, Tekna and Tekna+ grades, meaning there isn't a load lip to drag heavy shopping over.
If rear passenger space is a priority, the revised Juke is certainly roomier than before. There's more legroom in the back, ensuring adults as well as children will feel comfortable in the back.
NissanConnect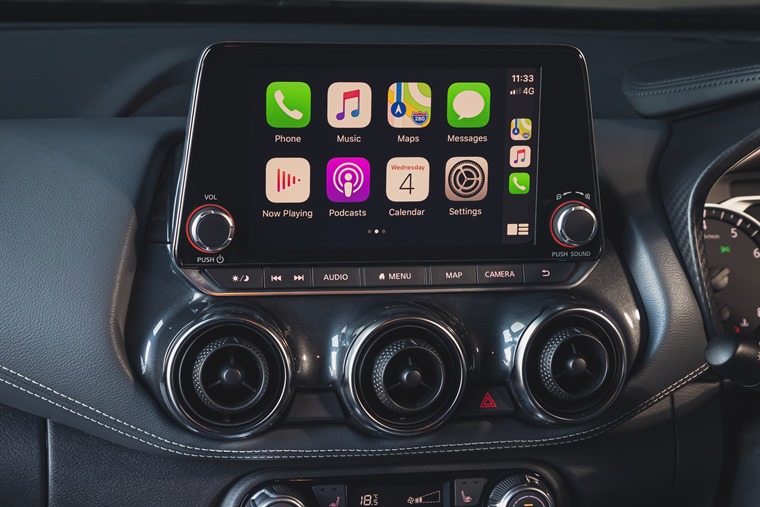 A large 8in touchscreen is now standard on all but entry-level Visia models. As such, you benefit from NissanConnect Services. This means Android Auto and Apple CarPlay feature as standard, while the standard navigation system, available from N-Connecta grade and above, has been designed to detect traffic jams and offer door-to-door directions too.
A unique feature of NissanConnect Services is the mobile application that you can download to your smartphone. It's aimed at improving your driving experience and making driving your Juke as convenient and as personal an experience as possible. The app allows you to access stats that cover your average speed, distance travelled and the number of trips you make, while you can also flash the lights and sound your horn remotely if someone is looking for your vehicle. You can also remotely lock and unlock the vehicle too, should you need to.
The best bit about NissanConnect Services is that it essentially turns the car into your own personal wifi hotspot.1 You'll be able to connect up to eight separate wifi devices within the car – excellent for keeping the kids entertained on longer journeys.
Class-leading safety tech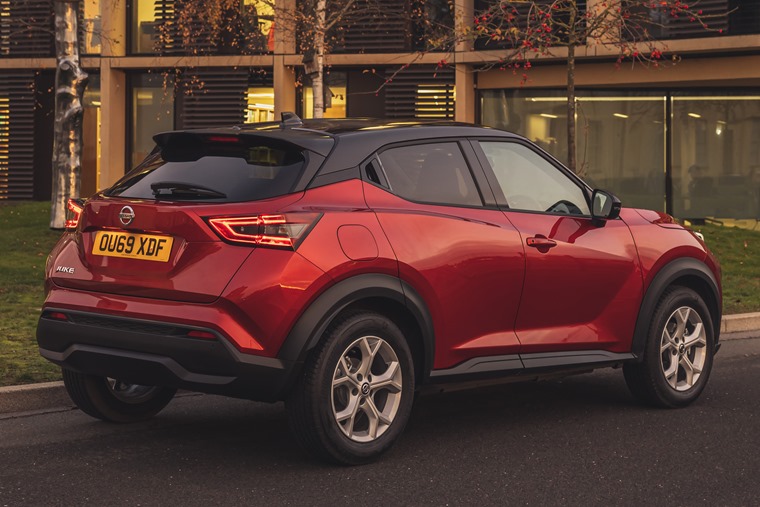 The Juke is packed with a full package of safety tech for helping occupants and other road users keep safe. All models feature emergency braking with pedestrian and cyclist recognition, allowing the car to take evasive braking action automatically should it detect an imminent collision. Other standard features include traffic sign recognition and lane intervention . Rear cross traffic alert as well as blind spot intervention (a first for a car in this segment), are optional on N-Connecta grade. The latter will warn the driver if a car is in its blind spot and can apply slight braking to help guide the car back to the original lane– a handy feature when you're on the motorway or driving along a dual carriageway.
Nissan's ProPILOT is also offered on the Juke for the first time, which is itself an additional safety feature. Available as a pack on automatic variations of the N-Connecta and standard on Tekna and above, it's designed to help take the stress out of motorway driving thanks to an active cruise control that can take over the brakes, acceleration and even steering. It's one of Nissan's new innovative driver assistance technologies that uses radar technology to monitor what's happening around you.2
ProPILOT is only available on automatic models and is standard on Tekna+ and an option on N-Connecta trim level. ProPILOT is an Advanced Driver Assist technology but cannot prevent collisions. ProPILOT is intended for "Eyes on/Hands on" for highways only (road separated by barriers). It is the driver's responsibility to stay alert, drive safely and be able to take control of the vehicle at any time.
Monthly leasing costs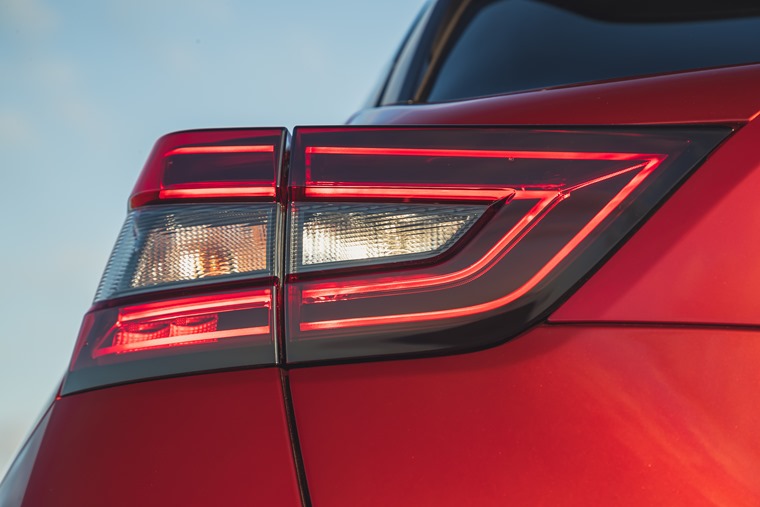 The next generation Nissan Juke boasts low running costs as it can deliver up to 47.9mpg (WLTP).3
So, taking all the above improvements into account, you might not expect the next generation Juke to be as affordable to lease as its predecessor – that's a misconception. Currently, you can expect your monthly payment to start at £160 a month for the 1.0 DiG-T Visia . Let's take the 1.0 DiG-T Acenta model as an example. At the time of writing, the lowest monthly payment available on Leasing.com is £159.58 per month (9+48, 6k per annum mileage allowance). Obviously, the monthly payment depends how much of an initial payment you decide to pay, your mileage, the length of contract and other factors.
If you fancy taking advantage of the ProPILOT feature, you'll find that even range-topping Tekna+ models can be had for less than £250 per month. The choice is yours, but remember you'll always be able to get a good idea of how attractive a lease deal is by checking out Leasing.com's unique Value Score, which you'll find attached to every deal on our site.
To start searching for the Nissan Juke lease deal that best suits you, just click on the link below to compare prices now.
1 To use NissanConnect services you need a smartphone with compatible iOS or Android operating system. Services subject to mobile network coverage. NissanConnect Services available for an additional charge on subscription after the 3rd year. For further information, please visit www.nissan.co.uk or contact your local Nissan Dealer. Juke Wifi hotspot available from Acenta grade for an additional charge on subscription. Data packages obtained via Orange in accordance with their terms and conditions. Download the NissanConnect app to find out more.
2 It is your responsibility to stay alert, drive safely and be in control of the vehicle at all times. Driver assist features have speed and other limitations and should not be solely relied on. For more information, please refer to the owner's manual or visit www.nissan.co.uk/techterms.
3 Figures based on MY19 Next Generation Nissan Juke Visia, Acenta & N-Connecta Manual grades. WLTP figures shown are for comparability purposes. Actual real-world driving results may vary depending on factors such as weather conditions, driving styles, vehicle load or any accessories fitted after registration.