Review: Toyota Camry
With a cutting-edge hybrid drivetrain and Lexus-like looks, can the Camry make a successful comeback like the Corolla has done?
After a 15-year hiatus, the Toyota Camry is back in the UK. It might not have been the most interesting car back then, but how things have changed. Toyota is currently producing cars that are great to look at, and a blast to drive too.
The return of the Corolla is a great example. But can the Camry prove to be an equally successful comeback as the smaller hatch?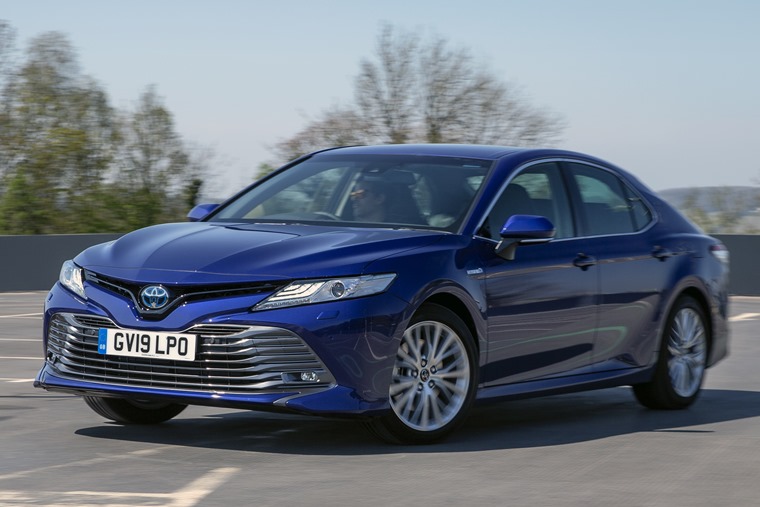 We'll kick things off with a few potential hurdles it'll have to overcome. First off, it's a saloon. Secondly, it isn't a German saloon. While Toyota sedans of old were a solid choice for family transport, this demographic has long since moved on to crossovers or, if they are still in a saloon, they'll most likely be made by the Germans. Toyota seems to appreciate this though, and have confirmed themselves the Camry isn't here to take on the big hitters of the segment. It only expects around 500 to hit the road in the UK during its first year in the showroom.
Lexus looks. Lots of kit. Leasing.com five-word review
Its design isn't quite as cool as the new Corolla, but it's still a looker. In fact take off the badges and it could almost fit into the Lexus range. It's what you'd call a full-size saloon; at 4,885mm, it's larger than the Passat. With a funky front end featuring slim LED headlights, it looks swanky. That sweeping rear roof is reminiscent of an Arteon, although as you move around the back you realise this is a true saloon rather than a fastback.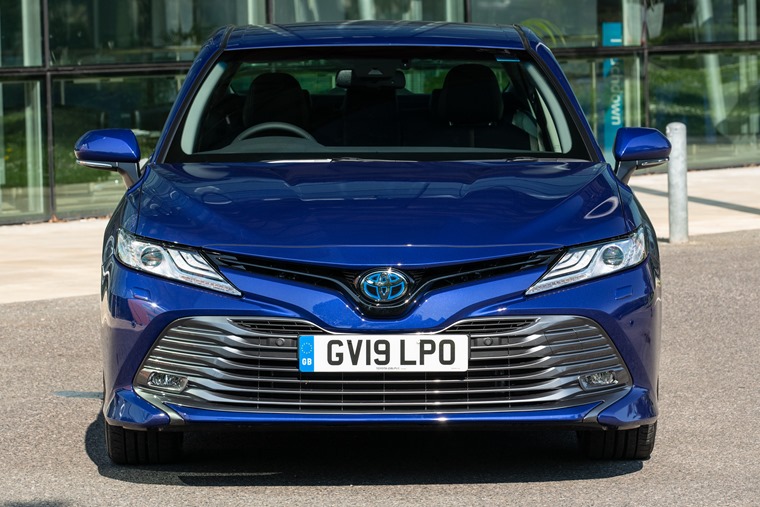 Inside, Toyota's renowned build quality shines through. Trim is decent, although it does feel a little plasticky in places, with cheaper materials evident if you do a bit of digging. Where it really doesn't compare to some other saloons is in the infotainment stakes. The screen is 7in, which is fine in a mid-range hatchback, but we'd expect a larger unit in a car like this.
Leather upholstery is standard, and the front seats are heated too.
It's also a little dated by design too. There's no Apple CarPlay and its operating system feels a bit clunky. What it is, however, is refined. Its hushed nature is only interrupted if you accelerate quickly due to its high-pitched CVT gearbox. But when it comes to clocking up motorway miles, it's an excellent machine to be in, and thus a great option for fleets.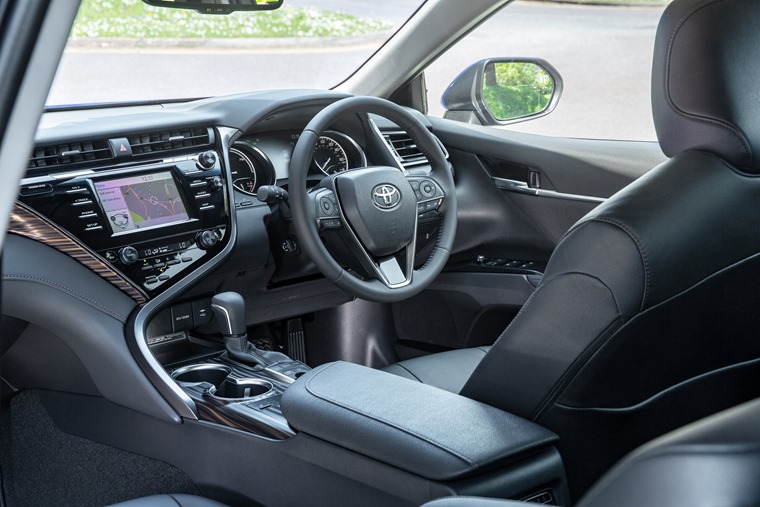 Standard equipment impresses. Leather upholstery is standard, and the front seats are heated too. Along with LED headlights, 17in alloy wheels and voice command, adaptive cruise control and a reversing camera are standard on all trims too. If you want 18in alloys and wireless charging though, you'll have to plump for the plusher Excel trim.
Given its size, ample passenger space is a given. This is a car four adults would be happy to do long journeys in. The 60:40-split rear seats fold relatively flat too, meaning you can extend the already cavernous 524-litre boot should you need to.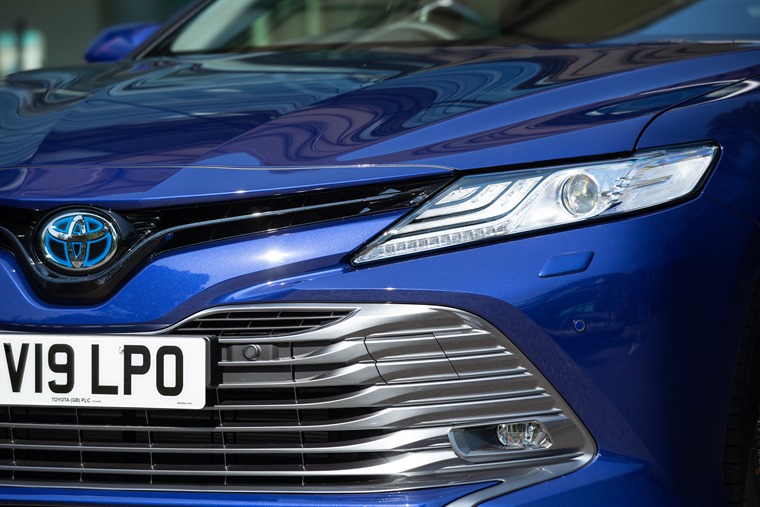 Whichever trim you choose, the Camry comes with a 2.5-litre petrol engine. Sounds a little big for a car this size, doesn't it? Happily, it's a hybrid. In fact it's the same set-up you'll find used in cars such as the RAV4 and Lexus ES. It has 217hp and provides decent acceleration but, because it's a hybrid, it'll still return around 50mpg. We suppose this is therefore a car to take on the Passat GTE hybrid, although the Camry's system is not a plug-in. Its eco credentials should also make it a bit of a hit on the fleet scene, if nowhere else. But what's it like to drive?
Whichever trim you choose, the Camry comes with a 2.5-litre petrol engine.
Acceleration is impressive, although because it features an automatic CVT gearbox, it means that the power is delivered all at once rather than working through a set of gears. This makes for a smooth, if slightly noisy acceleration. It's certainly quick enough with a 0-62mph time of 8.3 seconds comparable to most rivals, but there's a lot of revving if you put your foot to the floor.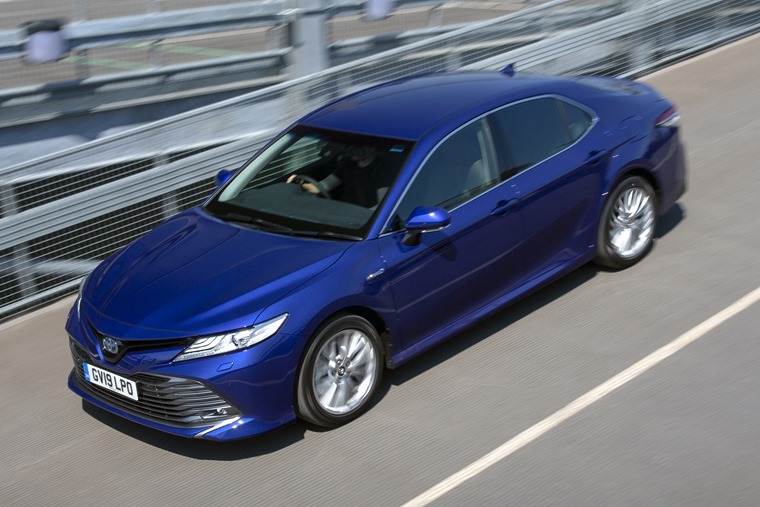 Once you're up to speed, however, this completely disappears, and the Camry once again becomes a serine and refined cruiser. The fact it's all-but silent in traffic makes up for this fact, too. It isn't a particularly fun car to drive though. Both the Mondeo and the Insignia have it beat if you're looking for a bit of driver engagement.
Its impressive hybrid platform is hugely advanced compared to rivals.
Let's talk price. The Camry lists from £29,094 – that's significantly more than a Mondeo or Insignia – both of which would be gain impressive spec should you spend a similar amount on them. But even in basic form the Camry is exceedingly well equipped, so when that's taken into consideration it isn't too bad.
It's the same story with lease rates – a Camry can be had for less than £300 per month, although a more realistic budget of £350 per month will get into the higher specced Excel model. Unlike its two main rivals, the Camry gets a Lexus-like look too; it feels more special.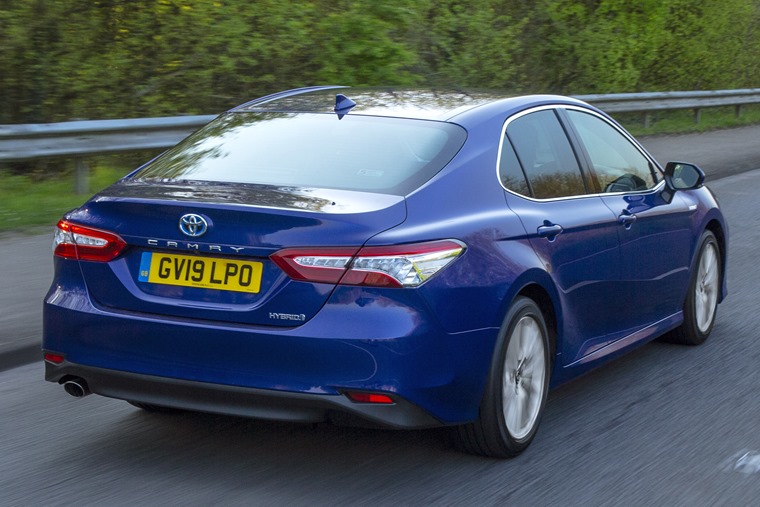 It isn't as fun to drive as the Mondeo, but its impressive hybrid platform is hugely advanced compared to what both the Ford and Vauxhall offer. It's somewhat let down by a cheap infotainment system though, if that's a top priority.
Overall, however, the Camry is a winner and certainly deserves more attention than it will inevitably get. For fleet operators it's an incredibly frugal machine. For families who don't want an SUV, it's seriously spacious and doesn't score too badly when it comes to practicality either.
Model tested: Toyota Camry 2.5 Hybrid Excel
Exterior
A large saloon with Lexus-like looks, it carries on where the eye-catching Corolla left off in the styling department.
Interior
Typical Toyota build quality, but plastics fall short of the best in class, as does the infotainment system.
Driving
CVT gearbox takes some getting used to, but it's a relaxing motorway cruiser.
Space
524-litre boot can be extended thanks to 40:60 folding seats. Spacious cabin with lots of rear headroom.
Efficiency
Proves engine-size doesn't mean lots of fuel bills – 50mpg is the norm.