Review: Toyota RAV4
After an influx of crossover competitors took away its shine, a funky new look and impressive hybrid system has given the RAV4 a new lease of life. It's back on form.
When the first Toyota RAV4 hit the motor show stands in 1994, it went down a storm. It was something different. Given our adoration of all things crossover these days, that's hard to imagine. But in a lot of ways it was genesis. It's unlikely we'd have the Nissan Qashqai if the RAV4 had never existed.
However, in this burgeoning market, more recent RAV4s have failed to hit the spot as the original did. Now though, there's a new one. But has it got its mojo back?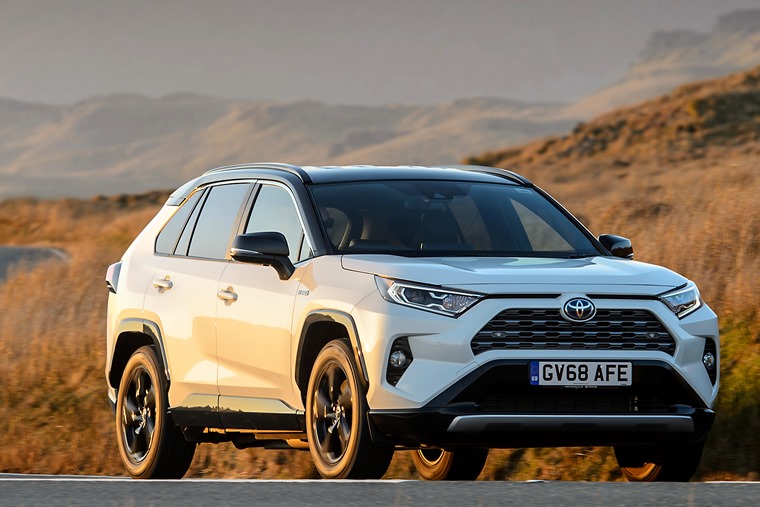 Its styling suggests so. After more than a decade of rather dreary, boxy-looking RAV4s, the new car is a breath of fresh air and certainly offers something a little more interesting for the eye than most its rivals. It's a crazy collage of angles, but the looks aren't as divisive as some other Toyotas such as the CH-R and Prius.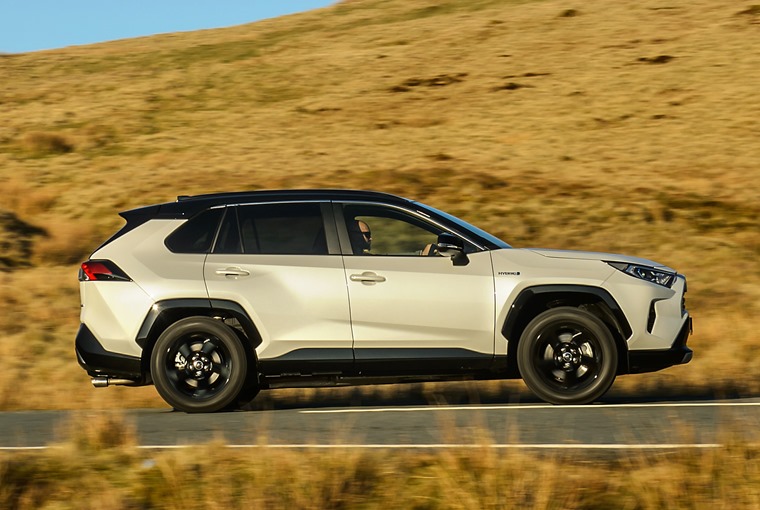 Interesting. Efficient. Back on form. Five-word review
The front is dominated by a large chrome grille, while those sharp wraparound headlights help it stand out further. There's a number of creases that run all the way around the car, with the back in particular benefiting from a look not too far from the Lexus NX.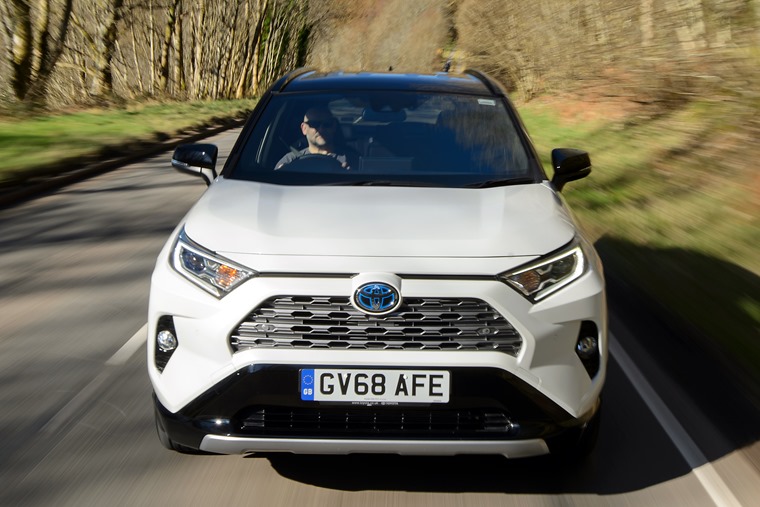 Toyota hasn't forgotten to include the chunky appeal that made the original car such a success, though. That's clear courtesy of the rugged black trim that adorns the bumpers, wheel arches and lower doors. It's also quite a large car, and is a rival for the likes of Mitsubishi's Outlander PHEV rather than a Qashqai.
If you're expecting the interior to get the same stand-out style the exterior provides, prepare to be disappointed. As always with Toyota, the overall quality is certainly on point, but it's rather drab as designs go.
Toyota hasn't forgotten about the chunky appeal that made the original car successful.
There's a host of aluminium trim on the doors and centre console, but that does little to lift the darker plastics. There are some nice touches though, such as the chunky rubber knobs that control the climate control and infotainment panel.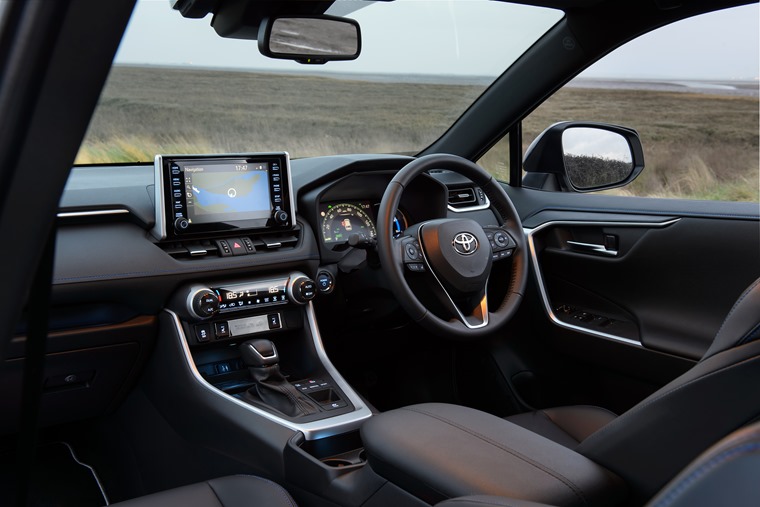 The infotainment itself isn't that great, either. All models get an 8in touchscreen as standard, but it's not the easiest to navigate. You can't link up your phone via Apple CarPlay and Android Auto like you can on many alternatives, and the system is quite fiddly to use. The satnav graphics look a bit dated, as do the graphics in general.
Its 580-litre boot is up there with the best in class.
It's loaded with Toyota's latest connected services that are available via the car's in-built Wi-Fi service, but the system just isn't up to scratch if you sit it side-by-side with rivals like the Outlander PHEV and new Ford Kuga. On the plus side, there's a raft of USB sockets dotted around the cabin, and most trims feature a wireless charging pad, too. You can also expect Apple CarPlay and Android Auto to become available over the next year or two.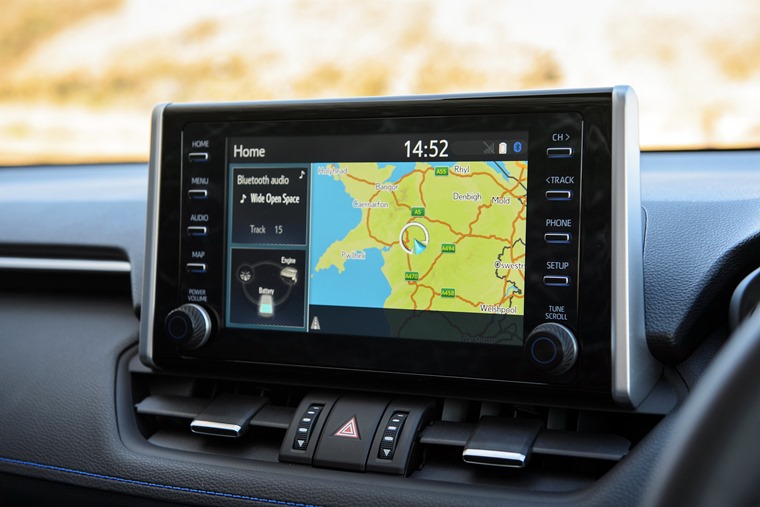 Things improve if you're after something practical. A larger wheelbase means a healthy boost to rear leg room, while its 580-litre boot is up there with the best in class and marks it out from hatchback-based crossovers.
Standard driver assist systems make it a great car for long distance cruising.
You're reminded of its size behind the wheel. From the driver's seat, the expansive bonnet seems to go on forever, but happily all trims from Design upwards receive front and rear parking sensors along with a reversing camera. Comfort is excellent, in part thanks to some lengthy suspension travel and part due to some seriously squishy seats.
A raft of driver assist systems make it a great car for long-distance cruising and, despite its size, ensure it's a very easy car to drive. Adaptive cruise control is standard across the range, for example, as is lane departure warning.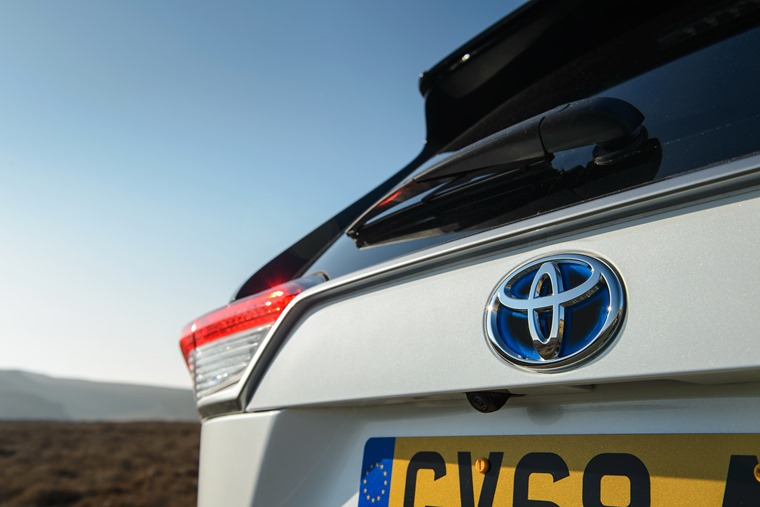 Easy to drive it might be, but fun? Not much. The 2.5-litre petrol-hybrid drivetrain in four-wheel drive variants produces 221hp, resulting in a 0-62mph time of 8.1 seconds; not bad for a car of this size and class. However, the only gearbox available is a whiney CVT automatic – the same Toyota uses for all its hybrids. Increase the revs and you'll be met with a bit of a racket.
This is a car that's designed to emit next to zero emissions around town.
That all settles down at cruising speed though. For a high riding car, the RAV4 handles pretty well with both front- and four-wheel drive versions offering decent grip. The latter also has an extra traction control function that allows each wheel to be braked independently. In theory, that gives it the ability to deal with muddy tracks and slippy road surfaces with ease.
Noisy gearbox aside, the hybrid system performs well on all other fronts. This is a car that's designed to emit next to zero emissions around town, and according to the various hybrid readouts you can access via the digital display, that seems pretty accurate. Over a week of mixed driving, we achieved 46.7mpg – not far off Toyota's claimed 51mpg official figure. The system allows you to cruise at low speeds in traffic with just the electric motors engaged, but it can also shut off the petrol engine at motorway speeds, too.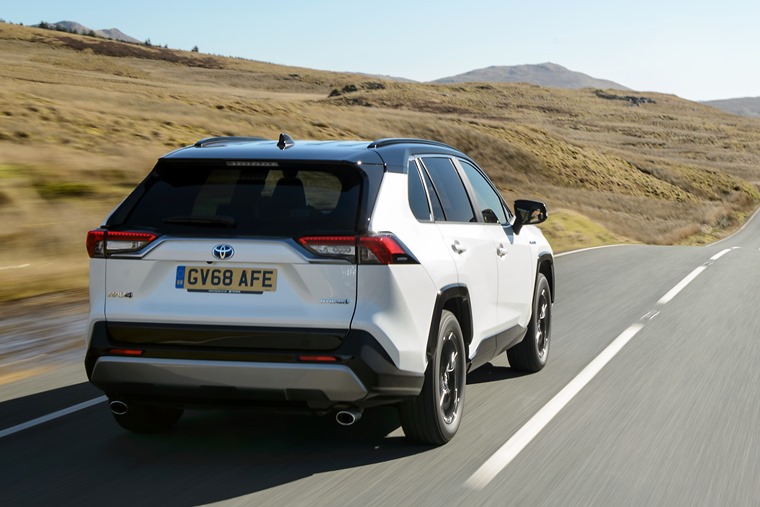 Unlike its plug-in Outlander rival, its smaller batteries mean it can't manage the same 30ish miles of electric-only driving. But once the Outlander's batteries are flat, things swing firmly in the RAV4's favour. It's quicker – and more importantly if you're considering a hybrid SUV – it's less thirsty too.
So should you lease one? For those wanting a practical, frugal and slightly different crossover, it's worth a look. It's not the most fun thing to drive in the world, while its outgoing outward appearance is let down slightly by an uninteresting interior and sub-par infotainment system.
Considering a RAV4 can currently be leased for less than £250 per month, however, means that those slights could be worth overlooking. It's certainly more interesting than a Qashqai and almost as economical as Mitsubishi's Outlander PHEV. Most importantly, it proves to be a serious step in the right direction for the RAV4 after years of being outgunned.
2019 Toyota RAV4 in brief
Exterior
Angular lines and squared off edges abound giving the RAV4 enough individuality to be recognised in a crowded segment
Interior
Not as snazzy as the exterior, but it's well built in typical Toyota fashion. Infotainment lags behind rivals though.
Driving
Despite its dimensions it's an incredibly easy car to drive. Decent acceleration, although the gearbox whine while doing so can be irritating.
Space
Top marks: its cavernous 580-litre boot outdoes the Outlander PHEV by more than 100 litres. Lots of rear legroom make it a practical family proposition.
Efficiency
We averaged 46.1mpg over a week of mixed driving conditions – not far off Toyota's claimed figure of 51mpg combined.