Uniti One: Is the UK ready for a funny-looking, climate-neutral, digital-first, all-electric city car?
There's been a lot of huff and puff in the past few weeks about the Porsche Taycan. An electric sports saloon from the world's greatest sports car manufacturer, so the hyperbole goes.
Porsche reckons it's being a disruptor, to use a word bandied about the tech industry these days. Tesla claims it was the original automotive disruptor with some justification, but take a look at this car, the Uniti One, and it could well be the electric car to truly upend the car business.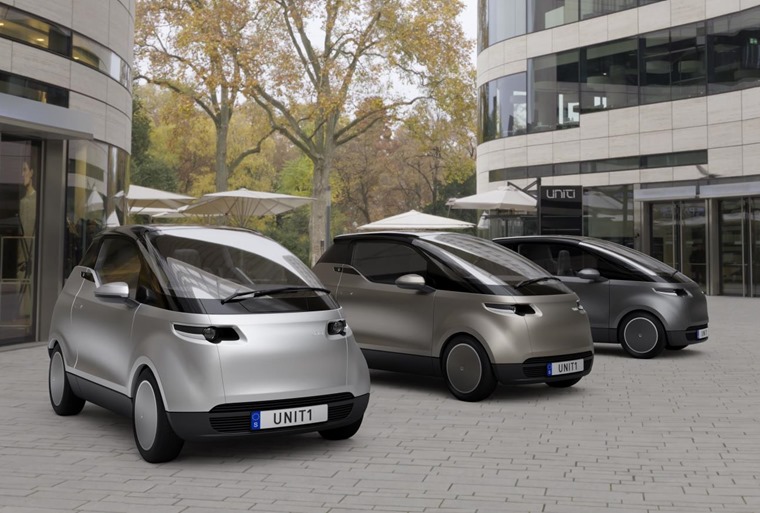 Some may try to dismiss the Swedish-made Uniti as little more than a glorified Sinclair C5, which was a serious attempt to offer an EV commuter vehicle. There were various problems with the C5, not least its limited range and reliance on its sole occupant having to pedal for much of the time. Oh, and not to mention the weather protection, minimal crash protection, spine-jangling ride.
Anyway, back to the Uniti. Why should it make the breakthrough that other EVs have not quite managed? Where Tesla has done very well to position itself among premium brands, that in itself is an issue as you need to be in the mass market to affect serious change. Honda stands a chance with its Honda e, while the Vauxhall Corsa-e and Peugeot e-208 will offer mainstream alternatives to their petrol- and diesel-fuelled siblings. We also have the EV Mini on the way.
All of these cars will, no doubt, be very good, but the Uniti has them all over a barrel when it comes to price. Factor in the £3500 plug-in car grant from the government and it has a list price starting at £15,100. That is seriously cheap for a brand new EV, though Renault wasn't far off with its Zoe. However, the Zoe also requires you to rent the battery whereas the Uniti comes with that included in the price plus a warranty to cover you should the battery lose a significant proportion of its charge capacity within the first five years of ownership.
Price is vital to the success of the Uniti One because there are a great many drivers out there considering an EV who look at the cost to lease or buy and baulk. At £15,000, however, the Uniti becomes a very tempting option either as your only car or as a second vehicle in the household. Another reason this sort of price point will have drivers heading to Uniti's website is that amount of money is not far above what the average spend is on a used car in the UK. Get those drivers out of used vehicles and into a new EV model and the war is won by this small Swedish car firm.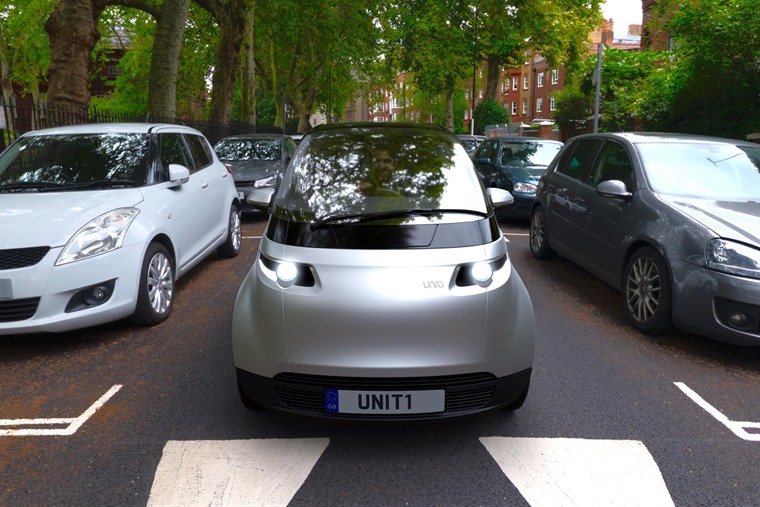 That's all a bit of a way down the line, but you can now order a Uniti One online in the UK and Sweden. What you will get is a compact small car with a choice of battery packs. The standard 12kWh battery gives a claimed range of up to 93 miles, while the optional 24kWh doubles that to 186 miles. With charging that Uniti claims can see the battery topped up by 60-miles' worth of electricity in just 10 minutes on a rapid charger, it makes a strong case for switching to this little car.
Of course, size could be an issue for some if they need to carry four or more passengers on a routine basis. The Uniti is a three-seater, with the driver up front and two more occupants seated behind. Even so, as most commuter trips are completed one-up, the Uniti shouldn't prove a hindrance here.
We can also see the Uniti being adopted by urban businesses as a handy commercial vehicle as the rear seats fold flat to create a good-sized load space. With zero tailpipe emissions, decent range and stand-out looks, it could be a great way to promote a company and its eco credentials in one easy move.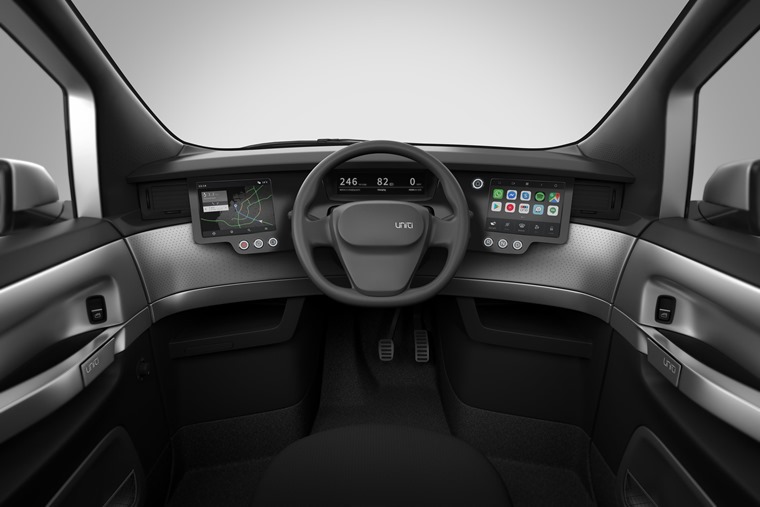 Speaking of looks, this is where the Uniti One is likely to suffer those comparisons to the Sinclair C5. Let's face, it's a bit, well, bland. The flipside of this is the Uniti's shape makes it easy and cheap to manufacture, which pegs the price to that very tempting entry point of £15,100 in the UK.
Inside, the One is much more appealing as Uniti uses a central digital dash display with a pair of Android OS touchscreens either side to operate all of the usual functions and hook it up to your smartphone. This isn't radical thinking as most of us are now accustomed to linking our phones to the car to access music, sat-nav and other apps. Uniti just builds on this to make it the norm.
Which brings us to the crux of the Uniti One's offer: will we choose it as our next car? Electric vehicles have enjoyed increasing sales, but their price and worries over the charging infrastructure, range and practicality have all combined to hold back many drivers from making the swap so far.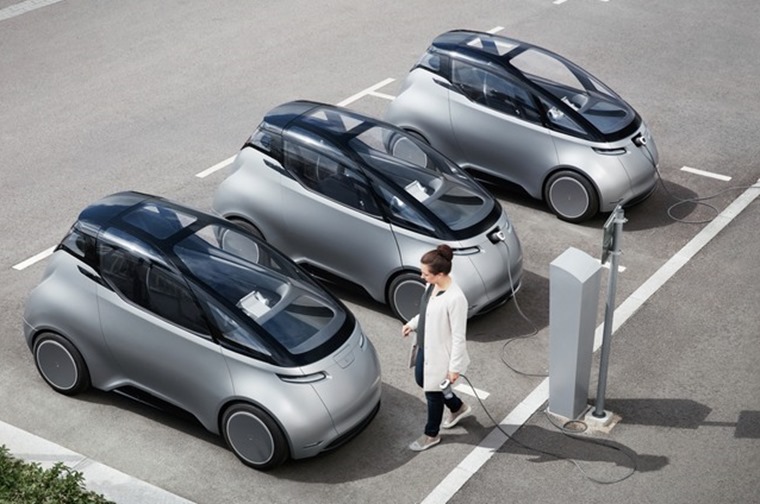 Where the Uniti One has a very real chance to avoid these hurdles is not just in its price but also in the focus of its design. It's not trying to take on the likes of the Ford Fiesta or Volkswagen Polo. It's pitched as a unique car with largely urban drivers in mind but with the back-up of a longer range battery choice should you wish to use the car to go further or have a longer commute. In this sense, the Uniti One is also a rival to the likes of some motorcycles and maxi-scooters in its versatility, low running costs and comfort.
Only time will tell if the Uniti One is a success, but the order book is open now. Anyone placing a deposit between now and the end of November gets a Founders Club membership that includes free software upgrades for life, which is also tempting.
As yet, it's not available to lease, but we are very keen to try the Uniti One to see how it drives and performs, and to see if this small car can be the one to really shake up the EV market.