New Volkswagen Arteon to be offered as GT and Shooting Brake
Volkswagen has revealed a comprehensive overhaul to the Arteon, with the range expanding to now include a Gran Turismo and Shooting Brake along with a R performance model and plug-in hybrid options.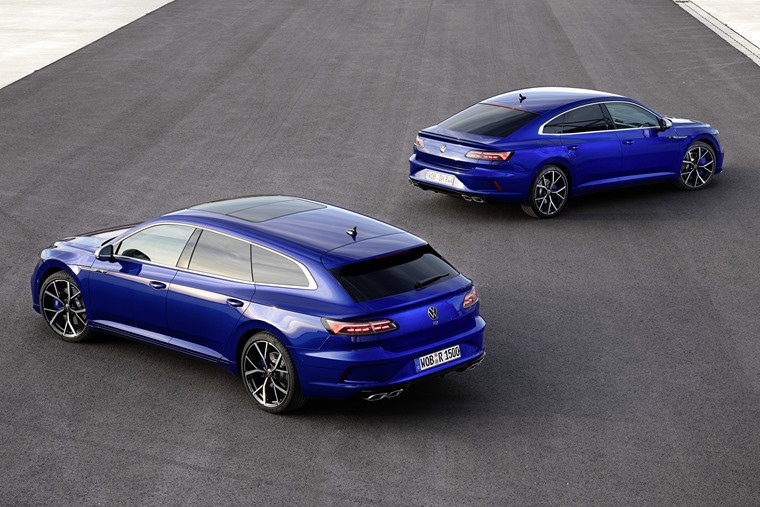 The first-gen model, originally released in 2017, was previously only available in GT form with VW expanding their Arteon offering as part of an extensive model initiative.
The new Arteon and Arteon Shooting Brake are characterised by an expressive and avant-garde design. The distinctive features include  a continuous light strip, striking chrome bars and new air intakes at the bottom. The radiator grille and the long, wide bonnet are combined as a formal unit alongside a unique LED light signature.
Differences between the GT and Shooting Brake start at the B-pillars and on to the rear. Whereas the roof and window contours are swept down in parallel from the B-pillars and therefore become part of the coupé-shaped rear on the fastback model, the roof and window lines are extended towards the rear on the Shooting Brake and end in the new roof spoiler.
As a fastback version and Shooting Brake, the two Arteon models are among the first of their kind to be available with a plug-in hybrid drive in the luxury mid-sized vehicle segment.

At the top of the range, the Arteon R will be the flagship in the model series as the brand aims to push into the premium performance segment. Though specifics are yet to be revealed, we do know that Torque Vectoring will be included to create a new level of driving dynamics.
Changes to the interior include a new multifunction steering wheel with touch controls, illuminated trim panels and digital air conditioning controls. Wireless integration of Apple CarPlay and Android Auto also feature.

"The Arteon Shooting Brake extends our model range in the important midsize-segment. It will set standards in its class with its dynamic design, high functionality and modern technologies." said Ralf Brandstätter, Chief Operating Officer and designated CEO of the Volkswagen Pkw brand.